Bitcoin (BTC/USD), Ethereum (ETH/USD),Litecoin (LTC/USD), Technical Evaluation – Speaking Factors
Marketwide volatility hit cryptocurrencies on worst day since early 2020

Bitcoin might be weak after costs took out the important thing 200-day SMA
Bitcoin Technical Outlook
Bitcoin suffered its worst day by day drop in over 14 months on Wednesday. Weak spot wasn't simply remoted to BTC, however felt all through digital currencies in a single amplified transfer. This was a pronounced marketwide response that wiped out about US$1 trillion from the whole crypto market cap. So the place does this depart Bitcoin, Ethereum and Litecoin from a technical perspective? What may merchants anticipate within the occasion of deeper losses?
BTC/USD accomplished the draw back goal implied from a bearish Rising Wedge chart sample. That is one thing that I warned about in late April. Nonetheless, costs swiftly bounced off the important thing 28732 – 30407 help zone because the cryptocurrency struggled to verify a drop by means of the 30k deal with. Dip patrons stepped in, trimming an honest chunk of losses.
Nonetheless, all eyes are actually on the 200-day Easy Shifting Common (SMA). Evidently Bitcoin has taken it out. A subsequent draw back shut after may paint a still-vulnerable highway forward for the cryptocurrency. Such an end result would probably place the main target again on January lows. Within the occasion of a flip greater, a push above the 43016 – 44850 inflection zone may open the door to extra positive aspects.
BTC/USD – Each day Chart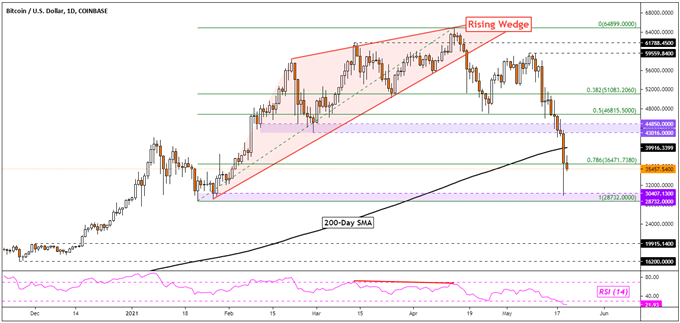 Ethereum Technical Outlook
Ethereum additionally suffered its worst day by day efficiency in over 14 months. The drop by means of the 38.2% degree and midpoint of the Fibonacci retracement at 2974 and 2540 respectively took out the 50-day SMA. ETH/USD briefly dropped beneath the 100-day SMA, however dip patrons restored some upward momentum. A push again above the 50-day line may open the door to reversing the near-term downtrend. In any other case, the 2038 – 1942 inflection zone may come into focus as key help. Dropping by means of it exposes lows from February and March, in addition to the 200-day SMA.
ETH/USD – Each day Chart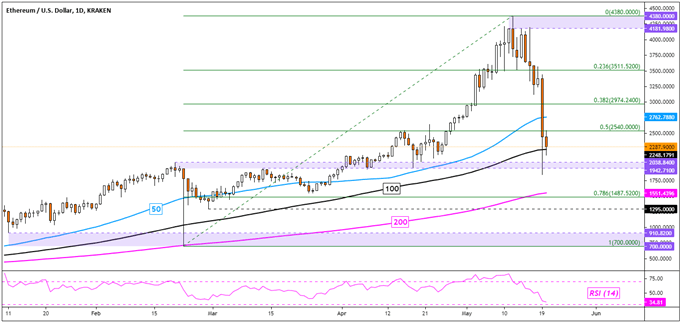 Litecoin Technical Outlook
Litecoin could also be in danger to extending losses after LTC/USD closed beneath rising help from late 2020. The cryptocurrency additionally took out the 223 – 207 help zone, failing to beat the 153 – 167 vary thereafter as costs left behind a big shadow. That's the place the 200-day SMA got here in to take care of the dominant focus to the upside. A push greater from right here may place the give attention to rising help, which may act as new resistance. In any other case, extending losses exposes the January low at 112.
LTC/USD – Each day Chart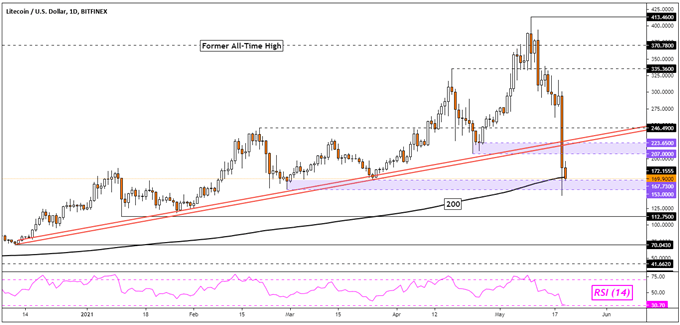 — Written by Daniel Dubrovsky, Strategist for DailyFX.com
To contact Daniel, use the feedback part beneath or @ddubrovskyFX on Twitter
!operate(){operate e(e,t)"")+" (SystemJS Error#"+e+" https://git.io/JvFET#"+e+")"var t,n="undefined"!=typeof Image,i="undefined"!=typeof self,r="undefined"!=typeof doc,o=i?self:world;if(r){var s=doc.querySelector("base[href]");s&&(t=s.href)}if(!t&&"undefined"!=typeof location){var a=(t=location.href.cut up("https://www.dailyfx.com/foreign exchange/technical/article/special_report/2021/05/20/#")[0].cut up("?")[0]).lastIndexOf("/");-1!==a&&(t=t.slice(0,a+1))}var u=//g;operate c(e,t){if(-1!==e.indexOf("")&&(e=e.exchange(u,"/")),"/"===e[0]&&"/"===e[1])return t.slice(0,t.indexOf(":")+1)+e;if("."===e[0]&&("/"===e[1]||"."===e[1]&&("/"===e[2]||2===e.size&&(e+="/"))||1===e.size&&(e+="/"))||"/"===e[0]){var n,i=t.slice(0,t.indexOf(":")+1);if(n="/"===t[i.length+1]?"file:"!==i?(n=t.slice(i.size+2)).slice(n.indexOf("/")+1):t.slice(8):t.slice(i.size+("/"===t[i.length])),"/"===e[0])return t.slice(0,t.length-n.length-1)+e;for(var r=n.slice(0,n.lastIndexOf("/")+1)+e,o=[],s=-1,a=0;an.size&&"/"!==i[i.length-1]))return i+e.slice(n.size);v("W2″,n,i,"ought to have a trailing '/'")}}operate v(t,n,i,r){console.warn(e(t,"Bundle goal "+r+", resolving goal '"+i+"' for "+n))}operate p(e,t,n){for(var i=e.scopes,r=n&&d(n,i);r;){var o=f(t,i[r]);if(o)return o;r=d(r.slice(0,r.lastIndexOf("/")),i)}return f(t,e.imports)||-1!==t.indexOf(":")&&t}var m=n&&Image.toStringTag,y=n?Image():"@";operate g(){this[y]={}}var ok,b=g.prototype;operate w(e){return e.id}operate S(e,t,n,i){if(e.onload(n,t.id,t.d&&t.d.map(w),!!i),n)throw n}operate E(t,n,i){var r=t[y][n];if(r)return r;var o=[],s=Object.create(null);m&&Object.defineProperty(s,m,{worth:"Module"});var a=Promise.resolve().then(operate(){return t.instantiate(n,i)}).then(operate(i){if(!i)throw Error(e(2,"Module "+n+" didn't instantiate"));var a=i[1](operate(e,t){r.h=!0;var n=!1;if("string"==typeof e)e in s&&s[e]===t||(s[e]=t,n=!0);elseif(n)for(var a=0;a-1){var t=doc.createEvent("Occasion");t.initEvent("error",!1,!1),n.dispatchEvent(t)}return Promise.reject(e)})}else if("systemjs-importmap"===n.sort){n.sp=!0;var i=n.src?fetch(n.src,{integrity:n.integrity}).then(operate(e){if(!e.okay)throw Error("Invalid standing code: "+e.standing);return e.textual content()}).catch(operate(t){return t.message=e("W4","Error fetching systemjs-import map "+n.src)+"n"+t.message,console.warn(t),"{}"}):n.innerHTML;T=T.then(operate(){return i}).then(operate(i){!operate(t,n,i){var r={};attempt{r=JSON.parse(n)}catch(o){console.warn(Error(e("W5″,"systemjs-importmap incorporates invalid JSON")+"nn"+n+"n"))}!operate(e,t,n){var i;for(i in e.imports&&h(e.imports,n.imports,t,n,null),e.scopes||{}){var r=l(i,t);h(e.scopes[i],n.scopes[r]||(n.scopes[r]={}),t,n,r)}for(i in e.depcache||{})n.depcache[l(i,t)]=e.depcache[i];for(i in e.integrity||{})n.integrity[l(i,t)]=e.integrity[i]}(r,i,t)}(P,i,n.src||t)})}})}if(b.prepareImport=operate(e)e)&&(O(),A=!1),T,r&&(O(),window.addEventListener("DOMContentLoaded",O)),r){window.addEventListener("error",operate(e){F=e.filename,x=e.error});var I=location.origin}b.createScript=operate(e){var t=doc.createElement("script");t.async=!0,e.indexOf(I+"/")&&(t.crossOrigin="nameless");var n=P.integrity[e];return n&&(t.integrity=n),t.src=e,t};var F,x,M={},D=b.register;b.register=operate(e,t){if(r&&"loading"===doc.readyState&&"string"!=typeof e){var n=doc.querySelectorAll("script[src]"),i=n[n.length-1];if(i){i.src,C=e;var o=this;R=setTimeout(operate(){M[i.src]=[e,t],o.import(i.src)})}}else C=void 0;return D.name(this,e,t)},b.instantiate=operate(t,n){var i=M[t];if(i)return delete M[t],i;var r=this;return new Promise(operate(i,o){var s=b.createScript(t);s.addEventListener("error",operate(){o(Error(e(3,"Error loading "+t+(n?" from "+n:""))))}),s.addEventListener("load",operate(){if(doc.head.removeChild(s),F===t)o(x);else{var e=r.getRegister();e&&e[0]===C&&clearTimeout(R),i(e)}}),doc.head.appendChild(s)})},b.shouldFetch=operate(){return!1},"undefined"!=typeof fetch&&(b.fetch=fetch);var N=b.instantiate,q=/^(textual content|utility)/(x-)?javascript(;|$)/;b.instantiate=operate(t,n){var i=this;return this.shouldFetch(t)?this.fetch(t,{credentials:"same-origin",integrity:P.integrity[t]}).then(operate(r){if(!r.okay)throw Error(e(7,r.standing+" "+r.statusText+", loading "+t+(n?" from "+n:"")));var o=r.headers.get("content-type");if(!o||!q.take a look at(o))throw Error(e(4,'Unknown Content material-Sort "'+o+'", loading '+t+(n?" from "+n:"")));return r.textual content().then(operate(e){return e.indexOf("//# sourceURL=")<0&&(e+="n//# sourceURL="+t),(0,eval)(e),i.getRegister()})}):N.apply(this,arguments)},b.resolve=operate(n,i){return p(P,c(n,i=i||t)||n,i)||operate(t,n){throw Error(e(8,"Unable to resolve naked specifier '"+t+(n?"' from "+n:"'")))}(n,i)};var H=b.instantiate;b.instantiate=operate(e,t){var n=P.depcache[e];if(n)for(var i=0;i<n.size;i++)E(this,this.resolve(n[i],e),e);return H.name(this,e,t)},i&&"operate"==typeof importScripts&&(b.instantiate=operate(e){var t=this;return Promise.resolve().then(operate(){return importScripts(e),t.getRegister()})}),operate(e){var t,n,i,r=e.System.constructor.prototype;var o=r.import;r.import=operate(r,s){return operate()(t?n(),o.name(this,r,s)};var s=[[],operate(){return{}}],a=r.getRegister;r.getRegister=operate(){var o=a.name(this);if(o)return o;var u,l=operate(){var o,s,a=0;for(var u in e)if(!c(u))u):o=u===i,a++return s}();if(!l)return s;attempt{u=e[l]}catch(h){return s}return[[],operate(e){return{execute:operate(){e(u),e({default:u,__useDefault:!0})}}}]};var u="undefined"!=typeof navigator&&-1!==navigator.userAgent.indexOf("Trident");operate c(t)}("undefined"!=typeof self?self:world),operate(e){var t=e.System.constructor.prototype,n=/^[^#?]+.(css|html|json|wasm)([?#].*)?$/;t.shouldFetch=operate(e){return n.take a look at(e)};var i=/^utility/json(;|$)/,r=/^textual content/css(;|$)/,o=/^utility/wasm(;|$)/,s=t.fetch;t.fetch=operate(t,n){return s(t,n).then(operate(n){if(!n.okay)return n;var s=n.headers.get("content-type");return i.take a look at(s)?n.json().then(operate(e){return new Response(new Blob(['System.register([],operate(e){return{execute:operate(){e("default",'+JSON.stringify(e)+")}}})"],{sort:"utility/javascript"}))}):r.take a look at(s)?n.textual content().then(operate(e){return new Response(new Blob(["System.register([],operate(e){return{execute:operate(){var s=new CSSStyleSheet();s.replaceSync("+JSON.stringify(e)+');e("default",s)}}})'],{sort:"utility/javascript"}))}):o.take a look at(s)?(WebAssembly.compileStreaming?WebAssembly.compileStreaming(n):n.arrayBuffer().then(WebAssembly.compile)).then(operate(n){e.System.wasmModules||(e.System.wasmModules=Object.create(null)),e.System.wasmModules[t]=n;var i=[],r=[];return WebAssembly.Module.imports&&WebAssembly.Module.imports(n).forEach(operate(e){var t=JSON.stringify(e.module);-1===i.indexOf(t)&&(i.push(t),r.push("operate(m){i["+t+"]=m}"))}),new Response(new Blob(["System.register(["+i.join(",")+"],operate(e){var i={};return{setters:["+r.join(",")+"],execute:operate(){return WebAssembly.instantiate(System.wasmModules["+JSON.stringify(t)+"],i).then(operate(m){e(m.exports)})}}})"],{sort:"utility/javascript"}))}):n})}}("undefined"!=typeof self?self:world);var j="undefined"!=typeof Image&&Image.toStringTag;b.get=operate(e){var t=this[y][e];if(t&&null===t.e&&!t.E)return t.er?null:t.n},b.set=operate(t,n){attempt{new URL(t)}catch(s){console.warn(Error(e("W3",'"'+t+'" just isn't a sound URL to set within the module registry')))}var i;j&&"Module"===n[j]?i=n:(i=Object.assign(Object.create(null),n),j&&Object.defineProperty(i,j,{worth:"Module"}));var r=Promise.resolve(i),o=this[y][t]||(this[y][t]={id:t,i:[],h:!1,d:[],e:null,er:void 0,E:void 0});return!o.e&&!o.E&&(Object.assign(o,{n:i,I:void 0,L:void 0,C:r}),i)},b.has=operate(e){return!!this[y][e]},b.delete=operate(e){var t=this[y],n=t[e];if(!n||null!==n.e||n.E)return!1;var i=n.i;return n.d&&n.d.forEach(operate(e){var t=e.i.indexOf(n);-1!==t&&e.i.splice(t,1)}),delete t[e],operate(){var n=t[e];if(!n||!i||null!==n.e||n.E)return!1;i.forEach(operate(e){n.i.push(e),e(n.n)}),i=null}};var B="undefined"!=typeof Image&&Image.iterator;b.entries=operate(){var e,t,n=this,i=Object.keys(n[y]),r=0,o={subsequent:operate(){for(;void 0!==(t=i[r++])&&void 0===(e=n.get(t)););return{executed:void 0===t,worth:void 0!==t&&[t,e]}}};return o[B]=operate(){return this},o}}(),operate(e){var t=e.System;s(t);var n,i=t.constructor.prototype,r=t.constructor,o=operate(){r.name(this),s(this)};operate s(e){e.registerRegistry=Object.create(null)}o.prototype=i,t.constructor=o;var a=i.register;i.register=operate(e,t,i){if("string"!=typeof e)return a.apply(this,arguments);var r=[t,i];return this.registerRegistry[e]=r,n||(n=r,Promise.resolve().then(operate(){n=null})),a.apply(this,arguments)};var u=i.resolve;i.resolve=operate(e,t){attempt{return u.name(this,e,t)}catch(n){if(e on this.registerRegistry)return e;throw n}};var c=i.instantiate;i.instantiate=operate(e,t){var n=this.registerRegistry[e];return n?(this.registerRegistry[e]=null,n):c.name(this,e,t)};var l=i.getRegister;i.getRegister=operate()}("undefined"!=typeof self?self:world),operate(e){"use strict";operate t(e){return(t="operate"==typeof Image&&"image"==typeof Image.iterator?operate(e){return typeof e}:operate(e){return e&&"operate"==typeof Image&&e.constructor===Image&&e!==Image.prototype?"image":typeof e})(e)}operate n(e,t){if(!(e instanceof t))throw new TypeError("Can not name a category as a operate")}operate i(e,t){for(var n=0;n<t.size;n++)}operate r(e,t,n){return t&&i(e.prototype,t),n&&i(e,n),e}operate o(e,t){if("operate"!=typeof t&&null!==t)throw new TypeError("Tremendous expression should both be null or a operate");e.prototype=Object.create(t&&t.prototype,{constructor:{worth:e,writable:!0,configurable:!0}}),t&&a(e,t)}operate s(e){return(s=Object.setPrototypeOf?Object.getPrototypeOf:operate(e)Object.getPrototypeOf(e))(e)}operate a(e,t){return(a=Object.setPrototypeOf||operate(e,t){return e.__proto__=t,e})(e,t)}operate u(e,t,n){return(u=operate(){if("undefined"==typeof Mirror||!Mirror.assemble)return!1;if(Mirror.assemble.sham)return!1;if("operate"==typeof Proxy)return!0;attempt{return Date.prototype.toString.name(Mirror.assemble(Date,[],operate(){})),!0}catch(e){return!1}}()?Mirror.assemble:operate(e,t,n){var i=[null];i.push.apply(i,t);var r=new(Operate.bind.apply(e,i));return n&&a(r,n.prototype),r}).apply(null,arguments)}operate c(e){var t="operate"==typeof Map?new Map:void 0;return(c=operate(e){if(null===e||(n=e,-1===Operate.toString.name(n).indexOf("[native code]")))return e;var n;if("operate"!=typeof e)throw new TypeError("Tremendous expression should both be null or a operate");if(void 0!==t){if(t.has(e))return t.get(e);t.set(e,i)}operate i(){return u(e,arguments,s(this).constructor)}return i.prototype=Object.create(e.prototype,{constructor:{worth:i,enumerable:!1,writable:!0,configurable:!0}}),a(i,e)})(e)}operate l(e){if(void 0===e)throw new ReferenceError("this hasn't been initialised – tremendous() hasn't been referred to as");return e}operate h(e,t,n){return(h="undefined"!=typeof Mirror&&Mirror.get?Mirror.get:operate(e,t,n){var i=operate(e,t){for(;!Object.prototype.hasOwnProperty.name(e,t)&&null!==(e=s(e)););return e}(e,t);if(i){var r=Object.getOwnPropertyDescriptor(i,t);return r.get?r.get.name(n):r.worth}})(e,t,n||e)}operate d(e,t){return t||(t=e.slice(0)),Object.freeze(Object.defineProperties(e,{uncooked:{worth:Object.freeze(t)}}))}operate f(e,t){return operate(e){if(Array.isArray(e))return e}(e)||operate(e,t){var n=[],i=!0,r=!1,o=void 0;attemptcatch(u){r=!0,o=u}lastly{attemptlastly{if(r)throw o}}return n}(e,t)||operate(){throw new TypeError("Invalid try and destructure non-iterable occasion")}()}operate v(e){return operate(e){if(Array.isArray(e)){for(var t=0,n=new Array(e.size);t<e.size;t++)n[t]=e[t];return n}}(e)||operate(e)"[object Arguments]"===Object.prototype.toString.name(e))return Array.from(e)(e)||operate(){throw new TypeError("Invalid try and unfold non-iterable occasion")}()}operate p(e,t,n,i,r){var o={};return Object.keys(i).forEach(operate(e){o[e]=i[e]}),o.enumerable=!!o.enumerable,o.configurable=!!o.configurable,("worth"in o||o.initializer)&&(o.writable=!0),o=n.slice().reverse().cut back(operate(n,i)n,o),r&&void 0!==o.initializer&&(o.worth=o.initializer?o.initializer.name(r):void 0,o.initializer=void 0),void 0===o.initializer&&(Object.defineProperty(e,t,o),o=null),o}operate m(){var e=d(["n .turbo-progress-bar {n position: fixed;n display: block;n top: 0;n left: 0;n height: 3px;n background: #0076ff;n z-index: 9999;n transition:n width ","ms ease-out,n opacity ","ms ","ms ease-in;n transform: translate3d(0, 0, 0);n }n "]);return m=operate(){return e},e}operate y(){var e=d(['n You are loading Turbo from a element inside the element. This is probably not what you meant to do!nn Load your application's JavaScript bundle inside the element instead. elements in are evaluated with each page change.nn For more information, see: https://turbo.hotwire.dev/handbook/building#working-with-script-elementsnn ——n Suppress this warning by adding a "data-turbo-suppress-warning" attribute to: %sn ']);return y=operate(){return e},e}operate g(e){return operate(){var t,n,i,r=s(e);if(operate(){if("undefined"==typeof Mirror||!Mirror.assemble)return!1;if(Mirror.assemble.sham)return!1;if("operate"==typeof Proxy)return!0;attempt{return Date.prototype.toString.name(Mirror.assemble(Date,[],operate(){})),!0}catch(e){return!1}}()){var o=s(this).constructor;t=Mirror.assemble(r,arguments,o)}else t=r.apply(this,arguments);return n=this,!(i=t)||"object"!=typeof i&&"operate"!=typeof i?l(n):i}}!operate(){if(void 0!==window.Mirror&&void 0!==window.customElements&&!window.customElements.polyfillWrapFlushCallback){var e=HTMLElement,t=operate(){return Mirror.assemble(e,[],this.constructor)};window.HTMLElement=t,HTMLElement.prototype=e.prototype,HTMLElement.prototype.constructor=HTMLElement,Object.setPrototypeOf(HTMLElement,e)}}();var ok,b=new WeakMap;operate w(e){var t,n,i,r=(t=e.goal,n=t instanceof Component?t:t instanceof Node?t.parentElement:null,"submit"==(null==(i=n?n.closest("enter, button"):null)?void 0:i.sort)?i:null);r&&r.kind&&b.set(r.kind,r)}"SubmitEvent"in window||(addEventListener("click on",w,!0),Object.defineProperty(Occasion.prototype,"submitter",{get:operate(){if("submit"==this.sort&&this.goal instanceof HTMLFormElement)return b.get(this.goal)}})),operate(e){e.keen="keen",e.lazy="lazy"}(ok||(ok={}));var S=operate(e){o(i,c(HTMLElement));var t=g(i);operate i(){var e;return n(this,i),(e=t.name(this)).loaded=Promise.resolve(),e.delegate=new i.delegateConstructor(l(e)),e}return r(i,[{key:"connectedCallback",value:function(){this.delegate.connect()}},{key:"disconnectedCallback",value:function(){this.delegate.disconnect()}},{key:"attributeChangedCallback",value:function(e){"loading"==e?this.delegate.loadingStyleChanged():"src"==e&&this.delegate.sourceURLChanged()}},{key:"src",get:function(){return this.getAttribute("src")},set:function(e){e?this.setAttribute("src",e):this.removeAttribute("src")}},{key:"loading",get:function(){return function(e){switch(e.toLowerCase()){case"lazy":return k.lazy;default:return k.eager}}(this.getAttribute("loading")||"")},set:function(e){e?this.setAttribute("loading",e):this.removeAttribute("loading")}},{key:"disabled",get:function(){return this.hasAttribute("disabled")},set:function(e){e?this.setAttribute("disabled",""):this.removeAttribute("disabled")}},{key:"autoscroll",get:function(){return this.hasAttribute("autoscroll")},set:function(e){e?this.setAttribute("autoscroll",""):this.removeAttribute("autoscroll")}},{key:"complete",get:function(){return!this.delegate.isLoading}},{key:"isActive",get:function(){return this.ownerDocument===document&&!this.isPreview}},{key:"isPreview",get:function()void 0===t?void 0:t.hasAttribute("data-turbo-preview")}],[{key:"observedAttributes",get:function(){return["loading","src"]}}]),i}();operate E(e){var t=doc.createElement("a");return t.href=e.toString(),new URL(t.href)}operate L(e){var t;return e.hash?e.hash.slice(1):(t=e.href.match(/#(.*)$/))?t[1]:""}operate C(e){return(operate(e){return operate(e){return e.pathname.cut up("/").slice(1)}(e).slice(-1)[0]}(e).match(/.[^.]*$/)||[])[0]||""}operate R(e,t){var n=operate(e){return t=e.origin+e.pathname,t.endsWith("/")?t:t+"/";var t}(t);return e.href===E(n).href||e.href.startsWith(n)}operate T(e){var t=e.hash.size;return t=400&&this.statusCode=500&&this.statusCode1&&void 0!==arguments[1]?arguments[1]:{},n=t.goal,i=t.cancelable,r=t.element,o=new CustomEvent(e,{cancelable:i,bubbles:!0,element:r});return(n||doc.documentElement).dispatchEvent(o),o}operate I(){return new Promise(operate(e){return requestAnimationFrame(operate(){return e()})})}operate F(){var e=arguments.size>0&&void 0!==arguments[0]?arguments[0]:"";return(new DOMParser).parseFromString(e,"textual content/html")}operate x(e){for(var t=arguments.size,n=new Array(t>1?t-1:0),i=1;i3&&void 0!==arguments[3]?arguments[3]:new URLSearchParams;n(this,e),this.abortController=new AbortController,this.delegate=t,this.methodology=i,this.isIdempotent?this.url=operate(e,t){var n=new URLSearchParams(e.search),i=!0,r=!1,o=void 0;attempt{for(var s,a=t[Symbol.iterator]();!(i=(s=a.subsequent()).executed);i=!0)(n.has(l)?(n.delete(l),e.searchParams.set(l,h)):e.searchParams.append(l,h))}catch(d){r=!0,o=d}lastly{attemptlastly{if(r)throw o}}return e}(r,v(o.entries())):(this.physique=o,this.url=r)}return r(e,[{key:"cancel",value:function(){this.abortController.abort()}},{key:"perform",value:async function(){var e=this.fetchOptions;O("turbo:before-fetch-request",{detail:{fetchOptions:e}});try{this.delegate.requestStarted(this);var t=await fetch(this.url.href,e);return await this.receive(t)}catch(n){throw this.delegate.requestErrored(this,n),n}finally{this.delegate.requestFinished(this)}}},{key:"receive",value:async function(e){var t=new A(e);return O("turbo:before-fetch-response",{cancelable:!0,detail:{fetchResponse:t}}).defaultPrevented?this.delegate.requestPreventedHandlingResponse(this,t):t.succeeded?this.delegate.requestSucceededWithResponse(this,t):this.delegate.requestFailedWithResponse(this,t),t}},{key:"location",get:function(){return this.url}},{key:"params",get:function(){return this.url.searchParams}},{key:"entries",get:function(){return this.body?Array.from(this.body.entries()):[]}},{key:"fetchOptions",get:operate(){return{methodology:P[this.method].toUpperCase(),credentials:"same-origin",headers:this.headers,redirect:"comply with",physique:this.physique,sign:this.abortSignal}}},{key:"isIdempotent",get:operate(){return this.methodology==P.get}},{key:"headers",get:operate(){var e=Object.assign({},this.defaultHeaders);return"operate"==typeof this.delegate.prepareHeadersForRequest&&this.delegate.prepareHeadersForRequest(e,this),e}},{key:"abortSignal",get:operate(){return this.abortController.sign}},{key:"defaultHeaders",get:operate(){return{Settle for:"textual content/html, utility/xhtml+xml"}}}]),e}();var N,q,H=operate(){operate e(t,i){var r=this;n(this,e),this.began=!1,this.intersect=operate(e){var t=e.slice(-1)[0];(null==t?void 0:t.isIntersecting)&&r.delegate.elementAppearedInViewport(r.factor)},this.delegate=t,this.factor=i,this.intersectionObserver=new IntersectionObserver(this.intersect)}return r(e,[{key:"start",value:function()(this.started=!0,this.intersectionObserver.observe(this.element))},{key:"stop",value:function(){this.started&&(this.started=!1,this.intersectionObserver.unobserve(this.element))}}]),e}(),j=operate(){operate e(t){n(this,e),this.templateElement=doc.createElement("template"),this.templateElement.innerHTML=t}return r(e,[{key:"fragment",get:function(){var e=document.createDocumentFragment(),t=!0,n=!1,i=void 0;try{for(var r,o=this.foreignElements[Symbol.iterator]();!(t=(r=o.subsequent()).executed);t=!0){var s=r.worth;e.appendChild(doc.importNode(s,!0))}}catch(a){n=!0,i=a}lastly{attemptlastly{if(n)throw i}}return e}},{key:"foreignElements",get:operate(){return this.templateChildren.cut back(operate(e,t){return"turbo-stream"==t.tagName.toLowerCase()?[].concat(v(e),[t]):e},[])}},{key:"templateChildren",get:operate(){return Array.from(this.templateElement.content material.kids)}}],[{key:"wrap",value:function(e){return"string"==typeof e?new this(e):e}}]),e}();j.contentType="textual content/vnd.turbo-stream.html",operate(e){e[e.initialized=0]="initialized",e[e.requesting=1]="requesting",e[e.waiting=2]="ready",e[e.receiving=3]="receiving",e[e.stopping=4]="stopping",e[e.stopped=5]="stopped"}(N||(N={})),operate(e){e.urlEncoded="utility/x-www-form-urlencoded",e.multipart="multipart/form-data",e.plain="textual content/plain"}(q||(q={}));var B=operate(){operate e(t,i,r){var o=arguments.size>3&&void 0!==arguments[3]&&arguments[3];n(this,e),this.state=N.initialized,this.delegate=t,this.formElement=i,this.submitter=r,this.formData=operate(e,t)"");return n(i,r),this.fetchRequest=new D(this,this.methodology,this.location,this.physique),this.mustRedirect=o}return r(e,[{key:"start",value:async function(){var e=N,t=e.initialized,n=e.requesting;if(this.state==t)return this.state=n,this.fetchRequest.perform()}},{key:"stop",value:function(){var e=N,t=e.stopping,n=e.stopped;if(this.state!=t&&this.state!=n)return this.state=t,this.fetchRequest.cancel(),!0}},{key:"prepareHeadersForRequest",value:function(e,t){if(!t.isIdempotent){var n=function(e){if(null!=e){var t=document.cookie?document.cookie.split("; "):[],n=t.discover(operate(t){return t.startsWith(e)});if(n){var i=n.cut up("=").slice(1).be part of("=");return i?decodeURIComponent(i):void 0}}}(_("csrf-param"))||_("csrf-token");n&&(e["X-CSRF-Token"]=n),e.Settle for=[j.contentType,e.Accept].be part of(", ")}}},{key:"requestStarted",worth:operate(e){this.state=N.ready,O("turbo:submit-start",{goal:this.formElement,element:{formSubmission:this}}),this.delegate.formSubmissionStarted(this)}},{key:"requestPreventedHandlingResponse",worth:operate(e,t){this.outcome={success:t.succeeded,fetchResponse:t}}},{key:"requestSucceededWithResponse",worth:operate(e,t){if(t.clientError||t.serverError)this.delegate.formSubmissionFailedWithResponse(this,t);else if(this.requestMustRedirect(e)&&operate(e){return 200==e.statusCode&&!e.redirected}(t)){var n=new Error("Kind responses should redirect to a different location");this.delegate.formSubmissionErrored(this,n)}else this.state=N.receiving,this.outcome={success:!0,fetchResponse:t},this.delegate.formSubmissionSucceededWithResponse(this,t)}},{key:"requestFailedWithResponse",worth:operate(e,t){this.outcome={success:!1,fetchResponse:t},this.delegate.formSubmissionFailedWithResponse(this,t)}},{key:"requestErrored",worth:operate(e,t){this.outcome={success:!1,error:t},this.delegate.formSubmissionErrored(this,t)}},{key:"requestFinished",worth:operate(e){this.state=N.stopped,O("turbo:submit-end",{goal:this.formElement,element:Object.assign({formSubmission:this},this.outcome)}),this.delegate.formSubmissionFinished(this)}},{key:"requestMustRedirect",worth:operate(e){return!e.isIdempotent&&this.mustRedirect}},{key:"methodology",get:operate(){var e;return operate(e){swap(e.toLowerCase()){case"get":return P.get;case"put up":return P.put up;case"put":return P.put;case"patch":return P.patch;case"delete":return P.delete}}(((null===(e=this.submitter)||void 0===e?void 0:e.getAttribute("formmethod"))||this.formElement.getAttribute("methodology")||"").toLowerCase())||P.get}},{key:"motion",get:operate()},{key:"location",get:operate(){return E(this.motion)}},{key:"physique",get:operate()},{key:"enctype",get:operate(){var e;return operate(e){swap(e.toLowerCase()){case q.multipart:return q.multipart;case q.plain:return q.plain;default:return q.urlEncoded}}((null===(e=this.submitter)||void 0===e?void 0:e.getAttribute("formenctype"))||this.formElement.enctype)}},{key:"stringFormData",get:operate(){return v(this.formData).cut back(operate(e,t){var n=f(t,2),i=n[0],r=n[1];return e.concat("string"==typeof r?[[i,r]]:[])},[])}}]),e}();operate _(e){var t=doc.querySelector('meta[name="'.concat(e,'"]'));return t&&t.content material}var V=operate(){operate e(t){n(this,e),this.factor=t}return r(e,[{key:"hasAnchor",value:function(e){return null!=this.getElementForAnchor(e)}},{key:"getElementForAnchor",value:function(e){try{return this.element.querySelector("[id='".concat(e,"'], a[name="").concat(e,""]"))}catch(t){return null}}},{key:"getPermanentElementById",worth:operate(e){return this.factor.querySelector("https://www.dailyfx.com/foreign exchange/technical/article/special_report/2021/05/20/#".concat(e,"[data-turbo-permanent]"))}},{key:"getPermanentElementsPresentInSnapshot",worth:operate(e){return this.permanentElements.filter(operate(t){var n=t.id;return e.getPermanentElementById(n)})}},{key:"kids",get:operate(){return v(this.factor.kids)}},{key:"firstAutofocusableElement",get:operate(){return this.factor.querySelector("[autofocus]")}},{key:"permanentElements",get:operate(){return v(this.factor.querySelectorAll("[id][data-turbo-permanent]"))}}]),e}(),G=operate(){operate e(t,i){var r=this;n(this,e),this.submitBubbled=operate(e){if(e.goal instanceof HTMLFormElement)},this.delegate=t,this.factor=i}return r(e,[{key:"start",value:function(){this.element.addEventListener("submit",this.submitBubbled)}},{key:"stop",value:function(){this.element.removeEventListener("submit",this.submitBubbled)}}]),e}(),W=operate(){operate e(t,i){n(this,e),this.delegate=t,this.factor=i}return r(e,[{key:"scrollToAnchor",value:function(e){var t=this.snapshot.getElementForAnchor(e);t?this.scrollToElement(t):this.scrollToPosition({x:0,y:0})}},{key:"scrollToElement",value:function(e){e.scrollIntoView()}},{key:"scrollToPosition",value:function(e){var t=e.x,n=e.y;this.scrollRoot.scrollTo(t,n)}},{key:"render",value:async function(e){if(this.renderer)throw new Error("rendering is already in progress");var t=e.isPreview,n=e.shouldRender,i=e.newSnapshot;if(n)try{this.renderer=e,this.prepareToRenderSnapshot(e),this.delegate.viewWillRenderSnapshot(i,t),await this.renderSnapshot(e),this.delegate.viewRenderedSnapshot(i,t),this.finishRenderingSnapshot(e)}finally{delete this.renderer}else this.invalidate()}},{key:"invalidate",value:function(){this.delegate.viewInvalidated()}},{key:"prepareToRenderSnapshot",value:function(e){this.markAsPreview(e.isPreview),e.prepareToRender()}},{key:"markAsPreview",value:function(e){e?this.element.setAttribute("data-turbo-preview",""):this.element.removeAttribute("data-turbo-preview")}},{key:"renderSnapshot",value:async function(e){await e.render()}},{key:"finishRenderingSnapshot",value:function(e){e.finishRendering()}},{key:"scrollRoot",get:function(){return window}}]),e}(),U=operate(e){o(i,W);var t=g(i);operate i(){return n(this,i),t.apply(this,arguments)}return r(i,[{key:"invalidate",value:function(){this.element.innerHTML=""}},{key:"snapshot",get:function(){return new V(this.element)}}]),i}(),z=operate(){operate e(t,i){var r=this;n(this,e),this.clickBubbled=operate(e){r.respondsToEventTarget(e.goal)?r.clickEvent=e:delete r.clickEvent},this.linkClicked=operate(e){r.clickEvent&&r.respondsToEventTarget(e.goal)&&e.goal instanceof Component&&r.delegate.shouldInterceptLinkClick(e.goal,e.element.url)&&(r.clickEvent.preventDefault(),e.preventDefault(),r.delegate.linkClickIntercepted(e.goal,e.element.url)),delete r.clickEvent},this.willVisit=operate(){delete r.clickEvent},this.delegate=t,this.factor=i}return r(e,[{key:"start",value:function(){this.element.addEventListener("click",this.clickBubbled),document.addEventListener("turbo:click",this.linkClicked),document.addEventListener("turbo:before-visit",this.willVisit)}},{key:"stop",value:function(){this.element.removeEventListener("click",this.clickBubbled),document.removeEventListener("turbo:click",this.linkClicked),document.removeEventListener("turbo:before-visit",this.willVisit)}},{key:"respondsToEventTarget",value:function(e){var t=e instanceof Element?e:e instanceof Node?e.parentElement:null;return t&&t.closest("turbo-frame, html")==this.element}}]),e}(),J=operate(){operate e(t,i,r){var o=this;n(this,e),this.currentSnapshot=t,this.newSnapshot=i,this.isPreview=r,this.promise=new Promise(operate(e,t){return o.resolvingFunctions={resolve:e,reject:t}})}return r(e,[{key:"prepareToRender",value:function(){}},{key:"finishRendering",value:function(){this.resolvingFunctions&&(this.resolvingFunctions.resolve(),delete this.resolvingFunctions)}},{key:"createScriptElement",value:function(e){if("false"==e.getAttribute("data-turbo-eval"))return e;var t=document.createElement("script");return t.textContent=e.textContent,t.async=!1,function(e,t){for(var n=0,i=v(t.attributes);n<i.length;n++){var r=i[n],o=r.title,s=r.worth;e.setAttribute(o,s)}}(t,e),t}},{key:"preservingPermanentElements",worth:operate(e){var t,n,i=(t=this.currentSnapshot,n=this.newSnapshot,t.getPermanentElementsPresentInSnapshot(n).cut back(operate(e,t){var i=n.getPermanentElementById(t.id);if(i){var r=operate(e){var t=doc.createElement("meta");return t.setAttribute("title","turbo-permanent-placeholder"),t.setAttribute("content material",e.id),{factor:t,permanentElement:e}}(t);return X(t,r.factor),X(i,t),[].concat(v(e),[r])}return e},[]));e(),operate(e){var t=!0,n=!1,i=void 0;attempt{for(var r,o=e[Symbol.iterator]();!(t=(r=o.subsequent()).executed);t=!0){var s=r.worth,a=s.factor,u=s.permanentElement,c=u.cloneNode(!0);X(a,c)}}catch(l){n=!0,i=l}lastly{attemptlastly{if(n)throw i}}}(i)}},{key:"focusFirstAutofocusableElement",worth:operate(){var e=this.newSnapshot.firstAutofocusableElement;(operate(e){return e&&"operate"==typeof e.focus})(e)&&e.focus()}},{key:"shouldRender",get:operate(){return!0}},{key:"currentElement",get:operate(){return this.currentSnapshot.factor}},{key:"newElement",get:operate(){return this.newSnapshot.factor}}]),e}();operate X(e,t){var n=e.parentElement;if(n)return n.replaceChild(t,e)}var Y=operate(e){o(i,J);var t=g(i);operate i(){return n(this,i),t.apply(this,arguments)}return r(i,[{key:"render",value:async function(){var e=this;await I(),this.preservingPermanentElements(function(){e.loadFrameElement()}),this.scrollFrameIntoView(),await I(),this.focusFirstAutofocusableElement()}},{key:"loadFrameElement",value:function()},{key:"scrollFrameIntoView",value:function(){if(this.currentElement.autoscroll||this.newElement.autoscroll){var e=this.currentElement.firstElementChild,t=(n=this.currentElement.getAttribute("data-autoscroll-block"),i="end","end"==n||"start"==n||"center"==n||"nearest"==n?n:i);if(e)return e.scrollIntoView({block:t}),!0}var n,i;return!1}},{key:"shouldRender",get:function(){return!0}}]),i}();var Ok=operate(){operate e(t){n(this,e),this.resolveVisitPromise=operate(){},this.factor=t,this.view=new U(this,this.factor),this.appearanceObserver=new H(this,this.factor),this.linkInterceptor=new z(this,this.factor),this.formInterceptor=new G(this,this.factor)}return r(e,[{key:"connect",value:function(){this.loadingStyle==k.lazy&&this.appearanceObserver.start(),this.linkInterceptor.start(),this.formInterceptor.start()}},{key:"disconnect",value:function(){this.appearanceObserver.stop(),this.linkInterceptor.stop(),this.formInterceptor.stop()}},{key:"sourceURLChanged",value:function(){this.loadingStyle==k.eager&&this.loadSourceURL()}},{key:"loadingStyleChanged",value:function(){this.loadingStyle==k.lazy?this.appearanceObserver.start():(this.appearanceObserver.stop(),this.loadSourceURL())}},{key:"loadSourceURL",value:async function(){if(this.isActive&&this.sourceURL&&this.sourceURL!=this.loadingURL)try{this.loadingURL=this.sourceURL,this.element.loaded=this.visit(this.sourceURL),this.appearanceObserver.stop(),await this.element.loaded}finally{delete this.loadingURL}}},{key:"loadResponse",value:async function(e){try{var t=await e.responseHTML;if(t){var n=F(t).body,i=new V(await this.extractForeignFrameElement(n)),r=new Y(this.view.snapshot,i,!1);await this.view.render(r)}}catch(o){console.error(o),this.view.invalidate()}}},{key:"elementAppearedInViewport",value:function(e){this.loadSourceURL()}},{key:"shouldInterceptLinkClick",value:function(e,t){return this.shouldInterceptNavigation(e)}},{key:"linkClickIntercepted",value:function(e,t){this.navigateFrame(e,t)}},{key:"shouldInterceptFormSubmission",value:function(e){return this.shouldInterceptNavigation(e)}},{key:"formSubmissionIntercepted",value:function(e,t){this.formSubmission&&this.formSubmission.stop(),this.formSubmission=new B(this,e,t),this.formSubmission.fetchRequest.isIdempotent?this.navigateFrame(e,this.formSubmission.fetchRequest.url.href):this.formSubmission.start()}},{key:"prepareHeadersForRequest",value:function(e,t){e["Turbo-Frame"]=this.id}},{key:"requestStarted",worth:operate(e){this.factor.setAttribute("busy","")}},{key:"requestPreventedHandlingResponse",worth:operate(e,t){this.resolveVisitPromise()}},{key:"requestSucceededWithResponse",worth:async operate(e,t){await this.loadResponse(t),this.resolveVisitPromise()}},{key:"requestFailedWithResponse",worth:operate(e,t){console.error(t),this.resolveVisitPromise()}},{key:"requestErrored",worth:operate(e,t){console.error(t),this.resolveVisitPromise()}},{key:"requestFinished",worth:operate(e){this.factor.removeAttribute("busy")}},{key:"formSubmissionStarted",worth:operate(e){}},{key:"formSubmissionSucceededWithResponse",worth:operate(e,t){this.findFrameElement(e.formElement).delegate.loadResponse(t)}},{key:"formSubmissionFailedWithResponse",worth:operate(e,t){this.factor.delegate.loadResponse(t)}},{key:"formSubmissionErrored",worth:operate(e,t){}},{key:"formSubmissionFinished",worth:operate(e){}},{key:"viewWillRenderSnapshot",worth:operate(e,t){}},{key:"viewRenderedSnapshot",worth:operate(e,t){}},{key:"viewInvalidated",worth:operate(){}},{key:"go to",worth:async operate(e){var t=this,n=new D(this,P.get,E(e));return new Promise(operate(e){t.resolveVisitPromise=operate(){t.resolveVisitPromise=operate(){},e()},n.carry out()})}},{key:"navigateFrame",worth:operate(e,t){this.findFrameElement(e).src=t}},{key:"findFrameElement",worth:operate(e)this.factor.getAttribute("goal")))&&void 0!==t?t:this.factor},{key:"extractForeignFrameElement",worth:async operate(e){var t,n=CSS.escape(this.id);return(t=Z(e.querySelector("turbo-frame#".concat(n))))?t:(t=Z(e.querySelector("turbo-frame[src][recurse~=".concat(n,"]"))))?(await t.loaded,await this.extractForeignFrameElement(t)):(console.error('Response has no matching factor')),new S)}},{key:"shouldInterceptNavigation",worth:operate(e){var t=e.getAttribute("data-turbo-frame")||this.factor.getAttribute("goal");if(!this.enabled||"_top"==t)return!1;if(t){var n=Q(t);if(n)return!n.disabled}return!0}},{key:"id",get:operate(){return this.factor.id}},{key:"enabled",get:operate(){return!this.factor.disabled}},{key:"sourceURL",get:operate(){return this.factor.src}},{key:"loadingStyle",get:operate(){return this.factor.loading}},{key:"isLoading",get:operate()void 0!==this.loadingURL},{key:"isActive",get:operate(){return this.factor.isActive}}]),e}();operate Q(e){if(null!=e){var t=doc.getElementById(e);if(t instanceof S)return t}}operate Z(e){if(e&&e.ownerDocument!==doc&&(e=doc.importNode(e,!0)),e instanceof S)return e}var ee={append:operate(),prepend:operate(),take away:operate(),exchange:operate()e.replaceWith(this.templateContent),replace:operate(){this.targetElement&&(this.targetElement.innerHTML="",this.targetElement.append(this.templateContent))}},te=operate(e){o(i,c(HTMLElement));var t=g(i);operate i(){return n(this,i),t.apply(this,arguments)}return r(i,[{key:"connectedCallback",value:async function(){try{await this.render()}catch(e){console.error(e)}finally{this.disconnect()}}},{key:"render",value:async function(){var e,t=this;return null!==(e=this.renderPromise)&&void 0!==e?e:this.renderPromise=async function(){t.dispatchEvent(t.beforeRenderEvent)&&(await I(),t.performAction())}()}},{key:"disconnect",value:function(){try{this.remove()}catch(e){}}},{key:"raise",value:function(e){throw new Error("".concat(this.description,": ").concat(e))}},{key:"performAction",get:function(){if(this.action){var e=ee[this.action];if(e)return e;this.elevate("unknown motion")}this.elevate("motion attribute is lacking")}},{key:"targetElement",get:operate()void 0===e?void 0:e.getElementById(this.goal);this.elevate("goal attribute is lacking")},{key:"templateContent",get:operate(){return this.templateElement.content material}},{key:"templateElement",get:operate(){if(this.firstElementChild instanceof HTMLTemplateElement)return this.firstElementChild;this.elevate("first youngster factor have to be a factor")}},{key:"motion",get:operate(){return this.getAttribute("motion")}},{key:"goal",get:operate(){return this.getAttribute("goal")}},{key:"description",get:operate(){var e,t;return null!==(t=(null!==(e=this.outerHTML.match(/]+>/))&&void 0!==e?e:[])[0])&&void 0!==t?t:""}},{key:"beforeRenderEvent",get:operate(){return new CustomEvent("turbo:before-stream-render",{bubbles:!0,cancelable:!0})}}]),i}();S.delegateConstructor=Ok,customElements.outline("turbo-frame",S),customElements.outline("turbo-stream",te),operate(){var e=doc.currentScript;if(e&&!e.hasAttribute("data-turbo-suppress-warning"))for(;e=e.parentElement;)if(e==doc.physique)return console.warn(x(y()),e.outerHTML)}();var ne=operate(){operate e(){var t=this;n(this,e),this.hiding=!1,this.worth=0,this.seen=!1,this.trickle=operate(){t.setValue(t.worth+Math.random()/100)},this.stylesheetElement=this.createStylesheetElement(),this.progressElement=this.createProgressElement(),this.installStylesheetElement(),this.setValue(0)}return r(e,[{key:"show",value:function()},{key:"hide",value:function(){var e=this;this.visible&&!this.hiding&&(this.hiding=!0,this.fadeProgressElement(function(){e.uninstallProgressElement(),e.stopTrickling(),e.visible=!1,e.hiding=!1}))}},{key:"setValue",value:function(e){this.value=e,this.refresh()}},{key:"installStylesheetElement",value:function(){document.head.insertBefore(this.stylesheetElement,document.head.firstChild)}},{key:"installProgressElement",value:function(){this.progressElement.style.width="0″,this.progressElement.style.opacity="1″,document.documentElement.insertBefore(this.progressElement,document.body),this.refresh()}},{key:"fadeProgressElement",value:function(t){this.progressElement.style.opacity="0″,setTimeout(t,1.5*e.animationDuration)}},{key:"uninstallProgressElement",value:function(){this.progressElement.parentNode&&document.documentElement.removeChild(this.progressElement)}},{key:"startTrickling",value:function()},{key:"stopTrickling",value:function(){window.clearInterval(this.trickleInterval),delete this.trickleInterval}},{key:"refresh",value:function(){var e=this;requestAnimationFrame(function(){e.progressElement.style.width="".concat(10+90*e.value,"%")})}},{key:"createStylesheetElement",value:function(){var t=document.createElement("style");return t.type="text/css",t.textContent=e.defaultCSS,t}},{key:"createProgressElement",value:function(){var e=document.createElement("div");return e.className="turbo-progress-bar",e}}],[{key:"defaultCSS",get:function(){return x(m(),e.animationDuration,e.animationDuration/2,e.animationDuration/2)}}]),e}();ne.animationDuration=300;var ie=operate(e){o(i,V);var t=g(i);operate i(){var e;return n(this,i),(e=t.apply(this,arguments)).detailsByOuterHTML=e.kids.cut back(operate(e,t){var n,i,r,o=t.outerHTML,s=o in e?e[o]:{sort:operate(e){if(operate(e){return"script"==e.tagName.toLowerCase()}(e))return"script";if(operate(e)"hyperlink"==t&&"stylesheet"==e.getAttribute("rel")(e))return"stylesheet"}(t),tracked:operate(e){return"reload"==e.getAttribute("data-turbo-track")}(t),parts:[]};return Object.assign(Object.assign({},e),(n={},i=o,r=Object.assign(Object.assign({},s),{parts:[].concat(v(s.parts),[t])}),i in n?Object.defineProperty(n,i,{worth:r,enumerable:!0,configurable:!0,writable:!0}):n[i]=r,n))},{}),e}return r(i,[{key:"getScriptElementsNotInSnapshot",value:function(e){return this.getElementsMatchingTypeNotInSnapshot("script",e)}},{key:"getStylesheetElementsNotInSnapshot",value:function(e){return this.getElementsMatchingTypeNotInSnapshot("stylesheet",e)}},{key:"getElementsMatchingTypeNotInSnapshot",value:function(e,t){var n=this;return Object.keys(this.detailsByOuterHTML).filter(function(e){return!(e in t.detailsByOuterHTML)}).map(function(e){return n.detailsByOuterHTML[e]}).filter(operate(t){return t.sort==e}).map(operate(e){return f(e.parts,1)[0]})}},{key:"getMetaValue",worth:operate(e){var t=this.findMetaElementByName(e);return t?t.getAttribute("content material"):null}},{key:"findMetaElementByName",worth:operate(e){var t=this;return Object.keys(this.detailsByOuterHTML).cut back(operate(n,i){var r=f(t.detailsByOuterHTML[i].parts,1)[0];return operate(e,t){return"meta"==e.tagName.toLowerCase()&&e.getAttribute("title")==t}(r,e)?r:n},void 0)}},{key:"trackedElementSignature",get:operate(){var e=this;return Object.keys(this.detailsByOuterHTML).filter(operate(t){return e.detailsByOuterHTML[t].tracked}).be part of("")}},{key:"provisionalElements",get:operate(){var e=this;return Object.keys(this.detailsByOuterHTML).cut back(operate(t,n)o?s.size>1?[].concat(v(t),v(s.slice(1))):t:[].concat(v(t),v(s)),[])}}]),i}();var re,oe,se=operate(e){o(i,V);var t=g(i);operate i(e,r){var o;return n(this,i),(o=t.name(this,e)).headSnapshot=r,o}return r(i,[{key:"clone",value:function(){return new i(this.element.cloneNode(!0),this.headSnapshot)}},{key:"getSetting",value:function(e){return this.headSnapshot.getMetaValue("turbo-".concat(e))}},{key:"headElement",get:function(){return this.headSnapshot.element}},{key:"rootLocation",get:function(){var e;return E(null!==(e=this.getSetting("root"))&&void 0!==e?e:"/")}},{key:"cacheControlValue",get:function(){return this.getSetting("cache-control")}},{key:"isPreviewable",get:function(){return"no-preview"!=this.cacheControlValue}},{key:"isCacheable",get:function(){return"no-cache"!=this.cacheControlValue}},{key:"isVisitable",get:function(){return"reload"!=this.getSetting("visit-control")}}],[{key:"fromHTMLString",value:function(){var e=arguments.length>0&&void 0!==arguments[0]?arguments[0]:"";return this.fromDocument(F(e))}},{key:"fromElement",worth:operate(e){return this.fromDocument(e.ownerDocument)}},{key:"fromDocument",worth:operate(e){var t=e.head;return new this(e.physique,new ie(t))}}]),i}();!operate(e){e.visitStart="visitStart",e.requestStart="requestStart",e.requestEnd="requestEnd",e.visitEnd="visitEnd"}(re||(re={})),operate(e){e.initialized="initialized",e.began="began",e.canceled="canceled",e.failed="failed",e.accomplished="accomplished"}(oe||(oe={}));var ae,ue={motion:"advance",historyChanged:!1};!operate(e){e[e.networkFailure=0]="networkFailure",e[e.timeoutFailure=-1]="timeoutFailure",e[e.contentTypeMismatch=-2]="contentTypeMismatch"}(ae||(ae={}));var ce=operate(){operate e(t,i,r){var o=arguments.size>3&&void 0!==arguments[3]?arguments[3]:{};n(this,e),this.identifier=M(),this.timingMetrics={},this.followedRedirect=!1,this.historyChanged=!1,this.scrolled=!1,this.snapshotCached=!1,this.state=oe.initialized,this.delegate=t,this.location=i,this.restorationIdentifier=r||M();var s=Object.assign(Object.assign({},ue),o),a=s.motion,u=s.historyChanged,c=s.referrer,l=s.snapshotHTML,h=s.response;this.motion=a,this.historyChanged=u,this.referrer=c,this.snapshotHTML=l,this.response=h}return r(e,[{key:"start",value:function(){this.state==oe.initialized&&(this.recordTimingMetric(re.visitStart),this.state=oe.started,this.adapter.visitStarted(this),this.delegate.visitStarted(this))}},{key:"cancel",value:function(){this.state==oe.started&&(this.request&&this.request.cancel(),this.cancelRender(),this.state=oe.canceled)}},{key:"complete",value:function(){this.state==oe.started&&(this.recordTimingMetric(re.visitEnd),this.state=oe.completed,this.adapter.visitCompleted(this),this.delegate.visitCompleted(this))}},{key:"fail",value:function(){this.state==oe.started&&(this.state=oe.failed,this.adapter.visitFailed(this))}},{key:"changeHistory",value:function(){var e;if(!this.historyChanged)void 0===e?void 0:e.href)?"replace":this.action,n=this.getHistoryMethodForAction(t);this.history.update(n,this.location,this.restorationIdentifier),this.historyChanged=!0}},{key:"issueRequest",value:function(){this.hasPreloadedResponse()?this.simulateRequest():this.shouldIssueRequest()&&!this.request&&(this.request=new D(this,P.get,this.location),this.request.perform())}},{key:"simulateRequest",value:function(){this.response&&(this.startRequest(),this.recordResponse(),this.finishRequest())}},{key:"startRequest",value:function(){this.recordTimingMetric(re.requestStart),this.adapter.visitRequestStarted(this)}},{key:"recordResponse",value:function(){var e=arguments.length>0&&void 0!==arguments[0]?arguments[0]:this.response;if(this.response=e,e){var t=e.statusCode;le(t)?this.adapter.visitRequestCompleted(this):this.adapter.visitRequestFailedWithStatusCode(this,t)}}},{key:"finishRequest",worth:operate(){this.recordTimingMetric(re.requestEnd),this.adapter.visitRequestFinished(this)}},{key:"loadResponse",worth:operate(){var e=this;if(this.response){var t=this.response,n=t.statusCode,i=t.responseHTML;this.render(async operate(){e.cacheSnapshot(),le(n)&&null!=i?(await e.view.renderPage(se.fromHTMLString(i)),e.adapter.visitRendered(e),e.full()):(await e.view.renderError(se.fromHTMLString(i)),e.adapter.visitRendered(e),e.fail())})}}},{key:"getCachedSnapshot",worth:operate()},{key:"getPreloadedSnapshot",worth:operate(){if(this.snapshotHTML)return se.fromHTMLString(this.snapshotHTML)}},{key:"hasCachedSnapshot",worth:operate(){return null!=this.getCachedSnapshot()}},{key:"loadCachedSnapshot",worth:operate(){var e=this,t=this.getCachedSnapshot();if(t){var n=this.shouldIssueRequest();this.render(async operate())}}},{key:"followRedirect",worth:operate(){this.redirectedToLocation&&!this.followedRedirect&&(this.location=this.redirectedToLocation,this.historical past.exchange(this.redirectedToLocation,this.restorationIdentifier),this.followedRedirect=!0)}},{key:"requestStarted",worth:operate(){this.startRequest()}},{key:"requestPreventedHandlingResponse",worth:operate(e,t){}},{key:"requestSucceededWithResponse",worth:async operate(e,t){var n=await t.responseHTML;null==n?this.recordResponse({statusCode:ae.contentTypeMismatch}):(this.redirectedToLocation=t.redirected?t.location:void 0,this.recordResponse({statusCode:t.statusCode,responseHTML:n}))}},{key:"requestFailedWithResponse",worth:async operate(e,t){var n=await t.responseHTML;null==n?this.recordResponse({statusCode:ae.contentTypeMismatch}):this.recordResponse({statusCode:t.statusCode,responseHTML:n})}},{key:"requestErrored",worth:operate(e,t){this.recordResponse({statusCode:ae.networkFailure})}},{key:"requestFinished",worth:operate(){this.finishRequest()}},{key:"performScroll",worth:operate()this.scrollToTop():this.scrollToAnchor()},{key:"scrollToRestoredPosition",worth:operate(){var e=this.restorationData.scrollPosition;if(e)return this.view.scrollToPosition(e),!0}},{key:"scrollToAnchor",worth:operate(){if(null!=L(this.location))return this.view.scrollToAnchor(L(this.location)),!0}},{key:"scrollToTop",worth:operate(){this.view.scrollToPosition({x:0,y:0})}},{key:"recordTimingMetric",worth:operate(e){this.timingMetrics[e]=(new Date).getTime()}},{key:"getTimingMetrics",worth:operate(){return Object.assign({},this.timingMetrics)}},{key:"getHistoryMethodForAction",worth:operate(e){swap(e){case"exchange":return historical past.replaceState;case"advance":case"restore":return historical past.pushState}}},{key:"hasPreloadedResponse",worth:operate(){return"object"==typeof this.response}},{key:"shouldIssueRequest",worth:operate()},{key:"cacheSnapshot",worth:operate()(this.view.cacheSnapshot(),this.snapshotCached=!0)},{key:"render",worth:async operate(e){var t=this;this.cancelRender(),await new Promise(operate(e){t.body=requestAnimationFrame(operate(){return e()})}),e(),delete this.body,this.performScroll()}},{key:"cancelRender",worth:operate(){this.body&&(cancelAnimationFrame(this.body),delete this.body)}},{key:"adapter",get:operate(){return this.delegate.adapter}},{key:"view",get:operate(){return this.delegate.view}},{key:"historical past",get:operate(){return this.delegate.historical past}},{key:"restorationData",get:operate(){return this.historical past.getRestorationDataForIdentifier(this.restorationIdentifier)}}]),e}();operate le(e){return e>=200&&e2&&void 0!==arguments[2]?arguments[2]:M(),i={turbo:{restorationIdentifier:n}};e.name(historical past,i,"",t.href),this.location=t,this.restorationIdentifier=n}},{key:"getRestorationDataForIdentifier",worth:operate(e){return this.restorationData[e]||{}}},{key:"updateRestorationData",worth:operate(e){var t=this.restorationIdentifier,n=this.restorationData[t];this.restorationData[t]=Object.assign(Object.assign({},n),e)}},{key:"assumeControlOfScrollRestoration",worth:operate()},{key:"relinquishControlOfScrollRestoration",worth:operate(){this.previousScrollRestoration&&(historical past.scrollRestoration=this.previousScrollRestoration,delete this.previousScrollRestoration)}},{key:"shouldHandlePopState",worth:operate(){return this.pageIsLoaded()}},{key:"pageIsLoaded",worth:operate()}]),e}(),me=operate(){operate e(t){var i=this;n(this,e),this.began=!1,this.clickCaptured=operate(){removeEventListener("click on",i.clickBubbled,!1),addEventListener("click on",i.clickBubbled,!1)},this.clickBubbled=operate(e){if(i.clickEventIsSignificant(e)){var t=i.findLinkFromClickTarget(e.goal);if(t){var n=i.getLocationForLink(t);i.delegate.willFollowLinkToLocation(t,n)&&(e.preventDefault(),i.delegate.followedLinkToLocation(t,n))}}},this.delegate=t}return r(e,[{key:"start",value:function()(addEventListener("click",this.clickCaptured,!0),this.started=!0)},{key:"stop",value:function(){this.started&&(removeEventListener("click",this.clickCaptured,!0),this.started=!1)}},{key:"clickEventIsSignificant",value:function(e)},{key:"findLinkFromClickTarget",value:function(e){if(e instanceof Element)return e.closest("a[href]:not([target^=_]):not([download])")}},{key:"getLocationForLink",worth:operate(e)}]),e}(),ye=operate(){operate e(t){n(this,e),this.delegate=t}return r(e,[{key:"proposeVisit",value:function(e){var t=arguments.length>1&&void 0!==arguments[1]?arguments[1]:{};this.delegate.allowsVisitingLocation(e)&&this.delegate.visitProposedToLocation(e,t)}},{key:"startVisit",worth:operate(e,t){var n=arguments.size>2&&void 0!==arguments[2]?arguments[2]:{};this.cease(),this.currentVisit=new ce(this,E(e),t,Object.assign({referrer:this.location},n)),this.currentVisit.begin()}},{key:"submitForm",worth:operate(e,t){this.cease(),this.formSubmission=new B(this,e,t,!0),this.formSubmission.fetchRequest.isIdempotent?this.proposeVisit(this.formSubmission.fetchRequest.url):this.formSubmission.begin()}},{key:"cease",worth:operate(){this.formSubmission&&(this.formSubmission.cease(),delete this.formSubmission),this.currentVisit&&(this.currentVisit.cancel(),delete this.currentVisit)}},{key:"formSubmissionStarted",worth:operate(e){}},{key:"formSubmissionSucceededWithResponse",worth:async operate(e,t){if(e==this.formSubmission){var n=await t.responseHTML;if(n){e.methodology!=P.get&&this.view.clearSnapshotCache();var i={response:{statusCode:t.statusCode,responseHTML:n}};this.proposeVisit(t.location,i)}}}},{key:"formSubmissionFailedWithResponse",worth:async operate(e,t){var n=await t.responseHTML;if(n){var i=se.fromHTMLString(n);await this.view.renderPage(i),this.view.clearSnapshotCache()}}},{key:"formSubmissionErrored",worth:operate(e,t){}},{key:"formSubmissionFinished",worth:operate(e){}},{key:"visitStarted",worth:operate(e){this.delegate.visitStarted(e)}},{key:"visitCompleted",worth:operate(e){this.delegate.visitCompleted(e)}},{key:"adapter",get:operate(){return this.delegate.adapter}},{key:"view",get:operate(){return this.delegate.view}},{key:"historical past",get:operate(){return this.delegate.historical past}},{key:"location",get:operate(){return this.historical past.location}},{key:"restorationIdentifier",get:operate(){return this.historical past.restorationIdentifier}}]),e}();!operate(e){e[e.initial=0]="preliminary",e[e.loading=1]="loading",e[e.interactive=2]="interactive",e[e.complete=3]="full"}(he||(he={}));var ge=operate(){operate e(t){var i=this;n(this,e),this.stage=he.preliminary,this.began=!1,this.interpretReadyState=operate(){var e=i.readyState;"interactive"==e?i.pageIsInteractive():"full"==e&&i.pageIsComplete()},this.pageWillUnload=operate(){i.delegate.pageWillUnload()},this.delegate=t}return r(e,[{key:"start",value:function()},{key:"stop",value:function(){this.started&&(document.removeEventListener("readystatechange",this.interpretReadyState,!1),removeEventListener("pagehide",this.pageWillUnload,!1),this.started=!1)}},{key:"pageIsInteractive",value:function(){this.stage==he.loading&&(this.stage=he.interactive,this.delegate.pageBecameInteractive())}},{key:"pageIsComplete",value:function(){this.pageIsInteractive(),this.stage==he.interactive&&(this.stage=he.complete,this.delegate.pageLoaded())}},{key:"readyState",get:function(){return document.readyState}}]),e}(),ke=operate(){operate e(t){var i=this;n(this,e),this.began=!1,this.onScroll=operate(){i.updatePosition({x:window.pageXOffset,y:window.pageYOffset})},this.delegate=t}return r(e,[{key:"start",value:function()(addEventListener("scroll",this.onScroll,!1),this.onScroll(),this.started=!0)},{key:"stop",value:function(){this.started&&(removeEventListener("scroll",this.onScroll,!1),this.started=!1)}},{key:"updatePosition",value:function(e){this.delegate.scrollPositionChanged(e)}}]),e}(),be=operate(){operate e(t){var i=this;n(this,e),this.sources=new Set,this.began=!1,this.inspectFetchResponse=operate(e){var t=operate(e)void 0===t?void 0:t.fetchResponse;if(n instanceof A)return n(e);t&&operate(e){var t;return(null!==(t=e.contentType)&&void 0!==t?t:"").startsWith(j.contentType)}(t)&&(e.preventDefault(),i.receiveMessageResponse(t))},this.receiveMessageEvent=operate(e){i.began&&"string"==typeof e.knowledge&&i.receiveMessageHTML(e.knowledge)},this.delegate=t}return r(e,[{key:"start",value:function()},{key:"stop",value:function(){this.started&&(this.started=!1,removeEventListener("turbo:before-fetch-response",this.inspectFetchResponse,!1))}},{key:"connectStreamSource",value:function(e)(this.sources.add(e),e.addEventListener("message",this.receiveMessageEvent,!1))},{key:"disconnectStreamSource",value:function(e){this.streamSourceIsConnected(e)&&(this.sources.delete(e),e.removeEventListener("message",this.receiveMessageEvent,!1))}},{key:"streamSourceIsConnected",value:function(e){return this.sources.has(e)}},{key:"receiveMessageResponse",value:async function(e){var t=await e.responseHTML;t&&this.receiveMessageHTML(t)}},{key:"receiveMessageHTML",value:function(e){this.delegate.receivedMessageFromStream(new j(e))}}]),e}();var we=operate(e){o(i,J);var t=g(i);operate i(){return n(this,i),t.apply(this,arguments)}return r(i,[{key:"render",value:async function(){this.replaceHeadAndBody(),this.activateScriptElements()}},{key:"replaceHeadAndBody",value:function(){var e=document,t=e.documentElement,n=e.head,i=e.body;t.replaceChild(this.newHead,n),t.replaceChild(this.newElement,i)}},{key:"activateScriptElements",value:function(){var e=!0,t=!1,n=void 0;try{for(var i,r=this.scriptElements[Symbol.iterator]();!(e=(i=r.subsequent()).executed);e=!0){var o=i.worth,s=o.parentNode;if(s){var a=this.createScriptElement(o);s.replaceChild(a,o)}}}catch(u){t=!0,n=u}lastly{attemptlastly{if(t)throw n}}}},{key:"newHead",get:operate(){return this.newSnapshot.headSnapshot.factor}},{key:"scriptElements",get:operate(){return v(doc.documentElement.querySelectorAll("script"))}}]),i}(),Se=operate(e){o(i,J);var t=g(i);operate i(){return n(this,i),t.apply(this,arguments)}return r(i,[{key:"prepareToRender",value:function(){this.mergeHead()}},{key:"render",value:async function(){this.replaceBody()}},{key:"finishRendering",value:function(){h(s(i.prototype),"finishRendering",this).call(this),this.isPreview&&this.focusFirstAutofocusableElement()}},{key:"mergeHead",value:function(){this.copyNewHeadStylesheetElements(),this.copyNewHeadScriptElements(),this.removeCurrentHeadProvisionalElements(),this.copyNewHeadProvisionalElements()}},{key:"replaceBody",value:function(){var e=this;this.preservingPermanentElements(function(){e.activateNewBody(),e.assignNewBody()})}},{key:"copyNewHeadStylesheetElements",value:function(){var e=!0,t=!1,n=void 0;try{for(var i,r=this.newHeadStylesheetElements[Symbol.iterator]();!(e=(i=r.subsequent()).executed);e=!0){var o=i.worth;doc.head.appendChild(o)}}catch(s){t=!0,n=s}lastly{attemptlastly{if(t)throw n}}}},{key:"copyNewHeadScriptElements",worth:operate(){var e=!0,t=!1,n=void 0;attempt{for(var i,r=this.newHeadScriptElements[Symbol.iterator]();!(e=(i=r.subsequent()).executed);e=!0){var o=i.worth;doc.head.appendChild(this.createScriptElement(o))}}catch(s){t=!0,n=s}lastly{attemptlastly{if(t)throw n}}}},{key:"removeCurrentHeadProvisionalElements",worth:operate(){var e=!0,t=!1,n=void 0;attempt{for(var i,r=this.currentHeadProvisionalElements[Symbol.iterator]();!(e=(i=r.subsequent()).executed);e=!0){var o=i.worth;doc.head.removeChild(o)}}catch(s){t=!0,n=s}lastly{attemptlastly{if(t)throw n}}}},{key:"copyNewHeadProvisionalElements",worth:operate(){var e=!0,t=!1,n=void 0;attempt{for(var i,r=this.newHeadProvisionalElements[Symbol.iterator]();!(e=(i=r.subsequent()).executed);e=!0){var o=i.worth;doc.head.appendChild(o)}}catch(s){t=!0,n=s}lastly{attemptlastly{if(t)throw n}}}},{key:"activateNewBody",worth:operate(){doc.adoptNode(this.newElement),this.activateNewBodyScriptElements()}},{key:"activateNewBodyScriptElements",worth:operate(){var e=!0,t=!1,n=void 0;attempt{for(var i,r=this.newBodyScriptElements[Symbol.iterator]();!(e=(i=r.subsequent()).executed);e=!0){var o=i.worth;X(o,this.createScriptElement(o))}}catch(s){t=!0,n=s}lastly{attemptlastly{if(t)throw n}}}},{key:"assignNewBody",worth:operate(){doc.physique&&this.newElement instanceof HTMLBodyElement?X(doc.physique,this.newElement):doc.documentElement.appendChild(this.newElement)}},{key:"shouldRender",get:operate(){return this.newSnapshot.isVisitable&&this.trackedElementsAreIdentical}},{key:"currentHeadSnapshot",get:operate(){return this.currentSnapshot.headSnapshot}},{key:"newHeadSnapshot",get:operate(){return this.newSnapshot.headSnapshot}},{key:"newElement",get:operate(){return this.newSnapshot.factor}},{key:"trackedElementsAreIdentical",get:operate(){return this.currentHeadSnapshot.trackedElementSignature==this.newHeadSnapshot.trackedElementSignature}},{key:"newHeadStylesheetElements",get:operate(){return this.newHeadSnapshot.getStylesheetElementsNotInSnapshot(this.currentHeadSnapshot)}},{key:"newHeadScriptElements",get:operate(){return this.newHeadSnapshot.getScriptElementsNotInSnapshot(this.currentHeadSnapshot)}},{key:"currentHeadProvisionalElements",get:operate(){return this.currentHeadSnapshot.provisionalElements}},{key:"newHeadProvisionalElements",get:operate(){return this.newHeadSnapshot.provisionalElements}},{key:"newBodyScriptElements",get:operate(){return v(this.newElement.querySelectorAll("script"))}}]),i}(),Ee=operate(){operate e(t){n(this,e),this.keys=[],this.snapshots={},this.measurement=t}return r(e,[{key:"has",value:function(e){return T(e)in this.snapshots}},{key:"get",value:function(e){if(this.has(e)){var t=this.read(e);return this.touch(e),t}}},{key:"put",value:function(e,t){return this.write(e,t),this.touch(e),t}},{key:"clear",value:function(){this.snapshots={}}},{key:"read",value:function(e){return this.snapshots[T(e)]}},{key:"write",worth:operate(e,t){this.snapshots[T(e)]=t}},{key:"contact",worth:operate(e){var t=T(e),n=this.keys.indexOf(t);n>-1&&this.keys.splice(n,1),this.keys.unshift(t),this.trim()}},{key:"trim",worth:operate(){var e=!0,t=!1,n=void 0;attempt{for(var i,r=this.keys.splice(this.measurement)[Symbol.iterator]();!(e=(i=r.subsequent()).executed);e=!0){var o=i.worth;delete this.snapshots[o]}}catch(s){t=!0,n=s}lastly{attemptlastly{if(t)throw n}}}}]),e}(),Le=operate(e){o(i,W);var t=g(i);operate i(){var e;return n(this,i),(e=t.apply(this,arguments)).snapshotCache=new Ee(10),e.lastRenderedLocation=new URL(location.href),e}return r(i,[{key:"renderPage",value:function(e){var t=arguments.length>1&&void 0!==arguments[1]&&arguments[1],n=new Se(this.snapshot,e,t);return this.render(n)}},{key:"renderError",worth:operate(e){var t=new we(this.snapshot,e,!1);this.render(t)}},{key:"clearSnapshotCache",worth:operate(){this.snapshotCache.clear()}},{key:"cacheSnapshot",worth:async operate(){if(this.shouldCacheSnapshot){this.delegate.viewWillCacheSnapshot();var e=this.snapshot,t=this.lastRenderedLocation;await new Promise(operate(e){return setTimeout(operate(){return e()},0)}),this.snapshotCache.put(t,e.clone())}}},{key:"getCachedSnapshotForLocation",worth:operate(e){return this.snapshotCache.get(e)}},{key:"snapshot",get:operate(){return se.fromElement(this.factor)}},{key:"shouldCacheSnapshot",get:operate(){return this.snapshot.isCacheable}}]),i}();operate Ce(e){Object.defineProperties(e,Re)}var Re={absoluteURL:{get:operate(){return this.toString()}}},Te=new(operate(){operate e(){n(this,e),this.navigator=new ye(this),this.historical past=new pe(this),this.view=new Le(this,doc.documentElement),this.adapter=new de(this),this.pageObserver=new ge(this),this.linkClickObserver=new me(this),this.formSubmitObserver=new fe(this),this.scrollObserver=new ke(this),this.streamObserver=new be(this),this.frameRedirector=new ve(doc.documentElement),this.enabled=!0,this.progressBarDelay=500,this.began=!1}return r(e,[{key:"start",value:function()},{key:"disable",value:function(){this.enabled=!1}},{key:"stop",value:function(){this.started&&(this.pageObserver.stop(),this.linkClickObserver.stop(),this.formSubmitObserver.stop(),this.scrollObserver.stop(),this.streamObserver.stop(),this.frameRedirector.stop(),this.history.stop(),this.started=!1)}},{key:"registerAdapter",value:function(e){this.adapter=e}},{key:"visit",value:function(e){var t=arguments.length>1&&void 0!==arguments[1]?arguments[1]:{};this.navigator.proposeVisit(E(e),t)}},{key:"connectStreamSource",worth:operate(e){this.streamObserver.connectStreamSource(e)}},{key:"disconnectStreamSource",worth:operate(e){this.streamObserver.disconnectStreamSource(e)}},{key:"renderStreamMessage",worth:operate(e){doc.documentElement.appendChild(j.wrap(e).fragment)}},{key:"clearCache",worth:operate(){this.view.clearSnapshotCache()}},{key:"setProgressBarDelay",worth:operate(e){this.progressBarDelay=e}},{key:"historyPoppedToLocationWithRestorationIdentifier",worth:operate(e){this.enabled?this.navigator.proposeVisit(e,{motion:"restore",historyChanged:!0}):this.adapter.pageInvalidated()}},{key:"scrollPositionChanged",worth:operate(e){this.historical past.updateRestorationData({scrollPosition:e})}},{key:"willFollowLinkToLocation",worth:operate(e,t){return this.elementIsNavigable(e)&&this.locationIsVisitable(t)&&this.applicationAllowsFollowingLinkToLocation(e,t)}},{key:"followedLinkToLocation",worth:operate(e,t){var n=this.getActionForLink(e);this.go to(t.href,{motion:n})}},{key:"allowsVisitingLocation",worth:operate(e){return this.applicationAllowsVisitingLocation(e)}},{key:"visitProposedToLocation",worth:operate(e,t){Ce(e),this.adapter.visitProposedToLocation(e,t)}},{key:"visitStarted",worth:operate(e){Ce(e.location),this.notifyApplicationAfterVisitingLocation(e.location)}},{key:"visitCompleted",worth:operate(e){this.notifyApplicationAfterPageLoad(e.getTimingMetrics())}},{key:"willSubmitForm",worth:operate(e,t){return this.elementIsNavigable(e)&&this.elementIsNavigable(t)}},{key:"formSubmitted",worth:operate(e,t){this.navigator.submitForm(e,t)}},{key:"pageBecameInteractive",worth:operate(){this.view.lastRenderedLocation=this.location,this.notifyApplicationAfterPageLoad()}},{key:"pageLoaded",worth:operate(){this.historical past.assumeControlOfScrollRestoration()}},{key:"pageWillUnload",worth:operate(){this.historical past.relinquishControlOfScrollRestoration()}},{key:"receivedMessageFromStream",worth:operate(e){this.renderStreamMessage(e)}},{key:"viewWillCacheSnapshot",worth:operate(){this.notifyApplicationBeforeCachingSnapshot()}},{key:"viewWillRenderSnapshot",worth:operate(e,t){var n=e.factor;this.notifyApplicationBeforeRender(n)}},{key:"viewRenderedSnapshot",worth:operate(e,t){this.view.lastRenderedLocation=this.historical past.location,this.notifyApplicationAfterRender()}},{key:"viewInvalidated",worth:operate(){this.adapter.pageInvalidated()}},{key:"applicationAllowsFollowingLinkToLocation",worth:operate(e,t){return!this.notifyApplicationAfterClickingLinkToLocation(e,t).defaultPrevented}},{key:"applicationAllowsVisitingLocation",worth:operate(e){return!this.notifyApplicationBeforeVisitingLocation(e).defaultPrevented}},{key:"notifyApplicationAfterClickingLinkToLocation",worth:operate(e,t){return O("turbo:click on",{goal:e,element:{url:t.href},cancelable:!0})}},{key:"notifyApplicationBeforeVisitingLocation",worth:operate(e){return O("turbo:before-visit",{element:{url:e.href},cancelable:!0})}},{key:"notifyApplicationAfterVisitingLocation",worth:operate(e){return O("turbo:go to",{element:{url:e.href}})}},{key:"notifyApplicationBeforeCachingSnapshot",worth:operate(){return O("turbo:before-cache")}},{key:"notifyApplicationBeforeRender",worth:operate(e){return O("turbo:before-render",{element:{newBody:e}})}},{key:"notifyApplicationAfterRender",worth:operate(){return O("turbo:render")}},{key:"notifyApplicationAfterPageLoad",worth:operate(){var e=arguments.size>0&&void 0!==arguments[0]?arguments[0]:{};return O("turbo:load",{element:{url:this.location.href,timing:e}})}},{key:"getActionForLink",worth:operate(e){var t=e.getAttribute("data-turbo-action");return operate(e)"exchange"==e(t)?t:"advance"}},{key:"elementIsNavigable",worth:operate(e)"false"!=t.getAttribute("data-turbo")},{key:"locationIsVisitable",worth:operate(e)xhtml))$/)},{key:"location",get:operate(){return this.historical past.location}},{key:"restorationIdentifier",get:operate(){return this.historical past.restorationIdentifier}},{key:"snapshot",get:operate(){return this.view.snapshot}}]),e}()),Pe=Te.navigator;operate Ae(){Te.begin()}Ae();var Oe,Ie,Fe=Object.freeze({__proto__:null,clearCache:operate(){Te.clearCache()},connectStreamSource:operate(e){Te.connectStreamSource(e)},disconnectStreamSource:operate(e){Te.disconnectStreamSource(e)},navigator:Pe,registerAdapter:operate(e){Te.registerAdapter(e)},renderStreamMessage:operate(e){Te.renderStreamMessage(e)},setProgressBarDelay:operate(e){Te.setProgressBarDelay(e)},begin:Ae,go to:operate(e,t){Te.go to(e,t)}}),xe=operate(){var e=arguments.size>0&&void 0!==arguments[0]&&arguments[0];return operate(t,n,i){var r=this,o=i.worth;return i.worth=operate(){var i;window.DFX_SINGLETONS=null!==(i=window.DFX_SINGLETONS)&&void 0!==i?i:{};var s="".concat(t.displayName,":").concat(n);if(e){doc.addEventListener("turbo:go to",operate e(){window.DFX_SINGLETONS[s]&&(window.DFX_SINGLETONS[s]=null),doc.removeEventListener("turbo:go to",e)})}if(window.DFX_SINGLETONS[s])return window.DFX_SINGLETONS[s];for(var a=arguments.size,u=new Array(a),c=0;c4&&void 0!==arguments[4])||arguments[4],o="".concat(e,"=").concat(t);"string"==typeof n&&(o+=";expires=".concat(n)),"string"==typeof i&&(o+=";area=".concat(i)),o+="; path=/",r&&"https:"===location.protocol&&(o+="; safe"),doc.cookie=o}},{key:"deleteCookie",worth:operate(e){this.setCookie(e,"","Thu, 01 Jan 1970 00:00:00 UTC")}},{key:"getLocalStorageOrCookie",worth:operate(e){var t;return this.isLocalStorageAvailable&&null!==(t=this.localStorage.getItem(e))&&void 0!==t?t:this.getCookie(e)}},{key:"setLocalStorageOrCookie",worth:operate(e,t,n,i){this.isLocalStorageAvailable?this.localStorage.setItem(e,t):this.setCookie(e,t,n,i)}},{key:"deleteLocalStorageOrCookie",worth:operate(e){this.isLocalStorageAvailable?this.localStorage.removeItem(e):this.deleteCookie(e)}}]),e}();Me.displayName="DfxLocalStorageCookieManager";var De=(Oe=xe(),p(Ie=operate(){operate e(){n(this,e)}return r(e,null,[{key:"create",value:function(){return new Me(window.localStorage)}}]),e}(),"create",[Oe],Object.getOwnPropertyDescriptor(Ie,"create"),Ie),Ie);De.displayName="DfxLocalStorageCookieManagerFactory";var Ne,qe,He=operate(){operate e(t){n(this,e),this.dfxLocalStorageCookieManager=t}return r(e,[{key:"getLevel",value:function(){if(this.permissionLevel)return this.permissionLevel;var e=this.dfxLocalStorageCookieManager.getLocalStorageOrCookie("dfx-cookies-level"),t=this._normalizeValue(e);return this.permissionLevel=t,t}},{key:"_normalizeValue",value:function(e){var t=parseInt(e);return isNaN(t)&&(t=3),t}},{key:"checkLevel",value:function(e){return this.getLevel()>=e}}]),e}();He.displayName="DfxGdprChecker";var je=(Ne=xe(),p(qe=operate(){operate e(){n(this,e)}return r(e,null,[{key:"create",value:function(){return new He(De.create())}}]),e}(),"create",[Ne],Object.getOwnPropertyDescriptor(qe,"create"),qe),qe);je.displayName="DfxGdprCheckerFactory";var Be,_e,Ve="".concat("dfx-redirectData","_expiresIn"),Ge=new Map([["GB","UK"]]),We=operate(){operate e(t,i){n(this,e),this.geoJsUrl=t,this.dfxLocalStorageCookieManager=i}return r(e,[{key:"init",value:function(){var e=this;return this.getRedirectData().then(function(e){return Ge.has(e.country)&&(e.country=Ge.get(e.country)),e}).then(function(t){e.redirectData=t,e._setBodyClasses()._setLocationToStorage()})}},{key:"getRedirectData",value:function(){var e,t=this;return this.loadingState=null!==(e=this.loadingState)&&void 0!==e?e:new Promise(function(e){t.redirectData?e(t.redirectData):(t.redirectData=t._getLocationFromStorage(),t.redirectData?e(t.redirectData):e(t._loadRedirectData()))}),this.loadingState}},{key:"_loadRedirectData",value:function(){var e=this;return new Promise(function(t){var n=document.createElement("script");n.onload=function(){e.redirectData=window.redirectData,t(e.redirectData)},n.setAttribute("src",e.geoJsUrl),document.head.appendChild(n)})}},{key:"_setBodyClasses",value:function(){var e=this.redirectData.country.toLowerCase();return document.body?(document.body.classList.remove("dfx-country-pending"),document.body.classList.add("dfx-country-".concat(e))):document.addEventListener("DOMContentLoaded",function(){document.body.classList.remove("dfx-country-pending"),document.body.classList.add("dfx-country-".concat(e))},!1),this}},{key:"_getLocationFromStorage",value:function(){var e,t=this.dfxLocalStorageCookieManager.getLocalStorageOrCookie(Ve);if(t&&t>Date.now())return JSON.parse(null!==(e=this.dfxLocalStorageCookieManager.getLocalStorageOrCookie("dfx-redirectData"))&&void 0!==e&&e)}},{key:"_setLocationToStorage",value:function(){var e=new Date;return e.setTime(e.getTime()+6048e5),this.dfxLocalStorageCookieManager.setLocalStorageOrCookie("dfx-redirectData",JSON.stringify(this.redirectData),e.toUTCString()),this.dfxLocalStorageCookieManager.setLocalStorageOrCookie(Ve,e.getTime(),e.toUTCString()),this}}]),e}();We.displayName="DfxGeoLocation";var Ue=(Be=xe(),p(_e=operate(){operate e(){n(this,e)}return r(e,null,[{key:"create",value:function(){return new We(window.DFX_ENDPOINTS.geoJs,De.create())}}]),e}(),"create",[Be],Object.getOwnPropertyDescriptor(_e,"create"),_e),_e);Ue.displayName="DfxGeoLocationFactory";var ze={OFF:"off",LOADING:"loading",READY:"prepared"},Je="pixel",Xe="GPT",Ye="GTM",$e="adobe_tracking",Ke="taboola_pixel",Qe=operate(){operate e(t,i,r,o,s,a,u){var c=this;n(this,e),this.config=u,this.allowedTrackingsConfig=a,this.dfxGdprChecker=t,this.dfxLocalStorageCookieManager=i,this.facebookPixelId=r,this.tagManagerId=o,this.taboolaPixelId=s,this._setDefaultStates()._resetAssetClasses()._resetInstruments()._resetCategories()._resetSitecatConfig(),doc.addEventListener("turbo:go to",operate(){$("head script").filter(operate(e,t)t.src.consists of(u.reportSuite)).take away(),c.adobeTrackingState=ze.OFF,c._resetAssetClasses()._resetInstruments()._resetCategories()._resetSitecatConfig()})}return r(e,[{key:"_setDefaultStates",value:function(){return this.adobeTrackingState=ze.OFF,this.pixelState=ze.OFF,this.gptState=ze.OFF,this.gtmState=ze.OFF,this.taboolaState=ze.OFF,this}},{key:"_resetInstruments",value:function(){return this.gptInstrumentPairs=new Set,this}},{key:"_resetCategories",value:function(){return this.gptCategories={category:"",subCategory:""},this}},{key:"_resetAssetClasses",value:function(){return this.gptAssetClasses=new Set,this}},{key:"_resetSitecatConfig",value:function(){return this.sitecatConfig={mainReportSuite:this.config.mainReportSuite,reportSuite:this.config.reportSuite,organisationId:this.config.organisationId},this}},{key:"createAdobeTracking",value:function(e){var t=this;return this.dfxGdprChecker.checkLevel(2)&&this.allowedTrackingsConfig[$e]&&this.adobeTrackingState===ze.OFF?(this.adobeTrackingState=ze.LOADING,window.System.import(e).then(operate(e){var n=e.DfxAdobeTracking;t.dfxAdobeTracking=new n(t.sitecatConfig,t.dfxGdprChecker,t.dfxLocalStorageCookieManager),t.adobeTrackingState=ze.READY,t.runAdobeTracking()}),this):this}},{key:"runAdobeTracking",worth:operate(){var e=this;return this.dfxGdprChecker.checkLevel(2)?(this.adobeTrackingState===ze.READY?(this.dfxAdobeTracking.resetTrackingObject(),this.dfxAdobeTracking.init()):setTimeout(operate(){return e.runAdobeTracking()},400),this):this}},{key:"trackAdobeEvent",worth:operate(e,t,n){var i=this;return this.dfxGdprChecker.checkLevel(2)&&this.allowedTrackingsConfig[$e]?(this.adobeTrackingState===ze.READY?this.dfxAdobeTracking.trackEvent(e,t,n):setTimeout(operate(){return i.trackAdobeEvent(e,t,n)},400),this):this}},{key:"getPageNameForAdobeTracking",worth:operate(){return this.adobeTrackingState===ze.READY&&this.dfxAdobeTracking.getPageName()}},{key:"addSitecatConfig",worth:operate(e,t){return this.dfxGdprChecker.checkLevel(2)?(this.sitecatConfig[e]=t,this):this}},{key:"createFacebookPixel",worth:operate(){var e=this;if(!this.dfxGdprChecker.checkLevel(3))return this;if(!this.allowedTrackingsConfig[Je]||this.pixelState!==ze.OFF)return this;this.pixelState=ze.LOADING;var t,n,i,r,o,s,a;return t=operate(){e.pixelState=ze.READY},n=window,i=doc,r="script",n.fbq||(o=n.fbq=operate(){o.callMethod?o.callMethod.apply(o,arguments):o.queue.push(arguments)},n._fbq||(n._fbq=o),o.push=o,o.loaded=!0,o.model="2.0″,o.queue=[],(s=i.createElement(r)).async=!0,s.onload=t,s.src="https://join.fb.internet/en_US/fbevents.js",(a=i.getElementsByTagName(r)[0]).parentNode.insertBefore(s,a)),this.fbq=window.fbq,this.fbq("init",this.facebookPixelId),this}},{key:"facebookPixelTrack",worth:operate(e){return this.dfxGdprChecker.checkLevel(3)&&this.allowedTrackingsConfig[Je]?(this.pixelState===ze.OFF&&this.createFacebookPixel(),this.fbq("monitor",e),this):this}},{key:"facebookPixelTrackPageView",worth:operate(){return this.dfxGdprChecker.checkLevel(3)?(this.facebookPixelTrack("PageView"),this):this}},{key:"facebookPixelTrackLead",worth:operate(){return this.dfxGdprChecker.checkLevel(3)?(this.facebookPixelTrack("Lead"),this):this}},{key:"createGTM",worth:operate(){var e=this;if(!this.dfxGdprChecker.checkLevel(1))return this;if(!this.allowedTrackingsConfig[Ye]||this.gtmState!==ze.OFF)return this;this.gtmState=ze.LOADING;var t=operate(){e.gtmState=ze.READY};return operate(e,n,i,r,o){e[r]=e[r]||[],e[r].push({"gtm.begin":(new Date).getTime(),occasion:"gtm.js"});var s=n.getElementsByTagName(i)[0],a=n.createElement(i);a.async=!0,a.src="https://www.googletagmanager.com/gtm.js?id="+o,a.onload=t,s.parentNode.insertBefore(a,s)}(window,doc,"script","dataLayer",this.tagManagerId),this}},{key:"createGPT",worth:operate(){var e=this;if(!this.dfxGdprChecker.checkLevel(1))return this;if(!this.allowedTrackingsConfig[Xe]||this.gptState!==ze.OFF)return this;this.gptState=ze.LOADING;var t=operate(){e.gptState=ze.READY},n=window.googletag||{cmd:[]};return operate(){var e=doc.createElement("script");e.async=!0,e.sort="textual content/javascript";var n="https:"===doc.location.protocol;e.src=(n?"https:":"http:")+"//www.googletagservices.com/tag/js/gpt.js",e.onload=t;var i=doc.getElementsByTagName("script")[0];i.parentNode.insertBefore(e,i)}(),window.googletag=window.googletag||n,this}},{key:"trackGTMpageLoadEvent",worth:operate(){return this.dfxGdprChecker.checkLevel(1)?(window.dataLayer=window.dataLayer||[],window.dataLayer.push({occasion:"turboPageView",virtualUrl:window.location.pathname}),this):this}},{key:"addGptAssetClasses",worth:operate(e){var t=this;if(!Array.isArray(e))throw new TypeError("Param assetClasses have to be an Array");return e.forEach(operate(e){return t.gptAssetClasses.add(e)}),this}},{key:"addGptInstrumentPairs",worth:operate(e){var t=this;if(!Array.isArray(e))throw new TypeError("Param pairs have to be an Array");return e.forEach(operate(e){return t.gptInstrumentPairs.add(e)}),this}},{key:"addGptCategories",worth:operate(){var e=arguments.size>0&&void 0!==arguments[0]?arguments[0]:"",t=arguments.size>1&&void 0!==arguments[1]?arguments[1]:"";this.gptCategories={class:e,subCategory:t}}},{key:"getGptAssetClasses",worth:operate(){return this.gptAssetClasses}},{key:"getGptInstrumentPairs",worth:operate(){return this.gptInstrumentPairs}},{key:"getGptCategory",worth:operate(){return this.gptCategories.class}},{key:"getGptSubCategory",worth:operate(){return this.gptCategories.subCategory}},{key:"createTaboolaPixel",worth:operate(){var e=this;if(!this.dfxGdprChecker.checkLevel(3))return this;if(!this.allowedTrackingsConfig[Ke]||this.taboolaState!==ze.OFF)return this;this.taboolaState=ze.LOADING;var t,n,i,r=operate(){e.taboolaState=ze.READY};return window._tfa=window._tfa||[],window._tfa.push({notify:"occasion",title:"page_view",id:this.taboolaPixelId}),this.tfa=window._tfa,t=doc.createElement("script"),n=doc.getElementsByTagName("script")[0],i="tb_tfa_script",doc.getElementById(i)||(t.async=1,t.src="https://cdn.taboola.com/libtrc/unip/1350268/tfa.js",t.id=i,t.onload=r,n.parentNode.insertBefore(t,n)),this}},{key:"taboolaPixelTrack",worth:operate(e){return this.dfxGdprChecker.checkLevel(3)&&this.allowedTrackingsConfig[Ke]?(this.pixelState===ze.OFF&&this.createTaboolaPixel(),this.tfa.push({notify:"occasion",title:e,id:this.taboolaPixelId}),this):this}}]),e}();Qe.displayName="DfxThirdPartyManager";var Ze=operate(){operate e(t){n(this,e),this.config=t}return r(e,[{key:"get",value:function(e){return this.config.get(e)}},{key:"set",value:function(e,t)}]),e}();Ze.displayName="DfxConfig";var et,tt,nt=operate(){operate e(){n(this,e)}return r(e,null,[{key:"create",value:function(){var e=Object.assign({},window.DFX_CONFIG,window.DFX_ENDPOINTS),t=new Map(Object.entries(e));return new Ze(t)}}]),e}();nt.displayName="DfxConfigFactory",operate(e,n,i,r)a);s>3&&a&&Object.defineProperty(n,i,a)([xe()],nt,"create",null);var it=(et=xe(),p(tt=operate(){operate e(){n(this,e)}return r(e,null,[{key:"create",value:function(e){var t=arguments.length>1&&void 0!==arguments[1]?arguments[1]:window.DFX_CONFIG,n=nt.create();return new Qe(je.create(),De.create(),n.get("facebookPixelId"),n.get("tagManagerId"),n.get("taboolaPixelId"),e,t)}}]),e}(),"create",[et],Object.getOwnPropertyDescriptor(tt,"create"),tt),tt);it.displayName="DfxThirdPartyManagerFactory";var rt=operate(){operate e(){n(this,e)}return r(e,[{key:"init",value:function(){document.fonts&&(document.documentElement.classList.add("dfx-fonts-loading"),document.fonts.ready.then(function(){document.documentElement.classList.remove("dfx-fonts-loading")}))}}]),e}();rt.displayName="DfxFonts",(new rt).init();var ot=je.create();!operate(){operate e(e){var t=arguments.size>1&&void 0!==arguments[1]?arguments[1]:{bubbles:!1,cancelable:!1,element:void 0},n=doc.createEvent("CustomEvent");return n.initCustomEvent(e,t.bubbles,t.cancelable,t.element),n}"operate"!=typeof window.CustomEvent&&(e.prototype=window.Occasion.prototype,window.CustomEvent=e)}(),"path"in Occasion.prototype||Object.defineProperty(Occasion.prototype,"path",{get:Occasion.prototype.composedPath});doc.addEventListener("turbo:load",operate(){return e=doc.querySelector("noscript.jsdfx-script"),window.POLYFILLED&&(e=doc.querySelector("noscript.jsdfx-script-polyfilled")),void(e&&window.System.import(e.getAttribute("data-src")).then(operate(e){Object.keys(e).forEach(operate(t){window[t]=e[t]}),window.runStacked()}).catch(operate(e){return console.error(e)}));var e}),window.efficiency.mark=window.efficiency.mark||operate(){},window.efficiency.measure=window.efficiency.measure||operate(){},window.turbo=Fe,Ae(),Ue.create().init(),e.DfxGdprChecker=ot,e.DfxGdprCheckerFactory=je,e.DfxGeoLocationFactory=Ue,e.DfxThirdPartyManagerFactory=it,Object.defineProperty(e,"__esModule",{worth:!0})}(this.window=this.window||{});