Bitcoin, Ethereum Value Evaluation
Bitcoin is testing a key spot of development assist, whereas Ethereum exams the assist aspect of a latest vary.

The evaluation contained in article depends on

price action

and

chart formations

. To be taught extra about value motion or chart patterns, try our

DailyFX Education

part

.
Final week introduced the fireworks on the Central Financial institution entrance and regardless of the feedback from Chair Powell and the Fed about near-term price coverage, danger markets seem like treading cautiously as Quarter-end nears.
To make certain, the Fed has made little sign of eradicating assist. Markets, then again, have began to get wound up concerning the potential that the Fed could have to start eradicating that assist sooner quite than later. We're seemingly going to see at the least a few of this reconciled within the subsequent week and a half, as the top of Q1 nears. Threat parity funds allocating away from shares and into bonds to seize these new larger charges could result in a little bit of a shift; but when we do see flows into bonds, stoking larger costs, the charges downside could start to start out fixing itself with out the Fed having to push on any levers.
In crypto markets, each Bitcoin and Ethereum stay on their again foots after extraordinarily sturdy begins to the 12 months. This might maybe be a little bit of window dressing forward of Quarter-end, with the latest bullish development in Bitcoin exhibiting the opportunity of a deeper pullback whereas the flatter value motion of Ethereum could provide some vary setups within the week forward.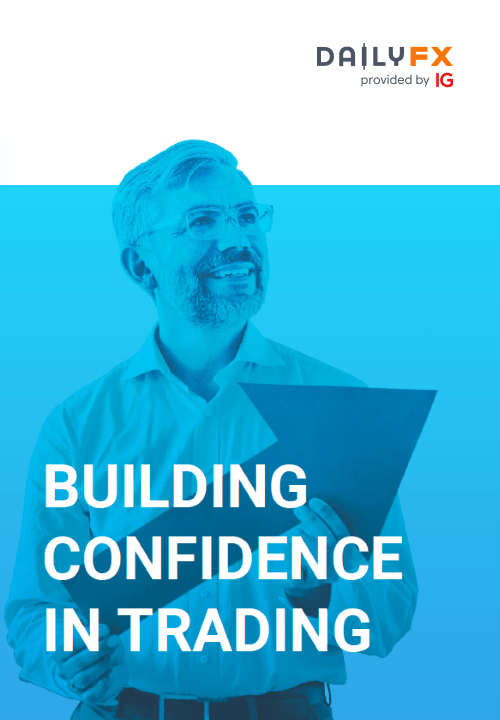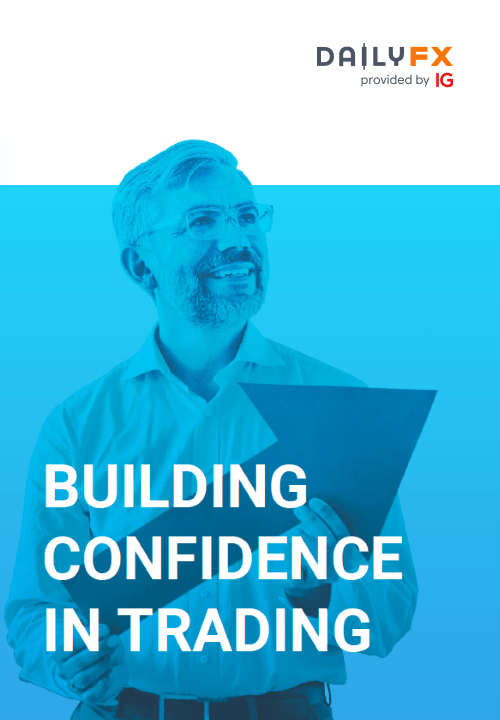 Recommended by James Stanley
Building Confidence in Trading
Bitcoin Threatens Deeper Pullback
Bitcoin had a super-charged begin to the month – rising by 43% within the first two weeks of March commerce. This entailed one other recent all-time-high as Bitcoin mounted above the 60k determine for the primary time ever.
However that 60k marker gave the impression to be an excessive amount of for bulls to deal with at this level, as costs rapidly dropped again earlier than buckling up for resistance on the massive determine twice extra earlier than pulling again a bit deeper. So, at this stage – the bullish development shouldn't be but accomplished as there's a really cheap stage for why patrons have pulled again on the throttle, and because of this psychological ranges can usually take a couple of makes an attempt earlier than lastly being taken-out.
To be taught extra about psychological levels, be a part of us in DailyFX Education
That pullback from 60k has pushed costs right into a assist zone spanning from Fibonacci ranges at 57,032-57,354; and a bit deeper one other confluent zone exists from 53,998-54,615. Assist holds in both zone may re-open the door for bullish continuation prospects; and on the opposite aspect of the matter, topside breaks by way of the 60k stage can re-open the door for breakout approaches in Bitcoin.
To be taught extra about Fibonacci or Trendlines, try DailyFX Education
BTC/USD 4-Hour Value Chart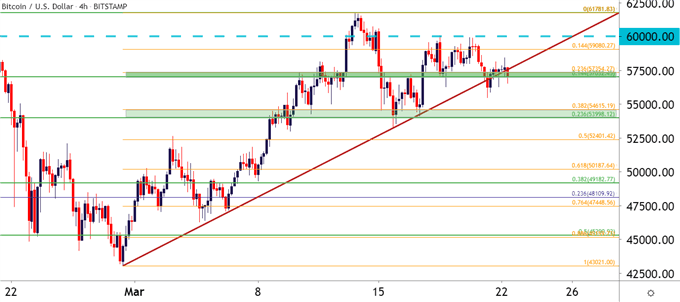 Chart ready by James Stanley; Bitcoin on Tradingview
Ethereum Digs into the Vary
Ethereum has not set a recent excessive within the month of March. However there's nonetheless every week and alter left, and given the truth that the Fed has proven no indicators of slowing down, it could appear that there's upside potential remaining in ETH/USD.
By comparability to Bitcoin above, ETH/USD has been range-bound with a consistency of assist across the 61.8% retracement of the February sell-off. This plots round 1755 and has already produced numerous assist inflections.
This may maintain the door open for bullish situations, in search of costs to maneuver in direction of latest vary resistance across the 76.4% retracement of that very same main transfer. If bulls do kick the development again up, then there may very well be deeper goal potential across the March excessive of 1943 earlier than 'large image' resistance plots in across the 2k psychological stage.
ETH/USD 4-Hour Value Chart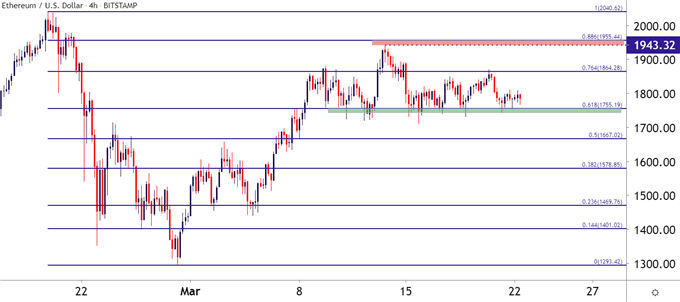 Chart ready by James Stanley; Ethereum on Tradingview
— Written by James Stanley, Senior Strategist for DailyFX.com
Contact and comply with James on Twitter: @JStanleyFX
!operate(){operate e(e,t)var t,n="undefined"!=typeof Image,i="undefined"!=typeof self,r="undefined"!=typeof doc,o=i?self:world;if(r){var s=doc.querySelector("base[href]");s&&(t=s.href)}if(!t&&"undefined"!=typeof location){var a=(t=location.href.break up("https://www.dailyfx.com/foreign exchange/elementary/daily_briefing/session_briefing/daily_fundamentals/2021/03/22/#")[0].break up("?")[0]).lastIndexOf("/");-1!==a&&(t=t.slice(0,a+1))}var u=//g;operate c(e,t){if(-1!==e.indexOf("")&&(e=e.exchange(u,"/")),"/"===e[0]&&"/"===e[1])return t.slice(0,t.indexOf(":")+1)+e;if("."===e[0]&&("/"===e[1]||"."===e[1]&&("/"===e[2]||2===e.size&&(e+="/"))||1===e.size&&(e+="/"))||"/"===e[0]){var n,i=t.slice(0,t.indexOf(":")+1);if(n="/"===t[i.length+1]?"file:"!==i?(n=t.slice(i.size+2)).slice(n.indexOf("/")+1):t.slice(8):t.slice(i.size+("/"===t[i.length])),"/"===e[0])return t.slice(0,t.length-n.length-1)+e;for(var r=n.slice(0,n.lastIndexOf("/")+1)+e,o=[],s=-1,a=0;an.size&&"/"!==i[i.length-1]))return i+e.slice(n.size);v("W2″,n,i,"ought to have a trailing '/'")}}operate v(t,n,i,r){console.warn(e(t,"Package deal goal "+r+", resolving goal '"+i+"' for "+n))}operate p(e,t,n){for(var i=e.scopes,r=n&&d(n,i);r;){var o=f(t,i[r]);if(o)return o;r=d(r.slice(0,r.lastIndexOf("/")),i)}return f(t,e.imports)||-1!==t.indexOf(":")&&t}var m=n&&Image.toStringTag,g=n?Image():"@";operate y(){this[g]={}}var ok,b=y.prototype;operate w(e){return e.id}operate S(e,t,n,i){if(e.onload(n,t.id,t.d&&t.d.map(w),!!i),n)throw n}operate E(t,n,i){var r=t[g][n];if(r)return r;var o=[],s=Object.create(null);m&&Object.defineProperty(s,m,{worth:"Module"});var a=Promise.resolve().then(operate(){return t.instantiate(n,i)}).then(operate(i){if(!i)throw Error(e(2,"Module "+n+" didn't instantiate"));var a=i[1](operate(e,t){r.h=!0;var n=!1;if("string"==typeof e)e in s&&s[e]===t||(s[e]=t,n=!0);elseif(n)for(var a=0;a-1){var t=doc.createEvent("Occasion");t.initEvent("error",!1,!1),n.dispatchEvent(t)}return Promise.reject(e)})}else if("systemjs-importmap"===n.sort){n.sp=!0;var i=n.src?fetch(n.src,{integrity:n.integrity}).then(operate(e){if(!e.okay)throw Error("Invalid standing code: "+e.standing);return e.textual content()}).catch(operate(t){return t.message=e("W4","Error fetching systemjs-import map "+n.src)+"n"+t.message,console.warn(t),"{}"}):n.innerHTML;T=T.then(operate(){return i}).then(operate(i){!operate(t,n,i){var r={};attempt{r=JSON.parse(n)}catch(o){console.warn(Error(e("W5″,"systemjs-importmap incorporates invalid JSON")+"nn"+n+"n"))}!operate(e,t,n){var i;for(i in e.imports&&h(e.imports,n.imports,t,n,null),e.scopes||{}){var r=l(i,t);h(e.scopes[i],n.scopes[r]||(n.scopes[r]={}),t,n,r)}for(i in e.depcache||{})n.depcache[l(i,t)]=e.depcache[i];for(i in e.integrity||{})n.integrity[l(i,t)]=e.integrity[i]}(r,i,t)}(P,i,n.src||t)})}})}if(b.prepareImport=operate(e),r&&(O(),window.addEventListener("DOMContentLoaded",O)),r){window.addEventListener("error",operate(e){F=e.filename,x=e.error});var I=location.origin}b.createScript=operate(e){var t=doc.createElement("script");t.async=!0,e.indexOf(I+"/")&&(t.crossOrigin="nameless");var n=P.integrity[e];return n&&(t.integrity=n),t.src=e,t};var F,x,M={},D=b.register;b.register=operate(e,t){if(r&&"loading"===doc.readyState&&"string"!=typeof e){var n=doc.querySelectorAll("script[src]"),i=n[n.length-1];if(i){i.src,L=e;var o=this;R=setTimeout(operate(){M[i.src]=[e,t],o.import(i.src)})}}else L=void 0;return D.name(this,e,t)},b.instantiate=operate(t,n){var i=M[t];if(i)return delete M[t],i;var r=this;return new Promise(operate(i,o){var s=b.createScript(t);s.addEventListener("error",operate(){o(Error(e(3,"Error loading "+t+(n?" from "+n:""))))}),s.addEventListener("load",operate(){if(doc.head.removeChild(s),F===t)o(x);else{var e=r.getRegister();e&&e[0]===L&&clearTimeout(R),i(e)}}),doc.head.appendChild(s)})},b.shouldFetch=operate(){return!1},"undefined"!=typeof fetch&&(b.fetch=fetch);var q=b.instantiate,H=/^(textual content|software)/(x-)?javascript(;|$)/;b.instantiate=operate(t,n){var i=this;return this.shouldFetch(t)?this.fetch(t,{credentials:"same-origin",integrity:P.integrity[t]}).then(operate(r){if(!r.okay)throw Error(e(7,r.standing+" "+r.statusText+", loading "+t+(n?" from "+n:"")));var o=r.headers.get("content-type");if(!o||!H.check(o))throw Error(e(4,'Unknown Content material-Sort "'+o+'", loading '+t+(n?" from "+n:"")));return r.textual content().then(operate(e){return e.indexOf("//# sourceURL=")<0&&(e+="n//# sourceURL="+t),(0,eval)(e),i.getRegister()})}):q.apply(this,arguments)},b.resolve=operate(n,i){return p(P,c(n,i=i||t)||n,i)||operate(t,n){throw Error(e(8,"Unable to resolve naked specifier '"+t+(n?"' from "+n:"'")))}(n,i)};var j=b.instantiate;b.instantiate=operate(e,t){var n=P.depcache[e];if(n)for(var i=0;i<n.size;i++)E(this,this.resolve(n[i],e),e);return j.name(this,e,t)},i&&"operate"==typeof importScripts&&(b.instantiate=operate(e){var t=this;return Promise.resolve().then(operate(){return importScripts(e),t.getRegister()})}),operate(e){var t,n,i,r=e.System.constructor.prototype;var o=r.import;r.import=operate(r,s){return operate()(n=r):t=r,i=r)(),o.name(this,r,s)};var s=[[],operate(){return{}}],a=r.getRegister;r.getRegister=operate(){var o=a.name(this);if(o)return o;var u,l=operate(){var o,s,a=0;for(var u in e)if(!c(u))u):o=u===i,a++return s}();if(!l)return s;attempt{u=e[l]}catch(h){return s}return[[],operate(e){return{execute:operate(){e(u),e({default:u,__useDefault:!0})}}}]};var u="undefined"!=typeof navigator&&-1!==navigator.userAgent.indexOf("Trident");operate c(t)!isNaN(t)&&t<e.size}("undefined"!=typeof self?self:world),operate(e){var t=e.System.constructor.prototype,n=/^[^#?]+.(css|html|json|wasm)([?#].*)?$/;t.shouldFetch=operate(e){return n.check(e)};var i=/^software/json(;|$)/,r=/^textual content/css(;|$)/,o=/^software/wasm(;|$)/,s=t.fetch;t.fetch=operate(t,n){return s(t,n).then(operate(n){if(!n.okay)return n;var s=n.headers.get("content-type");return i.check(s)?n.json().then(operate(e){return new Response(new Blob(['System.register([],operate(e){return{execute:operate(){e("default",'+JSON.stringify(e)+")}}})"],{sort:"software/javascript"}))}):r.check(s)?n.textual content().then(operate(e){return new Response(new Blob(["System.register([],operate(e){return{execute:operate(){var s=new CSSStyleSheet();s.replaceSync("+JSON.stringify(e)+');e("default",s)}}})'],{sort:"software/javascript"}))}):o.check(s)?(WebAssembly.compileStreaming?WebAssembly.compileStreaming(n):n.arrayBuffer().then(WebAssembly.compile)).then(operate(n){e.System.wasmModules||(e.System.wasmModules=Object.create(null)),e.System.wasmModules[t]=n;var i=[],r=[];return WebAssembly.Module.imports&&WebAssembly.Module.imports(n).forEach(operate(e){var t=JSON.stringify(e.module);-1===i.indexOf(t)&&(i.push(t),r.push("operate(m){i["+t+"]=m}"))}),new Response(new Blob(["System.register(["+i.join(",")+"],operate(e){var i={};return{setters:["+r.join(",")+"],execute:operate(){return WebAssembly.instantiate(System.wasmModules["+JSON.stringify(t)+"],i).then(operate(m){e(m.exports)})}}})"],{sort:"software/javascript"}))}):n})}}("undefined"!=typeof self?self:world);var B="undefined"!=typeof Image&&Image.toStringTag;b.get=operate(e){var t=this[g][e];if(t&&null===t.e&&!t.E)return t.er?null:t.n},b.set=operate(t,n){attempt{new URL(t)}catch(s){console.warn(Error(e("W3",'"'+t+'" shouldn't be a sound URL to set within the module registry')))}var i;B&&"Module"===n[B]?i=n:(i=Object.assign(Object.create(null),n),B&&Object.defineProperty(i,B,{worth:"Module"}));var r=Promise.resolve(i),o=this[g][t]||(this[g][t]={id:t,i:[],h:!1,d:[],e:null,er:void 0,E:void 0});return!o.e&&!o.E&&(Object.assign(o,{n:i,I:void 0,L:void 0,C:r}),i)},b.has=operate(e){return!!this[g][e]},b.delete=operate(e){var t=this[g],n=t[e];if(!n||null!==n.e||n.E)return!1;var i=n.i;return n.d&&n.d.forEach(operate(e){var t=e.i.indexOf(n);-1!==t&&e.i.splice(t,1)}),delete t[e],operate(){var n=t[e];if(!n||!i||null!==n.e||n.E)return!1;i.forEach(operate(e){n.i.push(e),e(n.n)}),i=null}};var N="undefined"!=typeof Image&&Image.iterator;b.entries=operate(){var e,t,n=this,i=Object.keys(n[g]),r=0,o={subsequent:operate(){for(;void 0!==(t=i[r++])&&void 0===(e=n.get(t)););return{accomplished:void 0===t,worth:void 0!==t&&[t,e]}}};return o[N]=operate(){return this},o}}(),operate(e){var t=e.System;s(t);var n,i=t.constructor.prototype,r=t.constructor,o=operate(){r.name(this),s(this)};operate s(e){e.registerRegistry=Object.create(null)}o.prototype=i,t.constructor=o;var a=i.register;i.register=operate(e,t,i){if("string"!=typeof e)return a.apply(this,arguments);var r=[t,i];return this.registerRegistry[e]=r,n||(n=r,Promise.resolve().then(operate(){n=null})),a.apply(this,arguments)};var u=i.resolve;i.resolve=operate(e,t){attempt{return u.name(this,e,t)}catch(n){if(e on this.registerRegistry)return e;throw n}};var c=i.instantiate;i.instantiate=operate(e,t){var n=this.registerRegistry[e];return n?(this.registerRegistry[e]=null,n):c.name(this,e,t)};var l=i.getRegister;i.getRegister=operate()}("undefined"!=typeof self?self:world),operate(e){"use strict";operate t(e,t){if(!(e instanceof t))throw new TypeError("Can not name a category as a operate")}operate n(e,t){for(var n=0;n<t.size;n++)}operate i(e,t,i){return t&&n(e.prototype,t),i&&n(e,i),e}operate r(e,t){if("operate"!=typeof t&&null!==t)throw new TypeError("Tremendous expression should both be null or a operate");e.prototype=Object.create(t&&t.prototype,{constructor:{worth:e,writable:!0,configurable:!0}}),t&&s(e,t)}operate o(e){return(o=Object.setPrototypeOf?Object.getPrototypeOf:operate(e)Object.getPrototypeOf(e))(e)}operate s(e,t){return(s=Object.setPrototypeOf||operate(e,t){return e.__proto__=t,e})(e,t)}operate a(e,t,n){return(a=operate(){if("undefined"==typeof Mirror||!Mirror.assemble)return!1;if(Mirror.assemble.sham)return!1;if("operate"==typeof Proxy)return!0;attempt{return Date.prototype.toString.name(Mirror.assemble(Date,[],operate(){})),!0}catch(e){return!1}}()?Mirror.assemble:operate(e,t,n){var i=[null];i.push.apply(i,t);var r=new(Perform.bind.apply(e,i));return n&&s(r,n.prototype),r}).apply(null,arguments)}operate u(e){var t="operate"==typeof Map?new Map:void 0;return(u=operate(e){if(null===e||(n=e,-1===Perform.toString.name(n).indexOf("[native code]")))return e;var n;if("operate"!=typeof e)throw new TypeError("Tremendous expression should both be null or a operate");if(void 0!==t){if(t.has(e))return t.get(e);t.set(e,i)}operate i(){return a(e,arguments,o(this).constructor)}return i.prototype=Object.create(e.prototype,{constructor:{worth:i,enumerable:!1,writable:!0,configurable:!0}}),s(i,e)})(e)}operate c(e){if(void 0===e)throw new ReferenceError("this hasn't been initialised – tremendous() hasn't been referred to as");return e}operate l(e,t,n){return(l="undefined"!=typeof Mirror&&Mirror.get?Mirror.get:operate(e,t,n){var i=operate(e,t){for(;!Object.prototype.hasOwnProperty.name(e,t)&&null!==(e=o(e)););return e}(e,t);if(i){var r=Object.getOwnPropertyDescriptor(i,t);return r.get?r.get.name(n):r.worth}})(e,t,n||e)}operate h(e,t){return t||(t=e.slice(0)),Object.freeze(Object.defineProperties(e,{uncooked:{worth:Object.freeze(t)}}))}operate d(e,t){return operate(e){if(Array.isArray(e))return e}(e)||operate(e,t){var n=[],i=!0,r=!1,o=void 0;attemptn.size!==t);i=!0);catch(u){r=!0,o=u}lastly{attemptlastly{if(r)throw o}}return n}(e,t)||operate(){throw new TypeError("Invalid try and destructure non-iterable occasion")}()}operate f(e){return operate(e){if(Array.isArray(e)){for(var t=0,n=new Array(e.size);t<e.size;t++)n[t]=e[t];return n}}(e)||operate(e)(e)||operate(){throw new TypeError("Invalid try and unfold non-iterable occasion")}()}operate v(e,t,n,i,r){var o={};return Object.keys(i).forEach(operate(e){o[e]=i[e]}),o.enumerable=!!o.enumerable,o.configurable=!!o.configurable,("worth"in o||o.initializer)&&(o.writable=!0),o=n.slice().reverse().cut back(operate(n,i)n,o),r&&void 0!==o.initializer&&(o.worth=o.initializer?o.initializer.name(r):void 0,o.initializer=void 0),void 0===o.initializer&&(Object.defineProperty(e,t,o),o=null),o}operate p(){var e=h(["n .turbo-progress-bar {n position: fixed;n display: block;n top: 0;n left: 0;n height: 3px;n background: #0076ff;n z-index: 9999;n transition:n width ","ms ease-out,n opacity ","ms ","ms ease-in;n transform: translate3d(0, 0, 0);n }n "]);return p=operate(){return e},e}operate m(){var e=h(['n You are loading Turbo from a element inside the element. This is probably not what you meant to do!nn Load your application's JavaScript bundle inside the element instead. elements in are evaluated with each page change.nn For more information, see: https://turbo.hotwire.dev/handbook/building#working-with-script-elementsnn ——n Suppress this warning by adding a "data-turbo-suppress-warning" attribute to: %sn ']);return m=operate(){return e},e}operate g(e){return operate(){var t,n,i,r=o(e);if(operate(){if("undefined"==typeof Mirror||!Mirror.assemble)return!1;if(Mirror.assemble.sham)return!1;if("operate"==typeof Proxy)return!0;attempt{return Date.prototype.toString.name(Mirror.assemble(Date,[],operate(){})),!0}catch(e){return!1}}()){var s=o(this).constructor;t=Mirror.assemble(r,arguments,s)}else t=r.apply(this,arguments);return n=this,!(i=t)||"object"!=typeof i&&"operate"!=typeof i?c(n):i}}!operate(){if(void 0!==window.Mirror&&void 0!==window.customElements&&!window.customElements.polyfillWrapFlushCallback){var e=HTMLElement,t=operate(){return Mirror.assemble(e,[],this.constructor)};window.HTMLElement=t,HTMLElement.prototype=e.prototype,HTMLElement.prototype.constructor=HTMLElement,Object.setPrototypeOf(HTMLElement,e)}}();var y,ok=new WeakMap;operate b(e){var t,n,i,r=(t=e.goal,n=t instanceof Factor?t:t instanceof Node?t.parentElement:null,"submit"==(null==(i=n?n.closest("enter, button"):null)?void 0:i.sort)?i:null);r&&r.type&&ok.set(r.type,r)}"SubmitEvent"in window||(addEventListener("click on",b,!0),Object.defineProperty(Occasion.prototype,"submitter",{get:operate(){if("submit"==this.sort&&this.goal instanceof HTMLFormElement)return ok.get(this.goal)}})),operate(e){e.keen="keen",e.lazy="lazy"}(y||(y={}));var w=operate(e){r(o,u(HTMLElement));var n=g(o);operate o(){var e;return t(this,o),(e=n.name(this)).loaded=Promise.resolve(),e.delegate=new o.delegateConstructor(c(e)),e}return i(o,[{key:"connectedCallback",value:function(){this.delegate.connect()}},{key:"disconnectedCallback",value:function(){this.delegate.disconnect()}},{key:"attributeChangedCallback",value:function(e){"loading"==e?this.delegate.loadingStyleChanged():"src"==e&&this.delegate.sourceURLChanged()}},{key:"src",get:function(){return this.getAttribute("src")},set:function(e){e?this.setAttribute("src",e):this.removeAttribute("src")}},{key:"loading",get:function(){return function(e){switch(e.toLowerCase()){case"lazy":return y.lazy;default:return y.eager}}(this.getAttribute("loading")||"")},set:function(e){e?this.setAttribute("loading",e):this.removeAttribute("loading")}},{key:"disabled",get:function(){return this.hasAttribute("disabled")},set:function(e){e?this.setAttribute("disabled",""):this.removeAttribute("disabled")}},{key:"autoscroll",get:function(){return this.hasAttribute("autoscroll")},set:function(e){e?this.setAttribute("autoscroll",""):this.removeAttribute("autoscroll")}},{key:"complete",get:function(){return!this.delegate.isLoading}},{key:"isActive",get:function(){return this.ownerDocument===document&&!this.isPreview}},{key:"isPreview",get:function()void 0===e?void 0:e.documentElement)}],[{key:"observedAttributes",get:function(){return["loading","src"]}}]),o}();operate S(e){var t=doc.createElement("a");return t.href=e.toString(),new URL(t.href)}operate E(e){var t;return e.hash?e.hash.slice(1):(t=e.href.match(/#(.*)$/))?t[1]:""}operate C(e){return(operate(e){return operate(e){return e.pathname.break up("/").slice(1)}(e).slice(-1)[0]}(e).match(/.[^.]*$/)||[])[0]||""}operate L(e,t){var n=operate(e){return t=e.origin+e.pathname,t.endsWith("/")?t:t+"/";var t}(t);return e.href===S(n).href||e.href.startsWith(n)}operate R(e){var t=e.hash.size;return t=400&&this.statusCode=500&&this.statusCode1&&void 0!==arguments[1]?arguments[1]:{},n=t.goal,i=t.cancelable,r=t.element,o=new CustomEvent(e,{cancelable:i,bubbles:!0,element:r});return(n||doc.documentElement).dispatchEvent(o),o}operate O(){return new Promise(operate(e){return requestAnimationFrame(operate(){return e()})})}operate I(){var e=arguments.size>0&&void 0!==arguments[0]?arguments[0]:"";return(new DOMParser).parseFromString(e,"textual content/html")}operate F(e){for(var t=arguments.size,n=new Array(t>1?t-1:0),i=1;i3&&void 0!==arguments[3]?arguments[3]:new URLSearchParams;t(this,e),this.abortController=new AbortController,this.delegate=n,this.technique=i,this.isIdempotent?this.url=operate(e,t){var n=new URLSearchParams(e.search),i=!0,r=!1,o=void 0;attempt{for(var s,a=t[Symbol.iterator]();!(i=(s=a.subsequent()).accomplished);i=!0)}catch(f){r=!0,o=f}lastly{attemptlastly{if(r)throw o}}return e}(r,f(o.entries())):(this.physique=o,this.url=r)}return i(e,[{key:"cancel",value:function(){this.abortController.abort()}},{key:"perform",value:async function(){var e=this.fetchOptions;A("turbo:before-fetch-request",{detail:{fetchOptions:e}});try{this.delegate.requestStarted(this);var t=await fetch(this.url.href,e);return await this.receive(t)}catch(n){throw this.delegate.requestErrored(this,n),n}finally{this.delegate.requestFinished(this)}}},{key:"receive",value:async function(e){var t=new P(e);return A("turbo:before-fetch-response",{cancelable:!0,detail:{fetchResponse:t}}).defaultPrevented?this.delegate.requestPreventedHandlingResponse(this,t):t.succeeded?this.delegate.requestSucceededWithResponse(this,t):this.delegate.requestFailedWithResponse(this,t),t}},{key:"location",get:function(){return this.url}},{key:"params",get:function(){return this.url.searchParams}},{key:"entries",get:function(){return this.body?Array.from(this.body.entries()):[]}},{key:"fetchOptions",get:operate(){return{technique:T[this.method].toUpperCase(),credentials:"same-origin",headers:this.headers,redirect:"comply with",physique:this.physique,sign:this.abortSignal}}},{key:"isIdempotent",get:operate(){return this.technique==T.get}},{key:"headers",get:operate(){var e=Object.assign({},this.defaultHeaders);return"operate"==typeof this.delegate.prepareHeadersForRequest&&this.delegate.prepareHeadersForRequest(e,this),e}},{key:"abortSignal",get:operate(){return this.abortController.sign}},{key:"defaultHeaders",get:operate(){return{Settle for:"textual content/html, software/xhtml+xml"}}}]),e}();var D,q,H=operate(){operate e(n,i){var r=this;t(this,e),this.began=!1,this.intersect=operate(e){var t=e.slice(-1)[0];(null==t?void 0:t.isIntersecting)&&r.delegate.elementAppearedInViewport(r.component)},this.delegate=n,this.component=i,this.intersectionObserver=new IntersectionObserver(this.intersect)}return i(e,[{key:"start",value:function()(this.started=!0,this.intersectionObserver.observe(this.element))},{key:"stop",value:function(){this.started&&(this.started=!1,this.intersectionObserver.unobserve(this.element))}}]),e}(),j=operate(){operate e(n){t(this,e),this.templateElement=doc.createElement("template"),this.templateElement.innerHTML=n}return i(e,[{key:"fragment",get:function(){var e=document.createDocumentFragment(),t=!0,n=!1,i=void 0;try{for(var r,o=this.foreignElements[Symbol.iterator]();!(t=(r=o.subsequent()).accomplished);t=!0){var s=r.worth;e.appendChild(doc.importNode(s,!0))}}catch(a){n=!0,i=a}lastly{attempto.return()lastly{if(n)throw i}}return e}},{key:"foreignElements",get:operate(){return this.templateChildren.cut back(operate(e,t){return"turbo-stream"==t.tagName.toLowerCase()?[].concat(f(e),[t]):e},[])}},{key:"templateChildren",get:operate(){return Array.from(this.templateElement.content material.youngsters)}}],[{key:"wrap",value:function(e){return"string"==typeof e?new this(e):e}}]),e}();j.contentType="textual content/vnd.turbo-stream.html",operate(e){e[e.initialized=0]="initialized",e[e.requesting=1]="requesting",e[e.waiting=2]="ready",e[e.receiving=3]="receiving",e[e.stopping=4]="stopping",e[e.stopped=5]="stopped"}(D||(D={})),operate(e){e.urlEncoded="software/x-www-form-urlencoded",e.multipart="multipart/form-data",e.plain="textual content/plain"}(q||(q={}));var B=operate(){operate e(n,i,r){var o=arguments.size>3&&void 0!==arguments[3]&&arguments[3];t(this,e),this.state=D.initialized,this.delegate=n,this.formElement=i,this.submitter=r,this.formData=operate(e,t)"");return n(i,r),this.fetchRequest=new M(this,this.technique,this.location,this.physique),this.mustRedirect=o}return i(e,[{key:"start",value:async function(){var e=D,t=e.initialized,n=e.requesting;if(this.state==t)return this.state=n,this.fetchRequest.perform()}},{key:"stop",value:function(){var e=D,t=e.stopping,n=e.stopped;if(this.state!=t&&this.state!=n)return this.state=t,this.fetchRequest.cancel(),!0}},{key:"prepareHeadersForRequest",value:function(e,t){if(!t.isIdempotent){var n=function(e){if(null!=e){var t=document.cookie?document.cookie.split("; "):[],n=t.discover(operate(t){return t.startsWith(e)});if(n){var i=n.break up("=").slice(1).be a part of("=");return i?decodeURIComponent(i):void 0}}}(N("csrf-param"))||N("csrf-token");n&&(e["X-CSRF-Token"]=n),e.Settle for=[j.contentType,e.Accept].be a part of(", ")}}},{key:"requestStarted",worth:operate(e){this.state=D.ready,A("turbo:submit-start",{goal:this.formElement,element:{formSubmission:this}}),this.delegate.formSubmissionStarted(this)}},{key:"requestPreventedHandlingResponse",worth:operate(e,t){this.end result={success:t.succeeded,fetchResponse:t}}},{key:"requestSucceededWithResponse",worth:operate(e,t){if(t.clientError||t.serverError)this.delegate.formSubmissionFailedWithResponse(this,t);else if(this.requestMustRedirect(e)&&operate(e){return 200==e.statusCode&&!e.redirected}(t)){var n=new Error("Type responses should redirect to a different location");this.delegate.formSubmissionErrored(this,n)}else this.state=D.receiving,this.end result={success:!0,fetchResponse:t},this.delegate.formSubmissionSucceededWithResponse(this,t)}},{key:"requestFailedWithResponse",worth:operate(e,t){this.end result={success:!1,fetchResponse:t},this.delegate.formSubmissionFailedWithResponse(this,t)}},{key:"requestErrored",worth:operate(e,t){this.end result={success:!1,error:t},this.delegate.formSubmissionErrored(this,t)}},{key:"requestFinished",worth:operate(e){this.state=D.stopped,A("turbo:submit-end",{goal:this.formElement,element:Object.assign({formSubmission:this},this.end result)}),this.delegate.formSubmissionFinished(this)}},{key:"requestMustRedirect",worth:operate(e){return!e.isIdempotent&&this.mustRedirect}},{key:"technique",get:operate(){var e;return operate(e){change(e.toLowerCase()){case"get":return T.get;case"publish":return T.publish;case"put":return T.put;case"patch":return T.patch;case"delete":return T.delete}}(((null===(e=this.submitter)||void 0===e?void 0:e.getAttribute("formmethod"))||this.formElement.getAttribute("technique")||"").toLowerCase())||T.get}},{key:"motion",get:operate()this.formElement.motion},{key:"location",get:operate(){return S(this.motion)}},{key:"physique",get:operate()},{key:"enctype",get:operate(){var e;return operate(e){change(e.toLowerCase()){case q.multipart:return q.multipart;case q.plain:return q.plain;default:return q.urlEncoded}}((null===(e=this.submitter)||void 0===e?void 0:e.getAttribute("formenctype"))||this.formElement.enctype)}},{key:"stringFormData",get:operate(){return f(this.formData).cut back(operate(e,t){var n=d(t,2),i=n[0],r=n[1];return e.concat("string"==typeof r?[[i,r]]:[])},[])}}]),e}();operate N(e){var t=doc.querySelector('meta[name="'.concat(e,'"]'));return t&&t.content material}var _=operate(){operate e(n){t(this,e),this.component=n}return i(e,[{key:"hasAnchor",value:function(e){return null!=this.getElementForAnchor(e)}},{key:"getElementForAnchor",value:function(e){try{return this.element.querySelector("[id='".concat(e,"'], a[name="").concat(e,""]"))}catch(t){return null}}},{key:"getPermanentElementById",worth:operate(e){return this.component.querySelector("https://www.dailyfx.com/foreign exchange/elementary/daily_briefing/session_briefing/daily_fundamentals/2021/03/22/#".concat(e,"[data-turbo-permanent]"))}},{key:"getPermanentElementsPresentInSnapshot",worth:operate(e){return this.permanentElements.filter(operate(t){var n=t.id;return e.getPermanentElementById(n)})}},{key:"youngsters",get:operate(){return f(this.component.youngsters)}},{key:"firstAutofocusableElement",get:operate(){return this.component.querySelector("[autofocus]")}},{key:"permanentElements",get:operate(){return f(this.component.querySelectorAll("[id][data-turbo-permanent]"))}}]),e}(),V=operate(){operate e(n,i){var r=this;t(this,e),this.submitBubbled=operate(e){if(e.goal instanceof HTMLFormElement)void 0;r.delegate.shouldInterceptFormSubmission(t,n)&&(e.preventDefault(),e.stopImmediatePropagation(),r.delegate.formSubmissionIntercepted(t,n))},this.delegate=n,this.component=i}return i(e,[{key:"start",value:function(){this.element.addEventListener("submit",this.submitBubbled)}},{key:"stop",value:function(){this.element.removeEventListener("submit",this.submitBubbled)}}]),e}(),W=operate(){operate e(n,i){t(this,e),this.delegate=n,this.component=i}return i(e,[{key:"scrollToAnchor",value:function(e){var t=this.snapshot.getElementForAnchor(e);t?this.scrollToElement(t):this.scrollToPosition({x:0,y:0})}},{key:"scrollToElement",value:function(e){e.scrollIntoView()}},{key:"scrollToPosition",value:function(e){var t=e.x,n=e.y;this.scrollRoot.scrollTo(t,n)}},{key:"render",value:async function(e){if(this.renderer)throw new Error("rendering is already in progress");var t=e.isPreview,n=e.shouldRender,i=e.newSnapshot;if(n)try{this.renderer=e,this.prepareToRenderSnapshot(e),this.delegate.viewWillRenderSnapshot(i,t),await this.renderSnapshot(e),this.delegate.viewRenderedSnapshot(i,t),this.finishRenderingSnapshot(e)}finally{delete this.renderer}else this.invalidate()}},{key:"invalidate",value:function(){this.delegate.viewInvalidated()}},{key:"prepareToRenderSnapshot",value:function(e){this.markAsPreview(e.isPreview),e.prepareToRender()}},{key:"markAsPreview",value:function(e){e?this.element.setAttribute("data-turbo-preview",""):this.element.removeAttribute("data-turbo-preview")}},{key:"renderSnapshot",value:async function(e){await e.render()}},{key:"finishRenderingSnapshot",value:function(e){e.finishRendering()}},{key:"scrollRoot",get:function(){return window}}]),e}(),U=operate(e){r(o,W);var n=g(o);operate o(){return t(this,o),n.apply(this,arguments)}return i(o,[{key:"invalidate",value:function(){this.element.innerHTML=""}},{key:"snapshot",get:function(){return new _(this.element)}}]),o}(),G=operate(){operate e(n,i){var r=this;t(this,e),this.clickBubbled=operate(e){r.respondsToEventTarget(e.goal)?r.clickEvent=e:delete r.clickEvent},this.linkClicked=operate(e){r.clickEvent&&r.respondsToEventTarget(e.goal)&&e.goal instanceof Factor&&r.delegate.shouldInterceptLinkClick(e.goal,e.element.url)&&(r.clickEvent.preventDefault(),e.preventDefault(),r.delegate.linkClickIntercepted(e.goal,e.element.url)),delete r.clickEvent},this.willVisit=operate(){delete r.clickEvent},this.delegate=n,this.component=i}return i(e,[{key:"start",value:function(){this.element.addEventListener("click",this.clickBubbled),document.addEventListener("turbo:click",this.linkClicked),document.addEventListener("turbo:before-visit",this.willVisit)}},{key:"stop",value:function(){this.element.removeEventListener("click",this.clickBubbled),document.removeEventListener("turbo:click",this.linkClicked),document.removeEventListener("turbo:before-visit",this.willVisit)}},{key:"respondsToEventTarget",value:function(e){var t=e instanceof Element?e:e instanceof Node?e.parentElement:null;return t&&t.closest("turbo-frame, html")==this.element}}]),e}(),z=operate(){operate e(n,i,r){var o=this;t(this,e),this.currentSnapshot=n,this.newSnapshot=i,this.isPreview=r,this.promise=new Promise(operate(e,t){return o.resolvingFunctions={resolve:e,reject:t}})}return i(e,[{key:"prepareToRender",value:function(){}},{key:"finishRendering",value:function(){this.resolvingFunctions&&(this.resolvingFunctions.resolve(),delete this.resolvingFunctions)}},{key:"createScriptElement",value:function(e){if("false"==e.getAttribute("data-turbo-eval"))return e;var t=document.createElement("script");return t.textContent=e.textContent,t.async=!1,function(e,t){for(var n=0,i=f(t.attributes);n<i.length;n++){var r=i[n],o=r.identify,s=r.worth;e.setAttribute(o,s)}}(t,e),t}},{key:"preservingPermanentElements",worth:operate(e){var t,n,i=(t=this.currentSnapshot,n=this.newSnapshot,t.getPermanentElementsPresentInSnapshot(n).cut back(operate(e,t){var i=n.getPermanentElementById(t.id);if(i){var r=operate(e){var t=doc.createElement("meta");return t.setAttribute("identify","turbo-permanent-placeholder"),t.setAttribute("content material",e.id),{component:t,permanentElement:e}}(t);return J(t,r.component),J(i,t),[].concat(f(e),[r])}return e},[]));e(),operate(e){var t=!0,n=!1,i=void 0;attempt{for(var r,o=e[Symbol.iterator]();!(t=(r=o.subsequent()).accomplished);t=!0){var s=r.worth,a=s.component,u=s.permanentElement,c=u.cloneNode(!0);J(a,c)}}catch(l){n=!0,i=l}lastly{attempto.return()lastly{if(n)throw i}}}(i)}},{key:"focusFirstAutofocusableElement",worth:operate(){var e=this.newSnapshot.firstAutofocusableElement;(operate(e){return e&&"operate"==typeof e.focus})(e)&&e.focus()}},{key:"shouldRender",get:operate(){return!0}},{key:"currentElement",get:operate(){return this.currentSnapshot.component}},{key:"newElement",get:operate(){return this.newSnapshot.component}}]),e}();operate J(e,t){var n=e.parentElement;if(n)return n.replaceChild(t,e)}var Y=operate(e){r(o,z);var n=g(o);operate o(){return t(this,o),n.apply(this,arguments)}return i(o,[{key:"render",value:async function(){var e=this;await O(),this.preservingPermanentElements(function(){e.loadFrameElement()}),this.scrollFrameIntoView(),await O(),this.focusFirstAutofocusableElement()}},{key:"loadFrameElement",value:function()},{key:"scrollFrameIntoView",value:function(){if(this.currentElement.autoscroll||this.newElement.autoscroll){var e=this.currentElement.firstElementChild,t=(n=this.currentElement.getAttribute("data-autoscroll-block"),i="end","end"==n||"start"==n||"center"==n||"nearest"==n?n:i);if(e)return e.scrollIntoView({block:t}),!0}var n,i;return!1}},{key:"shouldRender",get:function(){return!0}}]),o}();var X=operate(){operate e(n){t(this,e),this.resolveVisitPromise=operate(){},this.component=n,this.view=new U(this,this.component),this.appearanceObserver=new H(this,this.component),this.linkInterceptor=new G(this,this.component),this.formInterceptor=new V(this,this.component)}return i(e,[{key:"connect",value:function(){this.loadingStyle==y.lazy&&this.appearanceObserver.start(),this.linkInterceptor.start(),this.formInterceptor.start()}},{key:"disconnect",value:function(){this.appearanceObserver.stop(),this.linkInterceptor.stop(),this.formInterceptor.stop()}},{key:"sourceURLChanged",value:function(){this.loadingStyle==y.eager&&this.loadSourceURL()}},{key:"loadingStyleChanged",value:function(){this.loadingStyle==y.lazy?this.appearanceObserver.start():(this.appearanceObserver.stop(),this.loadSourceURL())}},{key:"loadSourceURL",value:async function(){if(this.isActive&&this.sourceURL&&this.sourceURL!=this.loadingURL)try{this.loadingURL=this.sourceURL,this.element.loaded=this.visit(this.sourceURL),this.appearanceObserver.stop(),await this.element.loaded}finally{delete this.loadingURL}}},{key:"loadResponse",value:async function(e){try{var t=await e.responseHTML;if(t){var n=I(t).body,i=new _(await this.extractForeignFrameElement(n)),r=new Y(this.view.snapshot,i,!1);await this.view.render(r)}}catch(o){console.error(o),this.view.invalidate()}}},{key:"elementAppearedInViewport",value:function(e){this.loadSourceURL()}},{key:"shouldInterceptLinkClick",value:function(e,t){return this.shouldInterceptNavigation(e)}},{key:"linkClickIntercepted",value:function(e,t){this.navigateFrame(e,t)}},{key:"shouldInterceptFormSubmission",value:function(e){return this.shouldInterceptNavigation(e)}},{key:"formSubmissionIntercepted",value:function(e,t){this.formSubmission&&this.formSubmission.stop(),this.formSubmission=new B(this,e,t),this.formSubmission.fetchRequest.isIdempotent?this.navigateFrame(e,this.formSubmission.fetchRequest.url.href):this.formSubmission.start()}},{key:"prepareHeadersForRequest",value:function(e,t){e["Turbo-Frame"]=this.id}},{key:"requestStarted",worth:operate(e){this.component.setAttribute("busy","")}},{key:"requestPreventedHandlingResponse",worth:operate(e,t){this.resolveVisitPromise()}},{key:"requestSucceededWithResponse",worth:async operate(e,t){await this.loadResponse(t),this.resolveVisitPromise()}},{key:"requestFailedWithResponse",worth:operate(e,t){console.error(t),this.resolveVisitPromise()}},{key:"requestErrored",worth:operate(e,t){console.error(t),this.resolveVisitPromise()}},{key:"requestFinished",worth:operate(e){this.component.removeAttribute("busy")}},{key:"formSubmissionStarted",worth:operate(e){}},{key:"formSubmissionSucceededWithResponse",worth:operate(e,t){this.findFrameElement(e.formElement).delegate.loadResponse(t)}},{key:"formSubmissionFailedWithResponse",worth:operate(e,t){this.component.delegate.loadResponse(t)}},{key:"formSubmissionErrored",worth:operate(e,t){}},{key:"formSubmissionFinished",worth:operate(e){}},{key:"viewWillRenderSnapshot",worth:operate(e,t){}},{key:"viewRenderedSnapshot",worth:operate(e,t){}},{key:"viewInvalidated",worth:operate(){}},{key:"go to",worth:async operate(e){var t=this,n=new M(this,T.get,S(e));return new Promise(operate(e){t.resolveVisitPromise=operate(){t.resolveVisitPromise=operate(){},e()},n.carry out()})}},{key:"navigateFrame",worth:operate(e,t){this.findFrameElement(e).src=t}},{key:"findFrameElement",worth:operate(e)},{key:"extractForeignFrameElement",worth:async operate(e){var t,n=CSS.escape(this.id);return(t=Q(e.querySelector("turbo-frame#".concat(n))))?t:(t=Q(e.querySelector("turbo-frame[src][recurse~=".concat(n,"]"))))?(await t.loaded,await this.extractForeignFrameElement(t)):(console.error('Response has no matching component')),new w)}},{key:"shouldInterceptNavigation",worth:operate(e){var t=e.getAttribute("data-turbo-frame")||this.component.getAttribute("goal");if(!this.enabled||"_top"==t)return!1;if(t){var n=Okay(t);if(n)return!n.disabled}return!0}},{key:"id",get:operate(){return this.component.id}},{key:"enabled",get:operate(){return!this.component.disabled}},{key:"sourceURL",get:operate(){return this.component.src}},{key:"loadingStyle",get:operate(){return this.component.loading}},{key:"isLoading",get:operate()},{key:"isActive",get:operate(){return this.component.isActive}}]),e}();operate Okay(e){if(null!=e){var t=doc.getElementById(e);if(t instanceof w)return t}}operate Q(e){if(e&&e.ownerDocument!==doc&&(e=doc.importNode(e,!0)),e instanceof w)return e}var Z={append:operate()e.append(this.templateContent),prepend:operate()void 0===e,take away:operate(),exchange:operate()e.replaceWith(this.templateContent),replace:operate(){this.targetElement&&(this.targetElement.innerHTML="",this.targetElement.append(this.templateContent))}},ee=operate(e){r(o,u(HTMLElement));var n=g(o);operate o(){return t(this,o),n.apply(this,arguments)}return i(o,[{key:"connectedCallback",value:async function(){try{await this.render()}catch(e){console.error(e)}finally{this.disconnect()}}},{key:"render",value:async function(){var e,t=this;return null!==(e=this.renderPromise)&&void 0!==e?e:this.renderPromise=async function(){t.dispatchEvent(t.beforeRenderEvent)&&(await O(),t.performAction())}()}},{key:"disconnect",value:function(){try{this.remove()}catch(e){}}},{key:"raise",value:function(e){throw new Error("".concat(this.description,": ").concat(e))}},{key:"performAction",get:function(){if(this.action){var e=Z[this.action];if(e)return e;this.increase("unknown motion")}this.increase("motion attribute is lacking")}},{key:"targetElement",get:operate()void 0===e?void 0:e.getElementById(this.goal);this.increase("goal attribute is lacking")},{key:"templateContent",get:operate(){return this.templateElement.content material}},{key:"templateElement",get:operate(){if(this.firstElementChild instanceof HTMLTemplateElement)return this.firstElementChild;this.increase("first little one component should be a component")}},{key:"motion",get:operate(){return this.getAttribute("motion")}},{key:"goal",get:operate(){return this.getAttribute("goal")}},{key:"description",get:operate(){var e,t;return null!==(t=(null!==(e=this.outerHTML.match(/]+>/))&&void 0!==e?e:[])[0])&&void 0!==t?t:""}},{key:"beforeRenderEvent",get:operate(){return new CustomEvent("turbo:before-stream-render",{bubbles:!0,cancelable:!0})}}]),o}();w.delegateConstructor=X,customElements.outline("turbo-frame",w),customElements.outline("turbo-stream",ee),operate(){var e=doc.currentScript;if(e&&!e.hasAttribute("data-turbo-suppress-warning"))for(;e=e.parentElement;)if(e==doc.physique)return console.warn(F(m()),e.outerHTML)}();var te=operate(){operate e(){var n=this;t(this,e),this.hiding=!1,this.worth=0,this.seen=!1,this.trickle=operate(){n.setValue(n.worth+Math.random()/100)},this.stylesheetElement=this.createStylesheetElement(),this.progressElement=this.createProgressElement(),this.installStylesheetElement(),this.setValue(0)}return i(e,[{key:"show",value:function()},{key:"hide",value:function(){var e=this;this.visible&&!this.hiding&&(this.hiding=!0,this.fadeProgressElement(function(){e.uninstallProgressElement(),e.stopTrickling(),e.visible=!1,e.hiding=!1}))}},{key:"setValue",value:function(e){this.value=e,this.refresh()}},{key:"installStylesheetElement",value:function(){document.head.insertBefore(this.stylesheetElement,document.head.firstChild)}},{key:"installProgressElement",value:function(){this.progressElement.style.width="0″,this.progressElement.style.opacity="1″,document.documentElement.insertBefore(this.progressElement,document.body),this.refresh()}},{key:"fadeProgressElement",value:function(t){this.progressElement.style.opacity="0″,setTimeout(t,1.5*e.animationDuration)}},{key:"uninstallProgressElement",value:function(){this.progressElement.parentNode&&document.documentElement.removeChild(this.progressElement)}},{key:"startTrickling",value:function()(this.trickleInterval=window.setInterval(this.trickle,e.animationDuration))},{key:"stopTrickling",value:function(){window.clearInterval(this.trickleInterval),delete this.trickleInterval}},{key:"refresh",value:function(){var e=this;requestAnimationFrame(function(){e.progressElement.style.width="".concat(10+90*e.value,"%")})}},{key:"createStylesheetElement",value:function(){var t=document.createElement("style");return t.type="text/css",t.textContent=e.defaultCSS,t}},{key:"createProgressElement",value:function(){var e=document.createElement("div");return e.className="turbo-progress-bar",e}}],[{key:"defaultCSS",get:function(){return F(p(),e.animationDuration,e.animationDuration/2,e.animationDuration/2)}}]),e}();te.animationDuration=300;var ne=operate(e){r(o,_);var n=g(o);operate o(){var e;return t(this,o),(e=n.apply(this,arguments)).detailsByOuterHTML=e.youngsters.cut back(operate(e,t){var n,i,r,o=t.outerHTML,s=o in e?e[o]:{sort:operate(e){if(operate(e){return"script"==e.tagName.toLowerCase()}(e))return"script";if(operate(e)"hyperlink"==t&&"stylesheet"==e.getAttribute("rel")(e))return"stylesheet"}(t),tracked:operate(e){return"reload"==e.getAttribute("data-turbo-track")}(t),components:[]};return Object.assign(Object.assign({},e),(n={},i=o,r=Object.assign(Object.assign({},s),{components:[].concat(f(s.components),[t])}),i in n?Object.defineProperty(n,i,{worth:r,enumerable:!0,configurable:!0,writable:!0}):n[i]=r,n))},{}),e}return i(o,[{key:"getScriptElementsNotInSnapshot",value:function(e){return this.getElementsMatchingTypeNotInSnapshot("script",e)}},{key:"getStylesheetElementsNotInSnapshot",value:function(e){return this.getElementsMatchingTypeNotInSnapshot("stylesheet",e)}},{key:"getElementsMatchingTypeNotInSnapshot",value:function(e,t){var n=this;return Object.keys(this.detailsByOuterHTML).filter(function(e){return!(e in t.detailsByOuterHTML)}).map(function(e){return n.detailsByOuterHTML[e]}).filter(operate(t){return t.sort==e}).map(operate(e){return d(e.components,1)[0]})}},{key:"getMetaValue",worth:operate(e){var t=this.findMetaElementByName(e);return t?t.getAttribute("content material"):null}},{key:"findMetaElementByName",worth:operate(e){var t=this;return Object.keys(this.detailsByOuterHTML).cut back(operate(n,i){var r=d(t.detailsByOuterHTML[i].components,1)[0];return operate(e,t){return"meta"==e.tagName.toLowerCase()&&e.getAttribute("identify")==t}(r,e)?r:n},void 0)}},{key:"trackedElementSignature",get:operate(){var e=this;return Object.keys(this.detailsByOuterHTML).filter(operate(t){return e.detailsByOuterHTML[t].tracked}).be a part of("")}},{key:"provisionalElements",get:operate(){var e=this;return Object.keys(this.detailsByOuterHTML).cut back(operate(t,n),[])}}]),o}();var ie,re,oe=operate(e){r(o,_);var n=g(o);operate o(e,i){var r;return t(this,o),(r=n.name(this,e)).headSnapshot=i,r}return i(o,[{key:"clone",value:function(){return new o(this.element.cloneNode(!0),this.headSnapshot)}},{key:"getSetting",value:function(e){return this.headSnapshot.getMetaValue("turbo-".concat(e))}},{key:"headElement",get:function(){return this.headSnapshot.element}},{key:"rootLocation",get:function(){var e;return S(null!==(e=this.getSetting("root"))&&void 0!==e?e:"/")}},{key:"cacheControlValue",get:function(){return this.getSetting("cache-control")}},{key:"isPreviewable",get:function(){return"no-preview"!=this.cacheControlValue}},{key:"isCacheable",get:function(){return"no-cache"!=this.cacheControlValue}},{key:"isVisitable",get:function(){return"reload"!=this.getSetting("visit-control")}}],[{key:"fromHTMLString",value:function(){var e=arguments.length>0&&void 0!==arguments[0]?arguments[0]:"";return this.fromDocument(I(e))}},{key:"fromElement",worth:operate(e){return this.fromDocument(e.ownerDocument)}},{key:"fromDocument",worth:operate(e){var t=e.head;return new this(e.physique,new ne(t))}}]),o}();!operate(e){e.visitStart="visitStart",e.requestStart="requestStart",e.requestEnd="requestEnd",e.visitEnd="visitEnd"}(ie||(ie={})),operate(e){e.initialized="initialized",e.began="began",e.canceled="canceled",e.failed="failed",e.accomplished="accomplished"}(re||(re={}));var se,ae={motion:"advance",historyChanged:!1};!operate(e){e[e.networkFailure=0]="networkFailure",e[e.timeoutFailure=-1]="timeoutFailure",e[e.contentTypeMismatch=-2]="contentTypeMismatch"}(se||(se={}));var ue=operate(){operate e(n,i,r){var o=arguments.size>3&&void 0!==arguments[3]?arguments[3]:{};t(this,e),this.identifier=x(),this.timingMetrics={},this.followedRedirect=!1,this.historyChanged=!1,this.scrolled=!1,this.snapshotCached=!1,this.state=re.initialized,this.delegate=n,this.location=i,this.restorationIdentifier=r||x();var s=Object.assign(Object.assign({},ae),o),a=s.motion,u=s.historyChanged,c=s.referrer,l=s.snapshotHTML,h=s.response;this.motion=a,this.historyChanged=u,this.referrer=c,this.snapshotHTML=l,this.response=h}return i(e,[{key:"start",value:function(){this.state==re.initialized&&(this.recordTimingMetric(ie.visitStart),this.state=re.started,this.adapter.visitStarted(this),this.delegate.visitStarted(this))}},{key:"cancel",value:function(){this.state==re.started&&(this.request&&this.request.cancel(),this.cancelRender(),this.state=re.canceled)}},{key:"complete",value:function(){this.state==re.started&&(this.recordTimingMetric(ie.visitEnd),this.state=re.completed,this.adapter.visitCompleted(this),this.delegate.visitCompleted(this))}},{key:"fail",value:function(){this.state==re.started&&(this.state=re.failed,this.adapter.visitFailed(this))}},{key:"changeHistory",value:function(){var e;if(!this.historyChanged)}},{key:"issueRequest",value:function(){this.hasPreloadedResponse()?this.simulateRequest():this.shouldIssueRequest()&&!this.request&&(this.request=new M(this,T.get,this.location),this.request.perform())}},{key:"simulateRequest",value:function(){this.response&&(this.startRequest(),this.recordResponse(),this.finishRequest())}},{key:"startRequest",value:function(){this.recordTimingMetric(ie.requestStart),this.adapter.visitRequestStarted(this)}},{key:"recordResponse",value:function(){var e=arguments.length>0&&void 0!==arguments[0]?arguments[0]:this.response;if(this.response=e,e){var t=e.statusCode;ce(t)?this.adapter.visitRequestCompleted(this):this.adapter.visitRequestFailedWithStatusCode(this,t)}}},{key:"finishRequest",worth:operate(){this.recordTimingMetric(ie.requestEnd),this.adapter.visitRequestFinished(this)}},{key:"loadResponse",worth:operate(){var e=this;if(this.response){var t=this.response,n=t.statusCode,i=t.responseHTML;this.render(async operate(){e.cacheSnapshot(),ce(n)&&null!=i?(await e.view.renderPage(oe.fromHTMLString(i)),e.adapter.visitRendered(e),e.full()):(await e.view.renderError(oe.fromHTMLString(i)),e.adapter.visitRendered(e),e.fail())})}}},{key:"getCachedSnapshot",worth:operate()},{key:"getPreloadedSnapshot",worth:operate(){if(this.snapshotHTML)return oe.fromHTMLString(this.snapshotHTML)}},{key:"hasCachedSnapshot",worth:operate(){return null!=this.getCachedSnapshot()}},{key:"loadCachedSnapshot",worth:operate(){var e=this,t=this.getCachedSnapshot();if(t){var n=this.shouldIssueRequest();this.render(async operate())}}},{key:"followRedirect",worth:operate(){this.redirectedToLocation&&!this.followedRedirect&&(this.location=this.redirectedToLocation,this.historical past.exchange(this.redirectedToLocation,this.restorationIdentifier),this.followedRedirect=!0)}},{key:"requestStarted",worth:operate(){this.startRequest()}},{key:"requestPreventedHandlingResponse",worth:operate(e,t){}},{key:"requestSucceededWithResponse",worth:async operate(e,t){var n=await t.responseHTML;null==n?this.recordResponse({statusCode:se.contentTypeMismatch}):(this.redirectedToLocation=t.redirected?t.location:void 0,this.recordResponse({statusCode:t.statusCode,responseHTML:n}))}},{key:"requestFailedWithResponse",worth:async operate(e,t){var n=await t.responseHTML;null==n?this.recordResponse({statusCode:se.contentTypeMismatch}):this.recordResponse({statusCode:t.statusCode,responseHTML:n})}},{key:"requestErrored",worth:operate(e,t){this.recordResponse({statusCode:se.networkFailure})}},{key:"requestFinished",worth:operate(){this.finishRequest()}},{key:"performScroll",worth:operate()},{key:"scrollToRestoredPosition",worth:operate(){var e=this.restorationData.scrollPosition;if(e)return this.view.scrollToPosition(e),!0}},{key:"scrollToAnchor",worth:operate(){if(null!=E(this.location))return this.view.scrollToAnchor(E(this.location)),!0}},{key:"scrollToTop",worth:operate(){this.view.scrollToPosition({x:0,y:0})}},{key:"recordTimingMetric",worth:operate(e){this.timingMetrics[e]=(new Date).getTime()}},{key:"getTimingMetrics",worth:operate(){return Object.assign({},this.timingMetrics)}},{key:"getHistoryMethodForAction",worth:operate(e){change(e){case"exchange":return historical past.replaceState;case"advance":case"restore":return historical past.pushState}}},{key:"hasPreloadedResponse",worth:operate(){return"object"==typeof this.response}},{key:"shouldIssueRequest",worth:operate()},{key:"cacheSnapshot",worth:operate()},{key:"render",worth:async operate(e){var t=this;this.cancelRender(),await new Promise(operate(e){t.body=requestAnimationFrame(operate(){return e()})}),e(),delete this.body,this.performScroll()}},{key:"cancelRender",worth:operate(){this.body&&(cancelAnimationFrame(this.body),delete this.body)}},{key:"adapter",get:operate(){return this.delegate.adapter}},{key:"view",get:operate(){return this.delegate.view}},{key:"historical past",get:operate(){return this.delegate.historical past}},{key:"restorationData",get:operate(){return this.historical past.getRestorationDataForIdentifier(this.restorationIdentifier)}}]),e}();operate ce(e){return e>=200&&e2&&void 0!==arguments[2]?arguments[2]:x(),i={turbo:{restorationIdentifier:n}};e.name(historical past,i,"",t.href),this.location=t,this.restorationIdentifier=n}},{key:"getRestorationDataForIdentifier",worth:operate(e){return this.restorationData[e]||{}}},{key:"updateRestorationData",worth:operate(e){var t=this.restorationIdentifier,n=this.restorationData[t];this.restorationData[t]=Object.assign(Object.assign({},n),e)}},{key:"assumeControlOfScrollRestoration",worth:operate()(this.previousScrollRestoration=null!==(e=historical past.scrollRestoration)&&void 0!==e?e:"auto",historical past.scrollRestoration="handbook")},{key:"relinquishControlOfScrollRestoration",worth:operate(){this.previousScrollRestoration&&(historical past.scrollRestoration=this.previousScrollRestoration,delete this.previousScrollRestoration)}},{key:"shouldHandlePopState",worth:operate(){return this.pageIsLoaded()}},{key:"pageIsLoaded",worth:operate()"full"==doc.readyState}]),e}(),pe=operate(){operate e(n){var i=this;t(this,e),this.began=!1,this.clickCaptured=operate(){removeEventListener("click on",i.clickBubbled,!1),addEventListener("click on",i.clickBubbled,!1)},this.clickBubbled=operate(e){if(i.clickEventIsSignificant(e)){var t=i.findLinkFromClickTarget(e.goal);if(t){var n=i.getLocationForLink(t);i.delegate.willFollowLinkToLocation(t,n)&&(e.preventDefault(),i.delegate.followedLinkToLocation(t,n))}}},this.delegate=n}return i(e,[{key:"start",value:function()},{key:"stop",value:function(){this.started&&(removeEventListener("click",this.clickCaptured,!0),this.started=!1)}},{key:"clickEventIsSignificant",value:function(e)e.metaKey},{key:"findLinkFromClickTarget",value:function(e){if(e instanceof Element)return e.closest("a[href]:not([target^=_]):not([download])")}},{key:"getLocationForLink",worth:operate(e)"")}]),e}(),me=operate(){operate e(n){t(this,e),this.delegate=n}return i(e,[{key:"proposeVisit",value:function(e){var t=arguments.length>1&&void 0!==arguments[1]?arguments[1]:{};this.delegate.allowsVisitingLocation(e)&&this.delegate.visitProposedToLocation(e,t)}},{key:"startVisit",worth:operate(e,t){var n=arguments.size>2&&void 0!==arguments[2]?arguments[2]:{};this.cease(),this.currentVisit=new ue(this,S(e),t,Object.assign({referrer:this.location},n)),this.currentVisit.begin()}},{key:"submitForm",worth:operate(e,t){this.cease(),this.formSubmission=new B(this,e,t,!0),this.formSubmission.fetchRequest.isIdempotent?this.proposeVisit(this.formSubmission.fetchRequest.url):this.formSubmission.begin()}},{key:"cease",worth:operate(){this.formSubmission&&(this.formSubmission.cease(),delete this.formSubmission),this.currentVisit&&(this.currentVisit.cancel(),delete this.currentVisit)}},{key:"formSubmissionStarted",worth:operate(e){}},{key:"formSubmissionSucceededWithResponse",worth:async operate(e,t){if(e==this.formSubmission){var n=await t.responseHTML;if(n){e.technique!=T.get&&this.view.clearSnapshotCache();var i={response:{statusCode:t.statusCode,responseHTML:n}};this.proposeVisit(t.location,i)}}}},{key:"formSubmissionFailedWithResponse",worth:async operate(e,t){var n=await t.responseHTML;if(n){var i=oe.fromHTMLString(n);await this.view.renderPage(i),this.view.clearSnapshotCache()}}},{key:"formSubmissionErrored",worth:operate(e,t){}},{key:"formSubmissionFinished",worth:operate(e){}},{key:"visitStarted",worth:operate(e){this.delegate.visitStarted(e)}},{key:"visitCompleted",worth:operate(e){this.delegate.visitCompleted(e)}},{key:"adapter",get:operate(){return this.delegate.adapter}},{key:"view",get:operate(){return this.delegate.view}},{key:"historical past",get:operate(){return this.delegate.historical past}},{key:"location",get:operate(){return this.historical past.location}},{key:"restorationIdentifier",get:operate(){return this.historical past.restorationIdentifier}}]),e}();!operate(e){e[e.initial=0]="preliminary",e[e.loading=1]="loading",e[e.interactive=2]="interactive",e[e.complete=3]="full"}(le||(le={}));var ge=operate(){operate e(n){var i=this;t(this,e),this.stage=le.preliminary,this.began=!1,this.interpretReadyState=operate(){var e=i.readyState;"interactive"==e?i.pageIsInteractive():"full"==e&&i.pageIsComplete()},this.pageWillUnload=operate(){i.delegate.pageWillUnload()},this.delegate=n}return i(e,[{key:"start",value:function()},{key:"stop",value:function(){this.started&&(document.removeEventListener("readystatechange",this.interpretReadyState,!1),removeEventListener("pagehide",this.pageWillUnload,!1),this.started=!1)}},{key:"pageIsInteractive",value:function(){this.stage==le.loading&&(this.stage=le.interactive,this.delegate.pageBecameInteractive())}},{key:"pageIsComplete",value:function(){this.pageIsInteractive(),this.stage==le.interactive&&(this.stage=le.complete,this.delegate.pageLoaded())}},{key:"readyState",get:function(){return document.readyState}}]),e}(),ye=operate(){operate e(n){var i=this;t(this,e),this.began=!1,this.onScroll=operate(){i.updatePosition({x:window.pageXOffset,y:window.pageYOffset})},this.delegate=n}return i(e,[{key:"start",value:function()},{key:"stop",value:function(){this.started&&(removeEventListener("scroll",this.onScroll,!1),this.started=!1)}},{key:"updatePosition",value:function(e){this.delegate.scrollPositionChanged(e)}}]),e}(),ke=operate(){operate e(n){var i=this;t(this,e),this.sources=new Set,this.began=!1,this.inspectFetchResponse=operate(e){var t=operate(e)void 0===t?void 0:t.fetchResponse;if(n instanceof P)return n(e);t&&operate(e){var t;return(null!==(t=e.contentType)&&void 0!==t?t:"").startsWith(j.contentType)}(t)&&(e.preventDefault(),i.receiveMessageResponse(t))},this.receiveMessageEvent=operate(e){i.began&&"string"==typeof e.knowledge&&i.receiveMessageHTML(e.knowledge)},this.delegate=n}return i(e,[{key:"start",value:function()},{key:"stop",value:function(){this.started&&(this.started=!1,removeEventListener("turbo:before-fetch-response",this.inspectFetchResponse,!1))}},{key:"connectStreamSource",value:function(e)},{key:"disconnectStreamSource",value:function(e){this.streamSourceIsConnected(e)&&(this.sources.delete(e),e.removeEventListener("message",this.receiveMessageEvent,!1))}},{key:"streamSourceIsConnected",value:function(e){return this.sources.has(e)}},{key:"receiveMessageResponse",value:async function(e){var t=await e.responseHTML;t&&this.receiveMessageHTML(t)}},{key:"receiveMessageHTML",value:function(e){this.delegate.receivedMessageFromStream(new j(e))}}]),e}();var be=operate(e){r(o,z);var n=g(o);operate o(){return t(this,o),n.apply(this,arguments)}return i(o,[{key:"render",value:async function(){this.replaceHeadAndBody(),this.activateScriptElements()}},{key:"replaceHeadAndBody",value:function(){var e=document,t=e.documentElement,n=e.head,i=e.body;t.replaceChild(this.newHead,n),t.replaceChild(this.newElement,i)}},{key:"activateScriptElements",value:function(){var e=!0,t=!1,n=void 0;try{for(var i,r=this.scriptElements[Symbol.iterator]();!(e=(i=r.subsequent()).accomplished);e=!0){var o=i.worth,s=o.parentNode;if(s){var a=this.createScriptElement(o);s.replaceChild(a,o)}}}catch(u){t=!0,n=u}lastly{attemptr.return()lastly{if(t)throw n}}}},{key:"newHead",get:operate(){return this.newSnapshot.headSnapshot.component}},{key:"scriptElements",get:operate(){return f(doc.documentElement.querySelectorAll("script"))}}]),o}(),we=operate(e){r(s,z);var n=g(s);operate s(){return t(this,s),n.apply(this,arguments)}return i(s,[{key:"prepareToRender",value:function(){this.mergeHead()}},{key:"render",value:async function(){this.replaceBody()}},{key:"finishRendering",value:function(){l(o(s.prototype),"finishRendering",this).call(this),this.isPreview&&this.focusFirstAutofocusableElement()}},{key:"mergeHead",value:function(){this.copyNewHeadStylesheetElements(),this.copyNewHeadScriptElements(),this.removeCurrentHeadProvisionalElements(),this.copyNewHeadProvisionalElements()}},{key:"replaceBody",value:function(){var e=this;this.preservingPermanentElements(function(){e.activateNewBody(),e.assignNewBody()})}},{key:"copyNewHeadStylesheetElements",value:function(){var e=!0,t=!1,n=void 0;try{for(var i,r=this.newHeadStylesheetElements[Symbol.iterator]();!(e=(i=r.subsequent()).accomplished);e=!0){var o=i.worth;doc.head.appendChild(o)}}catch(s){t=!0,n=s}lastly{attemptr.return()lastly{if(t)throw n}}}},{key:"copyNewHeadScriptElements",worth:operate(){var e=!0,t=!1,n=void 0;attempt{for(var i,r=this.newHeadScriptElements[Symbol.iterator]();!(e=(i=r.subsequent()).accomplished);e=!0){var o=i.worth;doc.head.appendChild(this.createScriptElement(o))}}catch(s){t=!0,n=s}lastly{attemptr.return()lastly{if(t)throw n}}}},{key:"removeCurrentHeadProvisionalElements",worth:operate(){var e=!0,t=!1,n=void 0;attempt{for(var i,r=this.currentHeadProvisionalElements[Symbol.iterator]();!(e=(i=r.subsequent()).accomplished);e=!0){var o=i.worth;doc.head.removeChild(o)}}catch(s){t=!0,n=s}lastly{attemptr.return()lastly{if(t)throw n}}}},{key:"copyNewHeadProvisionalElements",worth:operate(){var e=!0,t=!1,n=void 0;attempt{for(var i,r=this.newHeadProvisionalElements[Symbol.iterator]();!(e=(i=r.subsequent()).accomplished);e=!0){var o=i.worth;doc.head.appendChild(o)}}catch(s){t=!0,n=s}lastly{attemptr.return()lastly{if(t)throw n}}}},{key:"activateNewBody",worth:operate(){doc.adoptNode(this.newElement),this.activateNewBodyScriptElements()}},{key:"activateNewBodyScriptElements",worth:operate(){var e=!0,t=!1,n=void 0;attempt{for(var i,r=this.newBodyScriptElements[Symbol.iterator]();!(e=(i=r.subsequent()).accomplished);e=!0){var o=i.worth;J(o,this.createScriptElement(o))}}catch(s){t=!0,n=s}lastly{attemptr.return()lastly{if(t)throw n}}}},{key:"assignNewBody",worth:operate(){doc.physique&&this.newElement instanceof HTMLBodyElement?J(doc.physique,this.newElement):doc.documentElement.appendChild(this.newElement)}},{key:"shouldRender",get:operate(){return this.newSnapshot.isVisitable&&this.trackedElementsAreIdentical}},{key:"currentHeadSnapshot",get:operate(){return this.currentSnapshot.headSnapshot}},{key:"newHeadSnapshot",get:operate(){return this.newSnapshot.headSnapshot}},{key:"newElement",get:operate(){return this.newSnapshot.component}},{key:"trackedElementsAreIdentical",get:operate(){return this.currentHeadSnapshot.trackedElementSignature==this.newHeadSnapshot.trackedElementSignature}},{key:"newHeadStylesheetElements",get:operate(){return this.newHeadSnapshot.getStylesheetElementsNotInSnapshot(this.currentHeadSnapshot)}},{key:"newHeadScriptElements",get:operate(){return this.newHeadSnapshot.getScriptElementsNotInSnapshot(this.currentHeadSnapshot)}},{key:"currentHeadProvisionalElements",get:operate(){return this.currentHeadSnapshot.provisionalElements}},{key:"newHeadProvisionalElements",get:operate(){return this.newHeadSnapshot.provisionalElements}},{key:"newBodyScriptElements",get:operate(){return f(this.newElement.querySelectorAll("script"))}}]),s}(),Se=operate(){operate e(n){t(this,e),this.keys=[],this.snapshots={},this.dimension=n}return i(e,[{key:"has",value:function(e){return R(e)in this.snapshots}},{key:"get",value:function(e){if(this.has(e)){var t=this.read(e);return this.touch(e),t}}},{key:"put",value:function(e,t){return this.write(e,t),this.touch(e),t}},{key:"clear",value:function(){this.snapshots={}}},{key:"read",value:function(e){return this.snapshots[R(e)]}},{key:"write",worth:operate(e,t){this.snapshots[R(e)]=t}},{key:"contact",worth:operate(e){var t=R(e),n=this.keys.indexOf(t);n>-1&&this.keys.splice(n,1),this.keys.unshift(t),this.trim()}},{key:"trim",worth:operate(){var e=!0,t=!1,n=void 0;attempt{for(var i,r=this.keys.splice(this.dimension)[Symbol.iterator]();!(e=(i=r.subsequent()).accomplished);e=!0){var o=i.worth;delete this.snapshots[o]}}catch(s){t=!0,n=s}lastly{attemptr.return()lastly{if(t)throw n}}}}]),e}(),Ee=operate(e){r(o,W);var n=g(o);operate o(){var e;return t(this,o),(e=n.apply(this,arguments)).snapshotCache=new Se(10),e.lastRenderedLocation=new URL(location.href),e}return i(o,[{key:"renderPage",value:function(e){var t=arguments.length>1&&void 0!==arguments[1]&&arguments[1],n=new we(this.snapshot,e,t);return this.render(n)}},{key:"renderError",worth:operate(e){var t=new be(this.snapshot,e,!1);this.render(t)}},{key:"clearSnapshotCache",worth:operate(){this.snapshotCache.clear()}},{key:"cacheSnapshot",worth:async operate(){if(this.shouldCacheSnapshot){this.delegate.viewWillCacheSnapshot();var e=this.snapshot,t=this.lastRenderedLocation;await new Promise(operate(e){return setTimeout(operate(){return e()},0)}),this.snapshotCache.put(t,e.clone())}}},{key:"getCachedSnapshotForLocation",worth:operate(e){return this.snapshotCache.get(e)}},{key:"snapshot",get:operate(){return oe.fromElement(this.component)}},{key:"shouldCacheSnapshot",get:operate(){return this.snapshot.isCacheable}}]),o}();operate Ce(e){Object.defineProperties(e,Le)}var Le={absoluteURL:{get:operate(){return this.toString()}}},Re=new(operate(){operate e(){t(this,e),this.navigator=new me(this),this.historical past=new ve(this),this.view=new Ee(this,doc.documentElement),this.adapter=new he(this),this.pageObserver=new ge(this),this.linkClickObserver=new pe(this),this.formSubmitObserver=new de(this),this.scrollObserver=new ye(this),this.streamObserver=new ke(this),this.frameRedirector=new fe(doc.documentElement),this.enabled=!0,this.progressBarDelay=500,this.began=!1}return i(e,[{key:"start",value:function()},{key:"disable",value:function(){this.enabled=!1}},{key:"stop",value:function(){this.started&&(this.pageObserver.stop(),this.linkClickObserver.stop(),this.formSubmitObserver.stop(),this.scrollObserver.stop(),this.streamObserver.stop(),this.frameRedirector.stop(),this.history.stop(),this.started=!1)}},{key:"registerAdapter",value:function(e){this.adapter=e}},{key:"visit",value:function(e){var t=arguments.length>1&&void 0!==arguments[1]?arguments[1]:{};this.navigator.proposeVisit(S(e),t)}},{key:"connectStreamSource",worth:operate(e){this.streamObserver.connectStreamSource(e)}},{key:"disconnectStreamSource",worth:operate(e){this.streamObserver.disconnectStreamSource(e)}},{key:"renderStreamMessage",worth:operate(e){doc.documentElement.appendChild(j.wrap(e).fragment)}},{key:"clearCache",worth:operate(){this.view.clearSnapshotCache()}},{key:"setProgressBarDelay",worth:operate(e){this.progressBarDelay=e}},{key:"historyPoppedToLocationWithRestorationIdentifier",worth:operate(e){this.enabled?this.navigator.proposeVisit(e,{motion:"restore",historyChanged:!0}):this.adapter.pageInvalidated()}},{key:"scrollPositionChanged",worth:operate(e){this.historical past.updateRestorationData({scrollPosition:e})}},{key:"willFollowLinkToLocation",worth:operate(e,t){return this.elementIsNavigable(e)&&this.locationIsVisitable(t)&&this.applicationAllowsFollowingLinkToLocation(e,t)}},{key:"followedLinkToLocation",worth:operate(e,t){var n=this.getActionForLink(e);this.go to(t.href,{motion:n})}},{key:"allowsVisitingLocation",worth:operate(e){return this.applicationAllowsVisitingLocation(e)}},{key:"visitProposedToLocation",worth:operate(e,t){Ce(e),this.adapter.visitProposedToLocation(e,t)}},{key:"visitStarted",worth:operate(e){Ce(e.location),this.notifyApplicationAfterVisitingLocation(e.location)}},{key:"visitCompleted",worth:operate(e){this.notifyApplicationAfterPageLoad(e.getTimingMetrics())}},{key:"willSubmitForm",worth:operate(e,t){return this.elementIsNavigable(e)&&this.elementIsNavigable(t)}},{key:"formSubmitted",worth:operate(e,t){this.navigator.submitForm(e,t)}},{key:"pageBecameInteractive",worth:operate(){this.view.lastRenderedLocation=this.location,this.notifyApplicationAfterPageLoad()}},{key:"pageLoaded",worth:operate(){this.historical past.assumeControlOfScrollRestoration()}},{key:"pageWillUnload",worth:operate(){this.historical past.relinquishControlOfScrollRestoration()}},{key:"receivedMessageFromStream",worth:operate(e){this.renderStreamMessage(e)}},{key:"viewWillCacheSnapshot",worth:operate(){this.notifyApplicationBeforeCachingSnapshot()}},{key:"viewWillRenderSnapshot",worth:operate(e,t){var n=e.component;this.notifyApplicationBeforeRender(n)}},{key:"viewRenderedSnapshot",worth:operate(e,t){this.view.lastRenderedLocation=this.historical past.location,this.notifyApplicationAfterRender()}},{key:"viewInvalidated",worth:operate(){this.adapter.pageInvalidated()}},{key:"applicationAllowsFollowingLinkToLocation",worth:operate(e,t){return!this.notifyApplicationAfterClickingLinkToLocation(e,t).defaultPrevented}},{key:"applicationAllowsVisitingLocation",worth:operate(e){return!this.notifyApplicationBeforeVisitingLocation(e).defaultPrevented}},{key:"notifyApplicationAfterClickingLinkToLocation",worth:operate(e,t){return A("turbo:click on",{goal:e,element:{url:t.href},cancelable:!0})}},{key:"notifyApplicationBeforeVisitingLocation",worth:operate(e){return A("turbo:before-visit",{element:{url:e.href},cancelable:!0})}},{key:"notifyApplicationAfterVisitingLocation",worth:operate(e){return A("turbo:go to",{element:{url:e.href}})}},{key:"notifyApplicationBeforeCachingSnapshot",worth:operate(){return A("turbo:before-cache")}},{key:"notifyApplicationBeforeRender",worth:operate(e){return A("turbo:before-render",{element:{newBody:e}})}},{key:"notifyApplicationAfterRender",worth:operate(){return A("turbo:render")}},{key:"notifyApplicationAfterPageLoad",worth:operate(){var e=arguments.size>0&&void 0!==arguments[0]?arguments[0]:{};return A("turbo:load",{element:{url:this.location.href,timing:e}})}},{key:"getActionForLink",worth:operate(e){var t=e.getAttribute("data-turbo-action");return operate(e)(t)?t:"advance"}},{key:"elementIsNavigable",worth:operate(e)},{key:"locationIsVisitable",worth:operate(e)html},{key:"location",get:operate(){return this.historical past.location}},{key:"restorationIdentifier",get:operate(){return this.historical past.restorationIdentifier}},{key:"snapshot",get:operate(){return this.view.snapshot}}]),e}()),Te=Re.navigator;operate Pe(){Re.begin()}Pe();var Ae,Oe,Ie,Fe,xe,Me,De,qe,He=Object.freeze({__proto__:null,clearCache:operate(){Re.clearCache()},connectStreamSource:operate(e){Re.connectStreamSource(e)},disconnectStreamSource:operate(e){Re.disconnectStreamSource(e)},navigator:Te,registerAdapter:operate(e){Re.registerAdapter(e)},renderStreamMessage:operate(e){Re.renderStreamMessage(e)},setProgressBarDelay:operate(e){Re.setProgressBarDelay(e)},begin:Pe,go to:operate(e,t){Re.go to(e,t)}}),je=operate(){var e=arguments.size>0&&void 0!==arguments[0]&&arguments[0];return operate(t,n,i){var r=this,o=i.worth;return i.worth=operate(){var i="occasion:".concat(n);if(e){doc.addEventListener("turbo:go to",operate e(){t[i]&&(t[i]=void 0),doc.removeEventListener("turbo:go to",e)})}if(t[i])return t[i];for(var s=arguments.size,a=new Array(s),u=0;u4&&void 0!==arguments[4])||arguments[4],o="".concat(e,"=").concat(t);"string"==typeof n&&(o+=";expires=".concat(n)),"string"==typeof i&&(o+=";area=".concat(i)),o+="; path=/",r&&"https:"===location.protocol&&(o+="; safe"),doc.cookie=o}},{key:"deleteCookie",worth:operate(e){this.setCookie(e,"","Thu, 01 Jan 1970 00:00:00 UTC")}},{key:"getLocalStorageOrCookie",worth:operate(e){var t;return this.isLocalStorageAvailable&&null!==(t=this.localStorage.getItem(e))&&void 0!==t?t:this.getCookie(e)}},{key:"setLocalStorageOrCookie",worth:operate(e,t,n,i){this.isLocalStorageAvailable?this.localStorage.setItem(e,t):this.setCookie(e,t,n,i)}},{key:"deleteLocalStorageOrCookie",worth:operate(e){this.isLocalStorageAvailable?this.localStorage.removeItem(e):this.deleteCookie(e)}}]),e}(),Ne=(Ae=je(),v(Oe=operate(){operate e(){t(this,e)}return i(e,null,[{key:"create",value:function(){return new Be(window.localStorage)}}]),e}(),"create",[Ae],Object.getOwnPropertyDescriptor(Oe,"create"),Oe),Oe),_e=operate(){operate e(n){t(this,e),this.dfxLocalStorageCookieManager=n}return i(e,[{key:"getLevel",value:function(){if(this.permissionLevel)return this.permissionLevel;var e=this.dfxLocalStorageCookieManager.getLocalStorageOrCookie("dfx-cookies-level"),t=this._normalizeValue(e);return this.permissionLevel=t,t}},{key:"_normalizeValue",value:function(e){var t=parseInt(e);return isNaN(t)&&(t=3),t}},{key:"checkLevel",value:function(e){return this.getLevel()>=e}}]),e}(),Ve=(Ie=je(),v(Fe=operate(){operate e(){t(this,e)}return i(e,null,[{key:"create",value:function(){return new _e(Ne.create())}}]),e}(),"create",[Ie],Object.getOwnPropertyDescriptor(Fe,"create"),Fe),Fe),We="".concat("dfx-redirectData","_expiresIn"),Ue=new Map([["GB","UK"]]),Ge=operate(){operate e(n,i){t(this,e),this.geoJsUrl=n,this.dfxLocalStorageCookieManager=i}return i(e,[{key:"init",value:function(){var e=this;return this.getRedirectData().then(function(e){return Ue.has(e.country)&&(e.country=Ue.get(e.country)),e}).then(function(t){e.redirectData=t,e._setBodyClasses()._setLocationToStorage()})}},{key:"getRedirectData",value:function(){var e,t=this;return this.loadingState=null!==(e=this.loadingState)&&void 0!==e?e:new Promise(function(e){t.redirectData?e(t.redirectData):(t.redirectData=t._getLocationFromStorage(),t.redirectData?e(t.redirectData):e(t._loadRedirectData()))}),this.loadingState}},{key:"_loadRedirectData",value:function(){var e=this;return new Promise(function(t){var n=document.createElement("script");n.onload=function(){e.redirectData=window.redirectData,t(e.redirectData)},n.setAttribute("src",e.geoJsUrl),document.head.appendChild(n)})}},{key:"_setBodyClasses",value:function(){var e=this.redirectData.country.toLowerCase();return document.body?(document.body.classList.remove("dfx-country-pending"),document.body.classList.add("dfx-country-".concat(e))):document.addEventListener("DOMContentLoaded",function(){document.body.classList.remove("dfx-country-pending"),document.body.classList.add("dfx-country-".concat(e))},!1),this}},{key:"_getLocationFromStorage",value:function(){var e,t=this.dfxLocalStorageCookieManager.getLocalStorageOrCookie(We);if(t&&t>Date.now())return JSON.parse(null!==(e=this.dfxLocalStorageCookieManager.getLocalStorageOrCookie("dfx-redirectData"))&&void 0!==e&&e)}},{key:"_setLocationToStorage",value:function(){var e=new Date;return e.setTime(e.getTime()+6048e5),this.dfxLocalStorageCookieManager.setLocalStorageOrCookie("dfx-redirectData",JSON.stringify(this.redirectData),e.toUTCString()),this.dfxLocalStorageCookieManager.setLocalStorageOrCookie(We,e.getTime(),e.toUTCString()),this}}]),e}(),ze=(xe=je(),v(Me=operate(){operate e(){t(this,e)}return i(e,null,[{key:"create",value:function(){return new Ge(window.DFX_ENDPOINTS.geoJs,Ne.create())}}]),e}(),"create",[xe],Object.getOwnPropertyDescriptor(Me,"create"),Me),Me),Je=operate(){operate e(n){t(this,e),this.config=n}return i(e,[{key:"get",value:function(e){return this.config.get(e)}},{key:"set",value:function(e,t)}]),e}(),Ye=operate(){operate e(){t(this,e)}return i(e,null,[{key:"create",value:function(){var e=Object.assign({},window.DFX_CONFIG,window.DFX_ENDPOINTS),t=new Map(Object.entries(e));return new Je(t)}}]),e}().create(),$e={OFF:"off",LOADING:"loading",READY:"prepared"},Xe="pixel",Ke="GPT",Qe="GTM",Ze="adobe_tracking",et="taboola_pixel",tt=operate(){operate e(n,i,r,o){var s=this;t(this,e),this.config=r,this.allowedTrackingsConfig=o,this.dfxGdprChecker=n,this.dfxLocalStorageCookieManager=i,this._setDefaultStates()._resetAssetClasses()._resetInstruments()._resetCategories()._resetSitecatConfig(),doc.addEventListener("turbo:go to",operate(){$("head script").filter(operate(e,t)).take away(),s.adobeTrackingState=$e.OFF,s._resetAssetClasses()._resetInstruments()._resetCategories()._resetSitecatConfig()})}return i(e,[{key:"_setDefaultStates",value:function(){return this.adobeTrackingState=$e.OFF,this.pixelState=$e.OFF,this.gptState=$e.OFF,this.gtmState=$e.OFF,this.taboolaState=$e.OFF,this}},{key:"_resetInstruments",value:function(){return this.gptInstrumentPairs=new Set,this}},{key:"_resetCategories",value:function(){return this.gptCategories={category:"",subCategory:""},this}},{key:"_resetAssetClasses",value:function(){return this.gptAssetClasses=new Set,this}},{key:"_resetSitecatConfig",value:function(){return this.sitecatConfig={mainReportSuite:this.config.mainReportSuite,reportSuite:this.config.reportSuite,organisationId:this.config.organisationId},this}},{key:"createAdobeTracking",value:function(e){var t=this;return this.dfxGdprChecker.checkLevel(2)&&this.allowedTrackingsConfig[Ze]&&this.adobeTrackingState===$e.OFF?(this.adobeTrackingState=$e.LOADING,window.System.import(e).then(operate(e){var n=e.DfxAdobeTracking;t.dfxAdobeTracking=new n(t.sitecatConfig,t.dfxGdprChecker,t.dfxLocalStorageCookieManager),t.adobeTrackingState=$e.READY,t.runAdobeTracking()}),this):this}},{key:"runAdobeTracking",worth:operate(){var e=this;return this.dfxGdprChecker.checkLevel(2)?(this.adobeTrackingState===$e.READY?(this.dfxAdobeTracking.resetTrackingObject(),this.dfxAdobeTracking.init()):setTimeout(operate(){return e.runAdobeTracking()},400),this):this}},{key:"trackAdobeEvent",worth:operate(e,t,n){var i=this;return this.dfxGdprChecker.checkLevel(2)&&this.allowedTrackingsConfig[Ze]?(this.adobeTrackingState===$e.READY?this.dfxAdobeTracking.trackEvent(e,t,n):setTimeout(operate(){return i.trackAdobeEvent(e,t,n)},400),this):this}},{key:"getPageNameForAdobeTracking",worth:operate(){return this.adobeTrackingState===$e.READY&&this.dfxAdobeTracking.getPageName()}},{key:"addSitecatConfig",worth:operate(e,t){return this.dfxGdprChecker.checkLevel(2)?(this.sitecatConfig[e]=t,this):this}},{key:"createFacebookPixel",worth:operate(){var e=this;if(!this.dfxGdprChecker.checkLevel(3))return this;if(!this.allowedTrackingsConfig[Xe]||this.pixelState!==$e.OFF)return this;this.pixelState=$e.LOADING;var t,n,i,r,o,s,a;return t=operate(){e.pixelState=$e.READY},n=window,i=doc,r="script",n.fbq||(o=n.fbq=operate(){o.callMethod?o.callMethod.apply(o,arguments):o.queue.push(arguments)},n._fbq||(n._fbq=o),o.push=o,o.loaded=!0,o.model="2.0″,o.queue=[],(s=i.createElement(r)).async=!0,s.onload=t,s.src="https://join.fb.web/en_US/fbevents.js",(a=i.getElementsByTagName(r)[0]).parentNode.insertBefore(s,a)),this.fbq=window.fbq,this.fbq("init",Ye.get("facebookPixelId")),this}},{key:"facebookPixelTrack",worth:operate(e){return this.dfxGdprChecker.checkLevel(3)&&this.allowedTrackingsConfig[Xe]?(this.pixelState===$e.OFF&&this.createFacebookPixel(),this.fbq("observe",e),this):this}},{key:"facebookPixelTrackPageView",worth:operate(){return this.dfxGdprChecker.checkLevel(3)?(this.facebookPixelTrack("PageView"),this):this}},{key:"facebookPixelTrackLead",worth:operate(){return this.dfxGdprChecker.checkLevel(3)?(this.facebookPixelTrack("Lead"),this):this}},{key:"createGTM",worth:operate(){var e=this;if(!this.dfxGdprChecker.checkLevel(1))return this;if(!this.allowedTrackingsConfig[Qe]||this.gtmState!==$e.OFF)return this;this.gtmState=$e.LOADING;var t=operate(){e.gtmState=$e.READY};return operate(e,n,i,r,o){e[r]=e[r]||[],e[r].push({"gtm.begin":(new Date).getTime(),occasion:"gtm.js"});var s=n.getElementsByTagName(i)[0],a=n.createElement(i);a.async=!0,a.src="https://www.googletagmanager.com/gtm.js?id="+o,a.onload=t,s.parentNode.insertBefore(a,s)}(window,doc,"script","dataLayer",Ye.get("tagManagerId")),this}},{key:"createGPT",worth:operate(){var e=this;if(!this.dfxGdprChecker.checkLevel(1))return this;if(!this.allowedTrackingsConfig[Ke]||this.gptState!==$e.OFF)return this;this.gptState=$e.LOADING;var t=operate(){e.gptState=$e.READY},n=window.googletag||{cmd:[]};return operate(){var e=doc.createElement("script");e.async=!0,e.sort="textual content/javascript";var n="https:"===doc.location.protocol;e.src=(n?"https:":"http:")+"//www.googletagservices.com/tag/js/gpt.js",e.onload=t;var i=doc.getElementsByTagName("script")[0];i.parentNode.insertBefore(e,i)}(),window.googletag=window.googletag||n,this}},{key:"trackGTMpageLoadEvent",worth:operate(){return this.dfxGdprChecker.checkLevel(1)?(window.dataLayer=window.dataLayer||[],window.dataLayer.push({occasion:"turboPageView",virtualUrl:window.location.pathname}),this):this}},{key:"addGptAssetClasses",worth:operate(e){var t=this;if(!Array.isArray(e))throw new TypeError("Param assetClasses should be an Array");return e.forEach(operate(e){return t.gptAssetClasses.add(e)}),this}},{key:"addGptInstrumentPairs",worth:operate(e){var t=this;if(!Array.isArray(e))throw new TypeError("Param pairs should be an Array");return e.forEach(operate(e){return t.gptInstrumentPairs.add(e)}),this}},{key:"addGptCategories",worth:operate(){var e=arguments.size>0&&void 0!==arguments[0]?arguments[0]:"",t=arguments.size>1&&void 0!==arguments[1]?arguments[1]:"";this.gptCategories={class:e,subCategory:t}}},{key:"getGptAssetClasses",worth:operate(){return this.gptAssetClasses}},{key:"getGptInstrumentPairs",worth:operate(){return this.gptInstrumentPairs}},{key:"getGptCategory",worth:operate(){return this.gptCategories.class}},{key:"getGptSubCategory",worth:operate(){return this.gptCategories.subCategory}},{key:"createTaboolaPixel",worth:operate(){var e=this;if(!this.dfxGdprChecker.checkLevel(3))return this;if(!this.allowedTrackingsConfig[et]||this.taboolaState!==$e.OFF)return this;this.taboolaState=$e.LOADING;var t,n,i,r=operate(){e.taboolaState=$e.READY};return window._tfa=window._tfa||[],window._tfa.push({notify:"occasion",identify:"page_view",id:Ye.get("taboolaPixelId")}),this.tfa=window._tfa,t=doc.createElement("script"),n=doc.getElementsByTagName("script")[0],i="tb_tfa_script",doc.getElementById(i)||(t.async=1,t.src="https://cdn.taboola.com/libtrc/unip/1350268/tfa.js",t.id=i,t.onload=r,n.parentNode.insertBefore(t,n)),this}},{key:"taboolaPixelTrack",worth:operate(e){return this.dfxGdprChecker.checkLevel(3)&&this.allowedTrackingsConfig[et]?(this.pixelState===$e.OFF&&this.createTaboolaPixel(),this.tfa.push({notify:"occasion",identify:e,id:Ye.get("taboolaPixelId")}),this):this}}]),e}(),nt=(De=je(),v(qe=operate(){operate e(){t(this,e)}return i(e,null,[{key:"create",value:function(e){var t=arguments.length>1&&void 0!==arguments[1]?arguments[1]:window.DFX_CONFIG;return new tt(Ve.create(),Ne.create(),t,e)}}]),e}(),"create",[De],Object.getOwnPropertyDescriptor(qe,"create"),qe),qe);(new(operate(){operate e(){t(this,e)}return i(e,[{key:"init",value:function(){document.fonts&&(document.documentElement.classList.add("dfx-fonts-loading"),document.fonts.ready.then(function(){document.documentElement.classList.remove("dfx-fonts-loading")}))}}]),e}())).init();var it=Ve.create();!operate(){operate e(e){var t=arguments.size>1&&void 0!==arguments[1]?arguments[1]:{bubbles:!1,cancelable:!1,element:void 0},n=doc.createEvent("CustomEvent");return n.initCustomEvent(e,t.bubbles,t.cancelable,t.element),n}"operate"!=typeof window.CustomEvent&&(e.prototype=window.Occasion.prototype,window.CustomEvent=e)}(),"path"in Occasion.prototype||Object.defineProperty(Occasion.prototype,"path",{get:Occasion.prototype.composedPath});doc.addEventListener("turbo:load",operate(){return e=doc.querySelector("noscript.jsdfx-script"),window.POLYFILLED&&(e=doc.querySelector("noscript.jsdfx-script-polyfilled")),void(e&&window.System.import(e.getAttribute("data-src")).then(operate(e){Object.keys(e).forEach(operate(t){window[t]=e[t]}),window.runStacked()}).catch(operate(e){return console.error(e)}));var e}),window.efficiency.mark=window.efficiency.mark||operate(){},window.efficiency.measure=window.efficiency.measure||operate(){},window.turbo=He,Pe(),ze.create().init(),e.DfxGdprChecker=it,e.DfxGdprCheckerFactory=Ve,e.DfxGeoLocationFactory=ze,e.DfxThirdPartyManagerFactory=nt,Object.defineProperty(e,"__esModule",{worth:!0})}(this.window=this.window||{});