Bitcoin (BTC/USD) & Ethereum (ETH/USD) Value, Evaluation and Chart: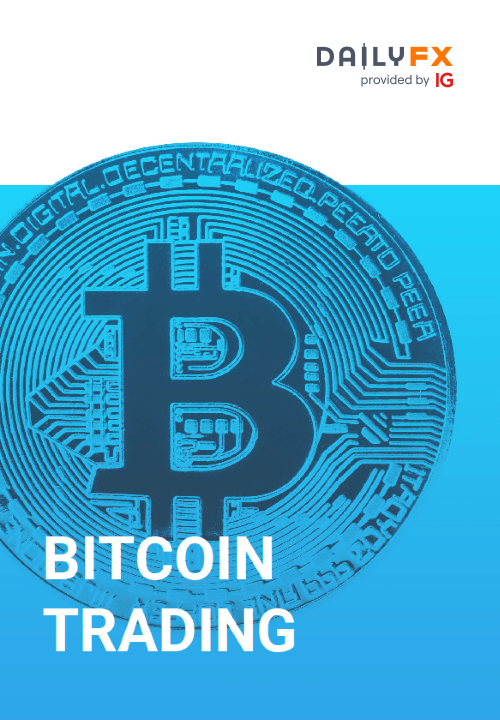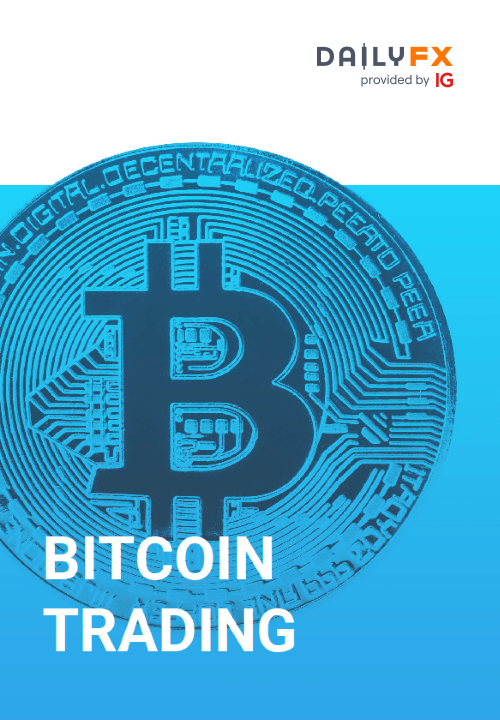 Recommended by Nick Cawley
Get Your Free Introduction To Bitcoin Trading
The cryptocurrency market continues to forge forward with the area now value slightly below $2 trillion, with Bitcoin value 55% of the whole. Whereas Bitcoin is by far probably the most dominant coin out there, the continued rally within the alt-coin area is beginning to erode its pre-eminence. Whereas BTC struggles to interrupt above $60k with the intention to make a contemporary ATH, Ethereum is making contemporary highs, whereas the threerd most beneficial crypto by market cap, Binance Coin (BNB) can be making repeated new highs. The cryptocurrency area is seeing heavy, and widespread, shopping for curiosity and that is prone to proceed going ahead. We recommended final week that market momentum would doubtless drive contemporary highs and this has been, and can in all probability be the case within the quick time period.
Bitcoin (BTC/USD) & Ethereum (ETH/USD) Momentum Suggests New All-Time Highs Are Near
Bitcoin wants to interrupt, shut and open above the $60,000 line earlier than it will probably make contemporary headway. If there's a promote wall at this degree, as some out there argue, then a break would result in further volatility and a brand new excessive print above $61,880 would doubtless occur in a short time. All three shifting averages are supportive and one other transfer increased is the trail of least resistance.
Bitcoin (BTC/USD) Every day Value Chart (November 2020 – April 6, 2021)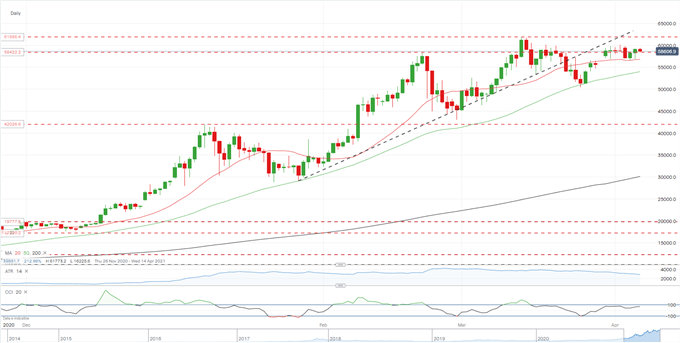 Ethereum continues to push additional forward and posted a cluster of recent highs over the lengthy weekend, highlighting the bullish momentum of the second-largest cryptocurrency. Once more all three shifting averages stay supportive and new highs are doubtless. Any setback or consolidation will in all probability see consumers return, pushing the worth ever increased.
Ethereum Every day Value Chart (September 2020 – April 6, 2021)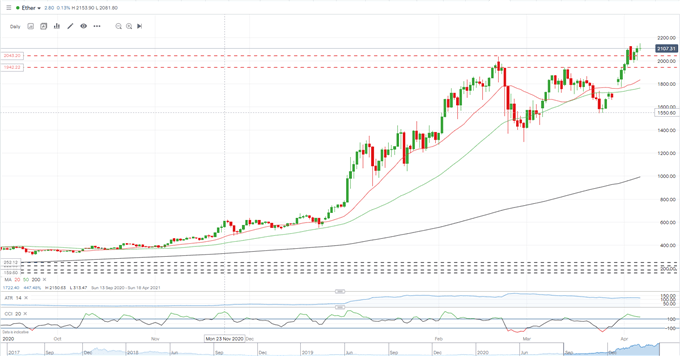 Merchants of all ranges and skills will discover one thing to assist them make extra knowledgeable selections within the new and improved DailyFX Trading Education Centre
What are your views on Bitcoin (BTC) and Ethereum (ETH/USD) – bullish or bearish?? You may tell us through the shape on the finish of this piece or you possibly can contact the writer through Twitter @nickcawley1.
!perform(){perform e(e,t)var t,n="undefined"!=typeof Image,i="undefined"!=typeof self,r="undefined"!=typeof doc,o=i?self:world;if(r){var s=doc.querySelector("base[href]");s&&(t=s.href)}if(!t&&"undefined"!=typeof location){var a=(t=location.href.cut up("https://www.dailyfx.com/foreign exchange/market_alert/2021/04/06/#")[0].cut up("?")[0]).lastIndexOf("/");-1!==a&&(t=t.slice(0,a+1))}var u=//g;perform c(e,t){if(-1!==e.indexOf("")&&(e=e.exchange(u,"/")),"/"===e[0]&&"/"===e[1])return t.slice(0,t.indexOf(":")+1)+e;if("."===e[0]&&("/"===e[1]||"."===e[1]&&("/"===e[2]||2===e.size&&(e+="/"))||1===e.size&&(e+="/"))||"/"===e[0]){var n,i=t.slice(0,t.indexOf(":")+1);if(n="/"===t[i.length+1]?"file:"!==i?(n=t.slice(i.size+2)).slice(n.indexOf("/")+1):t.slice(8):t.slice(i.size+("/"===t[i.length])),"/"===e[0])return t.slice(0,t.length-n.length-1)+e;for(var r=n.slice(0,n.lastIndexOf("/")+1)+e,o=[],s=-1,a=0;an.size&&"/"!==i[i.length-1]))return i+e.slice(n.size);v("W2″,n,i,"ought to have a trailing '/'")}}perform v(t,n,i,r){console.warn(e(t,"Bundle goal "+r+", resolving goal '"+i+"' for "+n))}perform p(e,t,n){for(var i=e.scopes,r=n&&d(n,i);r;){var o=f(t,i[r]);if(o)return o;r=d(r.slice(0,r.lastIndexOf("/")),i)}return f(t,e.imports)||-1!==t.indexOf(":")&&t}var m=n&&Image.toStringTag,g=n?Image():"@";perform y(){this[g]={}}var okay,b=y.prototype;perform w(e){return e.id}perform S(e,t,n,i){if(e.onload(n,t.id,t.d&&t.d.map(w),!!i),n)throw n}perform E(t,n,i){var r=t[g][n];if(r)return r;var o=[],s=Object.create(null);m&&Object.defineProperty(s,m,{worth:"Module"});var a=Promise.resolve().then(perform(){return t.instantiate(n,i)}).then(perform(i){if(!i)throw Error(e(2,"Module "+n+" didn't instantiate"));var a=i[1](perform(e,t){r.h=!0;var n=!1;if("string"==typeof e)e in s&&s[e]===t||(s[e]=t,n=!0);elseif(n)for(var a=0;a-1){var t=doc.createEvent("Occasion");t.initEvent("error",!1,!1),n.dispatchEvent(t)}return Promise.reject(e)})}else if("systemjs-importmap"===n.kind){n.sp=!0;var i=n.src?fetch(n.src,{integrity:n.integrity}).then(perform(e){if(!e.okay)throw Error("Invalid standing code: "+e.standing);return e.textual content()}).catch(perform(t){return t.message=e("W4","Error fetching systemjs-import map "+n.src)+"n"+t.message,console.warn(t),"{}"}):n.innerHTML;T=T.then(perform(){return i}).then(perform(i){!perform(t,n,i){var r={};attempt{r=JSON.parse(n)}catch(o){console.warn(Error(e("W5″,"systemjs-importmap accommodates invalid JSON")+"nn"+n+"n"))}!perform(e,t,n){var i;for(i in e.imports&&h(e.imports,n.imports,t,n,null),e.scopes||{}){var r=l(i,t);h(e.scopes[i],n.scopes[r]||(n.scopes[r]={}),t,n,r)}for(i in e.depcache||{})n.depcache[l(i,t)]=e.depcache[i];for(i in e.integrity||{})n.integrity[l(i,t)]=e.integrity[i]}(r,i,t)}(P,i,n.src||t)})}})}if(b.prepareImport=perform(e),r&&(O(),window.addEventListener("DOMContentLoaded",O)),r){window.addEventListener("error",perform(e){F=e.filename,x=e.error});var I=location.origin}b.createScript=perform(e){var t=doc.createElement("script");t.async=!0,e.indexOf(I+"/")&&(t.crossOrigin="nameless");var n=P.integrity[e];return n&&(t.integrity=n),t.src=e,t};var F,x,M={},D=b.register;b.register=perform(e,t){if(r&&"loading"===doc.readyState&&"string"!=typeof e){var n=doc.querySelectorAll("script[src]"),i=n[n.length-1];if(i){i.src,L=e;var o=this;R=setTimeout(perform(){M[i.src]=[e,t],o.import(i.src)})}}else L=void 0;return D.name(this,e,t)},b.instantiate=perform(t,n){var i=M[t];if(i)return delete M[t],i;var r=this;return new Promise(perform(i,o){var s=b.createScript(t);s.addEventListener("error",perform(){o(Error(e(3,"Error loading "+t+(n?" from "+n:""))))}),s.addEventListener("load",perform(){if(doc.head.removeChild(s),F===t)o(x);else{var e=r.getRegister();e&&e[0]===L&&clearTimeout(R),i(e)}}),doc.head.appendChild(s)})},b.shouldFetch=perform(){return!1},"undefined"!=typeof fetch&&(b.fetch=fetch);var q=b.instantiate,H=/^(textual content|utility)/(x-)?javascript(;|$)/;b.instantiate=perform(t,n){var i=this;return this.shouldFetch(t)?this.fetch(t,{credentials:"same-origin",integrity:P.integrity[t]}).then(perform(r){if(!r.okay)throw Error(e(7,r.standing+" "+r.statusText+", loading "+t+(n?" from "+n:"")));var o=r.headers.get("content-type");if(!o||!H.check(o))throw Error(e(4,'Unknown Content material-Sort "'+o+'", loading '+t+(n?" from "+n:"")));return r.textual content().then(perform(e){return e.indexOf("//# sourceURL=")<0&&(e+="n//# sourceURL="+t),(0,eval)(e),i.getRegister()})}):q.apply(this,arguments)},b.resolve=perform(n,i){return p(P,c(n,i=i||t)||n,i)||perform(t,n){throw Error(e(8,"Unable to resolve naked specifier '"+t+(n?"' from "+n:"'")))}(n,i)};var j=b.instantiate;b.instantiate=perform(e,t){var n=P.depcache[e];if(n)for(var i=0;i<n.size;i++)E(this,this.resolve(n[i],e),e);return j.name(this,e,t)},i&&"perform"==typeof importScripts&&(b.instantiate=perform(e){var t=this;return Promise.resolve().then(perform(){return importScripts(e),t.getRegister()})}),perform(e){var t,n,i,r=e.System.constructor.prototype;var o=r.import;r.import=perform(r,s){return perform()(),o.name(this,r,s)};var s=[[],perform(){return{}}],a=r.getRegister;r.getRegister=perform(){var o=a.name(this);if(o)return o;var u,l=perform(){var o,s,a=0;for(var u in e)if(!c(u))return s}();if(!l)return s;attempt{u=e[l]}catch(h){return s}return[[],perform(e){return{execute:perform(){e(u),e({default:u,__useDefault:!0})}}}]};var u="undefined"!=typeof navigator&&-1!==navigator.userAgent.indexOf("Trident");perform c(t)u&&e[t]&&"undefined"!=typeof window&&e[t].father or mother===window}("undefined"!=typeof self?self:world),perform(e){var t=e.System.constructor.prototype,n=/^[^#?]+.(css|html|json|wasm)([?#].*)?$/;t.shouldFetch=perform(e){return n.check(e)};var i=/^utility/json(;|$)/,r=/^textual content/css(;|$)/,o=/^utility/wasm(;|$)/,s=t.fetch;t.fetch=perform(t,n){return s(t,n).then(perform(n){if(!n.okay)return n;var s=n.headers.get("content-type");return i.check(s)?n.json().then(perform(e){return new Response(new Blob(['System.register([],perform(e){return{execute:perform(){e("default",'+JSON.stringify(e)+")}}})"],{kind:"utility/javascript"}))}):r.check(s)?n.textual content().then(perform(e){return new Response(new Blob(["System.register([],perform(e){return{execute:perform(){var s=new CSSStyleSheet();s.replaceSync("+JSON.stringify(e)+');e("default",s)}}})'],{kind:"utility/javascript"}))}):o.check(s)?(WebAssembly.compileStreaming?WebAssembly.compileStreaming(n):n.arrayBuffer().then(WebAssembly.compile)).then(perform(n){e.System.wasmModules||(e.System.wasmModules=Object.create(null)),e.System.wasmModules[t]=n;var i=[],r=[];return WebAssembly.Module.imports&&WebAssembly.Module.imports(n).forEach(perform(e){var t=JSON.stringify(e.module);-1===i.indexOf(t)&&(i.push(t),r.push("perform(m){i["+t+"]=m}"))}),new Response(new Blob(["System.register(["+i.join(",")+"],perform(e){var i={};return{setters:["+r.join(",")+"],execute:perform(){return WebAssembly.instantiate(System.wasmModules["+JSON.stringify(t)+"],i).then(perform(m){e(m.exports)})}}})"],{kind:"utility/javascript"}))}):n})}}("undefined"!=typeof self?self:world);var B="undefined"!=typeof Image&&Image.toStringTag;b.get=perform(e){var t=this[g][e];if(t&&null===t.e&&!t.E)return t.er?null:t.n},b.set=perform(t,n){attempt{new URL(t)}catch(s){console.warn(Error(e("W3",'"'+t+'" is just not a sound URL to set within the module registry')))}var i;B&&"Module"===n[B]?i=n:(i=Object.assign(Object.create(null),n),B&&Object.defineProperty(i,B,{worth:"Module"}));var r=Promise.resolve(i),o=this[g][t]||(this[g][t]={id:t,i:[],h:!1,d:[],e:null,er:void 0,E:void 0});return!o.e&&!o.E&&(Object.assign(o,{n:i,I:void 0,L:void 0,C:r}),i)},b.has=perform(e){return!!this[g][e]},b.delete=perform(e){var t=this[g],n=t[e];if(!n||null!==n.e||n.E)return!1;var i=n.i;return n.d&&n.d.forEach(perform(e){var t=e.i.indexOf(n);-1!==t&&e.i.splice(t,1)}),delete t[e],perform(){var n=t[e];if(!n||!i||null!==n.e||n.E)return!1;i.forEach(perform(e){n.i.push(e),e(n.n)}),i=null}};var N="undefined"!=typeof Image&&Image.iterator;b.entries=perform(){var e,t,n=this,i=Object.keys(n[g]),r=0,o={subsequent:perform(){for(;void 0!==(t=i[r++])&&void 0===(e=n.get(t)););return{carried out:void 0===t,worth:void 0!==t&&[t,e]}}};return o[N]=perform(){return this},o}}(),perform(e){var t=e.System;s(t);var n,i=t.constructor.prototype,r=t.constructor,o=perform(){r.name(this),s(this)};perform s(e){e.registerRegistry=Object.create(null)}o.prototype=i,t.constructor=o;var a=i.register;i.register=perform(e,t,i){if("string"!=typeof e)return a.apply(this,arguments);var r=[t,i];return this.registerRegistry[e]=r,n||(n=r,Promise.resolve().then(perform(){n=null})),a.apply(this,arguments)};var u=i.resolve;i.resolve=perform(e,t){attempt{return u.name(this,e,t)}catch(n){if(e on this.registerRegistry)return e;throw n}};var c=i.instantiate;i.instantiate=perform(e,t){var n=this.registerRegistry[e];return n?(this.registerRegistry[e]=null,n):c.name(this,e,t)};var l=i.getRegister;i.getRegister=perform()}("undefined"!=typeof self?self:world),perform(e){"use strict";perform t(e,t){if(!(e instanceof t))throw new TypeError("Can't name a category as a perform")}perform n(e,t){for(var n=0;n<t.size;n++)!1,i.configurable=!0,"worth"in i&&(i.writable=!0),Object.defineProperty(e,i.key,i)}perform i(e,t,i){return t&&n(e.prototype,t),i&&n(e,i),e}perform r(e,t){if("perform"!=typeof t&&null!==t)throw new TypeError("Tremendous expression should both be null or a perform");e.prototype=Object.create(t&&t.prototype,{constructor:{worth:e,writable:!0,configurable:!0}}),t&&s(e,t)}perform o(e){return(o=Object.setPrototypeOf?Object.getPrototypeOf:perform(e)Object.getPrototypeOf(e))(e)}perform s(e,t){return(s=Object.setPrototypeOf||perform(e,t){return e.__proto__=t,e})(e,t)}perform a(e,t,n){return(a=perform(){if("undefined"==typeof Replicate||!Replicate.assemble)return!1;if(Replicate.assemble.sham)return!1;if("perform"==typeof Proxy)return!0;attempt{return Date.prototype.toString.name(Replicate.assemble(Date,[],perform(){})),!0}catch(e){return!1}}()?Replicate.assemble:perform(e,t,n){var i=[null];i.push.apply(i,t);var r=new(Perform.bind.apply(e,i));return n&&s(r,n.prototype),r}).apply(null,arguments)}perform u(e){var t="perform"==typeof Map?new Map:void 0;return(u=perform(e){if(null===e||(n=e,-1===Perform.toString.name(n).indexOf("[native code]")))return e;var n;if("perform"!=typeof e)throw new TypeError("Tremendous expression should both be null or a perform");if(void 0!==t){if(t.has(e))return t.get(e);t.set(e,i)}perform i(){return a(e,arguments,o(this).constructor)}return i.prototype=Object.create(e.prototype,{constructor:{worth:i,enumerable:!1,writable:!0,configurable:!0}}),s(i,e)})(e)}perform c(e){if(void 0===e)throw new ReferenceError("this hasn't been initialised – tremendous() hasn't been referred to as");return e}perform l(e,t,n){return(l="undefined"!=typeof Replicate&&Replicate.get?Replicate.get:perform(e,t,n){var i=perform(e,t){for(;!Object.prototype.hasOwnProperty.name(e,t)&&null!==(e=o(e)););return e}(e,t);if(i){var r=Object.getOwnPropertyDescriptor(i,t);return r.get?r.get.name(n):r.worth}})(e,t,n||e)}perform h(e,t){return t||(t=e.slice(0)),Object.freeze(Object.defineProperties(e,{uncooked:{worth:Object.freeze(t)}}))}perform d(e,t){return perform(e){if(Array.isArray(e))return e}(e)||perform(e,t){var n=[],i=!0,r=!1,o=void 0;attemptcatch(u){r=!0,o=u}lastly{attemptlastly{if(r)throw o}}return n}(e,t)||perform(){throw new TypeError("Invalid try to destructure non-iterable occasion")}()}perform f(e){return perform(e){if(Array.isArray(e)){for(var t=0,n=new Array(e.size);t<e.size;t++)n[t]=e[t];return n}}(e)||perform(e)"[object Arguments]"===Object.prototype.toString.name(e))return Array.from(e)(e)||perform(){throw new TypeError("Invalid try to unfold non-iterable occasion")}()}perform v(e,t,n,i,r){var o={};return Object.keys(i).forEach(perform(e){o[e]=i[e]}),o.enumerable=!!o.enumerable,o.configurable=!!o.configurable,("worth"in o||o.initializer)&&(o.writable=!0),o=n.slice().reverse().scale back(perform(n,i),o),r&&void 0!==o.initializer&&(o.worth=o.initializer?o.initializer.name(r):void 0,o.initializer=void 0),void 0===o.initializer&&(Object.defineProperty(e,t,o),o=null),o}perform p(){var e=h(["n .turbo-progress-bar {n position: fixed;n display: block;n top: 0;n left: 0;n height: 3px;n background: #0076ff;n z-index: 9999;n transition:n width ","ms ease-out,n opacity ","ms ","ms ease-in;n transform: translate3d(0, 0, 0);n }n "]);return p=perform(){return e},e}perform m(){var e=h(['n You are loading Turbo from a element inside the element. This is probably not what you meant to do!nn Load your application's JavaScript bundle inside the element instead. elements in are evaluated with each page change.nn For more information, see: https://turbo.hotwire.dev/handbook/building#working-with-script-elementsnn ——n Suppress this warning by adding a "data-turbo-suppress-warning" attribute to: %sn ']);return m=perform(){return e},e}perform g(e){return perform(){var t,n,i,r=o(e);if(perform(){if("undefined"==typeof Replicate||!Replicate.assemble)return!1;if(Replicate.assemble.sham)return!1;if("perform"==typeof Proxy)return!0;attempt{return Date.prototype.toString.name(Replicate.assemble(Date,[],perform(){})),!0}catch(e){return!1}}()){var s=o(this).constructor;t=Replicate.assemble(r,arguments,s)}else t=r.apply(this,arguments);return n=this,!(i=t)||"object"!=typeof i&&"perform"!=typeof i?c(n):i}}!perform(){if(void 0!==window.Replicate&&void 0!==window.customElements&&!window.customElements.polyfillWrapFlushCallback){var e=HTMLElement,t=perform(){return Replicate.assemble(e,[],this.constructor)};window.HTMLElement=t,HTMLElement.prototype=e.prototype,HTMLElement.prototype.constructor=HTMLElement,Object.setPrototypeOf(HTMLElement,e)}}();var y,okay=new WeakMap;perform b(e){var t,n,i,r=(t=e.goal,n=t instanceof Component?t:t instanceof Node?t.parentElement:null,"submit"==(null==(i=n?n.closest("enter, button"):null)?void 0:i.kind)?i:null);r&&r.kind&&okay.set(r.kind,r)}"SubmitEvent"in window||(addEventListener("click on",b,!0),Object.defineProperty(Occasion.prototype,"submitter",{get:perform(){if("submit"==this.kind&&this.goal instanceof HTMLFormElement)return okay.get(this.goal)}})),perform(e){e.keen="keen",e.lazy="lazy"}(y||(y={}));var w=perform(e){r(o,u(HTMLElement));var n=g(o);perform o(){var e;return t(this,o),(e=n.name(this)).loaded=Promise.resolve(),e.delegate=new o.delegateConstructor(c(e)),e}return i(o,[{key:"connectedCallback",value:function(){this.delegate.connect()}},{key:"disconnectedCallback",value:function(){this.delegate.disconnect()}},{key:"attributeChangedCallback",value:function(e){"loading"==e?this.delegate.loadingStyleChanged():"src"==e&&this.delegate.sourceURLChanged()}},{key:"src",get:function(){return this.getAttribute("src")},set:function(e){e?this.setAttribute("src",e):this.removeAttribute("src")}},{key:"loading",get:function(){return function(e){switch(e.toLowerCase()){case"lazy":return y.lazy;default:return y.eager}}(this.getAttribute("loading")||"")},set:function(e){e?this.setAttribute("loading",e):this.removeAttribute("loading")}},{key:"disabled",get:function(){return this.hasAttribute("disabled")},set:function(e){e?this.setAttribute("disabled",""):this.removeAttribute("disabled")}},{key:"autoscroll",get:function(){return this.hasAttribute("autoscroll")},set:function(e){e?this.setAttribute("autoscroll",""):this.removeAttribute("autoscroll")}},{key:"complete",get:function(){return!this.delegate.isLoading}},{key:"isActive",get:function(){return this.ownerDocument===document&&!this.isPreview}},{key:"isPreview",get:function()}],[{key:"observedAttributes",get:function(){return["loading","src"]}}]),o}();perform S(e){var t=doc.createElement("a");return t.href=e.toString(),new URL(t.href)}perform E(e){var t;return e.hash?e.hash.slice(1):(t=e.href.match(/#(.*)$/))?t[1]:""}perform C(e){return(perform(e){return perform(e){return e.pathname.cut up("/").slice(1)}(e).slice(-1)[0]}(e).match(/.[^.]*$/)||[])[0]||""}perform L(e,t){var n=perform(e){return t=e.origin+e.pathname,t.endsWith("/")?t:t+"/";var t}(t);return e.href===S(n).href||e.href.startsWith(n)}perform R(e){var t=e.hash.size;return t=400&&this.statusCode=500&&this.statusCode1&&void 0!==arguments[1]?arguments[1]:{},n=t.goal,i=t.cancelable,r=t.element,o=new CustomEvent(e,{cancelable:i,bubbles:!0,element:r});return(n||doc.documentElement).dispatchEvent(o),o}perform O(){return new Promise(perform(e){return requestAnimationFrame(perform(){return e()})})}perform I(){var e=arguments.size>0&&void 0!==arguments[0]?arguments[0]:"";return(new DOMParser).parseFromString(e,"textual content/html")}perform F(e){for(var t=arguments.size,n=new Array(t>1?t-1:0),i=1;i3&&void 0!==arguments[3]?arguments[3]:new URLSearchParams;t(this,e),this.abortController=new AbortController,this.delegate=n,this.methodology=i,this.isIdempotent?this.url=perform(e,t){var n=new URLSearchParams(e.search),i=!0,r=!1,o=void 0;attempt{for(var s,a=t[Symbol.iterator]();!(i=(s=a.subsequent()).carried out);i=!0)}catch(f){r=!0,o=f}lastly{attemptlastly{if(r)throw o}}return e}(r,f(o.entries())):(this.physique=o,this.url=r)}return i(e,[{key:"cancel",value:function(){this.abortController.abort()}},{key:"perform",value:async function(){var e=this.fetchOptions;A("turbo:before-fetch-request",{detail:{fetchOptions:e}});try{this.delegate.requestStarted(this);var t=await fetch(this.url.href,e);return await this.receive(t)}catch(n){throw this.delegate.requestErrored(this,n),n}finally{this.delegate.requestFinished(this)}}},{key:"receive",value:async function(e){var t=new P(e);return A("turbo:before-fetch-response",{cancelable:!0,detail:{fetchResponse:t}}).defaultPrevented?this.delegate.requestPreventedHandlingResponse(this,t):t.succeeded?this.delegate.requestSucceededWithResponse(this,t):this.delegate.requestFailedWithResponse(this,t),t}},{key:"location",get:function(){return this.url}},{key:"params",get:function(){return this.url.searchParams}},{key:"entries",get:function(){return this.body?Array.from(this.body.entries()):[]}},{key:"fetchOptions",get:perform(){return{methodology:T[this.method].toUpperCase(),credentials:"same-origin",headers:this.headers,redirect:"observe",physique:this.physique,sign:this.abortSignal}}},{key:"isIdempotent",get:perform(){return this.methodology==T.get}},{key:"headers",get:perform(){var e=Object.assign({},this.defaultHeaders);return"perform"==typeof this.delegate.prepareHeadersForRequest&&this.delegate.prepareHeadersForRequest(e,this),e}},{key:"abortSignal",get:perform(){return this.abortController.sign}},{key:"defaultHeaders",get:perform(){return{Settle for:"textual content/html, utility/xhtml+xml"}}}]),e}();var D,q,H=perform(){perform e(n,i){var r=this;t(this,e),this.began=!1,this.intersect=perform(e){var t=e.slice(-1)[0];(null==t?void 0:t.isIntersecting)&&r.delegate.elementAppearedInViewport(r.ingredient)},this.delegate=n,this.ingredient=i,this.intersectionObserver=new IntersectionObserver(this.intersect)}return i(e,[{key:"start",value:function()},{key:"stop",value:function(){this.started&&(this.started=!1,this.intersectionObserver.unobserve(this.element))}}]),e}(),j=perform(){perform e(n){t(this,e),this.templateElement=doc.createElement("template"),this.templateElement.innerHTML=n}return i(e,[{key:"fragment",get:function(){var e=document.createDocumentFragment(),t=!0,n=!1,i=void 0;try{for(var r,o=this.foreignElements[Symbol.iterator]();!(t=(r=o.subsequent()).carried out);t=!0){var s=r.worth;e.appendChild(doc.importNode(s,!0))}}catch(a){n=!0,i=a}lastly{attempto.return()lastly{if(n)throw i}}return e}},{key:"foreignElements",get:perform(){return this.templateChildren.scale back(perform(e,t){return"turbo-stream"==t.tagName.toLowerCase()?[].concat(f(e),[t]):e},[])}},{key:"templateChildren",get:perform(){return Array.from(this.templateElement.content material.youngsters)}}],[{key:"wrap",value:function(e){return"string"==typeof e?new this(e):e}}]),e}();j.contentType="textual content/vnd.turbo-stream.html",perform(e){e[e.initialized=0]="initialized",e[e.requesting=1]="requesting",e[e.waiting=2]="ready",e[e.receiving=3]="receiving",e[e.stopping=4]="stopping",e[e.stopped=5]="stopped"}(D||(D={})),perform(e){e.urlEncoded="utility/x-www-form-urlencoded",e.multipart="multipart/form-data",e.plain="textual content/plain"}(q||(q={}));var B=perform(){perform e(n,i,r){var o=arguments.size>3&&void 0!==arguments[3]&&arguments[3];t(this,e),this.state=D.initialized,this.delegate=n,this.formElement=i,this.submitter=r,this.formData=perform(e,t)(i,r),this.fetchRequest=new M(this,this.methodology,this.location,this.physique),this.mustRedirect=o}return i(e,[{key:"start",value:async function(){var e=D,t=e.initialized,n=e.requesting;if(this.state==t)return this.state=n,this.fetchRequest.perform()}},{key:"stop",value:function(){var e=D,t=e.stopping,n=e.stopped;if(this.state!=t&&this.state!=n)return this.state=t,this.fetchRequest.cancel(),!0}},{key:"prepareHeadersForRequest",value:function(e,t){if(!t.isIdempotent){var n=function(e){if(null!=e){var t=document.cookie?document.cookie.split("; "):[],n=t.discover(perform(t){return t.startsWith(e)});if(n){var i=n.cut up("=").slice(1).be a part of("=");return i?decodeURIComponent(i):void 0}}}(N("csrf-param"))||N("csrf-token");n&&(e["X-CSRF-Token"]=n),e.Settle for=[j.contentType,e.Accept].be a part of(", ")}}},{key:"requestStarted",worth:perform(e){this.state=D.ready,A("turbo:submit-start",{goal:this.formElement,element:{formSubmission:this}}),this.delegate.formSubmissionStarted(this)}},{key:"requestPreventedHandlingResponse",worth:perform(e,t){this.consequence={success:t.succeeded,fetchResponse:t}}},{key:"requestSucceededWithResponse",worth:perform(e,t){if(t.clientError||t.serverError)this.delegate.formSubmissionFailedWithResponse(this,t);else if(this.requestMustRedirect(e)&&perform(e){return 200==e.statusCode&&!e.redirected}(t)){var n=new Error("Kind responses should redirect to a different location");this.delegate.formSubmissionErrored(this,n)}else this.state=D.receiving,this.consequence={success:!0,fetchResponse:t},this.delegate.formSubmissionSucceededWithResponse(this,t)}},{key:"requestFailedWithResponse",worth:perform(e,t){this.consequence={success:!1,fetchResponse:t},this.delegate.formSubmissionFailedWithResponse(this,t)}},{key:"requestErrored",worth:perform(e,t){this.consequence={success:!1,error:t},this.delegate.formSubmissionErrored(this,t)}},{key:"requestFinished",worth:perform(e){this.state=D.stopped,A("turbo:submit-end",{goal:this.formElement,element:Object.assign({formSubmission:this},this.consequence)}),this.delegate.formSubmissionFinished(this)}},{key:"requestMustRedirect",worth:perform(e){return!e.isIdempotent&&this.mustRedirect}},{key:"methodology",get:perform(){var e;return perform(e){change(e.toLowerCase()){case"get":return T.get;case"put up":return T.put up;case"put":return T.put;case"patch":return T.patch;case"delete":return T.delete}}(((null===(e=this.submitter)||void 0===e?void 0:e.getAttribute("formmethod"))||this.formElement.getAttribute("methodology")||"").toLowerCase())||T.get}},{key:"motion",get:perform()void 0===e?void 0:e.getAttribute("formaction"))},{key:"location",get:perform(){return S(this.motion)}},{key:"physique",get:perform()this.methodology==T.get?new URLSearchParams(this.stringFormData):this.formData},{key:"enctype",get:perform(){var e;return perform(e){change(e.toLowerCase()){case q.multipart:return q.multipart;case q.plain:return q.plain;default:return q.urlEncoded}}((null===(e=this.submitter)||void 0===e?void 0:e.getAttribute("formenctype"))||this.formElement.enctype)}},{key:"stringFormData",get:perform(){return f(this.formData).scale back(perform(e,t){var n=d(t,2),i=n[0],r=n[1];return e.concat("string"==typeof r?[[i,r]]:[])},[])}}]),e}();perform N(e){var t=doc.querySelector('meta[name="'.concat(e,'"]'));return t&&t.content material}var _=perform(){perform e(n){t(this,e),this.ingredient=n}return i(e,[{key:"hasAnchor",value:function(e){return null!=this.getElementForAnchor(e)}},{key:"getElementForAnchor",value:function(e){try{return this.element.querySelector("[id='".concat(e,"'], a[name="").concat(e,""]"))}catch(t){return null}}},{key:"getPermanentElementById",worth:perform(e){return this.ingredient.querySelector("https://www.dailyfx.com/foreign exchange/market_alert/2021/04/06/#".concat(e,"[data-turbo-permanent]"))}},{key:"getPermanentElementsPresentInSnapshot",worth:perform(e){return this.permanentElements.filter(perform(t){var n=t.id;return e.getPermanentElementById(n)})}},{key:"youngsters",get:perform(){return f(this.ingredient.youngsters)}},{key:"firstAutofocusableElement",get:perform(){return this.ingredient.querySelector("[autofocus]")}},{key:"permanentElements",get:perform(){return f(this.ingredient.querySelectorAll("[id][data-turbo-permanent]"))}}]),e}(),V=perform(){perform e(n,i){var r=this;t(this,e),this.submitBubbled=perform(e){if(e.goal instanceof HTMLFormElement)},this.delegate=n,this.ingredient=i}return i(e,[{key:"start",value:function(){this.element.addEventListener("submit",this.submitBubbled)}},{key:"stop",value:function(){this.element.removeEventListener("submit",this.submitBubbled)}}]),e}(),W=perform(){perform e(n,i){t(this,e),this.delegate=n,this.ingredient=i}return i(e,[{key:"scrollToAnchor",value:function(e){var t=this.snapshot.getElementForAnchor(e);t?this.scrollToElement(t):this.scrollToPosition({x:0,y:0})}},{key:"scrollToElement",value:function(e){e.scrollIntoView()}},{key:"scrollToPosition",value:function(e){var t=e.x,n=e.y;this.scrollRoot.scrollTo(t,n)}},{key:"render",value:async function(e){if(this.renderer)throw new Error("rendering is already in progress");var t=e.isPreview,n=e.shouldRender,i=e.newSnapshot;if(n)try{this.renderer=e,this.prepareToRenderSnapshot(e),this.delegate.viewWillRenderSnapshot(i,t),await this.renderSnapshot(e),this.delegate.viewRenderedSnapshot(i,t),this.finishRenderingSnapshot(e)}finally{delete this.renderer}else this.invalidate()}},{key:"invalidate",value:function(){this.delegate.viewInvalidated()}},{key:"prepareToRenderSnapshot",value:function(e){this.markAsPreview(e.isPreview),e.prepareToRender()}},{key:"markAsPreview",value:function(e){e?this.element.setAttribute("data-turbo-preview",""):this.element.removeAttribute("data-turbo-preview")}},{key:"renderSnapshot",value:async function(e){await e.render()}},{key:"finishRenderingSnapshot",value:function(e){e.finishRendering()}},{key:"scrollRoot",get:function(){return window}}]),e}(),U=perform(e){r(o,W);var n=g(o);perform o(){return t(this,o),n.apply(this,arguments)}return i(o,[{key:"invalidate",value:function(){this.element.innerHTML=""}},{key:"snapshot",get:function(){return new _(this.element)}}]),o}(),G=perform(){perform e(n,i){var r=this;t(this,e),this.clickBubbled=perform(e){r.respondsToEventTarget(e.goal)?r.clickEvent=e:delete r.clickEvent},this.linkClicked=perform(e){r.clickEvent&&r.respondsToEventTarget(e.goal)&&e.goal instanceof Component&&r.delegate.shouldInterceptLinkClick(e.goal,e.element.url)&&(r.clickEvent.preventDefault(),e.preventDefault(),r.delegate.linkClickIntercepted(e.goal,e.element.url)),delete r.clickEvent},this.willVisit=perform(){delete r.clickEvent},this.delegate=n,this.ingredient=i}return i(e,[{key:"start",value:function(){this.element.addEventListener("click",this.clickBubbled),document.addEventListener("turbo:click",this.linkClicked),document.addEventListener("turbo:before-visit",this.willVisit)}},{key:"stop",value:function(){this.element.removeEventListener("click",this.clickBubbled),document.removeEventListener("turbo:click",this.linkClicked),document.removeEventListener("turbo:before-visit",this.willVisit)}},{key:"respondsToEventTarget",value:function(e){var t=e instanceof Element?e:e instanceof Node?e.parentElement:null;return t&&t.closest("turbo-frame, html")==this.element}}]),e}(),z=perform(){perform e(n,i,r){var o=this;t(this,e),this.currentSnapshot=n,this.newSnapshot=i,this.isPreview=r,this.promise=new Promise(perform(e,t){return o.resolvingFunctions={resolve:e,reject:t}})}return i(e,[{key:"prepareToRender",value:function(){}},{key:"finishRendering",value:function(){this.resolvingFunctions&&(this.resolvingFunctions.resolve(),delete this.resolvingFunctions)}},{key:"createScriptElement",value:function(e){if("false"==e.getAttribute("data-turbo-eval"))return e;var t=document.createElement("script");return t.textContent=e.textContent,t.async=!1,function(e,t){for(var n=0,i=f(t.attributes);n<i.length;n++){var r=i[n],o=r.identify,s=r.worth;e.setAttribute(o,s)}}(t,e),t}},{key:"preservingPermanentElements",worth:perform(e){var t,n,i=(t=this.currentSnapshot,n=this.newSnapshot,t.getPermanentElementsPresentInSnapshot(n).scale back(perform(e,t){var i=n.getPermanentElementById(t.id);if(i){var r=perform(e){var t=doc.createElement("meta");return t.setAttribute("identify","turbo-permanent-placeholder"),t.setAttribute("content material",e.id),{ingredient:t,permanentElement:e}}(t);return J(t,r.ingredient),J(i,t),[].concat(f(e),[r])}return e},[]));e(),perform(e){var t=!0,n=!1,i=void 0;attempt{for(var r,o=e[Symbol.iterator]();!(t=(r=o.subsequent()).carried out);t=!0){var s=r.worth,a=s.ingredient,u=s.permanentElement,c=u.cloneNode(!0);J(a,c)}}catch(l){n=!0,i=l}lastly{attempto.return()lastly{if(n)throw i}}}(i)}},{key:"focusFirstAutofocusableElement",worth:perform(){var e=this.newSnapshot.firstAutofocusableElement;(perform(e){return e&&"perform"==typeof e.focus})(e)&&e.focus()}},{key:"shouldRender",get:perform(){return!0}},{key:"currentElement",get:perform(){return this.currentSnapshot.ingredient}},{key:"newElement",get:perform(){return this.newSnapshot.ingredient}}]),e}();perform J(e,t){var n=e.parentElement;if(n)return n.replaceChild(t,e)}var Y=perform(e){r(o,z);var n=g(o);perform o(){return t(this,o),n.apply(this,arguments)}return i(o,[{key:"render",value:async function(){var e=this;await O(),this.preservingPermanentElements(function(){e.loadFrameElement()}),this.scrollFrameIntoView(),await O(),this.focusFirstAutofocusableElement()}},{key:"loadFrameElement",value:function()void 0===e?void 0:e.createRange();i&&(i.selectNodeContents(n),this.currentElement.appendChild(i.extractContents()))},{key:"scrollFrameIntoView",value:function(){if(this.currentElement.autoscroll||this.newElement.autoscroll){var e=this.currentElement.firstElementChild,t=(n=this.currentElement.getAttribute("data-autoscroll-block"),i="end","end"==n||"start"==n||"center"==n||"nearest"==n?n:i);if(e)return e.scrollIntoView({block:t}),!0}var n,i;return!1}},{key:"shouldRender",get:function(){return!0}}]),o}();var X=perform(){perform e(n){t(this,e),this.resolveVisitPromise=perform(){},this.ingredient=n,this.view=new U(this,this.ingredient),this.appearanceObserver=new H(this,this.ingredient),this.linkInterceptor=new G(this,this.ingredient),this.formInterceptor=new V(this,this.ingredient)}return i(e,[{key:"connect",value:function(){this.loadingStyle==y.lazy&&this.appearanceObserver.start(),this.linkInterceptor.start(),this.formInterceptor.start()}},{key:"disconnect",value:function(){this.appearanceObserver.stop(),this.linkInterceptor.stop(),this.formInterceptor.stop()}},{key:"sourceURLChanged",value:function(){this.loadingStyle==y.eager&&this.loadSourceURL()}},{key:"loadingStyleChanged",value:function(){this.loadingStyle==y.lazy?this.appearanceObserver.start():(this.appearanceObserver.stop(),this.loadSourceURL())}},{key:"loadSourceURL",value:async function(){if(this.isActive&&this.sourceURL&&this.sourceURL!=this.loadingURL)try{this.loadingURL=this.sourceURL,this.element.loaded=this.visit(this.sourceURL),this.appearanceObserver.stop(),await this.element.loaded}finally{delete this.loadingURL}}},{key:"loadResponse",value:async function(e){try{var t=await e.responseHTML;if(t){var n=I(t).body,i=new _(await this.extractForeignFrameElement(n)),r=new Y(this.view.snapshot,i,!1);await this.view.render(r)}}catch(o){console.error(o),this.view.invalidate()}}},{key:"elementAppearedInViewport",value:function(e){this.loadSourceURL()}},{key:"shouldInterceptLinkClick",value:function(e,t){return this.shouldInterceptNavigation(e)}},{key:"linkClickIntercepted",value:function(e,t){this.navigateFrame(e,t)}},{key:"shouldInterceptFormSubmission",value:function(e){return this.shouldInterceptNavigation(e)}},{key:"formSubmissionIntercepted",value:function(e,t){this.formSubmission&&this.formSubmission.stop(),this.formSubmission=new B(this,e,t),this.formSubmission.fetchRequest.isIdempotent?this.navigateFrame(e,this.formSubmission.fetchRequest.url.href):this.formSubmission.start()}},{key:"prepareHeadersForRequest",value:function(e,t){e["Turbo-Frame"]=this.id}},{key:"requestStarted",worth:perform(e){this.ingredient.setAttribute("busy","")}},{key:"requestPreventedHandlingResponse",worth:perform(e,t){this.resolveVisitPromise()}},{key:"requestSucceededWithResponse",worth:async perform(e,t){await this.loadResponse(t),this.resolveVisitPromise()}},{key:"requestFailedWithResponse",worth:perform(e,t){console.error(t),this.resolveVisitPromise()}},{key:"requestErrored",worth:perform(e,t){console.error(t),this.resolveVisitPromise()}},{key:"requestFinished",worth:perform(e){this.ingredient.removeAttribute("busy")}},{key:"formSubmissionStarted",worth:perform(e){}},{key:"formSubmissionSucceededWithResponse",worth:perform(e,t){this.findFrameElement(e.formElement).delegate.loadResponse(t)}},{key:"formSubmissionFailedWithResponse",worth:perform(e,t){this.ingredient.delegate.loadResponse(t)}},{key:"formSubmissionErrored",worth:perform(e,t){}},{key:"formSubmissionFinished",worth:perform(e){}},{key:"viewWillRenderSnapshot",worth:perform(e,t){}},{key:"viewRenderedSnapshot",worth:perform(e,t){}},{key:"viewInvalidated",worth:perform(){}},{key:"go to",worth:async perform(e){var t=this,n=new M(this,T.get,S(e));return new Promise(perform(e){t.resolveVisitPromise=perform(){t.resolveVisitPromise=perform(){},e()},n.carry out()})}},{key:"navigateFrame",worth:perform(e,t){this.findFrameElement(e).src=t}},{key:"findFrameElement",worth:perform(e)},{key:"extractForeignFrameElement",worth:async perform(e){var t,n=CSS.escape(this.id);return(t=Q(e.querySelector("turbo-frame#".concat(n))))?t:(t=Q(e.querySelector("turbo-frame[src][recurse~=".concat(n,"]"))))?(await t.loaded,await this.extractForeignFrameElement(t)):(console.error('Response has no matching ingredient')),new w)}},{key:"shouldInterceptNavigation",worth:perform(e){var t=e.getAttribute("data-turbo-frame")||this.ingredient.getAttribute("goal");if(!this.enabled||"_top"==t)return!1;if(t){var n=Ok(t);if(n)return!n.disabled}return!0}},{key:"id",get:perform(){return this.ingredient.id}},{key:"enabled",get:perform(){return!this.ingredient.disabled}},{key:"sourceURL",get:perform(){return this.ingredient.src}},{key:"loadingStyle",get:perform(){return this.ingredient.loading}},{key:"isLoading",get:perform()void 0!==this.loadingURL},{key:"isActive",get:perform(){return this.ingredient.isActive}}]),e}();perform Ok(e){if(null!=e){var t=doc.getElementById(e);if(t instanceof w)return t}}perform Q(e){if(e&&e.ownerDocument!==doc&&(e=doc.importNode(e,!0)),e instanceof w)return e}var Z={append:perform()e.append(this.templateContent),prepend:perform(),take away:perform()void 0===e,exchange:perform(),replace:perform(){this.targetElement&&(this.targetElement.innerHTML="",this.targetElement.append(this.templateContent))}},ee=perform(e){r(o,u(HTMLElement));var n=g(o);perform o(){return t(this,o),n.apply(this,arguments)}return i(o,[{key:"connectedCallback",value:async function(){try{await this.render()}catch(e){console.error(e)}finally{this.disconnect()}}},{key:"render",value:async function(){var e,t=this;return null!==(e=this.renderPromise)&&void 0!==e?e:this.renderPromise=async function(){t.dispatchEvent(t.beforeRenderEvent)&&(await O(),t.performAction())}()}},{key:"disconnect",value:function(){try{this.remove()}catch(e){}}},{key:"raise",value:function(e){throw new Error("".concat(this.description,": ").concat(e))}},{key:"performAction",get:function(){if(this.action){var e=Z[this.action];if(e)return e;this.increase("unknown motion")}this.increase("motion attribute is lacking")}},{key:"targetElement",get:perform()},{key:"templateContent",get:perform(){return this.templateElement.content material}},{key:"templateElement",get:perform(){if(this.firstElementChild instanceof HTMLTemplateElement)return this.firstElementChild;this.increase("first baby ingredient should be a ingredient")}},{key:"motion",get:perform(){return this.getAttribute("motion")}},{key:"goal",get:perform(){return this.getAttribute("goal")}},{key:"description",get:perform(){var e,t;return null!==(t=(null!==(e=this.outerHTML.match(/]+>/))&&void 0!==e?e:[])[0])&&void 0!==t?t:""}},{key:"beforeRenderEvent",get:perform(){return new CustomEvent("turbo:before-stream-render",{bubbles:!0,cancelable:!0})}}]),o}();w.delegateConstructor=X,customElements.outline("turbo-frame",w),customElements.outline("turbo-stream",ee),perform(){var e=doc.currentScript;if(e&&!e.hasAttribute("data-turbo-suppress-warning"))for(;e=e.parentElement;)if(e==doc.physique)return console.warn(F(m()),e.outerHTML)}();var te=perform(){perform e(){var n=this;t(this,e),this.hiding=!1,this.worth=0,this.seen=!1,this.trickle=perform(){n.setValue(n.worth+Math.random()/100)},this.stylesheetElement=this.createStylesheetElement(),this.progressElement=this.createProgressElement(),this.installStylesheetElement(),this.setValue(0)}return i(e,[{key:"show",value:function()(this.visible=!0,this.installProgressElement(),this.startTrickling())},{key:"hide",value:function(){var e=this;this.visible&&!this.hiding&&(this.hiding=!0,this.fadeProgressElement(function(){e.uninstallProgressElement(),e.stopTrickling(),e.visible=!1,e.hiding=!1}))}},{key:"setValue",value:function(e){this.value=e,this.refresh()}},{key:"installStylesheetElement",value:function(){document.head.insertBefore(this.stylesheetElement,document.head.firstChild)}},{key:"installProgressElement",value:function(){this.progressElement.style.width="0″,this.progressElement.style.opacity="1″,document.documentElement.insertBefore(this.progressElement,document.body),this.refresh()}},{key:"fadeProgressElement",value:function(t){this.progressElement.style.opacity="0″,setTimeout(t,1.5*e.animationDuration)}},{key:"uninstallProgressElement",value:function(){this.progressElement.parentNode&&document.documentElement.removeChild(this.progressElement)}},{key:"startTrickling",value:function()(this.trickleInterval=window.setInterval(this.trickle,e.animationDuration))},{key:"stopTrickling",value:function(){window.clearInterval(this.trickleInterval),delete this.trickleInterval}},{key:"refresh",value:function(){var e=this;requestAnimationFrame(function(){e.progressElement.style.width="".concat(10+90*e.value,"%")})}},{key:"createStylesheetElement",value:function(){var t=document.createElement("style");return t.type="text/css",t.textContent=e.defaultCSS,t}},{key:"createProgressElement",value:function(){var e=document.createElement("div");return e.className="turbo-progress-bar",e}}],[{key:"defaultCSS",get:function(){return F(p(),e.animationDuration,e.animationDuration/2,e.animationDuration/2)}}]),e}();te.animationDuration=300;var ne=perform(e){r(o,_);var n=g(o);perform o(){var e;return t(this,o),(e=n.apply(this,arguments)).detailsByOuterHTML=e.youngsters.scale back(perform(e,t){var n,i,r,o=t.outerHTML,s=o in e?e[o]:{kind:perform(e){if(perform(e){return"script"==e.tagName.toLowerCase()}(e))return"script";if(perform(e)(e))return"stylesheet"}(t),tracked:perform(e){return"reload"==e.getAttribute("data-turbo-track")}(t),parts:[]};return Object.assign(Object.assign({},e),(n={},i=o,r=Object.assign(Object.assign({},s),{parts:[].concat(f(s.parts),[t])}),i in n?Object.defineProperty(n,i,{worth:r,enumerable:!0,configurable:!0,writable:!0}):n[i]=r,n))},{}),e}return i(o,[{key:"getScriptElementsNotInSnapshot",value:function(e){return this.getElementsMatchingTypeNotInSnapshot("script",e)}},{key:"getStylesheetElementsNotInSnapshot",value:function(e){return this.getElementsMatchingTypeNotInSnapshot("stylesheet",e)}},{key:"getElementsMatchingTypeNotInSnapshot",value:function(e,t){var n=this;return Object.keys(this.detailsByOuterHTML).filter(function(e){return!(e in t.detailsByOuterHTML)}).map(function(e){return n.detailsByOuterHTML[e]}).filter(perform(t){return t.kind==e}).map(perform(e){return d(e.parts,1)[0]})}},{key:"getMetaValue",worth:perform(e){var t=this.findMetaElementByName(e);return t?t.getAttribute("content material"):null}},{key:"findMetaElementByName",worth:perform(e){var t=this;return Object.keys(this.detailsByOuterHTML).scale back(perform(n,i){var r=d(t.detailsByOuterHTML[i].parts,1)[0];return perform(e,t){return"meta"==e.tagName.toLowerCase()&&e.getAttribute("identify")==t}(r,e)?r:n},void 0)}},{key:"trackedElementSignature",get:perform(){var e=this;return Object.keys(this.detailsByOuterHTML).filter(perform(t){return e.detailsByOuterHTML[t].tracked}).be a part of("")}},{key:"provisionalElements",get:perform(){var e=this;return Object.keys(this.detailsByOuterHTML).scale back(perform(t,n)o?s.size>1?[].concat(f(t),f(s.slice(1))):t:[].concat(f(t),f(s)),[])}}]),o}();var ie,re,oe=perform(e){r(o,_);var n=g(o);perform o(e,i){var r;return t(this,o),(r=n.name(this,e)).headSnapshot=i,r}return i(o,[{key:"clone",value:function(){return new o(this.element.cloneNode(!0),this.headSnapshot)}},{key:"getSetting",value:function(e){return this.headSnapshot.getMetaValue("turbo-".concat(e))}},{key:"headElement",get:function(){return this.headSnapshot.element}},{key:"rootLocation",get:function(){var e;return S(null!==(e=this.getSetting("root"))&&void 0!==e?e:"/")}},{key:"cacheControlValue",get:function(){return this.getSetting("cache-control")}},{key:"isPreviewable",get:function(){return"no-preview"!=this.cacheControlValue}},{key:"isCacheable",get:function(){return"no-cache"!=this.cacheControlValue}},{key:"isVisitable",get:function(){return"reload"!=this.getSetting("visit-control")}}],[{key:"fromHTMLString",value:function(){var e=arguments.length>0&&void 0!==arguments[0]?arguments[0]:"";return this.fromDocument(I(e))}},{key:"fromElement",worth:perform(e){return this.fromDocument(e.ownerDocument)}},{key:"fromDocument",worth:perform(e){var t=e.head;return new this(e.physique,new ne(t))}}]),o}();!perform(e){e.visitStart="visitStart",e.requestStart="requestStart",e.requestEnd="requestEnd",e.visitEnd="visitEnd"}(ie||(ie={})),perform(e){e.initialized="initialized",e.began="began",e.canceled="canceled",e.failed="failed",e.accomplished="accomplished"}(re||(re={}));var se,ae={motion:"advance",historyChanged:!1};!perform(e){e[e.networkFailure=0]="networkFailure",e[e.timeoutFailure=-1]="timeoutFailure",e[e.contentTypeMismatch=-2]="contentTypeMismatch"}(se||(se={}));var ue=perform(){perform e(n,i,r){var o=arguments.size>3&&void 0!==arguments[3]?arguments[3]:{};t(this,e),this.identifier=x(),this.timingMetrics={},this.followedRedirect=!1,this.historyChanged=!1,this.scrolled=!1,this.snapshotCached=!1,this.state=re.initialized,this.delegate=n,this.location=i,this.restorationIdentifier=r||x();var s=Object.assign(Object.assign({},ae),o),a=s.motion,u=s.historyChanged,c=s.referrer,l=s.snapshotHTML,h=s.response;this.motion=a,this.historyChanged=u,this.referrer=c,this.snapshotHTML=l,this.response=h}return i(e,[{key:"start",value:function(){this.state==re.initialized&&(this.recordTimingMetric(ie.visitStart),this.state=re.started,this.adapter.visitStarted(this),this.delegate.visitStarted(this))}},{key:"cancel",value:function(){this.state==re.started&&(this.request&&this.request.cancel(),this.cancelRender(),this.state=re.canceled)}},{key:"complete",value:function(){this.state==re.started&&(this.recordTimingMetric(ie.visitEnd),this.state=re.completed,this.adapter.visitCompleted(this),this.delegate.visitCompleted(this))}},{key:"fail",value:function(){this.state==re.started&&(this.state=re.failed,this.adapter.visitFailed(this))}},{key:"changeHistory",value:function(){var e;if(!this.historyChanged)}},{key:"issueRequest",value:function(){this.hasPreloadedResponse()?this.simulateRequest():this.shouldIssueRequest()&&!this.request&&(this.request=new M(this,T.get,this.location),this.request.perform())}},{key:"simulateRequest",value:function(){this.response&&(this.startRequest(),this.recordResponse(),this.finishRequest())}},{key:"startRequest",value:function(){this.recordTimingMetric(ie.requestStart),this.adapter.visitRequestStarted(this)}},{key:"recordResponse",value:function(){var e=arguments.length>0&&void 0!==arguments[0]?arguments[0]:this.response;if(this.response=e,e){var t=e.statusCode;ce(t)?this.adapter.visitRequestCompleted(this):this.adapter.visitRequestFailedWithStatusCode(this,t)}}},{key:"finishRequest",worth:perform(){this.recordTimingMetric(ie.requestEnd),this.adapter.visitRequestFinished(this)}},{key:"loadResponse",worth:perform(){var e=this;if(this.response){var t=this.response,n=t.statusCode,i=t.responseHTML;this.render(async perform(){e.cacheSnapshot(),ce(n)&&null!=i?(await e.view.renderPage(oe.fromHTMLString(i)),e.adapter.visitRendered(e),e.full()):(await e.view.renderError(oe.fromHTMLString(i)),e.adapter.visitRendered(e),e.fail())})}}},{key:"getCachedSnapshot",worth:perform()e.hasAnchor(E(this.location)))&&("restore"==this.motion},{key:"getPreloadedSnapshot",worth:perform(){if(this.snapshotHTML)return oe.fromHTMLString(this.snapshotHTML)}},{key:"hasCachedSnapshot",worth:perform(){return null!=this.getCachedSnapshot()}},{key:"loadCachedSnapshot",worth:perform(){var e=this,t=this.getCachedSnapshot();if(t){var n=this.shouldIssueRequest();this.render(async perform())}}},{key:"followRedirect",worth:perform(){this.redirectedToLocation&&!this.followedRedirect&&(this.location=this.redirectedToLocation,this.historical past.exchange(this.redirectedToLocation,this.restorationIdentifier),this.followedRedirect=!0)}},{key:"requestStarted",worth:perform(){this.startRequest()}},{key:"requestPreventedHandlingResponse",worth:perform(e,t){}},{key:"requestSucceededWithResponse",worth:async perform(e,t){var n=await t.responseHTML;null==n?this.recordResponse({statusCode:se.contentTypeMismatch}):(this.redirectedToLocation=t.redirected?t.location:void 0,this.recordResponse({statusCode:t.statusCode,responseHTML:n}))}},{key:"requestFailedWithResponse",worth:async perform(e,t){var n=await t.responseHTML;null==n?this.recordResponse({statusCode:se.contentTypeMismatch}):this.recordResponse({statusCode:t.statusCode,responseHTML:n})}},{key:"requestErrored",worth:perform(e,t){this.recordResponse({statusCode:se.networkFailure})}},{key:"requestFinished",worth:perform(){this.finishRequest()}},{key:"performScroll",worth:perform()},{key:"scrollToRestoredPosition",worth:perform(){var e=this.restorationData.scrollPosition;if(e)return this.view.scrollToPosition(e),!0}},{key:"scrollToAnchor",worth:perform(){if(null!=E(this.location))return this.view.scrollToAnchor(E(this.location)),!0}},{key:"scrollToTop",worth:perform(){this.view.scrollToPosition({x:0,y:0})}},{key:"recordTimingMetric",worth:perform(e){this.timingMetrics[e]=(new Date).getTime()}},{key:"getTimingMetrics",worth:perform(){return Object.assign({},this.timingMetrics)}},{key:"getHistoryMethodForAction",worth:perform(e){change(e){case"exchange":return historical past.replaceState;case"advance":case"restore":return historical past.pushState}}},{key:"hasPreloadedResponse",worth:perform(){return"object"==typeof this.response}},{key:"shouldIssueRequest",worth:perform()!this.hasCachedSnapshot()},{key:"cacheSnapshot",worth:perform()},{key:"render",worth:async perform(e){var t=this;this.cancelRender(),await new Promise(perform(e){t.body=requestAnimationFrame(perform(){return e()})}),e(),delete this.body,this.performScroll()}},{key:"cancelRender",worth:perform(){this.body&&(cancelAnimationFrame(this.body),delete this.body)}},{key:"adapter",get:perform(){return this.delegate.adapter}},{key:"view",get:perform(){return this.delegate.view}},{key:"historical past",get:perform(){return this.delegate.historical past}},{key:"restorationData",get:perform(){return this.historical past.getRestorationDataForIdentifier(this.restorationIdentifier)}}]),e}();perform ce(e){return e>=200&&e2&&void 0!==arguments[2]?arguments[2]:x(),i={turbo:{restorationIdentifier:n}};e.name(historical past,i,"",t.href),this.location=t,this.restorationIdentifier=n}},{key:"getRestorationDataForIdentifier",worth:perform(e){return this.restorationData[e]||{}}},{key:"updateRestorationData",worth:perform(e){var t=this.restorationIdentifier,n=this.restorationData[t];this.restorationData[t]=Object.assign(Object.assign({},n),e)}},{key:"assumeControlOfScrollRestoration",worth:perform()(this.previousScrollRestoration=null!==(e=historical past.scrollRestoration)&&void 0!==e?e:"auto",historical past.scrollRestoration="handbook")},{key:"relinquishControlOfScrollRestoration",worth:perform(){this.previousScrollRestoration&&(historical past.scrollRestoration=this.previousScrollRestoration,delete this.previousScrollRestoration)}},{key:"shouldHandlePopState",worth:perform(){return this.pageIsLoaded()}},{key:"pageIsLoaded",worth:perform()}]),e}(),pe=perform(){perform e(n){var i=this;t(this,e),this.began=!1,this.clickCaptured=perform(){removeEventListener("click on",i.clickBubbled,!1),addEventListener("click on",i.clickBubbled,!1)},this.clickBubbled=perform(e){if(i.clickEventIsSignificant(e)){var t=i.findLinkFromClickTarget(e.goal);if(t){var n=i.getLocationForLink(t);i.delegate.willFollowLinkToLocation(t,n)&&(e.preventDefault(),i.delegate.followedLinkToLocation(t,n))}}},this.delegate=n}return i(e,[{key:"start",value:function()},{key:"stop",value:function(){this.started&&(removeEventListener("click",this.clickCaptured,!0),this.started=!1)}},{key:"clickEventIsSignificant",value:function(e)e.which>1},{key:"findLinkFromClickTarget",value:function(e){if(e instanceof Element)return e.closest("a[href]:not([target^=_]):not([download])")}},{key:"getLocationForLink",worth:perform(e)"")}]),e}(),me=perform(){perform e(n){t(this,e),this.delegate=n}return i(e,[{key:"proposeVisit",value:function(e){var t=arguments.length>1&&void 0!==arguments[1]?arguments[1]:{};this.delegate.allowsVisitingLocation(e)&&this.delegate.visitProposedToLocation(e,t)}},{key:"startVisit",worth:perform(e,t){var n=arguments.size>2&&void 0!==arguments[2]?arguments[2]:{};this.cease(),this.currentVisit=new ue(this,S(e),t,Object.assign({referrer:this.location},n)),this.currentVisit.begin()}},{key:"submitForm",worth:perform(e,t){this.cease(),this.formSubmission=new B(this,e,t,!0),this.formSubmission.fetchRequest.isIdempotent?this.proposeVisit(this.formSubmission.fetchRequest.url):this.formSubmission.begin()}},{key:"cease",worth:perform(){this.formSubmission&&(this.formSubmission.cease(),delete this.formSubmission),this.currentVisit&&(this.currentVisit.cancel(),delete this.currentVisit)}},{key:"formSubmissionStarted",worth:perform(e){}},{key:"formSubmissionSucceededWithResponse",worth:async perform(e,t){if(e==this.formSubmission){var n=await t.responseHTML;if(n){e.methodology!=T.get&&this.view.clearSnapshotCache();var i={response:{statusCode:t.statusCode,responseHTML:n}};this.proposeVisit(t.location,i)}}}},{key:"formSubmissionFailedWithResponse",worth:async perform(e,t){var n=await t.responseHTML;if(n){var i=oe.fromHTMLString(n);await this.view.renderPage(i),this.view.clearSnapshotCache()}}},{key:"formSubmissionErrored",worth:perform(e,t){}},{key:"formSubmissionFinished",worth:perform(e){}},{key:"visitStarted",worth:perform(e){this.delegate.visitStarted(e)}},{key:"visitCompleted",worth:perform(e){this.delegate.visitCompleted(e)}},{key:"adapter",get:perform(){return this.delegate.adapter}},{key:"view",get:perform(){return this.delegate.view}},{key:"historical past",get:perform(){return this.delegate.historical past}},{key:"location",get:perform(){return this.historical past.location}},{key:"restorationIdentifier",get:perform(){return this.historical past.restorationIdentifier}}]),e}();!perform(e){e[e.initial=0]="preliminary",e[e.loading=1]="loading",e[e.interactive=2]="interactive",e[e.complete=3]="full"}(le||(le={}));var ge=perform(){perform e(n){var i=this;t(this,e),this.stage=le.preliminary,this.began=!1,this.interpretReadyState=perform(){var e=i.readyState;"interactive"==e?i.pageIsInteractive():"full"==e&&i.pageIsComplete()},this.pageWillUnload=perform(){i.delegate.pageWillUnload()},this.delegate=n}return i(e,[{key:"start",value:function()},{key:"stop",value:function(){this.started&&(document.removeEventListener("readystatechange",this.interpretReadyState,!1),removeEventListener("pagehide",this.pageWillUnload,!1),this.started=!1)}},{key:"pageIsInteractive",value:function(){this.stage==le.loading&&(this.stage=le.interactive,this.delegate.pageBecameInteractive())}},{key:"pageIsComplete",value:function(){this.pageIsInteractive(),this.stage==le.interactive&&(this.stage=le.complete,this.delegate.pageLoaded())}},{key:"readyState",get:function(){return document.readyState}}]),e}(),ye=perform(){perform e(n){var i=this;t(this,e),this.began=!1,this.onScroll=perform(){i.updatePosition({x:window.pageXOffset,y:window.pageYOffset})},this.delegate=n}return i(e,[{key:"start",value:function()},{key:"stop",value:function(){this.started&&(removeEventListener("scroll",this.onScroll,!1),this.started=!1)}},{key:"updatePosition",value:function(e){this.delegate.scrollPositionChanged(e)}}]),e}(),ke=perform(){perform e(n){var i=this;t(this,e),this.sources=new Set,this.began=!1,this.inspectFetchResponse=perform(e){var t=perform(e)(e);t&&perform(e){var t;return(null!==(t=e.contentType)&&void 0!==t?t:"").startsWith(j.contentType)}(t)&&(e.preventDefault(),i.receiveMessageResponse(t))},this.receiveMessageEvent=perform(e){i.began&&"string"==typeof e.knowledge&&i.receiveMessageHTML(e.knowledge)},this.delegate=n}return i(e,[{key:"start",value:function()(this.started=!0,addEventListener("turbo:before-fetch-response",this.inspectFetchResponse,!1))},{key:"stop",value:function(){this.started&&(this.started=!1,removeEventListener("turbo:before-fetch-response",this.inspectFetchResponse,!1))}},{key:"connectStreamSource",value:function(e)(this.sources.add(e),e.addEventListener("message",this.receiveMessageEvent,!1))},{key:"disconnectStreamSource",value:function(e){this.streamSourceIsConnected(e)&&(this.sources.delete(e),e.removeEventListener("message",this.receiveMessageEvent,!1))}},{key:"streamSourceIsConnected",value:function(e){return this.sources.has(e)}},{key:"receiveMessageResponse",value:async function(e){var t=await e.responseHTML;t&&this.receiveMessageHTML(t)}},{key:"receiveMessageHTML",value:function(e){this.delegate.receivedMessageFromStream(new j(e))}}]),e}();var be=perform(e){r(o,z);var n=g(o);perform o(){return t(this,o),n.apply(this,arguments)}return i(o,[{key:"render",value:async function(){this.replaceHeadAndBody(),this.activateScriptElements()}},{key:"replaceHeadAndBody",value:function(){var e=document,t=e.documentElement,n=e.head,i=e.body;t.replaceChild(this.newHead,n),t.replaceChild(this.newElement,i)}},{key:"activateScriptElements",value:function(){var e=!0,t=!1,n=void 0;try{for(var i,r=this.scriptElements[Symbol.iterator]();!(e=(i=r.subsequent()).carried out);e=!0){var o=i.worth,s=o.parentNode;if(s){var a=this.createScriptElement(o);s.replaceChild(a,o)}}}catch(u){t=!0,n=u}lastly{attemptr.return()lastly{if(t)throw n}}}},{key:"newHead",get:perform(){return this.newSnapshot.headSnapshot.ingredient}},{key:"scriptElements",get:perform(){return f(doc.documentElement.querySelectorAll("script"))}}]),o}(),we=perform(e){r(s,z);var n=g(s);perform s(){return t(this,s),n.apply(this,arguments)}return i(s,[{key:"prepareToRender",value:function(){this.mergeHead()}},{key:"render",value:async function(){this.replaceBody()}},{key:"finishRendering",value:function(){l(o(s.prototype),"finishRendering",this).call(this),this.isPreview&&this.focusFirstAutofocusableElement()}},{key:"mergeHead",value:function(){this.copyNewHeadStylesheetElements(),this.copyNewHeadScriptElements(),this.removeCurrentHeadProvisionalElements(),this.copyNewHeadProvisionalElements()}},{key:"replaceBody",value:function(){var e=this;this.preservingPermanentElements(function(){e.activateNewBody(),e.assignNewBody()})}},{key:"copyNewHeadStylesheetElements",value:function(){var e=!0,t=!1,n=void 0;try{for(var i,r=this.newHeadStylesheetElements[Symbol.iterator]();!(e=(i=r.subsequent()).carried out);e=!0){var o=i.worth;doc.head.appendChild(o)}}catch(s){t=!0,n=s}lastly{attemptr.return()lastly{if(t)throw n}}}},{key:"copyNewHeadScriptElements",worth:perform(){var e=!0,t=!1,n=void 0;attempt{for(var i,r=this.newHeadScriptElements[Symbol.iterator]();!(e=(i=r.subsequent()).carried out);e=!0){var o=i.worth;doc.head.appendChild(this.createScriptElement(o))}}catch(s){t=!0,n=s}lastly{attemptr.return()lastly{if(t)throw n}}}},{key:"removeCurrentHeadProvisionalElements",worth:perform(){var e=!0,t=!1,n=void 0;attempt{for(var i,r=this.currentHeadProvisionalElements[Symbol.iterator]();!(e=(i=r.subsequent()).carried out);e=!0){var o=i.worth;doc.head.removeChild(o)}}catch(s){t=!0,n=s}lastly{attemptr.return()lastly{if(t)throw n}}}},{key:"copyNewHeadProvisionalElements",worth:perform(){var e=!0,t=!1,n=void 0;attempt{for(var i,r=this.newHeadProvisionalElements[Symbol.iterator]();!(e=(i=r.subsequent()).carried out);e=!0){var o=i.worth;doc.head.appendChild(o)}}catch(s){t=!0,n=s}lastly{attemptr.return()lastly{if(t)throw n}}}},{key:"activateNewBody",worth:perform(){doc.adoptNode(this.newElement),this.activateNewBodyScriptElements()}},{key:"activateNewBodyScriptElements",worth:perform(){var e=!0,t=!1,n=void 0;attempt{for(var i,r=this.newBodyScriptElements[Symbol.iterator]();!(e=(i=r.subsequent()).carried out);e=!0){var o=i.worth;J(o,this.createScriptElement(o))}}catch(s){t=!0,n=s}lastly{attemptr.return()lastly{if(t)throw n}}}},{key:"assignNewBody",worth:perform(){doc.physique&&this.newElement instanceof HTMLBodyElement?J(doc.physique,this.newElement):doc.documentElement.appendChild(this.newElement)}},{key:"shouldRender",get:perform(){return this.newSnapshot.isVisitable&&this.trackedElementsAreIdentical}},{key:"currentHeadSnapshot",get:perform(){return this.currentSnapshot.headSnapshot}},{key:"newHeadSnapshot",get:perform(){return this.newSnapshot.headSnapshot}},{key:"newElement",get:perform(){return this.newSnapshot.ingredient}},{key:"trackedElementsAreIdentical",get:perform(){return this.currentHeadSnapshot.trackedElementSignature==this.newHeadSnapshot.trackedElementSignature}},{key:"newHeadStylesheetElements",get:perform(){return this.newHeadSnapshot.getStylesheetElementsNotInSnapshot(this.currentHeadSnapshot)}},{key:"newHeadScriptElements",get:perform(){return this.newHeadSnapshot.getScriptElementsNotInSnapshot(this.currentHeadSnapshot)}},{key:"currentHeadProvisionalElements",get:perform(){return this.currentHeadSnapshot.provisionalElements}},{key:"newHeadProvisionalElements",get:perform(){return this.newHeadSnapshot.provisionalElements}},{key:"newBodyScriptElements",get:perform(){return f(this.newElement.querySelectorAll("script"))}}]),s}(),Se=perform(){perform e(n){t(this,e),this.keys=[],this.snapshots={},this.dimension=n}return i(e,[{key:"has",value:function(e){return R(e)in this.snapshots}},{key:"get",value:function(e){if(this.has(e)){var t=this.read(e);return this.touch(e),t}}},{key:"put",value:function(e,t){return this.write(e,t),this.touch(e),t}},{key:"clear",value:function(){this.snapshots={}}},{key:"read",value:function(e){return this.snapshots[R(e)]}},{key:"write",worth:perform(e,t){this.snapshots[R(e)]=t}},{key:"contact",worth:perform(e){var t=R(e),n=this.keys.indexOf(t);n>-1&&this.keys.splice(n,1),this.keys.unshift(t),this.trim()}},{key:"trim",worth:perform(){var e=!0,t=!1,n=void 0;attempt{for(var i,r=this.keys.splice(this.dimension)[Symbol.iterator]();!(e=(i=r.subsequent()).carried out);e=!0){var o=i.worth;delete this.snapshots[o]}}catch(s){t=!0,n=s}lastly{attemptr.return()lastly{if(t)throw n}}}}]),e}(),Ee=perform(e){r(o,W);var n=g(o);perform o(){var e;return t(this,o),(e=n.apply(this,arguments)).snapshotCache=new Se(10),e.lastRenderedLocation=new URL(location.href),e}return i(o,[{key:"renderPage",value:function(e){var t=arguments.length>1&&void 0!==arguments[1]&&arguments[1],n=new we(this.snapshot,e,t);return this.render(n)}},{key:"renderError",worth:perform(e){var t=new be(this.snapshot,e,!1);this.render(t)}},{key:"clearSnapshotCache",worth:perform(){this.snapshotCache.clear()}},{key:"cacheSnapshot",worth:async perform(){if(this.shouldCacheSnapshot){this.delegate.viewWillCacheSnapshot();var e=this.snapshot,t=this.lastRenderedLocation;await new Promise(perform(e){return setTimeout(perform(){return e()},0)}),this.snapshotCache.put(t,e.clone())}}},{key:"getCachedSnapshotForLocation",worth:perform(e){return this.snapshotCache.get(e)}},{key:"snapshot",get:perform(){return oe.fromElement(this.ingredient)}},{key:"shouldCacheSnapshot",get:perform(){return this.snapshot.isCacheable}}]),o}();perform Ce(e){Object.defineProperties(e,Le)}var Le={absoluteURL:{get:perform(){return this.toString()}}},Re=new(perform(){perform e(){t(this,e),this.navigator=new me(this),this.historical past=new ve(this),this.view=new Ee(this,doc.documentElement),this.adapter=new he(this),this.pageObserver=new ge(this),this.linkClickObserver=new pe(this),this.formSubmitObserver=new de(this),this.scrollObserver=new ye(this),this.streamObserver=new ke(this),this.frameRedirector=new fe(doc.documentElement),this.enabled=!0,this.progressBarDelay=500,this.began=!1}return i(e,[{key:"start",value:function()(this.pageObserver.start(),this.linkClickObserver.start(),this.formSubmitObserver.start(),this.scrollObserver.start(),this.streamObserver.start(),this.frameRedirector.start(),this.history.start(),this.started=!0,this.enabled=!0)},{key:"disable",value:function(){this.enabled=!1}},{key:"stop",value:function(){this.started&&(this.pageObserver.stop(),this.linkClickObserver.stop(),this.formSubmitObserver.stop(),this.scrollObserver.stop(),this.streamObserver.stop(),this.frameRedirector.stop(),this.history.stop(),this.started=!1)}},{key:"registerAdapter",value:function(e){this.adapter=e}},{key:"visit",value:function(e){var t=arguments.length>1&&void 0!==arguments[1]?arguments[1]:{};this.navigator.proposeVisit(S(e),t)}},{key:"connectStreamSource",worth:perform(e){this.streamObserver.connectStreamSource(e)}},{key:"disconnectStreamSource",worth:perform(e){this.streamObserver.disconnectStreamSource(e)}},{key:"renderStreamMessage",worth:perform(e){doc.documentElement.appendChild(j.wrap(e).fragment)}},{key:"clearCache",worth:perform(){this.view.clearSnapshotCache()}},{key:"setProgressBarDelay",worth:perform(e){this.progressBarDelay=e}},{key:"historyPoppedToLocationWithRestorationIdentifier",worth:perform(e){this.enabled?this.navigator.proposeVisit(e,{motion:"restore",historyChanged:!0}):this.adapter.pageInvalidated()}},{key:"scrollPositionChanged",worth:perform(e){this.historical past.updateRestorationData({scrollPosition:e})}},{key:"willFollowLinkToLocation",worth:perform(e,t){return this.elementIsNavigable(e)&&this.locationIsVisitable(t)&&this.applicationAllowsFollowingLinkToLocation(e,t)}},{key:"followedLinkToLocation",worth:perform(e,t){var n=this.getActionForLink(e);this.go to(t.href,{motion:n})}},{key:"allowsVisitingLocation",worth:perform(e){return this.applicationAllowsVisitingLocation(e)}},{key:"visitProposedToLocation",worth:perform(e,t){Ce(e),this.adapter.visitProposedToLocation(e,t)}},{key:"visitStarted",worth:perform(e){Ce(e.location),this.notifyApplicationAfterVisitingLocation(e.location)}},{key:"visitCompleted",worth:perform(e){this.notifyApplicationAfterPageLoad(e.getTimingMetrics())}},{key:"willSubmitForm",worth:perform(e,t){return this.elementIsNavigable(e)&&this.elementIsNavigable(t)}},{key:"formSubmitted",worth:perform(e,t){this.navigator.submitForm(e,t)}},{key:"pageBecameInteractive",worth:perform(){this.view.lastRenderedLocation=this.location,this.notifyApplicationAfterPageLoad()}},{key:"pageLoaded",worth:perform(){this.historical past.assumeControlOfScrollRestoration()}},{key:"pageWillUnload",worth:perform(){this.historical past.relinquishControlOfScrollRestoration()}},{key:"receivedMessageFromStream",worth:perform(e){this.renderStreamMessage(e)}},{key:"viewWillCacheSnapshot",worth:perform(){this.notifyApplicationBeforeCachingSnapshot()}},{key:"viewWillRenderSnapshot",worth:perform(e,t){var n=e.ingredient;this.notifyApplicationBeforeRender(n)}},{key:"viewRenderedSnapshot",worth:perform(e,t){this.view.lastRenderedLocation=this.historical past.location,this.notifyApplicationAfterRender()}},{key:"viewInvalidated",worth:perform(){this.adapter.pageInvalidated()}},{key:"applicationAllowsFollowingLinkToLocation",worth:perform(e,t){return!this.notifyApplicationAfterClickingLinkToLocation(e,t).defaultPrevented}},{key:"applicationAllowsVisitingLocation",worth:perform(e){return!this.notifyApplicationBeforeVisitingLocation(e).defaultPrevented}},{key:"notifyApplicationAfterClickingLinkToLocation",worth:perform(e,t){return A("turbo:click on",{goal:e,element:{url:t.href},cancelable:!0})}},{key:"notifyApplicationBeforeVisitingLocation",worth:perform(e){return A("turbo:before-visit",{element:{url:e.href},cancelable:!0})}},{key:"notifyApplicationAfterVisitingLocation",worth:perform(e){return A("turbo:go to",{element:{url:e.href}})}},{key:"notifyApplicationBeforeCachingSnapshot",worth:perform(){return A("turbo:before-cache")}},{key:"notifyApplicationBeforeRender",worth:perform(e){return A("turbo:before-render",{element:{newBody:e}})}},{key:"notifyApplicationAfterRender",worth:perform(){return A("turbo:render")}},{key:"notifyApplicationAfterPageLoad",worth:perform(){var e=arguments.size>0&&void 0!==arguments[0]?arguments[0]:{};return A("turbo:load",{element:{url:this.location.href,timing:e}})}},{key:"getActionForLink",worth:perform(e){var t=e.getAttribute("data-turbo-action");return perform(e)"exchange"==e(t)?t:"advance"}},{key:"elementIsNavigable",worth:perform(e)"false"!=t.getAttribute("data-turbo")},{key:"locationIsVisitable",worth:perform(e)html},{key:"location",get:perform(){return this.historical past.location}},{key:"restorationIdentifier",get:perform(){return this.historical past.restorationIdentifier}},{key:"snapshot",get:perform(){return this.view.snapshot}}]),e}()),Te=Re.navigator;perform Pe(){Re.begin()}Pe();var Ae,Oe,Ie,Fe,xe,Me,De,qe,He=Object.freeze({__proto__:null,clearCache:perform(){Re.clearCache()},connectStreamSource:perform(e){Re.connectStreamSource(e)},disconnectStreamSource:perform(e){Re.disconnectStreamSource(e)},navigator:Te,registerAdapter:perform(e){Re.registerAdapter(e)},renderStreamMessage:perform(e){Re.renderStreamMessage(e)},setProgressBarDelay:perform(e){Re.setProgressBarDelay(e)},begin:Pe,go to:perform(e,t){Re.go to(e,t)}}),je=perform(){var e=arguments.size>0&&void 0!==arguments[0]&&arguments[0];return perform(t,n,i){var r=this,o=i.worth;return i.worth=perform(){var i="occasion:".concat(n);if(e){doc.addEventListener("turbo:go to",perform e(){t[i]&&(t[i]=void 0),doc.removeEventListener("turbo:go to",e)})}if(t[i])return t[i];for(var s=arguments.size,a=new Array(s),u=0;u4&&void 0!==arguments[4])||arguments[4],o="".concat(e,"=").concat(t);"string"==typeof n&&(o+=";expires=".concat(n)),"string"==typeof i&&(o+=";area=".concat(i)),o+="; path=/",r&&"https:"===location.protocol&&(o+="; safe"),doc.cookie=o}},{key:"deleteCookie",worth:perform(e){this.setCookie(e,"","Thu, 01 Jan 1970 00:00:00 UTC")}},{key:"getLocalStorageOrCookie",worth:perform(e){var t;return this.isLocalStorageAvailable&&null!==(t=this.localStorage.getItem(e))&&void 0!==t?t:this.getCookie(e)}},{key:"setLocalStorageOrCookie",worth:perform(e,t,n,i){this.isLocalStorageAvailable?this.localStorage.setItem(e,t):this.setCookie(e,t,n,i)}},{key:"deleteLocalStorageOrCookie",worth:perform(e){this.isLocalStorageAvailable?this.localStorage.removeItem(e):this.deleteCookie(e)}}]),e}(),Ne=(Ae=je(),v(Oe=perform(){perform e(){t(this,e)}return i(e,null,[{key:"create",value:function(){return new Be(window.localStorage)}}]),e}(),"create",[Ae],Object.getOwnPropertyDescriptor(Oe,"create"),Oe),Oe),_e=perform(){perform e(n){t(this,e),this.dfxLocalStorageCookieManager=n}return i(e,[{key:"getLevel",value:function(){if(this.permissionLevel)return this.permissionLevel;var e=this.dfxLocalStorageCookieManager.getLocalStorageOrCookie("dfx-cookies-level"),t=this._normalizeValue(e);return this.permissionLevel=t,t}},{key:"_normalizeValue",value:function(e){var t=parseInt(e);return isNaN(t)&&(t=3),t}},{key:"checkLevel",value:function(e){return this.getLevel()>=e}}]),e}(),Ve=(Ie=je(),v(Fe=perform(){perform e(){t(this,e)}return i(e,null,[{key:"create",value:function(){return new _e(Ne.create())}}]),e}(),"create",[Ie],Object.getOwnPropertyDescriptor(Fe,"create"),Fe),Fe),We="".concat("dfx-redirectData","_expiresIn"),Ue=new Map([["GB","UK"]]),Ge=perform(){perform e(n,i){t(this,e),this.geoJsUrl=n,this.dfxLocalStorageCookieManager=i}return i(e,[{key:"init",value:function(){var e=this;return this.getRedirectData().then(function(e){return Ue.has(e.country)&&(e.country=Ue.get(e.country)),e}).then(function(t){e.redirectData=t,e._setBodyClasses()._setLocationToStorage()})}},{key:"getRedirectData",value:function(){var e,t=this;return this.loadingState=null!==(e=this.loadingState)&&void 0!==e?e:new Promise(function(e){t.redirectData?e(t.redirectData):(t.redirectData=t._getLocationFromStorage(),t.redirectData?e(t.redirectData):e(t._loadRedirectData()))}),this.loadingState}},{key:"_loadRedirectData",value:function(){var e=this;return new Promise(function(t){var n=document.createElement("script");n.onload=function(){e.redirectData=window.redirectData,t(e.redirectData)},n.setAttribute("src",e.geoJsUrl),document.head.appendChild(n)})}},{key:"_setBodyClasses",value:function(){var e=this.redirectData.country.toLowerCase();return document.body?(document.body.classList.remove("dfx-country-pending"),document.body.classList.add("dfx-country-".concat(e))):document.addEventListener("DOMContentLoaded",function(){document.body.classList.remove("dfx-country-pending"),document.body.classList.add("dfx-country-".concat(e))},!1),this}},{key:"_getLocationFromStorage",value:function(){var e,t=this.dfxLocalStorageCookieManager.getLocalStorageOrCookie(We);if(t&&t>Date.now())return JSON.parse(null!==(e=this.dfxLocalStorageCookieManager.getLocalStorageOrCookie("dfx-redirectData"))&&void 0!==e&&e)}},{key:"_setLocationToStorage",value:function(){var e=new Date;return e.setTime(e.getTime()+6048e5),this.dfxLocalStorageCookieManager.setLocalStorageOrCookie("dfx-redirectData",JSON.stringify(this.redirectData),e.toUTCString()),this.dfxLocalStorageCookieManager.setLocalStorageOrCookie(We,e.getTime(),e.toUTCString()),this}}]),e}(),ze=(xe=je(),v(Me=perform(){perform e(){t(this,e)}return i(e,null,[{key:"create",value:function(){return new Ge(window.DFX_ENDPOINTS.geoJs,Ne.create())}}]),e}(),"create",[xe],Object.getOwnPropertyDescriptor(Me,"create"),Me),Me),Je=perform(){perform e(n){t(this,e),this.config=n}return i(e,[{key:"get",value:function(e){return this.config.get(e)}},{key:"set",value:function(e,t)}]),e}(),Ye=perform(){perform e(){t(this,e)}return i(e,null,[{key:"create",value:function(){var e=Object.assign({},window.DFX_CONFIG,window.DFX_ENDPOINTS),t=new Map(Object.entries(e));return new Je(t)}}]),e}().create(),$e={OFF:"off",LOADING:"loading",READY:"prepared"},Xe="pixel",Ke="GPT",Qe="GTM",Ze="adobe_tracking",et="taboola_pixel",tt=perform(){perform e(n,i,r,o){var s=this;t(this,e),this.config=r,this.allowedTrackingsConfig=o,this.dfxGdprChecker=n,this.dfxLocalStorageCookieManager=i,this._setDefaultStates()._resetAssetClasses()._resetInstruments()._resetCategories()._resetSitecatConfig(),doc.addEventListener("turbo:go to",perform(){$("head script").filter(perform(e,t)t.src.contains(r.reportSuite)).take away(),s.adobeTrackingState=$e.OFF,s._resetAssetClasses()._resetInstruments()._resetCategories()._resetSitecatConfig()})}return i(e,[{key:"_setDefaultStates",value:function(){return this.adobeTrackingState=$e.OFF,this.pixelState=$e.OFF,this.gptState=$e.OFF,this.gtmState=$e.OFF,this.taboolaState=$e.OFF,this}},{key:"_resetInstruments",value:function(){return this.gptInstrumentPairs=new Set,this}},{key:"_resetCategories",value:function(){return this.gptCategories={category:"",subCategory:""},this}},{key:"_resetAssetClasses",value:function(){return this.gptAssetClasses=new Set,this}},{key:"_resetSitecatConfig",value:function(){return this.sitecatConfig={mainReportSuite:this.config.mainReportSuite,reportSuite:this.config.reportSuite,organisationId:this.config.organisationId},this}},{key:"createAdobeTracking",value:function(e){var t=this;return this.dfxGdprChecker.checkLevel(2)&&this.allowedTrackingsConfig[Ze]&&this.adobeTrackingState===$e.OFF?(this.adobeTrackingState=$e.LOADING,window.System.import(e).then(perform(e){var n=e.DfxAdobeTracking;t.dfxAdobeTracking=new n(t.sitecatConfig,t.dfxGdprChecker,t.dfxLocalStorageCookieManager),t.adobeTrackingState=$e.READY,t.runAdobeTracking()}),this):this}},{key:"runAdobeTracking",worth:perform(){var e=this;return this.dfxGdprChecker.checkLevel(2)?(this.adobeTrackingState===$e.READY?(this.dfxAdobeTracking.resetTrackingObject(),this.dfxAdobeTracking.init()):setTimeout(perform(){return e.runAdobeTracking()},400),this):this}},{key:"trackAdobeEvent",worth:perform(e,t,n){var i=this;return this.dfxGdprChecker.checkLevel(2)&&this.allowedTrackingsConfig[Ze]?(this.adobeTrackingState===$e.READY?this.dfxAdobeTracking.trackEvent(e,t,n):setTimeout(perform(){return i.trackAdobeEvent(e,t,n)},400),this):this}},{key:"getPageNameForAdobeTracking",worth:perform(){return this.adobeTrackingState===$e.READY&&this.dfxAdobeTracking.getPageName()}},{key:"addSitecatConfig",worth:perform(e,t){return this.dfxGdprChecker.checkLevel(2)?(this.sitecatConfig[e]=t,this):this}},{key:"createFacebookPixel",worth:perform(){var e=this;if(!this.dfxGdprChecker.checkLevel(3))return this;if(!this.allowedTrackingsConfig[Xe]||this.pixelState!==$e.OFF)return this;this.pixelState=$e.LOADING;var t,n,i,r,o,s,a;return t=perform(){e.pixelState=$e.READY},n=window,i=doc,r="script",n.fbq||(o=n.fbq=perform(){o.callMethod?o.callMethod.apply(o,arguments):o.queue.push(arguments)},n._fbq||(n._fbq=o),o.push=o,o.loaded=!0,o.model="2.0″,o.queue=[],(s=i.createElement(r)).async=!0,s.onload=t,s.src="https://join.fb.internet/en_US/fbevents.js",(a=i.getElementsByTagName(r)[0]).parentNode.insertBefore(s,a)),this.fbq=window.fbq,this.fbq("init",Ye.get("facebookPixelId")),this}},{key:"facebookPixelTrack",worth:perform(e){return this.dfxGdprChecker.checkLevel(3)&&this.allowedTrackingsConfig[Xe]?(this.pixelState===$e.OFF&&this.createFacebookPixel(),this.fbq("observe",e),this):this}},{key:"facebookPixelTrackPageView",worth:perform(){return this.dfxGdprChecker.checkLevel(3)?(this.facebookPixelTrack("PageView"),this):this}},{key:"facebookPixelTrackLead",worth:perform(){return this.dfxGdprChecker.checkLevel(3)?(this.facebookPixelTrack("Lead"),this):this}},{key:"createGTM",worth:perform(){var e=this;if(!this.dfxGdprChecker.checkLevel(1))return this;if(!this.allowedTrackingsConfig[Qe]||this.gtmState!==$e.OFF)return this;this.gtmState=$e.LOADING;var t=perform(){e.gtmState=$e.READY};return perform(e,n,i,r,o){e[r]=e[r]||[],e[r].push({"gtm.begin":(new Date).getTime(),occasion:"gtm.js"});var s=n.getElementsByTagName(i)[0],a=n.createElement(i);a.async=!0,a.src="https://www.googletagmanager.com/gtm.js?id="+o,a.onload=t,s.parentNode.insertBefore(a,s)}(window,doc,"script","dataLayer",Ye.get("tagManagerId")),this}},{key:"createGPT",worth:perform(){var e=this;if(!this.dfxGdprChecker.checkLevel(1))return this;if(!this.allowedTrackingsConfig[Ke]||this.gptState!==$e.OFF)return this;this.gptState=$e.LOADING;var t=perform(){e.gptState=$e.READY},n=window.googletag||{cmd:[]};return perform(){var e=doc.createElement("script");e.async=!0,e.kind="textual content/javascript";var n="https:"===doc.location.protocol;e.src=(n?"https:":"http:")+"//www.googletagservices.com/tag/js/gpt.js",e.onload=t;var i=doc.getElementsByTagName("script")[0];i.parentNode.insertBefore(e,i)}(),window.googletag=window.googletag||n,this}},{key:"trackGTMpageLoadEvent",worth:perform(){return this.dfxGdprChecker.checkLevel(1)?(window.dataLayer=window.dataLayer||[],window.dataLayer.push({occasion:"turboPageView",virtualUrl:window.location.pathname}),this):this}},{key:"addGptAssetClasses",worth:perform(e){var t=this;if(!Array.isArray(e))throw new TypeError("Param assetClasses should be an Array");return e.forEach(perform(e){return t.gptAssetClasses.add(e)}),this}},{key:"addGptInstrumentPairs",worth:perform(e){var t=this;if(!Array.isArray(e))throw new TypeError("Param pairs should be an Array");return e.forEach(perform(e){return t.gptInstrumentPairs.add(e)}),this}},{key:"addGptCategories",worth:perform(){var e=arguments.size>0&&void 0!==arguments[0]?arguments[0]:"",t=arguments.size>1&&void 0!==arguments[1]?arguments[1]:"";this.gptCategories={class:e,subCategory:t}}},{key:"getGptAssetClasses",worth:perform(){return this.gptAssetClasses}},{key:"getGptInstrumentPairs",worth:perform(){return this.gptInstrumentPairs}},{key:"getGptCategory",worth:perform(){return this.gptCategories.class}},{key:"getGptSubCategory",worth:perform(){return this.gptCategories.subCategory}},{key:"createTaboolaPixel",worth:perform(){var e=this;if(!this.dfxGdprChecker.checkLevel(3))return this;if(!this.allowedTrackingsConfig[et]||this.taboolaState!==$e.OFF)return this;this.taboolaState=$e.LOADING;var t,n,i,r=perform(){e.taboolaState=$e.READY};return window._tfa=window._tfa||[],window._tfa.push({notify:"occasion",identify:"page_view",id:Ye.get("taboolaPixelId")}),this.tfa=window._tfa,t=doc.createElement("script"),n=doc.getElementsByTagName("script")[0],i="tb_tfa_script",doc.getElementById(i)||(t.async=1,t.src="https://cdn.taboola.com/libtrc/unip/1350268/tfa.js",t.id=i,t.onload=r,n.parentNode.insertBefore(t,n)),this}},{key:"taboolaPixelTrack",worth:perform(e){return this.dfxGdprChecker.checkLevel(3)&&this.allowedTrackingsConfig[et]?(this.pixelState===$e.OFF&&this.createTaboolaPixel(),this.tfa.push({notify:"occasion",identify:e,id:Ye.get("taboolaPixelId")}),this):this}}]),e}(),nt=(De=je(),v(qe=perform(){perform e(){t(this,e)}return i(e,null,[{key:"create",value:function(e){var t=arguments.length>1&&void 0!==arguments[1]?arguments[1]:window.DFX_CONFIG;return new tt(Ve.create(),Ne.create(),t,e)}}]),e}(),"create",[De],Object.getOwnPropertyDescriptor(qe,"create"),qe),qe);(new(perform(){perform e(){t(this,e)}return i(e,[{key:"init",value:function(){document.fonts&&(document.documentElement.classList.add("dfx-fonts-loading"),document.fonts.ready.then(function(){document.documentElement.classList.remove("dfx-fonts-loading")}))}}]),e}())).init();var it=Ve.create();!perform(){perform e(e){var t=arguments.size>1&&void 0!==arguments[1]?arguments[1]:{bubbles:!1,cancelable:!1,element:void 0},n=doc.createEvent("CustomEvent");return n.initCustomEvent(e,t.bubbles,t.cancelable,t.element),n}"perform"!=typeof window.CustomEvent&&(e.prototype=window.Occasion.prototype,window.CustomEvent=e)}(),"path"in Occasion.prototype||Object.defineProperty(Occasion.prototype,"path",{get:Occasion.prototype.composedPath});doc.addEventListener("turbo:load",perform(){return e=doc.querySelector("noscript.jsdfx-script"),window.POLYFILLED&&(e=doc.querySelector("noscript.jsdfx-script-polyfilled")),void(e&&window.System.import(e.getAttribute("data-src")).then(perform(e){Object.keys(e).forEach(perform(t){window[t]=e[t]}),window.runStacked()}).catch(perform(e){return console.error(e)}));var e}),window.efficiency.mark=window.efficiency.mark||perform(){},window.efficiency.measure=window.efficiency.measure||perform(){},window.turbo=He,Pe(),ze.create().init(),e.DfxGdprChecker=it,e.DfxGdprCheckerFactory=Ve,e.DfxGeoLocationFactory=ze,e.DfxThirdPartyManagerFactory=nt,Object.defineProperty(e,"__esModule",{worth:!0})}(this.window=this.window||{});