Bitcoin (BTC/USD), Ethereum (ETH/USD), and Alt-Coin Evaluation and Charts:
Wednesday's big sell-off within the cryptocurrency market noticed a variety of cash and tokens lose between 30% and 50% of their worth in just a few hours as indiscriminate promoting shattered the market's beforehand bullish sentiment. The close to $1 trillion sell-off, sparked by fears of an additional clampdown on cryptocurrency utilization in China, and unfavorable tweets from Tesla's Elon Musk, worn out weeks, and in some circumstances months, value of positive factors, with leveraged accounts making an attempt to unwind lengthy positions including gasoline to fireside. The market has pared again a few of these losses however sentiment stays weak and it'll take a very long time to return again to the heady instances of earlier this 12 months, if in any respect. The present excessive ranges of volatility and weak sentiment don't make good bedfellows.
Bitcoin (BTC), Ethereum (ETH) Rally Remains Brittle, Volatility at Extreme Levels
In a single day information that the US Treasury Division needs new guidelines put in place, requiring cryptocurrency exchanges to report transactions over $10,000, has not helped sentiment. The transfer, a part of President Biden's upgraded measures to forestall tax avoidance, would possible come into drive in 2023 if agreed.
Bitcoin, an underperformer over the previous few months, particularly in opposition to Ethereum, is stabilizing round $41,000 after touching a flash-low of $30,000 on Wednesday. The sell-off wick on Wednesday's candle has now been recovered, however it's tough to know the way a lot of the heavy two-week sell-off from $60,000 could be recouped. The weekend generally is a risky interval for cryptocurrencies, with quantity often decrease than in the course of the week, so it could be sensible for merchants to attend and see the place BTC is on Monday earlier than making any choices.
JOMO is the New FOMO: Trade with the Joy of Missing Out
Bitcoin (BTC/USD) Every day Value Chart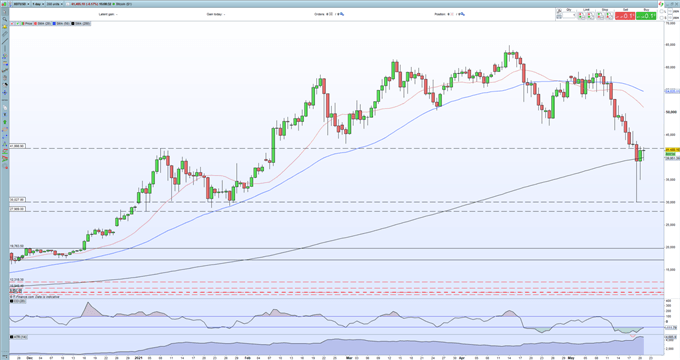 Ethereum has an analogous chart sample to Bitcoin over the past 3 days and has additionally given again a bit of its current outperformance in opposition to its peer. The ETH/BTC unfold began the 12 months across the 230 stage and rallied all the way in which as much as a peak of 812 final Friday. The pair now trades round 662 after touching a sell-off low of 608 on Thursday.
Ethereum/Bitcoin (ETH/BTC) Every day Value Chart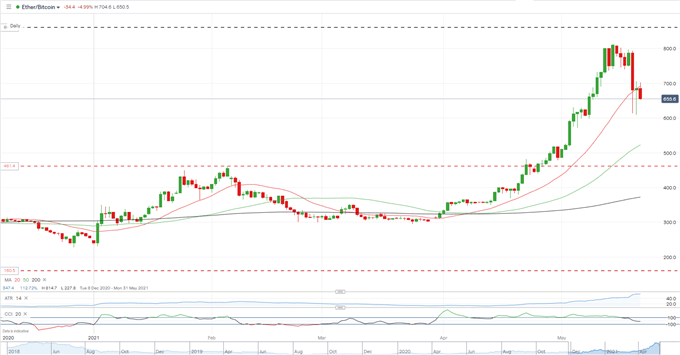 The alt-coin market additionally sustained very heavy losses mid-week with a bunch of the present market favorites, together with Cardano (ADA), Dogecoin (DOGE) and newcomer Web Laptop (ICP), all hammered. This sector will discover it even tougher than the extra established cash to get better.
Merchants of all ranges and skills will discover one thing to assist them make extra knowledgeable choices within the new and improved DailyFX Trading Education Centre
What are your views on Bitcoin (BTC),Ethereum (ETH) – bullish or bearish?? You may tell us by way of the shape on the finish of this piece or you'll be able to contact the writer by way of Twitter @nickcawley1.
!operate(){operate e(e,t)var t,n="undefined"!=typeof Image,i="undefined"!=typeof self,r="undefined"!=typeof doc,o=i?self:international;if(r){var s=doc.querySelector("base[href]");s&&(t=s.href)}if(!t&&"undefined"!=typeof location){var a=(t=location.href.cut up("https://www.dailyfx.com/foreign exchange/basic/forecast/weekly/title/2021/05/22/#")[0].cut up("?")[0]).lastIndexOf("/");-1!==a&&(t=t.slice(0,a+1))}var u=//g;operate c(e,t){if(-1!==e.indexOf("")&&(e=e.exchange(u,"/")),"/"===e[0]&&"/"===e[1])return t.slice(0,t.indexOf(":")+1)+e;if("."===e[0]&&("/"===e[1]||"."===e[1]&&("/"===e[2]||2===e.size&&(e+="/"))||1===e.size&&(e+="/"))||"/"===e[0]){var n,i=t.slice(0,t.indexOf(":")+1);if(n="/"===t[i.length+1]?"file:"!==i?(n=t.slice(i.size+2)).slice(n.indexOf("/")+1):t.slice(8):t.slice(i.size+("/"===t[i.length])),"/"===e[0])return t.slice(0,t.length-n.length-1)+e;for(var r=n.slice(0,n.lastIndexOf("/")+1)+e,o=[],s=-1,a=0;an.size&&"/"!==i[i.length-1]))return i+e.slice(n.size);v("W2″,n,i,"ought to have a trailing '/'")}}operate v(t,n,i,r){console.warn(e(t,"Package deal goal "+r+", resolving goal '"+i+"' for "+n))}operate p(e,t,n){for(var i=e.scopes,r=n&&d(n,i);r;){var o=f(t,i[r]);if(o)return o;r=d(r.slice(0,r.lastIndexOf("/")),i)}return f(t,e.imports)||-1!==t.indexOf(":")&&t}var m=n&&Image.toStringTag,y=n?Image():"@";operate g(){this[y]={}}var okay,b=g.prototype;operate w(e){return e.id}operate S(e,t,n,i){if(e.onload(n,t.id,t.d&&t.d.map(w),!!i),n)throw n}operate E(t,n,i){var r=t[y][n];if(r)return r;var o=[],s=Object.create(null);m&&Object.defineProperty(s,m,{worth:"Module"});var a=Promise.resolve().then(operate(){return t.instantiate(n,i)}).then(operate(i){if(!i)throw Error(e(2,"Module "+n+" didn't instantiate"));var a=i[1](operate(e,t){r.h=!0;var n=!1;if("string"==typeof e)e in s&&s[e]===t||(s[e]=t,n=!0);else(s[i]=t,n=!0);e.__esModule&&(s.__esModule=e.__esModule)if(n)for(var a=0;a-1){var t=doc.createEvent("Occasion");t.initEvent("error",!1,!1),n.dispatchEvent(t)}return Promise.reject(e)})}else if("systemjs-importmap"===n.kind){n.sp=!0;var i=n.src?fetch(n.src,{integrity:n.integrity}).then(operate(e){if(!e.okay)throw Error("Invalid standing code: "+e.standing);return e.textual content()}).catch(operate(t){return t.message=e("W4","Error fetching systemjs-import map "+n.src)+"n"+t.message,console.warn(t),"{}"}):n.innerHTML;T=T.then(operate(){return i}).then(operate(i){!operate(t,n,i){var r={};attempt{r=JSON.parse(n)}catch(o){console.warn(Error(e("W5″,"systemjs-importmap incorporates invalid JSON")+"nn"+n+"n"))}!operate(e,t,n){var i;for(i in e.imports&&h(e.imports,n.imports,t,n,null),e.scopes||{}){var r=l(i,t);h(e.scopes[i],n.scopes[r]||(n.scopes[r]={}),t,n,r)}for(i in e.depcache||{})n.depcache[l(i,t)]=e.depcache[i];for(i in e.integrity||{})n.integrity[l(i,t)]=e.integrity[i]}(r,i,t)}(P,i,n.src||t)})}})}if(b.prepareImport=operate(e)e)&&(O(),A=!1),T,r&&(O(),window.addEventListener("DOMContentLoaded",O)),r){window.addEventListener("error",operate(e){F=e.filename,x=e.error});var I=location.origin}b.createScript=operate(e){var t=doc.createElement("script");t.async=!0,e.indexOf(I+"/")&&(t.crossOrigin="nameless");var n=P.integrity[e];return n&&(t.integrity=n),t.src=e,t};var F,x,M={},D=b.register;b.register=operate(e,t){if(r&&"loading"===doc.readyState&&"string"!=typeof e){var n=doc.querySelectorAll("script[src]"),i=n[n.length-1];if(i){i.src,C=e;var o=this;R=setTimeout(operate(){M[i.src]=[e,t],o.import(i.src)})}}else C=void 0;return D.name(this,e,t)},b.instantiate=operate(t,n){var i=M[t];if(i)return delete M[t],i;var r=this;return new Promise(operate(i,o){var s=b.createScript(t);s.addEventListener("error",operate(){o(Error(e(3,"Error loading "+t+(n?" from "+n:""))))}),s.addEventListener("load",operate(){if(doc.head.removeChild(s),F===t)o(x);else{var e=r.getRegister();e&&e[0]===C&&clearTimeout(R),i(e)}}),doc.head.appendChild(s)})},b.shouldFetch=operate(){return!1},"undefined"!=typeof fetch&&(b.fetch=fetch);var N=b.instantiate,q=/^(textual content|utility)/(x-)?javascript(;|$)/;b.instantiate=operate(t,n){var i=this;return this.shouldFetch(t)?this.fetch(t,{credentials:"same-origin",integrity:P.integrity[t]}).then(operate(r){if(!r.okay)throw Error(e(7,r.standing+" "+r.statusText+", loading "+t+(n?" from "+n:"")));var o=r.headers.get("content-type");if(!o||!q.check(o))throw Error(e(4,'Unknown Content material-Sort "'+o+'", loading '+t+(n?" from "+n:"")));return r.textual content().then(operate(e){return e.indexOf("//# sourceURL=")<0&&(e+="n//# sourceURL="+t),(0,eval)(e),i.getRegister()})}):N.apply(this,arguments)},b.resolve=operate(n,i){return p(P,c(n,i=i||t)||n,i)||operate(t,n){throw Error(e(8,"Unable to resolve naked specifier '"+t+(n?"' from "+n:"'")))}(n,i)};var H=b.instantiate;b.instantiate=operate(e,t){var n=P.depcache[e];if(n)for(var i=0;i<n.size;i++)E(this,this.resolve(n[i],e),e);return H.name(this,e,t)},i&&"operate"==typeof importScripts&&(b.instantiate=operate(e){var t=this;return Promise.resolve().then(operate(){return importScripts(e),t.getRegister()})}),operate(e){var t,n,i,r=e.System.constructor.prototype;var o=r.import;r.import=operate(r,s){return operate()(t?n(),o.name(this,r,s)};var s=[[],operate(){return{}}],a=r.getRegister;r.getRegister=operate(){var o=a.name(this);if(o)return o;var u,l=operate(){var o,s,a=0;for(var u in e)if(!c(u))u):o=u===i,a++return s}();if(!l)return s;attempt{u=e[l]}catch(h){return s}return[[],operate(e){return{execute:operate(){e(u),e({default:u,__useDefault:!0})}}}]};var u="undefined"!=typeof navigator&&-1!==navigator.userAgent.indexOf("Trident");operate c(t)}("undefined"!=typeof self?self:international),operate(e){var t=e.System.constructor.prototype,n=/^[^#?]+.(css|html|json|wasm)([?#].*)?$/;t.shouldFetch=operate(e){return n.check(e)};var i=/^utility/json(;|$)/,r=/^textual content/css(;|$)/,o=/^utility/wasm(;|$)/,s=t.fetch;t.fetch=operate(t,n){return s(t,n).then(operate(n){if(!n.okay)return n;var s=n.headers.get("content-type");return i.check(s)?n.json().then(operate(e){return new Response(new Blob(['System.register([],operate(e){return{execute:operate(){e("default",'+JSON.stringify(e)+")}}})"],{kind:"utility/javascript"}))}):r.check(s)?n.textual content().then(operate(e){return new Response(new Blob(["System.register([],operate(e){return{execute:operate(){var s=new CSSStyleSheet();s.replaceSync("+JSON.stringify(e)+');e("default",s)}}})'],{kind:"utility/javascript"}))}):o.check(s)?(WebAssembly.compileStreaming?WebAssembly.compileStreaming(n):n.arrayBuffer().then(WebAssembly.compile)).then(operate(n){e.System.wasmModules||(e.System.wasmModules=Object.create(null)),e.System.wasmModules[t]=n;var i=[],r=[];return WebAssembly.Module.imports&&WebAssembly.Module.imports(n).forEach(operate(e){var t=JSON.stringify(e.module);-1===i.indexOf(t)&&(i.push(t),r.push("operate(m){i["+t+"]=m}"))}),new Response(new Blob(["System.register(["+i.join(",")+"],operate(e){var i={};return{setters:["+r.join(",")+"],execute:operate(){return WebAssembly.instantiate(System.wasmModules["+JSON.stringify(t)+"],i).then(operate(m){e(m.exports)})}}})"],{kind:"utility/javascript"}))}):n})}}("undefined"!=typeof self?self:international);var j="undefined"!=typeof Image&&Image.toStringTag;b.get=operate(e){var t=this[y][e];if(t&&null===t.e&&!t.E)return t.er?null:t.n},b.set=operate(t,n){attempt{new URL(t)}catch(s){console.warn(Error(e("W3",'"'+t+'" just isn't a sound URL to set within the module registry')))}var i;j&&"Module"===n[j]?i=n:(i=Object.assign(Object.create(null),n),j&&Object.defineProperty(i,j,{worth:"Module"}));var r=Promise.resolve(i),o=this[y][t]||(this[y][t]={id:t,i:[],h:!1,d:[],e:null,er:void 0,E:void 0});return!o.e&&!o.E&&(Object.assign(o,{n:i,I:void 0,L:void 0,C:r}),i)},b.has=operate(e){return!!this[y][e]},b.delete=operate(e){var t=this[y],n=t[e];if(!n||null!==n.e||n.E)return!1;var i=n.i;return n.d&&n.d.forEach(operate(e){var t=e.i.indexOf(n);-1!==t&&e.i.splice(t,1)}),delete t[e],operate(){var n=t[e];if(!n||!i||null!==n.e||n.E)return!1;i.forEach(operate(e){n.i.push(e),e(n.n)}),i=null}};var B="undefined"!=typeof Image&&Image.iterator;b.entries=operate(){var e,t,n=this,i=Object.keys(n[y]),r=0,o={subsequent:operate(){for(;void 0!==(t=i[r++])&&void 0===(e=n.get(t)););return{executed:void 0===t,worth:void 0!==t&&[t,e]}}};return o[B]=operate(){return this},o}}(),operate(e){var t=e.System;s(t);var n,i=t.constructor.prototype,r=t.constructor,o=operate(){r.name(this),s(this)};operate s(e){e.registerRegistry=Object.create(null)}o.prototype=i,t.constructor=o;var a=i.register;i.register=operate(e,t,i){if("string"!=typeof e)return a.apply(this,arguments);var r=[t,i];return this.registerRegistry[e]=r,n||(n=r,Promise.resolve().then(operate(){n=null})),a.apply(this,arguments)};var u=i.resolve;i.resolve=operate(e,t){attempt{return u.name(this,e,t)}catch(n){if(e on this.registerRegistry)return e;throw n}};var c=i.instantiate;i.instantiate=operate(e,t){var n=this.registerRegistry[e];return n?(this.registerRegistry[e]=null,n):c.name(this,e,t)};var l=i.getRegister;i.getRegister=operate()e;return n=null,t}("undefined"!=typeof self?self:international),operate(e){"use strict";operate t(e){return(t="operate"==typeof Image&&"image"==typeof Image.iterator?operate(e){return typeof e}:operate(e){return e&&"operate"==typeof Image&&e.constructor===Image&&e!==Image.prototype?"image":typeof e})(e)}operate n(e,t){if(!(e instanceof t))throw new TypeError("Can not name a category as a operate")}operate i(e,t){for(var n=0;n<t.size;n++)!1,i.configurable=!0,"worth"in i&&(i.writable=!0),Object.defineProperty(e,i.key,i)}operate r(e,t,n){return t&&i(e.prototype,t),n&&i(e,n),e}operate o(e,t){if("operate"!=typeof t&&null!==t)throw new TypeError("Tremendous expression should both be null or a operate");e.prototype=Object.create(t&&t.prototype,{constructor:{worth:e,writable:!0,configurable:!0}}),t&&a(e,t)}operate s(e){return(s=Object.setPrototypeOf?Object.getPrototypeOf:operate(e)Object.getPrototypeOf(e))(e)}operate a(e,t){return(a=Object.setPrototypeOf||operate(e,t){return e.__proto__=t,e})(e,t)}operate u(e,t,n){return(u=operate(){if("undefined"==typeof Mirror||!Mirror.assemble)return!1;if(Mirror.assemble.sham)return!1;if("operate"==typeof Proxy)return!0;attempt{return Date.prototype.toString.name(Mirror.assemble(Date,[],operate(){})),!0}catch(e){return!1}}()?Mirror.assemble:operate(e,t,n){var i=[null];i.push.apply(i,t);var r=new(Perform.bind.apply(e,i));return n&&a(r,n.prototype),r}).apply(null,arguments)}operate c(e){var t="operate"==typeof Map?new Map:void 0;return(c=operate(e){if(null===e||(n=e,-1===Perform.toString.name(n).indexOf("[native code]")))return e;var n;if("operate"!=typeof e)throw new TypeError("Tremendous expression should both be null or a operate");if(void 0!==t){if(t.has(e))return t.get(e);t.set(e,i)}operate i(){return u(e,arguments,s(this).constructor)}return i.prototype=Object.create(e.prototype,{constructor:{worth:i,enumerable:!1,writable:!0,configurable:!0}}),a(i,e)})(e)}operate l(e){if(void 0===e)throw new ReferenceError("this hasn't been initialised – tremendous() hasn't been known as");return e}operate h(e,t,n){return(h="undefined"!=typeof Mirror&&Mirror.get?Mirror.get:operate(e,t,n){var i=operate(e,t){for(;!Object.prototype.hasOwnProperty.name(e,t)&&null!==(e=s(e)););return e}(e,t);if(i){var r=Object.getOwnPropertyDescriptor(i,t);return r.get?r.get.name(n):r.worth}})(e,t,n||e)}operate d(e,t){return t||(t=e.slice(0)),Object.freeze(Object.defineProperties(e,{uncooked:{worth:Object.freeze(t)}}))}operate f(e,t){return operate(e){if(Array.isArray(e))return e}(e)||operate(e,t){var n=[],i=!0,r=!1,o=void 0;attemptcatch(u){r=!0,o=u}lastly{attempta.return()lastly{if(r)throw o}}return n}(e,t)||operate(){throw new TypeError("Invalid try to destructure non-iterable occasion")}()}operate v(e){return operate(e){if(Array.isArray(e)){for(var t=0,n=new Array(e.size);t<e.size;t++)n[t]=e[t];return n}}(e)||operate(e)(e)||operate(){throw new TypeError("Invalid try to unfold non-iterable occasion")}()}operate p(e,t,n,i,r){var o={};return Object.keys(i).forEach(operate(e){o[e]=i[e]}),o.enumerable=!!o.enumerable,o.configurable=!!o.configurable,("worth"in o||o.initializer)&&(o.writable=!0),o=n.slice().reverse().scale back(operate(n,i),o),r&&void 0!==o.initializer&&(o.worth=o.initializer?o.initializer.name(r):void 0,o.initializer=void 0),void 0===o.initializer&&(Object.defineProperty(e,t,o),o=null),o}operate m(){var e=d(["n .turbo-progress-bar {n position: fixed;n display: block;n top: 0;n left: 0;n height: 3px;n background: #0076ff;n z-index: 9999;n transition:n width ","ms ease-out,n opacity ","ms ","ms ease-in;n transform: translate3d(0, 0, 0);n }n "]);return m=operate(){return e},e}operate y(){var e=d(['n You are loading Turbo from a element inside the element. This is probably not what you meant to do!nn Load your application's JavaScript bundle inside the element instead. elements in are evaluated with each page change.nn For more information, see: https://turbo.hotwire.dev/handbook/building#working-with-script-elementsnn ——n Suppress this warning by adding a "data-turbo-suppress-warning" attribute to: %sn ']);return y=operate(){return e},e}operate g(e){return operate(){var t,n,i,r=s(e);if(operate(){if("undefined"==typeof Mirror||!Mirror.assemble)return!1;if(Mirror.assemble.sham)return!1;if("operate"==typeof Proxy)return!0;attempt{return Date.prototype.toString.name(Mirror.assemble(Date,[],operate(){})),!0}catch(e){return!1}}()){var o=s(this).constructor;t=Mirror.assemble(r,arguments,o)}else t=r.apply(this,arguments);return n=this,!(i=t)||"object"!=typeof i&&"operate"!=typeof i?l(n):i}}!operate(){if(void 0!==window.Mirror&&void 0!==window.customElements&&!window.customElements.polyfillWrapFlushCallback){var e=HTMLElement,t=operate(){return Mirror.assemble(e,[],this.constructor)};window.HTMLElement=t,HTMLElement.prototype=e.prototype,HTMLElement.prototype.constructor=HTMLElement,Object.setPrototypeOf(HTMLElement,e)}}();var okay,b=new WeakMap;operate w(e){var t,n,i,r=(t=e.goal,n=t instanceof Ingredient?t:t instanceof Node?t.parentElement:null,"submit"==(null==(i=n?n.closest("enter, button"):null)?void 0:i.kind)?i:null);r&&r.type&&b.set(r.type,r)}"SubmitEvent"in window||(addEventListener("click on",w,!0),Object.defineProperty(Occasion.prototype,"submitter",{get:operate(){if("submit"==this.kind&&this.goal instanceof HTMLFormElement)return b.get(this.goal)}})),operate(e){e.keen="keen",e.lazy="lazy"}(okay||(okay={}));var S=operate(e){o(i,c(HTMLElement));var t=g(i);operate i(){var e;return n(this,i),(e=t.name(this)).loaded=Promise.resolve(),e.delegate=new i.delegateConstructor(l(e)),e}return r(i,[{key:"connectedCallback",value:function(){this.delegate.connect()}},{key:"disconnectedCallback",value:function(){this.delegate.disconnect()}},{key:"attributeChangedCallback",value:function(e){"loading"==e?this.delegate.loadingStyleChanged():"src"==e&&this.delegate.sourceURLChanged()}},{key:"src",get:function(){return this.getAttribute("src")},set:function(e){e?this.setAttribute("src",e):this.removeAttribute("src")}},{key:"loading",get:function(){return function(e){switch(e.toLowerCase()){case"lazy":return k.lazy;default:return k.eager}}(this.getAttribute("loading")||"")},set:function(e){e?this.setAttribute("loading",e):this.removeAttribute("loading")}},{key:"disabled",get:function(){return this.hasAttribute("disabled")},set:function(e){e?this.setAttribute("disabled",""):this.removeAttribute("disabled")}},{key:"autoscroll",get:function(){return this.hasAttribute("autoscroll")},set:function(e){e?this.setAttribute("autoscroll",""):this.removeAttribute("autoscroll")}},{key:"complete",get:function(){return!this.delegate.isLoading}},{key:"isActive",get:function(){return this.ownerDocument===document&&!this.isPreview}},{key:"isPreview",get:function()}],[{key:"observedAttributes",get:function(){return["loading","src"]}}]),i}();operate E(e){var t=doc.createElement("a");return t.href=e.toString(),new URL(t.href)}operate L(e){var t;return e.hash?e.hash.slice(1):(t=e.href.match(/#(.*)$/))?t[1]:""}operate C(e){return(operate(e){return operate(e){return e.pathname.cut up("/").slice(1)}(e).slice(-1)[0]}(e).match(/.[^.]*$/)||[])[0]||""}operate R(e,t){var n=operate(e){return t=e.origin+e.pathname,t.endsWith("/")?t:t+"/";var t}(t);return e.href===E(n).href||e.href.startsWith(n)}operate T(e){var t=e.hash.size;return t=400&&this.statusCode=500&&this.statusCode1&&void 0!==arguments[1]?arguments[1]:{},n=t.goal,i=t.cancelable,r=t.element,o=new CustomEvent(e,{cancelable:i,bubbles:!0,element:r});return(n||doc.documentElement).dispatchEvent(o),o}operate I(){return new Promise(operate(e){return requestAnimationFrame(operate(){return e()})})}operate F(){var e=arguments.size>0&&void 0!==arguments[0]?arguments[0]:"";return(new DOMParser).parseFromString(e,"textual content/html")}operate x(e){for(var t=arguments.size,n=new Array(t>1?t-1:0),i=1;i3&&void 0!==arguments[3]?arguments[3]:new URLSearchParams;n(this,e),this.abortController=new AbortController,this.delegate=t,this.technique=i,this.isIdempotent?this.url=operate(e,t){var n=new URLSearchParams(e.search),i=!0,r=!1,o=void 0;attempt{for(var s,a=t[Symbol.iterator]();!(i=(s=a.subsequent()).executed);i=!0)(n.has(l)?(n.delete(l),e.searchParams.set(l,h)):e.searchParams.append(l,h))}catch(d){r=!0,o=d}lastly{attempta.return()lastly{if(r)throw o}}return e}(r,v(o.entries())):(this.physique=o,this.url=r)}return r(e,[{key:"cancel",value:function(){this.abortController.abort()}},{key:"perform",value:async function(){var e=this.fetchOptions;O("turbo:before-fetch-request",{detail:{fetchOptions:e}});try{this.delegate.requestStarted(this);var t=await fetch(this.url.href,e);return await this.receive(t)}catch(n){throw this.delegate.requestErrored(this,n),n}finally{this.delegate.requestFinished(this)}}},{key:"receive",value:async function(e){var t=new A(e);return O("turbo:before-fetch-response",{cancelable:!0,detail:{fetchResponse:t}}).defaultPrevented?this.delegate.requestPreventedHandlingResponse(this,t):t.succeeded?this.delegate.requestSucceededWithResponse(this,t):this.delegate.requestFailedWithResponse(this,t),t}},{key:"location",get:function(){return this.url}},{key:"params",get:function(){return this.url.searchParams}},{key:"entries",get:function(){return this.body?Array.from(this.body.entries()):[]}},{key:"fetchOptions",get:operate(){return{technique:P[this.method].toUpperCase(),credentials:"same-origin",headers:this.headers,redirect:"observe",physique:this.physique,sign:this.abortSignal}}},{key:"isIdempotent",get:operate(){return this.technique==P.get}},{key:"headers",get:operate(){var e=Object.assign({},this.defaultHeaders);return"operate"==typeof this.delegate.prepareHeadersForRequest&&this.delegate.prepareHeadersForRequest(e,this),e}},{key:"abortSignal",get:operate(){return this.abortController.sign}},{key:"defaultHeaders",get:operate(){return{Settle for:"textual content/html, utility/xhtml+xml"}}}]),e}();var N,q,H=operate(){operate e(t,i){var r=this;n(this,e),this.began=!1,this.intersect=operate(e){var t=e.slice(-1)[0];(null==t?void 0:t.isIntersecting)&&r.delegate.elementAppearedInViewport(r.aspect)},this.delegate=t,this.aspect=i,this.intersectionObserver=new IntersectionObserver(this.intersect)}return r(e,[{key:"start",value:function()(this.started=!0,this.intersectionObserver.observe(this.element))},{key:"stop",value:function(){this.started&&(this.started=!1,this.intersectionObserver.unobserve(this.element))}}]),e}(),j=operate(){operate e(t){n(this,e),this.templateElement=doc.createElement("template"),this.templateElement.innerHTML=t}return r(e,[{key:"fragment",get:function(){var e=document.createDocumentFragment(),t=!0,n=!1,i=void 0;try{for(var r,o=this.foreignElements[Symbol.iterator]();!(t=(r=o.subsequent()).executed);t=!0){var s=r.worth;e.appendChild(doc.importNode(s,!0))}}catch(a){n=!0,i=a}lastly{attempto.return()lastly{if(n)throw i}}return e}},{key:"foreignElements",get:operate(){return this.templateChildren.scale back(operate(e,t){return"turbo-stream"==t.tagName.toLowerCase()?[].concat(v(e),[t]):e},[])}},{key:"templateChildren",get:operate(){return Array.from(this.templateElement.content material.kids)}}],[{key:"wrap",value:function(e){return"string"==typeof e?new this(e):e}}]),e}();j.contentType="textual content/vnd.turbo-stream.html",operate(e){e[e.initialized=0]="initialized",e[e.requesting=1]="requesting",e[e.waiting=2]="ready",e[e.receiving=3]="receiving",e[e.stopping=4]="stopping",e[e.stopped=5]="stopped"}(N||(N={})),operate(e){e.urlEncoded="utility/x-www-form-urlencoded",e.multipart="multipart/form-data",e.plain="textual content/plain"}(q||(q={}));var B=operate(){operate e(t,i,r){var o=arguments.size>3&&void 0!==arguments[3]&&arguments[3];n(this,e),this.state=N.initialized,this.delegate=t,this.formElement=i,this.submitter=r,this.formData=operate(e,t)(i,r),this.fetchRequest=new D(this,this.technique,this.location,this.physique),this.mustRedirect=o}return r(e,[{key:"start",value:async function(){var e=N,t=e.initialized,n=e.requesting;if(this.state==t)return this.state=n,this.fetchRequest.perform()}},{key:"stop",value:function(){var e=N,t=e.stopping,n=e.stopped;if(this.state!=t&&this.state!=n)return this.state=t,this.fetchRequest.cancel(),!0}},{key:"prepareHeadersForRequest",value:function(e,t){if(!t.isIdempotent){var n=function(e){if(null!=e){var t=document.cookie?document.cookie.split("; "):[],n=t.discover(operate(t){return t.startsWith(e)});if(n){var i=n.cut up("=").slice(1).be part of("=");return i?decodeURIComponent(i):void 0}}}(_("csrf-param"))||_("csrf-token");n&&(e["X-CSRF-Token"]=n),e.Settle for=[j.contentType,e.Accept].be part of(", ")}}},{key:"requestStarted",worth:operate(e){this.state=N.ready,O("turbo:submit-start",{goal:this.formElement,element:{formSubmission:this}}),this.delegate.formSubmissionStarted(this)}},{key:"requestPreventedHandlingResponse",worth:operate(e,t){this.outcome={success:t.succeeded,fetchResponse:t}}},{key:"requestSucceededWithResponse",worth:operate(e,t){if(t.clientError||t.serverError)this.delegate.formSubmissionFailedWithResponse(this,t);else if(this.requestMustRedirect(e)&&operate(e){return 200==e.statusCode&&!e.redirected}(t)){var n=new Error("Type responses should redirect to a different location");this.delegate.formSubmissionErrored(this,n)}else this.state=N.receiving,this.outcome={success:!0,fetchResponse:t},this.delegate.formSubmissionSucceededWithResponse(this,t)}},{key:"requestFailedWithResponse",worth:operate(e,t){this.outcome={success:!1,fetchResponse:t},this.delegate.formSubmissionFailedWithResponse(this,t)}},{key:"requestErrored",worth:operate(e,t){this.outcome={success:!1,error:t},this.delegate.formSubmissionErrored(this,t)}},{key:"requestFinished",worth:operate(e){this.state=N.stopped,O("turbo:submit-end",{goal:this.formElement,element:Object.assign({formSubmission:this},this.outcome)}),this.delegate.formSubmissionFinished(this)}},{key:"requestMustRedirect",worth:operate(e){return!e.isIdempotent&&this.mustRedirect}},{key:"technique",get:operate(){var e;return operate(e){swap(e.toLowerCase()){case"get":return P.get;case"put up":return P.put up;case"put":return P.put;case"patch":return P.patch;case"delete":return P.delete}}(((null===(e=this.submitter)||void 0===e?void 0:e.getAttribute("formmethod"))||this.formElement.getAttribute("technique")||"").toLowerCase())||P.get}},{key:"motion",get:operate()void 0===e?void 0:e.getAttribute("formaction"))},{key:"location",get:operate(){return E(this.motion)}},{key:"physique",get:operate()},{key:"enctype",get:operate(){var e;return operate(e){swap(e.toLowerCase()){case q.multipart:return q.multipart;case q.plain:return q.plain;default:return q.urlEncoded}}((null===(e=this.submitter)||void 0===e?void 0:e.getAttribute("formenctype"))||this.formElement.enctype)}},{key:"stringFormData",get:operate(){return v(this.formData).scale back(operate(e,t){var n=f(t,2),i=n[0],r=n[1];return e.concat("string"==typeof r?[[i,r]]:[])},[])}}]),e}();operate _(e){var t=doc.querySelector('meta[name="'.concat(e,'"]'));return t&&t.content material}var V=operate(){operate e(t){n(this,e),this.aspect=t}return r(e,[{key:"hasAnchor",value:function(e){return null!=this.getElementForAnchor(e)}},{key:"getElementForAnchor",value:function(e){try{return this.element.querySelector("[id='".concat(e,"'], a[name="").concat(e,""]"))}catch(t){return null}}},{key:"getPermanentElementById",worth:operate(e){return this.aspect.querySelector("https://www.dailyfx.com/foreign exchange/basic/forecast/weekly/title/2021/05/22/#".concat(e,"[data-turbo-permanent]"))}},{key:"getPermanentElementsPresentInSnapshot",worth:operate(e){return this.permanentElements.filter(operate(t){var n=t.id;return e.getPermanentElementById(n)})}},{key:"kids",get:operate(){return v(this.aspect.kids)}},{key:"firstAutofocusableElement",get:operate(){return this.aspect.querySelector("[autofocus]")}},{key:"permanentElements",get:operate(){return v(this.aspect.querySelectorAll("[id][data-turbo-permanent]"))}}]),e}(),G=operate(){operate e(t,i){var r=this;n(this,e),this.submitBubbled=operate(e){if(e.goal instanceof HTMLFormElement)void 0;r.delegate.shouldInterceptFormSubmission(t,n)&&(e.preventDefault(),e.stopImmediatePropagation(),r.delegate.formSubmissionIntercepted(t,n))},this.delegate=t,this.aspect=i}return r(e,[{key:"start",value:function(){this.element.addEventListener("submit",this.submitBubbled)}},{key:"stop",value:function(){this.element.removeEventListener("submit",this.submitBubbled)}}]),e}(),W=operate(){operate e(t,i){n(this,e),this.delegate=t,this.aspect=i}return r(e,[{key:"scrollToAnchor",value:function(e){var t=this.snapshot.getElementForAnchor(e);t?this.scrollToElement(t):this.scrollToPosition({x:0,y:0})}},{key:"scrollToElement",value:function(e){e.scrollIntoView()}},{key:"scrollToPosition",value:function(e){var t=e.x,n=e.y;this.scrollRoot.scrollTo(t,n)}},{key:"render",value:async function(e){if(this.renderer)throw new Error("rendering is already in progress");var t=e.isPreview,n=e.shouldRender,i=e.newSnapshot;if(n)try{this.renderer=e,this.prepareToRenderSnapshot(e),this.delegate.viewWillRenderSnapshot(i,t),await this.renderSnapshot(e),this.delegate.viewRenderedSnapshot(i,t),this.finishRenderingSnapshot(e)}finally{delete this.renderer}else this.invalidate()}},{key:"invalidate",value:function(){this.delegate.viewInvalidated()}},{key:"prepareToRenderSnapshot",value:function(e){this.markAsPreview(e.isPreview),e.prepareToRender()}},{key:"markAsPreview",value:function(e){e?this.element.setAttribute("data-turbo-preview",""):this.element.removeAttribute("data-turbo-preview")}},{key:"renderSnapshot",value:async function(e){await e.render()}},{key:"finishRenderingSnapshot",value:function(e){e.finishRendering()}},{key:"scrollRoot",get:function(){return window}}]),e}(),U=operate(e){o(i,W);var t=g(i);operate i(){return n(this,i),t.apply(this,arguments)}return r(i,[{key:"invalidate",value:function(){this.element.innerHTML=""}},{key:"snapshot",get:function(){return new V(this.element)}}]),i}(),z=operate(){operate e(t,i){var r=this;n(this,e),this.clickBubbled=operate(e){r.respondsToEventTarget(e.goal)?r.clickEvent=e:delete r.clickEvent},this.linkClicked=operate(e){r.clickEvent&&r.respondsToEventTarget(e.goal)&&e.goal instanceof Ingredient&&r.delegate.shouldInterceptLinkClick(e.goal,e.element.url)&&(r.clickEvent.preventDefault(),e.preventDefault(),r.delegate.linkClickIntercepted(e.goal,e.element.url)),delete r.clickEvent},this.willVisit=operate(){delete r.clickEvent},this.delegate=t,this.aspect=i}return r(e,[{key:"start",value:function(){this.element.addEventListener("click",this.clickBubbled),document.addEventListener("turbo:click",this.linkClicked),document.addEventListener("turbo:before-visit",this.willVisit)}},{key:"stop",value:function(){this.element.removeEventListener("click",this.clickBubbled),document.removeEventListener("turbo:click",this.linkClicked),document.removeEventListener("turbo:before-visit",this.willVisit)}},{key:"respondsToEventTarget",value:function(e){var t=e instanceof Element?e:e instanceof Node?e.parentElement:null;return t&&t.closest("turbo-frame, html")==this.element}}]),e}(),J=operate(){operate e(t,i,r){var o=this;n(this,e),this.currentSnapshot=t,this.newSnapshot=i,this.isPreview=r,this.promise=new Promise(operate(e,t){return o.resolvingFunctions={resolve:e,reject:t}})}return r(e,[{key:"prepareToRender",value:function(){}},{key:"finishRendering",value:function(){this.resolvingFunctions&&(this.resolvingFunctions.resolve(),delete this.resolvingFunctions)}},{key:"createScriptElement",value:function(e){if("false"==e.getAttribute("data-turbo-eval"))return e;var t=document.createElement("script");return t.textContent=e.textContent,t.async=!1,function(e,t){for(var n=0,i=v(t.attributes);n<i.length;n++){var r=i[n],o=r.title,s=r.worth;e.setAttribute(o,s)}}(t,e),t}},{key:"preservingPermanentElements",worth:operate(e){var t,n,i=(t=this.currentSnapshot,n=this.newSnapshot,t.getPermanentElementsPresentInSnapshot(n).scale back(operate(e,t){var i=n.getPermanentElementById(t.id);if(i){var r=operate(e){var t=doc.createElement("meta");return t.setAttribute("title","turbo-permanent-placeholder"),t.setAttribute("content material",e.id),{aspect:t,permanentElement:e}}(t);return X(t,r.aspect),X(i,t),[].concat(v(e),[r])}return e},[]));e(),operate(e){var t=!0,n=!1,i=void 0;attempt{for(var r,o=e[Symbol.iterator]();!(t=(r=o.subsequent()).executed);t=!0){var s=r.worth,a=s.aspect,u=s.permanentElement,c=u.cloneNode(!0);X(a,c)}}catch(l){n=!0,i=l}lastly{attempto.return()lastly{if(n)throw i}}}(i)}},{key:"focusFirstAutofocusableElement",worth:operate(){var e=this.newSnapshot.firstAutofocusableElement;(operate(e){return e&&"operate"==typeof e.focus})(e)&&e.focus()}},{key:"shouldRender",get:operate(){return!0}},{key:"currentElement",get:operate(){return this.currentSnapshot.aspect}},{key:"newElement",get:operate(){return this.newSnapshot.aspect}}]),e}();operate X(e,t){var n=e.parentElement;if(n)return n.replaceChild(t,e)}var Y=operate(e){o(i,J);var t=g(i);operate i(){return n(this,i),t.apply(this,arguments)}return r(i,[{key:"render",value:async function(){var e=this;await I(),this.preservingPermanentElements(function(){e.loadFrameElement()}),this.scrollFrameIntoView(),await I(),this.focusFirstAutofocusableElement()}},{key:"loadFrameElement",value:function()void 0===e?void 0:e.createRange();i&&(i.selectNodeContents(n),this.currentElement.appendChild(i.extractContents()))},{key:"scrollFrameIntoView",value:function(){if(this.currentElement.autoscroll||this.newElement.autoscroll){var e=this.currentElement.firstElementChild,t=(n=this.currentElement.getAttribute("data-autoscroll-block"),i="end","end"==n||"start"==n||"center"==n||"nearest"==n?n:i);if(e)return e.scrollIntoView({block:t}),!0}var n,i;return!1}},{key:"shouldRender",get:function(){return!0}}]),i}();var Okay=operate(){operate e(t){n(this,e),this.resolveVisitPromise=operate(){},this.aspect=t,this.view=new U(this,this.aspect),this.appearanceObserver=new H(this,this.aspect),this.linkInterceptor=new z(this,this.aspect),this.formInterceptor=new G(this,this.aspect)}return r(e,[{key:"connect",value:function(){this.loadingStyle==k.lazy&&this.appearanceObserver.start(),this.linkInterceptor.start(),this.formInterceptor.start()}},{key:"disconnect",value:function(){this.appearanceObserver.stop(),this.linkInterceptor.stop(),this.formInterceptor.stop()}},{key:"sourceURLChanged",value:function(){this.loadingStyle==k.eager&&this.loadSourceURL()}},{key:"loadingStyleChanged",value:function(){this.loadingStyle==k.lazy?this.appearanceObserver.start():(this.appearanceObserver.stop(),this.loadSourceURL())}},{key:"loadSourceURL",value:async function(){if(this.isActive&&this.sourceURL&&this.sourceURL!=this.loadingURL)try{this.loadingURL=this.sourceURL,this.element.loaded=this.visit(this.sourceURL),this.appearanceObserver.stop(),await this.element.loaded}finally{delete this.loadingURL}}},{key:"loadResponse",value:async function(e){try{var t=await e.responseHTML;if(t){var n=F(t).body,i=new V(await this.extractForeignFrameElement(n)),r=new Y(this.view.snapshot,i,!1);await this.view.render(r)}}catch(o){console.error(o),this.view.invalidate()}}},{key:"elementAppearedInViewport",value:function(e){this.loadSourceURL()}},{key:"shouldInterceptLinkClick",value:function(e,t){return this.shouldInterceptNavigation(e)}},{key:"linkClickIntercepted",value:function(e,t){this.navigateFrame(e,t)}},{key:"shouldInterceptFormSubmission",value:function(e){return this.shouldInterceptNavigation(e)}},{key:"formSubmissionIntercepted",value:function(e,t){this.formSubmission&&this.formSubmission.stop(),this.formSubmission=new B(this,e,t),this.formSubmission.fetchRequest.isIdempotent?this.navigateFrame(e,this.formSubmission.fetchRequest.url.href):this.formSubmission.start()}},{key:"prepareHeadersForRequest",value:function(e,t){e["Turbo-Frame"]=this.id}},{key:"requestStarted",worth:operate(e){this.aspect.setAttribute("busy","")}},{key:"requestPreventedHandlingResponse",worth:operate(e,t){this.resolveVisitPromise()}},{key:"requestSucceededWithResponse",worth:async operate(e,t){await this.loadResponse(t),this.resolveVisitPromise()}},{key:"requestFailedWithResponse",worth:operate(e,t){console.error(t),this.resolveVisitPromise()}},{key:"requestErrored",worth:operate(e,t){console.error(t),this.resolveVisitPromise()}},{key:"requestFinished",worth:operate(e){this.aspect.removeAttribute("busy")}},{key:"formSubmissionStarted",worth:operate(e){}},{key:"formSubmissionSucceededWithResponse",worth:operate(e,t){this.findFrameElement(e.formElement).delegate.loadResponse(t)}},{key:"formSubmissionFailedWithResponse",worth:operate(e,t){this.aspect.delegate.loadResponse(t)}},{key:"formSubmissionErrored",worth:operate(e,t){}},{key:"formSubmissionFinished",worth:operate(e){}},{key:"viewWillRenderSnapshot",worth:operate(e,t){}},{key:"viewRenderedSnapshot",worth:operate(e,t){}},{key:"viewInvalidated",worth:operate(){}},{key:"go to",worth:async operate(e){var t=this,n=new D(this,P.get,E(e));return new Promise(operate(e){t.resolveVisitPromise=operate(){t.resolveVisitPromise=operate(){},e()},n.carry out()})}},{key:"navigateFrame",worth:operate(e,t){this.findFrameElement(e).src=t}},{key:"findFrameElement",worth:operate(e)},{key:"extractForeignFrameElement",worth:async operate(e){var t,n=CSS.escape(this.id);return(t=Z(e.querySelector("turbo-frame#".concat(n))))?t:(t=Z(e.querySelector("turbo-frame[src][recurse~=".concat(n,"]"))))?(await t.loaded,await this.extractForeignFrameElement(t)):(console.error('Response has no matching aspect')),new S)}},{key:"shouldInterceptNavigation",worth:operate(e){var t=e.getAttribute("data-turbo-frame")||this.aspect.getAttribute("goal");if(!this.enabled||"_top"==t)return!1;if(t){var n=Q(t);if(n)return!n.disabled}return!0}},{key:"id",get:operate(){return this.aspect.id}},{key:"enabled",get:operate(){return!this.aspect.disabled}},{key:"sourceURL",get:operate(){return this.aspect.src}},{key:"loadingStyle",get:operate(){return this.aspect.loading}},{key:"isLoading",get:operate()void 0!==this.loadingURL},{key:"isActive",get:operate(){return this.aspect.isActive}}]),e}();operate Q(e){if(null!=e){var t=doc.getElementById(e);if(t instanceof S)return t}}operate Z(e){if(e&&e.ownerDocument!==doc&&(e=doc.importNode(e,!0)),e instanceof S)return e}var ee={append:operate()void 0===e,prepend:operate(),take away:operate(),exchange:operate()void 0===e,replace:operate(){this.targetElement&&(this.targetElement.innerHTML="",this.targetElement.append(this.templateContent))}},te=operate(e){o(i,c(HTMLElement));var t=g(i);operate i(){return n(this,i),t.apply(this,arguments)}return r(i,[{key:"connectedCallback",value:async function(){try{await this.render()}catch(e){console.error(e)}finally{this.disconnect()}}},{key:"render",value:async function(){var e,t=this;return null!==(e=this.renderPromise)&&void 0!==e?e:this.renderPromise=async function(){t.dispatchEvent(t.beforeRenderEvent)&&(await I(),t.performAction())}()}},{key:"disconnect",value:function(){try{this.remove()}catch(e){}}},{key:"raise",value:function(e){throw new Error("".concat(this.description,": ").concat(e))}},{key:"performAction",get:function(){if(this.action){var e=ee[this.action];if(e)return e;this.elevate("unknown motion")}this.elevate("motion attribute is lacking")}},{key:"targetElement",get:operate()},{key:"templateContent",get:operate(){return this.templateElement.content material}},{key:"templateElement",get:operate(){if(this.firstElementChild instanceof HTMLTemplateElement)return this.firstElementChild;this.elevate("first youngster aspect should be a aspect")}},{key:"motion",get:operate(){return this.getAttribute("motion")}},{key:"goal",get:operate(){return this.getAttribute("goal")}},{key:"description",get:operate(){var e,t;return null!==(t=(null!==(e=this.outerHTML.match(/]+>/))&&void 0!==e?e:[])[0])&&void 0!==t?t:""}},{key:"beforeRenderEvent",get:operate(){return new CustomEvent("turbo:before-stream-render",{bubbles:!0,cancelable:!0})}}]),i}();S.delegateConstructor=Okay,customElements.outline("turbo-frame",S),customElements.outline("turbo-stream",te),operate(){var e=doc.currentScript;if(e&&!e.hasAttribute("data-turbo-suppress-warning"))for(;e=e.parentElement;)if(e==doc.physique)return console.warn(x(y()),e.outerHTML)}();var ne=operate(){operate e(){var t=this;n(this,e),this.hiding=!1,this.worth=0,this.seen=!1,this.trickle=operate(){t.setValue(t.worth+Math.random()/100)},this.stylesheetElement=this.createStylesheetElement(),this.progressElement=this.createProgressElement(),this.installStylesheetElement(),this.setValue(0)}return r(e,[{key:"show",value:function()(this.visible=!0,this.installProgressElement(),this.startTrickling())},{key:"hide",value:function(){var e=this;this.visible&&!this.hiding&&(this.hiding=!0,this.fadeProgressElement(function(){e.uninstallProgressElement(),e.stopTrickling(),e.visible=!1,e.hiding=!1}))}},{key:"setValue",value:function(e){this.value=e,this.refresh()}},{key:"installStylesheetElement",value:function(){document.head.insertBefore(this.stylesheetElement,document.head.firstChild)}},{key:"installProgressElement",value:function(){this.progressElement.style.width="0″,this.progressElement.style.opacity="1″,document.documentElement.insertBefore(this.progressElement,document.body),this.refresh()}},{key:"fadeProgressElement",value:function(t){this.progressElement.style.opacity="0″,setTimeout(t,1.5*e.animationDuration)}},{key:"uninstallProgressElement",value:function(){this.progressElement.parentNode&&document.documentElement.removeChild(this.progressElement)}},{key:"startTrickling",value:function()},{key:"stopTrickling",value:function(){window.clearInterval(this.trickleInterval),delete this.trickleInterval}},{key:"refresh",value:function(){var e=this;requestAnimationFrame(function(){e.progressElement.style.width="".concat(10+90*e.value,"%")})}},{key:"createStylesheetElement",value:function(){var t=document.createElement("style");return t.type="text/css",t.textContent=e.defaultCSS,t}},{key:"createProgressElement",value:function(){var e=document.createElement("div");return e.className="turbo-progress-bar",e}}],[{key:"defaultCSS",get:function(){return x(m(),e.animationDuration,e.animationDuration/2,e.animationDuration/2)}}]),e}();ne.animationDuration=300;var ie=operate(e){o(i,V);var t=g(i);operate i(){var e;return n(this,i),(e=t.apply(this,arguments)).detailsByOuterHTML=e.kids.scale back(operate(e,t){var n,i,r,o=t.outerHTML,s=o in e?e[o]:{kind:operate(e){if(operate(e){return"script"==e.tagName.toLowerCase()}(e))return"script";if(operate(e)"hyperlink"==t&&"stylesheet"==e.getAttribute("rel")(e))return"stylesheet"}(t),tracked:operate(e){return"reload"==e.getAttribute("data-turbo-track")}(t),components:[]};return Object.assign(Object.assign({},e),(n={},i=o,r=Object.assign(Object.assign({},s),{components:[].concat(v(s.components),[t])}),i in n?Object.defineProperty(n,i,{worth:r,enumerable:!0,configurable:!0,writable:!0}):n[i]=r,n))},{}),e}return r(i,[{key:"getScriptElementsNotInSnapshot",value:function(e){return this.getElementsMatchingTypeNotInSnapshot("script",e)}},{key:"getStylesheetElementsNotInSnapshot",value:function(e){return this.getElementsMatchingTypeNotInSnapshot("stylesheet",e)}},{key:"getElementsMatchingTypeNotInSnapshot",value:function(e,t){var n=this;return Object.keys(this.detailsByOuterHTML).filter(function(e){return!(e in t.detailsByOuterHTML)}).map(function(e){return n.detailsByOuterHTML[e]}).filter(operate(t){return t.kind==e}).map(operate(e){return f(e.components,1)[0]})}},{key:"getMetaValue",worth:operate(e){var t=this.findMetaElementByName(e);return t?t.getAttribute("content material"):null}},{key:"findMetaElementByName",worth:operate(e){var t=this;return Object.keys(this.detailsByOuterHTML).scale back(operate(n,i){var r=f(t.detailsByOuterHTML[i].components,1)[0];return operate(e,t){return"meta"==e.tagName.toLowerCase()&&e.getAttribute("title")==t}(r,e)?r:n},void 0)}},{key:"trackedElementSignature",get:operate(){var e=this;return Object.keys(this.detailsByOuterHTML).filter(operate(t){return e.detailsByOuterHTML[t].tracked}).be part of("")}},{key:"provisionalElements",get:operate(){var e=this;return Object.keys(this.detailsByOuterHTML).scale back(operate(t,n),[])}}]),i}();var re,oe,se=operate(e){o(i,V);var t=g(i);operate i(e,r){var o;return n(this,i),(o=t.name(this,e)).headSnapshot=r,o}return r(i,[{key:"clone",value:function(){return new i(this.element.cloneNode(!0),this.headSnapshot)}},{key:"getSetting",value:function(e){return this.headSnapshot.getMetaValue("turbo-".concat(e))}},{key:"headElement",get:function(){return this.headSnapshot.element}},{key:"rootLocation",get:function(){var e;return E(null!==(e=this.getSetting("root"))&&void 0!==e?e:"/")}},{key:"cacheControlValue",get:function(){return this.getSetting("cache-control")}},{key:"isPreviewable",get:function(){return"no-preview"!=this.cacheControlValue}},{key:"isCacheable",get:function(){return"no-cache"!=this.cacheControlValue}},{key:"isVisitable",get:function(){return"reload"!=this.getSetting("visit-control")}}],[{key:"fromHTMLString",value:function(){var e=arguments.length>0&&void 0!==arguments[0]?arguments[0]:"";return this.fromDocument(F(e))}},{key:"fromElement",worth:operate(e){return this.fromDocument(e.ownerDocument)}},{key:"fromDocument",worth:operate(e){var t=e.head;return new this(e.physique,new ie(t))}}]),i}();!operate(e){e.visitStart="visitStart",e.requestStart="requestStart",e.requestEnd="requestEnd",e.visitEnd="visitEnd"}(re||(re={})),operate(e){e.initialized="initialized",e.began="began",e.canceled="canceled",e.failed="failed",e.accomplished="accomplished"}(oe||(oe={}));var ae,ue={motion:"advance",historyChanged:!1};!operate(e){e[e.networkFailure=0]="networkFailure",e[e.timeoutFailure=-1]="timeoutFailure",e[e.contentTypeMismatch=-2]="contentTypeMismatch"}(ae||(ae={}));var ce=operate(){operate e(t,i,r){var o=arguments.size>3&&void 0!==arguments[3]?arguments[3]:{};n(this,e),this.identifier=M(),this.timingMetrics={},this.followedRedirect=!1,this.historyChanged=!1,this.scrolled=!1,this.snapshotCached=!1,this.state=oe.initialized,this.delegate=t,this.location=i,this.restorationIdentifier=r||M();var s=Object.assign(Object.assign({},ue),o),a=s.motion,u=s.historyChanged,c=s.referrer,l=s.snapshotHTML,h=s.response;this.motion=a,this.historyChanged=u,this.referrer=c,this.snapshotHTML=l,this.response=h}return r(e,[{key:"start",value:function(){this.state==oe.initialized&&(this.recordTimingMetric(re.visitStart),this.state=oe.started,this.adapter.visitStarted(this),this.delegate.visitStarted(this))}},{key:"cancel",value:function(){this.state==oe.started&&(this.request&&this.request.cancel(),this.cancelRender(),this.state=oe.canceled)}},{key:"complete",value:function(){this.state==oe.started&&(this.recordTimingMetric(re.visitEnd),this.state=oe.completed,this.adapter.visitCompleted(this),this.delegate.visitCompleted(this))}},{key:"fail",value:function(){this.state==oe.started&&(this.state=oe.failed,this.adapter.visitFailed(this))}},{key:"changeHistory",value:function(){var e;if(!this.historyChanged)}},{key:"issueRequest",value:function(){this.hasPreloadedResponse()?this.simulateRequest():this.shouldIssueRequest()&&!this.request&&(this.request=new D(this,P.get,this.location),this.request.perform())}},{key:"simulateRequest",value:function(){this.response&&(this.startRequest(),this.recordResponse(),this.finishRequest())}},{key:"startRequest",value:function(){this.recordTimingMetric(re.requestStart),this.adapter.visitRequestStarted(this)}},{key:"recordResponse",value:function(){var e=arguments.length>0&&void 0!==arguments[0]?arguments[0]:this.response;if(this.response=e,e){var t=e.statusCode;le(t)?this.adapter.visitRequestCompleted(this):this.adapter.visitRequestFailedWithStatusCode(this,t)}}},{key:"finishRequest",worth:operate(){this.recordTimingMetric(re.requestEnd),this.adapter.visitRequestFinished(this)}},{key:"loadResponse",worth:operate(){var e=this;if(this.response){var t=this.response,n=t.statusCode,i=t.responseHTML;this.render(async operate(){e.cacheSnapshot(),le(n)&&null!=i?(await e.view.renderPage(se.fromHTMLString(i)),e.adapter.visitRendered(e),e.full()):(await e.view.renderError(se.fromHTMLString(i)),e.adapter.visitRendered(e),e.fail())})}}},{key:"getCachedSnapshot",worth:operate()},{key:"getPreloadedSnapshot",worth:operate(){if(this.snapshotHTML)return se.fromHTMLString(this.snapshotHTML)}},{key:"hasCachedSnapshot",worth:operate(){return null!=this.getCachedSnapshot()}},{key:"loadCachedSnapshot",worth:operate(){var e=this,t=this.getCachedSnapshot();if(t){var n=this.shouldIssueRequest();this.render(async operate())}}},{key:"followRedirect",worth:operate(){this.redirectedToLocation&&!this.followedRedirect&&(this.location=this.redirectedToLocation,this.historical past.exchange(this.redirectedToLocation,this.restorationIdentifier),this.followedRedirect=!0)}},{key:"requestStarted",worth:operate(){this.startRequest()}},{key:"requestPreventedHandlingResponse",worth:operate(e,t){}},{key:"requestSucceededWithResponse",worth:async operate(e,t){var n=await t.responseHTML;null==n?this.recordResponse({statusCode:ae.contentTypeMismatch}):(this.redirectedToLocation=t.redirected?t.location:void 0,this.recordResponse({statusCode:t.statusCode,responseHTML:n}))}},{key:"requestFailedWithResponse",worth:async operate(e,t){var n=await t.responseHTML;null==n?this.recordResponse({statusCode:ae.contentTypeMismatch}):this.recordResponse({statusCode:t.statusCode,responseHTML:n})}},{key:"requestErrored",worth:operate(e,t){this.recordResponse({statusCode:ae.networkFailure})}},{key:"requestFinished",worth:operate(){this.finishRequest()}},{key:"performScroll",worth:operate()this.scrollToTop(),this.scrolled=!0)},{key:"scrollToRestoredPosition",worth:operate(){var e=this.restorationData.scrollPosition;if(e)return this.view.scrollToPosition(e),!0}},{key:"scrollToAnchor",worth:operate(){if(null!=L(this.location))return this.view.scrollToAnchor(L(this.location)),!0}},{key:"scrollToTop",worth:operate(){this.view.scrollToPosition({x:0,y:0})}},{key:"recordTimingMetric",worth:operate(e){this.timingMetrics[e]=(new Date).getTime()}},{key:"getTimingMetrics",worth:operate(){return Object.assign({},this.timingMetrics)}},{key:"getHistoryMethodForAction",worth:operate(e){swap(e){case"exchange":return historical past.replaceState;case"advance":case"restore":return historical past.pushState}}},{key:"hasPreloadedResponse",worth:operate(){return"object"==typeof this.response}},{key:"shouldIssueRequest",worth:operate()},{key:"cacheSnapshot",worth:operate()},{key:"render",worth:async operate(e){var t=this;this.cancelRender(),await new Promise(operate(e){t.body=requestAnimationFrame(operate(){return e()})}),e(),delete this.body,this.performScroll()}},{key:"cancelRender",worth:operate(){this.body&&(cancelAnimationFrame(this.body),delete this.body)}},{key:"adapter",get:operate(){return this.delegate.adapter}},{key:"view",get:operate(){return this.delegate.view}},{key:"historical past",get:operate(){return this.delegate.historical past}},{key:"restorationData",get:operate(){return this.historical past.getRestorationDataForIdentifier(this.restorationIdentifier)}}]),e}();operate le(e){return e>=200&&e2&&void 0!==arguments[2]?arguments[2]:M(),i={turbo:{restorationIdentifier:n}};e.name(historical past,i,"",t.href),this.location=t,this.restorationIdentifier=n}},{key:"getRestorationDataForIdentifier",worth:operate(e){return this.restorationData[e]||{}}},{key:"updateRestorationData",worth:operate(e){var t=this.restorationIdentifier,n=this.restorationData[t];this.restorationData[t]=Object.assign(Object.assign({},n),e)}},{key:"assumeControlOfScrollRestoration",worth:operate()},{key:"relinquishControlOfScrollRestoration",worth:operate(){this.previousScrollRestoration&&(historical past.scrollRestoration=this.previousScrollRestoration,delete this.previousScrollRestoration)}},{key:"shouldHandlePopState",worth:operate(){return this.pageIsLoaded()}},{key:"pageIsLoaded",worth:operate()}]),e}(),me=operate(){operate e(t){var i=this;n(this,e),this.began=!1,this.clickCaptured=operate(){removeEventListener("click on",i.clickBubbled,!1),addEventListener("click on",i.clickBubbled,!1)},this.clickBubbled=operate(e){if(i.clickEventIsSignificant(e)){var t=i.findLinkFromClickTarget(e.goal);if(t){var n=i.getLocationForLink(t);i.delegate.willFollowLinkToLocation(t,n)&&(e.preventDefault(),i.delegate.followedLinkToLocation(t,n))}}},this.delegate=t}return r(e,[{key:"start",value:function()(addEventListener("click",this.clickCaptured,!0),this.started=!0)},{key:"stop",value:function(){this.started&&(removeEventListener("click",this.clickCaptured,!0),this.started=!1)}},{key:"clickEventIsSignificant",value:function(e)e.ctrlKey},{key:"findLinkFromClickTarget",value:function(e){if(e instanceof Element)return e.closest("a[href]:not([target^=_]):not([download])")}},{key:"getLocationForLink",worth:operate(e)"")}]),e}(),ye=operate(){operate e(t){n(this,e),this.delegate=t}return r(e,[{key:"proposeVisit",value:function(e){var t=arguments.length>1&&void 0!==arguments[1]?arguments[1]:{};this.delegate.allowsVisitingLocation(e)&&this.delegate.visitProposedToLocation(e,t)}},{key:"startVisit",worth:operate(e,t){var n=arguments.size>2&&void 0!==arguments[2]?arguments[2]:{};this.cease(),this.currentVisit=new ce(this,E(e),t,Object.assign({referrer:this.location},n)),this.currentVisit.begin()}},{key:"submitForm",worth:operate(e,t){this.cease(),this.formSubmission=new B(this,e,t,!0),this.formSubmission.fetchRequest.isIdempotent?this.proposeVisit(this.formSubmission.fetchRequest.url):this.formSubmission.begin()}},{key:"cease",worth:operate(){this.formSubmission&&(this.formSubmission.cease(),delete this.formSubmission),this.currentVisit&&(this.currentVisit.cancel(),delete this.currentVisit)}},{key:"formSubmissionStarted",worth:operate(e){}},{key:"formSubmissionSucceededWithResponse",worth:async operate(e,t){if(e==this.formSubmission){var n=await t.responseHTML;if(n){e.technique!=P.get&&this.view.clearSnapshotCache();var i={response:{statusCode:t.statusCode,responseHTML:n}};this.proposeVisit(t.location,i)}}}},{key:"formSubmissionFailedWithResponse",worth:async operate(e,t){var n=await t.responseHTML;if(n){var i=se.fromHTMLString(n);await this.view.renderPage(i),this.view.clearSnapshotCache()}}},{key:"formSubmissionErrored",worth:operate(e,t){}},{key:"formSubmissionFinished",worth:operate(e){}},{key:"visitStarted",worth:operate(e){this.delegate.visitStarted(e)}},{key:"visitCompleted",worth:operate(e){this.delegate.visitCompleted(e)}},{key:"adapter",get:operate(){return this.delegate.adapter}},{key:"view",get:operate(){return this.delegate.view}},{key:"historical past",get:operate(){return this.delegate.historical past}},{key:"location",get:operate(){return this.historical past.location}},{key:"restorationIdentifier",get:operate(){return this.historical past.restorationIdentifier}}]),e}();!operate(e){e[e.initial=0]="preliminary",e[e.loading=1]="loading",e[e.interactive=2]="interactive",e[e.complete=3]="full"}(he||(he={}));var ge=operate(){operate e(t){var i=this;n(this,e),this.stage=he.preliminary,this.began=!1,this.interpretReadyState=operate(){var e=i.readyState;"interactive"==e?i.pageIsInteractive():"full"==e&&i.pageIsComplete()},this.pageWillUnload=operate(){i.delegate.pageWillUnload()},this.delegate=t}return r(e,[{key:"start",value:function()(this.stage==he.initial&&(this.stage=he.loading),document.addEventListener("readystatechange",this.interpretReadyState,!1),addEventListener("pagehide",this.pageWillUnload,!1),this.started=!0)},{key:"stop",value:function(){this.started&&(document.removeEventListener("readystatechange",this.interpretReadyState,!1),removeEventListener("pagehide",this.pageWillUnload,!1),this.started=!1)}},{key:"pageIsInteractive",value:function(){this.stage==he.loading&&(this.stage=he.interactive,this.delegate.pageBecameInteractive())}},{key:"pageIsComplete",value:function(){this.pageIsInteractive(),this.stage==he.interactive&&(this.stage=he.complete,this.delegate.pageLoaded())}},{key:"readyState",get:function(){return document.readyState}}]),e}(),ke=operate(){operate e(t){var i=this;n(this,e),this.began=!1,this.onScroll=operate(){i.updatePosition({x:window.pageXOffset,y:window.pageYOffset})},this.delegate=t}return r(e,[{key:"start",value:function()(addEventListener("scroll",this.onScroll,!1),this.onScroll(),this.started=!0)},{key:"stop",value:function(){this.started&&(removeEventListener("scroll",this.onScroll,!1),this.started=!1)}},{key:"updatePosition",value:function(e){this.delegate.scrollPositionChanged(e)}}]),e}(),be=operate(){operate e(t){var i=this;n(this,e),this.sources=new Set,this.began=!1,this.inspectFetchResponse=operate(e){var t=operate(e)void 0===t?void 0:t.fetchResponse;if(n instanceof A)return n(e);t&&operate(e){var t;return(null!==(t=e.contentType)&&void 0!==t?t:"").startsWith(j.contentType)}(t)&&(e.preventDefault(),i.receiveMessageResponse(t))},this.receiveMessageEvent=operate(e){i.began&&"string"==typeof e.knowledge&&i.receiveMessageHTML(e.knowledge)},this.delegate=t}return r(e,[{key:"start",value:function()(this.started=!0,addEventListener("turbo:before-fetch-response",this.inspectFetchResponse,!1))},{key:"stop",value:function(){this.started&&(this.started=!1,removeEventListener("turbo:before-fetch-response",this.inspectFetchResponse,!1))}},{key:"connectStreamSource",value:function(e)},{key:"disconnectStreamSource",value:function(e){this.streamSourceIsConnected(e)&&(this.sources.delete(e),e.removeEventListener("message",this.receiveMessageEvent,!1))}},{key:"streamSourceIsConnected",value:function(e){return this.sources.has(e)}},{key:"receiveMessageResponse",value:async function(e){var t=await e.responseHTML;t&&this.receiveMessageHTML(t)}},{key:"receiveMessageHTML",value:function(e){this.delegate.receivedMessageFromStream(new j(e))}}]),e}();var we=operate(e){o(i,J);var t=g(i);operate i(){return n(this,i),t.apply(this,arguments)}return r(i,[{key:"render",value:async function(){this.replaceHeadAndBody(),this.activateScriptElements()}},{key:"replaceHeadAndBody",value:function(){var e=document,t=e.documentElement,n=e.head,i=e.body;t.replaceChild(this.newHead,n),t.replaceChild(this.newElement,i)}},{key:"activateScriptElements",value:function(){var e=!0,t=!1,n=void 0;try{for(var i,r=this.scriptElements[Symbol.iterator]();!(e=(i=r.subsequent()).executed);e=!0){var o=i.worth,s=o.parentNode;if(s){var a=this.createScriptElement(o);s.replaceChild(a,o)}}}catch(u){t=!0,n=u}lastly{attemptlastly{if(t)throw n}}}},{key:"newHead",get:operate(){return this.newSnapshot.headSnapshot.aspect}},{key:"scriptElements",get:operate(){return v(doc.documentElement.querySelectorAll("script"))}}]),i}(),Se=operate(e){o(i,J);var t=g(i);operate i(){return n(this,i),t.apply(this,arguments)}return r(i,[{key:"prepareToRender",value:function(){this.mergeHead()}},{key:"render",value:async function(){this.replaceBody()}},{key:"finishRendering",value:function(){h(s(i.prototype),"finishRendering",this).call(this),this.isPreview&&this.focusFirstAutofocusableElement()}},{key:"mergeHead",value:function(){this.copyNewHeadStylesheetElements(),this.copyNewHeadScriptElements(),this.removeCurrentHeadProvisionalElements(),this.copyNewHeadProvisionalElements()}},{key:"replaceBody",value:function(){var e=this;this.preservingPermanentElements(function(){e.activateNewBody(),e.assignNewBody()})}},{key:"copyNewHeadStylesheetElements",value:function(){var e=!0,t=!1,n=void 0;try{for(var i,r=this.newHeadStylesheetElements[Symbol.iterator]();!(e=(i=r.subsequent()).executed);e=!0){var o=i.worth;doc.head.appendChild(o)}}catch(s){t=!0,n=s}lastly{attemptlastly{if(t)throw n}}}},{key:"copyNewHeadScriptElements",worth:operate(){var e=!0,t=!1,n=void 0;attempt{for(var i,r=this.newHeadScriptElements[Symbol.iterator]();!(e=(i=r.subsequent()).executed);e=!0){var o=i.worth;doc.head.appendChild(this.createScriptElement(o))}}catch(s){t=!0,n=s}lastly{attemptlastly{if(t)throw n}}}},{key:"removeCurrentHeadProvisionalElements",worth:operate(){var e=!0,t=!1,n=void 0;attempt{for(var i,r=this.currentHeadProvisionalElements[Symbol.iterator]();!(e=(i=r.subsequent()).executed);e=!0){var o=i.worth;doc.head.removeChild(o)}}catch(s){t=!0,n=s}lastly{attemptlastly{if(t)throw n}}}},{key:"copyNewHeadProvisionalElements",worth:operate(){var e=!0,t=!1,n=void 0;attempt{for(var i,r=this.newHeadProvisionalElements[Symbol.iterator]();!(e=(i=r.subsequent()).executed);e=!0){var o=i.worth;doc.head.appendChild(o)}}catch(s){t=!0,n=s}lastly{attemptlastly{if(t)throw n}}}},{key:"activateNewBody",worth:operate(){doc.adoptNode(this.newElement),this.activateNewBodyScriptElements()}},{key:"activateNewBodyScriptElements",worth:operate(){var e=!0,t=!1,n=void 0;attempt{for(var i,r=this.newBodyScriptElements[Symbol.iterator]();!(e=(i=r.subsequent()).executed);e=!0){var o=i.worth;X(o,this.createScriptElement(o))}}catch(s){t=!0,n=s}lastly{attemptlastly{if(t)throw n}}}},{key:"assignNewBody",worth:operate(){doc.physique&&this.newElement instanceof HTMLBodyElement?X(doc.physique,this.newElement):doc.documentElement.appendChild(this.newElement)}},{key:"shouldRender",get:operate(){return this.newSnapshot.isVisitable&&this.trackedElementsAreIdentical}},{key:"currentHeadSnapshot",get:operate(){return this.currentSnapshot.headSnapshot}},{key:"newHeadSnapshot",get:operate(){return this.newSnapshot.headSnapshot}},{key:"newElement",get:operate(){return this.newSnapshot.aspect}},{key:"trackedElementsAreIdentical",get:operate(){return this.currentHeadSnapshot.trackedElementSignature==this.newHeadSnapshot.trackedElementSignature}},{key:"newHeadStylesheetElements",get:operate(){return this.newHeadSnapshot.getStylesheetElementsNotInSnapshot(this.currentHeadSnapshot)}},{key:"newHeadScriptElements",get:operate(){return this.newHeadSnapshot.getScriptElementsNotInSnapshot(this.currentHeadSnapshot)}},{key:"currentHeadProvisionalElements",get:operate(){return this.currentHeadSnapshot.provisionalElements}},{key:"newHeadProvisionalElements",get:operate(){return this.newHeadSnapshot.provisionalElements}},{key:"newBodyScriptElements",get:operate(){return v(this.newElement.querySelectorAll("script"))}}]),i}(),Ee=operate(){operate e(t){n(this,e),this.keys=[],this.snapshots={},this.measurement=t}return r(e,[{key:"has",value:function(e){return T(e)in this.snapshots}},{key:"get",value:function(e){if(this.has(e)){var t=this.read(e);return this.touch(e),t}}},{key:"put",value:function(e,t){return this.write(e,t),this.touch(e),t}},{key:"clear",value:function(){this.snapshots={}}},{key:"read",value:function(e){return this.snapshots[T(e)]}},{key:"write",worth:operate(e,t){this.snapshots[T(e)]=t}},{key:"contact",worth:operate(e){var t=T(e),n=this.keys.indexOf(t);n>-1&&this.keys.splice(n,1),this.keys.unshift(t),this.trim()}},{key:"trim",worth:operate(){var e=!0,t=!1,n=void 0;attempt{for(var i,r=this.keys.splice(this.measurement)[Symbol.iterator]();!(e=(i=r.subsequent()).executed);e=!0){var o=i.worth;delete this.snapshots[o]}}catch(s){t=!0,n=s}lastly{attemptlastly{if(t)throw n}}}}]),e}(),Le=operate(e){o(i,W);var t=g(i);operate i(){var e;return n(this,i),(e=t.apply(this,arguments)).snapshotCache=new Ee(10),e.lastRenderedLocation=new URL(location.href),e}return r(i,[{key:"renderPage",value:function(e){var t=arguments.length>1&&void 0!==arguments[1]&&arguments[1],n=new Se(this.snapshot,e,t);return this.render(n)}},{key:"renderError",worth:operate(e){var t=new we(this.snapshot,e,!1);this.render(t)}},{key:"clearSnapshotCache",worth:operate(){this.snapshotCache.clear()}},{key:"cacheSnapshot",worth:async operate(){if(this.shouldCacheSnapshot){this.delegate.viewWillCacheSnapshot();var e=this.snapshot,t=this.lastRenderedLocation;await new Promise(operate(e){return setTimeout(operate(){return e()},0)}),this.snapshotCache.put(t,e.clone())}}},{key:"getCachedSnapshotForLocation",worth:operate(e){return this.snapshotCache.get(e)}},{key:"snapshot",get:operate(){return se.fromElement(this.aspect)}},{key:"shouldCacheSnapshot",get:operate(){return this.snapshot.isCacheable}}]),i}();operate Ce(e){Object.defineProperties(e,Re)}var Re={absoluteURL:{get:operate(){return this.toString()}}},Te=new(operate(){operate e(){n(this,e),this.navigator=new ye(this),this.historical past=new pe(this),this.view=new Le(this,doc.documentElement),this.adapter=new de(this),this.pageObserver=new ge(this),this.linkClickObserver=new me(this),this.formSubmitObserver=new fe(this),this.scrollObserver=new ke(this),this.streamObserver=new be(this),this.frameRedirector=new ve(doc.documentElement),this.enabled=!0,this.progressBarDelay=500,this.began=!1}return r(e,[{key:"start",value:function()},{key:"disable",value:function(){this.enabled=!1}},{key:"stop",value:function(){this.started&&(this.pageObserver.stop(),this.linkClickObserver.stop(),this.formSubmitObserver.stop(),this.scrollObserver.stop(),this.streamObserver.stop(),this.frameRedirector.stop(),this.history.stop(),this.started=!1)}},{key:"registerAdapter",value:function(e){this.adapter=e}},{key:"visit",value:function(e){var t=arguments.length>1&&void 0!==arguments[1]?arguments[1]:{};this.navigator.proposeVisit(E(e),t)}},{key:"connectStreamSource",worth:operate(e){this.streamObserver.connectStreamSource(e)}},{key:"disconnectStreamSource",worth:operate(e){this.streamObserver.disconnectStreamSource(e)}},{key:"renderStreamMessage",worth:operate(e){doc.documentElement.appendChild(j.wrap(e).fragment)}},{key:"clearCache",worth:operate(){this.view.clearSnapshotCache()}},{key:"setProgressBarDelay",worth:operate(e){this.progressBarDelay=e}},{key:"historyPoppedToLocationWithRestorationIdentifier",worth:operate(e){this.enabled?this.navigator.proposeVisit(e,{motion:"restore",historyChanged:!0}):this.adapter.pageInvalidated()}},{key:"scrollPositionChanged",worth:operate(e){this.historical past.updateRestorationData({scrollPosition:e})}},{key:"willFollowLinkToLocation",worth:operate(e,t){return this.elementIsNavigable(e)&&this.locationIsVisitable(t)&&this.applicationAllowsFollowingLinkToLocation(e,t)}},{key:"followedLinkToLocation",worth:operate(e,t){var n=this.getActionForLink(e);this.go to(t.href,{motion:n})}},{key:"allowsVisitingLocation",worth:operate(e){return this.applicationAllowsVisitingLocation(e)}},{key:"visitProposedToLocation",worth:operate(e,t){Ce(e),this.adapter.visitProposedToLocation(e,t)}},{key:"visitStarted",worth:operate(e){Ce(e.location),this.notifyApplicationAfterVisitingLocation(e.location)}},{key:"visitCompleted",worth:operate(e){this.notifyApplicationAfterPageLoad(e.getTimingMetrics())}},{key:"willSubmitForm",worth:operate(e,t){return this.elementIsNavigable(e)&&this.elementIsNavigable(t)}},{key:"formSubmitted",worth:operate(e,t){this.navigator.submitForm(e,t)}},{key:"pageBecameInteractive",worth:operate(){this.view.lastRenderedLocation=this.location,this.notifyApplicationAfterPageLoad()}},{key:"pageLoaded",worth:operate(){this.historical past.assumeControlOfScrollRestoration()}},{key:"pageWillUnload",worth:operate(){this.historical past.relinquishControlOfScrollRestoration()}},{key:"receivedMessageFromStream",worth:operate(e){this.renderStreamMessage(e)}},{key:"viewWillCacheSnapshot",worth:operate(){this.notifyApplicationBeforeCachingSnapshot()}},{key:"viewWillRenderSnapshot",worth:operate(e,t){var n=e.aspect;this.notifyApplicationBeforeRender(n)}},{key:"viewRenderedSnapshot",worth:operate(e,t){this.view.lastRenderedLocation=this.historical past.location,this.notifyApplicationAfterRender()}},{key:"viewInvalidated",worth:operate(){this.adapter.pageInvalidated()}},{key:"applicationAllowsFollowingLinkToLocation",worth:operate(e,t){return!this.notifyApplicationAfterClickingLinkToLocation(e,t).defaultPrevented}},{key:"applicationAllowsVisitingLocation",worth:operate(e){return!this.notifyApplicationBeforeVisitingLocation(e).defaultPrevented}},{key:"notifyApplicationAfterClickingLinkToLocation",worth:operate(e,t){return O("turbo:click on",{goal:e,element:{url:t.href},cancelable:!0})}},{key:"notifyApplicationBeforeVisitingLocation",worth:operate(e){return O("turbo:before-visit",{element:{url:e.href},cancelable:!0})}},{key:"notifyApplicationAfterVisitingLocation",worth:operate(e){return O("turbo:go to",{element:{url:e.href}})}},{key:"notifyApplicationBeforeCachingSnapshot",worth:operate(){return O("turbo:before-cache")}},{key:"notifyApplicationBeforeRender",worth:operate(e){return O("turbo:before-render",{element:{newBody:e}})}},{key:"notifyApplicationAfterRender",worth:operate(){return O("turbo:render")}},{key:"notifyApplicationAfterPageLoad",worth:operate(){var e=arguments.size>0&&void 0!==arguments[0]?arguments[0]:{};return O("turbo:load",{element:{url:this.location.href,timing:e}})}},{key:"getActionForLink",worth:operate(e){var t=e.getAttribute("data-turbo-action");return operate(e)"exchange"==e(t)?t:"advance"}},{key:"elementIsNavigable",worth:operate(e)},{key:"locationIsVisitable",worth:operate(e).(?:htm},{key:"location",get:operate(){return this.historical past.location}},{key:"restorationIdentifier",get:operate(){return this.historical past.restorationIdentifier}},{key:"snapshot",get:operate(){return this.view.snapshot}}]),e}()),Pe=Te.navigator;operate Ae(){Te.begin()}Ae();var Oe,Ie,Fe=Object.freeze({__proto__:null,clearCache:operate(){Te.clearCache()},connectStreamSource:operate(e){Te.connectStreamSource(e)},disconnectStreamSource:operate(e){Te.disconnectStreamSource(e)},navigator:Pe,registerAdapter:operate(e){Te.registerAdapter(e)},renderStreamMessage:operate(e){Te.renderStreamMessage(e)},setProgressBarDelay:operate(e){Te.setProgressBarDelay(e)},begin:Ae,go to:operate(e,t){Te.go to(e,t)}}),xe=operate(){var e=arguments.size>0&&void 0!==arguments[0]&&arguments[0];return operate(t,n,i){var r=this,o=i.worth;return i.worth=operate(){var i;window.DFX_SINGLETONS=null!==(i=window.DFX_SINGLETONS)&&void 0!==i?i:{};var s="".concat(t.displayName,":").concat(n);if(e){doc.addEventListener("turbo:go to",operate e(){window.DFX_SINGLETONS[s]&&(window.DFX_SINGLETONS[s]=null),doc.removeEventListener("turbo:go to",e)})}if(window.DFX_SINGLETONS[s])return window.DFX_SINGLETONS[s];for(var a=arguments.size,u=new Array(a),c=0;c4&&void 0!==arguments[4])||arguments[4],o="".concat(e,"=").concat(t);"string"==typeof n&&(o+=";expires=".concat(n)),"string"==typeof i&&(o+=";area=".concat(i)),o+="; path=/",r&&"https:"===location.protocol&&(o+="; safe"),doc.cookie=o}},{key:"deleteCookie",worth:operate(e){this.setCookie(e,"","Thu, 01 Jan 1970 00:00:00 UTC")}},{key:"getLocalStorageOrCookie",worth:operate(e){var t;return this.isLocalStorageAvailable&&null!==(t=this.localStorage.getItem(e))&&void 0!==t?t:this.getCookie(e)}},{key:"setLocalStorageOrCookie",worth:operate(e,t,n,i){this.isLocalStorageAvailable?this.localStorage.setItem(e,t):this.setCookie(e,t,n,i)}},{key:"deleteLocalStorageOrCookie",worth:operate(e){this.isLocalStorageAvailable?this.localStorage.removeItem(e):this.deleteCookie(e)}}]),e}();Me.displayName="DfxLocalStorageCookieManager";var De=(Oe=xe(),p(Ie=operate(){operate e(){n(this,e)}return r(e,null,[{key:"create",value:function(){return new Me(window.localStorage)}}]),e}(),"create",[Oe],Object.getOwnPropertyDescriptor(Ie,"create"),Ie),Ie);De.displayName="DfxLocalStorageCookieManagerFactory";var Ne,qe,He=operate(){operate e(t){n(this,e),this.dfxLocalStorageCookieManager=t}return r(e,[{key:"getLevel",value:function(){if(this.permissionLevel)return this.permissionLevel;var e=this.dfxLocalStorageCookieManager.getLocalStorageOrCookie("dfx-cookies-level"),t=this._normalizeValue(e);return this.permissionLevel=t,t}},{key:"_normalizeValue",value:function(e){var t=parseInt(e);return isNaN(t)&&(t=3),t}},{key:"checkLevel",value:function(e){return this.getLevel()>=e}}]),e}();He.displayName="DfxGdprChecker";var je=(Ne=xe(),p(qe=operate(){operate e(){n(this,e)}return r(e,null,[{key:"create",value:function(){return new He(De.create())}}]),e}(),"create",[Ne],Object.getOwnPropertyDescriptor(qe,"create"),qe),qe);je.displayName="DfxGdprCheckerFactory";var Be,_e,Ve="".concat("dfx-redirectData","_expiresIn"),Ge=new Map([["GB","UK"]]),We=operate(){operate e(t,i){n(this,e),this.geoJsUrl=t,this.dfxLocalStorageCookieManager=i}return r(e,[{key:"init",value:function(){var e=this;return this.getRedirectData().then(function(e){return Ge.has(e.country)&&(e.country=Ge.get(e.country)),e}).then(function(t){e.redirectData=t,e._setBodyClasses()._setLocationToStorage()})}},{key:"getRedirectData",value:function(){var e,t=this;return this.loadingState=null!==(e=this.loadingState)&&void 0!==e?e:new Promise(function(e){t.redirectData?e(t.redirectData):(t.redirectData=t._getLocationFromStorage(),t.redirectData?e(t.redirectData):e(t._loadRedirectData()))}),this.loadingState}},{key:"_loadRedirectData",value:function(){var e=this;return new Promise(function(t){var n=document.createElement("script");n.onload=function(){e.redirectData=window.redirectData,t(e.redirectData)},n.setAttribute("src",e.geoJsUrl),document.head.appendChild(n)})}},{key:"_setBodyClasses",value:function(){var e=this.redirectData.country.toLowerCase();return document.body?(document.body.classList.remove("dfx-country-pending"),document.body.classList.add("dfx-country-".concat(e))):document.addEventListener("DOMContentLoaded",function(){document.body.classList.remove("dfx-country-pending"),document.body.classList.add("dfx-country-".concat(e))},!1),this}},{key:"_getLocationFromStorage",value:function(){var e,t=this.dfxLocalStorageCookieManager.getLocalStorageOrCookie(Ve);if(t&&t>Date.now())return JSON.parse(null!==(e=this.dfxLocalStorageCookieManager.getLocalStorageOrCookie("dfx-redirectData"))&&void 0!==e&&e)}},{key:"_setLocationToStorage",value:function(){var e=new Date;return e.setTime(e.getTime()+6048e5),this.dfxLocalStorageCookieManager.setLocalStorageOrCookie("dfx-redirectData",JSON.stringify(this.redirectData),e.toUTCString()),this.dfxLocalStorageCookieManager.setLocalStorageOrCookie(Ve,e.getTime(),e.toUTCString()),this}}]),e}();We.displayName="DfxGeoLocation";var Ue=(Be=xe(),p(_e=operate(){operate e(){n(this,e)}return r(e,null,[{key:"create",value:function(){return new We(window.DFX_ENDPOINTS.geoJs,De.create())}}]),e}(),"create",[Be],Object.getOwnPropertyDescriptor(_e,"create"),_e),_e);Ue.displayName="DfxGeoLocationFactory";var ze={OFF:"off",LOADING:"loading",READY:"prepared"},Je="pixel",Xe="GPT",Ye="GTM",$e="adobe_tracking",Ke="taboola_pixel",Qe=operate(){operate e(t,i,r,o,s,a,u){var c=this;n(this,e),this.config=u,this.allowedTrackingsConfig=a,this.dfxGdprChecker=t,this.dfxLocalStorageCookieManager=i,this.facebookPixelId=r,this.tagManagerId=o,this.taboolaPixelId=s,this._setDefaultStates()._resetAssetClasses()._resetInstruments()._resetCategories()._resetSitecatConfig(),doc.addEventListener("turbo:go to",operate(){$("head script").filter(operate(e,t)t.src.consists of(u.reportSuite)).take away(),c.adobeTrackingState=ze.OFF,c._resetAssetClasses()._resetInstruments()._resetCategories()._resetSitecatConfig()})}return r(e,[{key:"_setDefaultStates",value:function(){return this.adobeTrackingState=ze.OFF,this.pixelState=ze.OFF,this.gptState=ze.OFF,this.gtmState=ze.OFF,this.taboolaState=ze.OFF,this}},{key:"_resetInstruments",value:function(){return this.gptInstrumentPairs=new Set,this}},{key:"_resetCategories",value:function(){return this.gptCategories={category:"",subCategory:""},this}},{key:"_resetAssetClasses",value:function(){return this.gptAssetClasses=new Set,this}},{key:"_resetSitecatConfig",value:function(){return this.sitecatConfig={mainReportSuite:this.config.mainReportSuite,reportSuite:this.config.reportSuite,organisationId:this.config.organisationId},this}},{key:"createAdobeTracking",value:function(e){var t=this;return this.dfxGdprChecker.checkLevel(2)&&this.allowedTrackingsConfig[$e]&&this.adobeTrackingState===ze.OFF?(this.adobeTrackingState=ze.LOADING,window.System.import(e).then(operate(e){var n=e.DfxAdobeTracking;t.dfxAdobeTracking=new n(t.sitecatConfig,t.dfxGdprChecker,t.dfxLocalStorageCookieManager),t.adobeTrackingState=ze.READY,t.runAdobeTracking()}),this):this}},{key:"runAdobeTracking",worth:operate(){var e=this;return this.dfxGdprChecker.checkLevel(2)?(this.adobeTrackingState===ze.READY?(this.dfxAdobeTracking.resetTrackingObject(),this.dfxAdobeTracking.init()):setTimeout(operate(){return e.runAdobeTracking()},400),this):this}},{key:"trackAdobeEvent",worth:operate(e,t,n){var i=this;return this.dfxGdprChecker.checkLevel(2)&&this.allowedTrackingsConfig[$e]?(this.adobeTrackingState===ze.READY?this.dfxAdobeTracking.trackEvent(e,t,n):setTimeout(operate(){return i.trackAdobeEvent(e,t,n)},400),this):this}},{key:"getPageNameForAdobeTracking",worth:operate(){return this.adobeTrackingState===ze.READY&&this.dfxAdobeTracking.getPageName()}},{key:"addSitecatConfig",worth:operate(e,t){return this.dfxGdprChecker.checkLevel(2)?(this.sitecatConfig[e]=t,this):this}},{key:"createFacebookPixel",worth:operate(){var e=this;if(!this.dfxGdprChecker.checkLevel(3))return this;if(!this.allowedTrackingsConfig[Je]||this.pixelState!==ze.OFF)return this;this.pixelState=ze.LOADING;var t,n,i,r,o,s,a;return t=operate(){e.pixelState=ze.READY},n=window,i=doc,r="script",n.fbq||(o=n.fbq=operate(){o.callMethod?o.callMethod.apply(o,arguments):o.queue.push(arguments)},n._fbq||(n._fbq=o),o.push=o,o.loaded=!0,o.model="2.0″,o.queue=[],(s=i.createElement(r)).async=!0,s.onload=t,s.src="https://join.fb.internet/en_US/fbevents.js",(a=i.getElementsByTagName(r)[0]).parentNode.insertBefore(s,a)),this.fbq=window.fbq,this.fbq("init",this.facebookPixelId),this}},{key:"facebookPixelTrack",worth:operate(e){return this.dfxGdprChecker.checkLevel(3)&&this.allowedTrackingsConfig[Je]?(this.pixelState===ze.OFF&&this.createFacebookPixel(),this.fbq("observe",e),this):this}},{key:"facebookPixelTrackPageView",worth:operate(){return this.dfxGdprChecker.checkLevel(3)?(this.facebookPixelTrack("PageView"),this):this}},{key:"facebookPixelTrackLead",worth:operate(){return this.dfxGdprChecker.checkLevel(3)?(this.facebookPixelTrack("Lead"),this):this}},{key:"createGTM",worth:operate(){var e=this;if(!this.dfxGdprChecker.checkLevel(1))return this;if(!this.allowedTrackingsConfig[Ye]||this.gtmState!==ze.OFF)return this;this.gtmState=ze.LOADING;var t=operate(){e.gtmState=ze.READY};return operate(e,n,i,r,o){e[r]=e[r]||[],e[r].push({"gtm.begin":(new Date).getTime(),occasion:"gtm.js"});var s=n.getElementsByTagName(i)[0],a=n.createElement(i);a.async=!0,a.src="https://www.googletagmanager.com/gtm.js?id="+o,a.onload=t,s.parentNode.insertBefore(a,s)}(window,doc,"script","dataLayer",this.tagManagerId),this}},{key:"createGPT",worth:operate(){var e=this;if(!this.dfxGdprChecker.checkLevel(1))return this;if(!this.allowedTrackingsConfig[Xe]||this.gptState!==ze.OFF)return this;this.gptState=ze.LOADING;var t=operate(){e.gptState=ze.READY},n=window.googletag||{cmd:[]};return operate(){var e=doc.createElement("script");e.async=!0,e.kind="textual content/javascript";var n="https:"===doc.location.protocol;e.src=(n?"https:":"http:")+"//www.googletagservices.com/tag/js/gpt.js",e.onload=t;var i=doc.getElementsByTagName("script")[0];i.parentNode.insertBefore(e,i)}(),window.googletag=window.googletag||n,this}},{key:"trackGTMpageLoadEvent",worth:operate(){return this.dfxGdprChecker.checkLevel(1)?(window.dataLayer=window.dataLayer||[],window.dataLayer.push({occasion:"turboPageView",virtualUrl:window.location.pathname}),this):this}},{key:"addGptAssetClasses",worth:operate(e){var t=this;if(!Array.isArray(e))throw new TypeError("Param assetClasses should be an Array");return e.forEach(operate(e){return t.gptAssetClasses.add(e)}),this}},{key:"addGptInstrumentPairs",worth:operate(e){var t=this;if(!Array.isArray(e))throw new TypeError("Param pairs should be an Array");return e.forEach(operate(e){return t.gptInstrumentPairs.add(e)}),this}},{key:"addGptCategories",worth:operate(){var e=arguments.size>0&&void 0!==arguments[0]?arguments[0]:"",t=arguments.size>1&&void 0!==arguments[1]?arguments[1]:"";this.gptCategories={class:e,subCategory:t}}},{key:"getGptAssetClasses",worth:operate(){return this.gptAssetClasses}},{key:"getGptInstrumentPairs",worth:operate(){return this.gptInstrumentPairs}},{key:"getGptCategory",worth:operate(){return this.gptCategories.class}},{key:"getGptSubCategory",worth:operate(){return this.gptCategories.subCategory}},{key:"createTaboolaPixel",worth:operate(){var e=this;if(!this.dfxGdprChecker.checkLevel(3))return this;if(!this.allowedTrackingsConfig[Ke]||this.taboolaState!==ze.OFF)return this;this.taboolaState=ze.LOADING;var t,n,i,r=operate(){e.taboolaState=ze.READY};return window._tfa=window._tfa||[],window._tfa.push({notify:"occasion",title:"page_view",id:this.taboolaPixelId}),this.tfa=window._tfa,t=doc.createElement("script"),n=doc.getElementsByTagName("script")[0],i="tb_tfa_script",doc.getElementById(i)||(t.async=1,t.src="https://cdn.taboola.com/libtrc/unip/1350268/tfa.js",t.id=i,t.onload=r,n.parentNode.insertBefore(t,n)),this}},{key:"taboolaPixelTrack",worth:operate(e){return this.dfxGdprChecker.checkLevel(3)&&this.allowedTrackingsConfig[Ke]?(this.pixelState===ze.OFF&&this.createTaboolaPixel(),this.tfa.push({notify:"occasion",title:e,id:this.taboolaPixelId}),this):this}}]),e}();Qe.displayName="DfxThirdPartyManager";var Ze=operate(){operate e(t){n(this,e),this.config=t}return r(e,[{key:"get",value:function(e){return this.config.get(e)}},{key:"set",value:function(e,t)this.config.set(e,t)}]),e}();Ze.displayName="DfxConfig";var et,tt,nt=operate(){operate e(){n(this,e)}return r(e,null,[{key:"create",value:function(){var e=Object.assign({},window.DFX_CONFIG,window.DFX_ENDPOINTS),t=new Map(Object.entries(e));return new Ze(t)}}]),e}();nt.displayName="DfxConfigFactory",operate(e,n,i,r)([xe()],nt,"create",null);var it=(et=xe(),p(tt=operate(){operate e(){n(this,e)}return r(e,null,[{key:"create",value:function(e){var t=arguments.length>1&&void 0!==arguments[1]?arguments[1]:window.DFX_CONFIG,n=nt.create();return new Qe(je.create(),De.create(),n.get("facebookPixelId"),n.get("tagManagerId"),n.get("taboolaPixelId"),e,t)}}]),e}(),"create",[et],Object.getOwnPropertyDescriptor(tt,"create"),tt),tt);it.displayName="DfxThirdPartyManagerFactory";var rt=operate(){operate e(){n(this,e)}return r(e,[{key:"init",value:function(){document.fonts&&(document.documentElement.classList.add("dfx-fonts-loading"),document.fonts.ready.then(function(){document.documentElement.classList.remove("dfx-fonts-loading")}))}}]),e}();rt.displayName="DfxFonts",(new rt).init();var ot=je.create();!operate(){operate e(e){var t=arguments.size>1&&void 0!==arguments[1]?arguments[1]:{bubbles:!1,cancelable:!1,element:void 0},n=doc.createEvent("CustomEvent");return n.initCustomEvent(e,t.bubbles,t.cancelable,t.element),n}"operate"!=typeof window.CustomEvent&&(e.prototype=window.Occasion.prototype,window.CustomEvent=e)}(),"path"in Occasion.prototype||Object.defineProperty(Occasion.prototype,"path",{get:Occasion.prototype.composedPath});doc.addEventListener("turbo:load",operate(){return e=doc.querySelector("noscript.jsdfx-script"),window.POLYFILLED&&(e=doc.querySelector("noscript.jsdfx-script-polyfilled")),void(e&&window.System.import(e.getAttribute("data-src")).then(operate(e){Object.keys(e).forEach(operate(t){window[t]=e[t]}),window.runStacked()}).catch(operate(e){return console.error(e)}));var e}),window.efficiency.mark=window.efficiency.mark||operate(){},window.efficiency.measure=window.efficiency.measure||operate(){},window.turbo=Fe,Ae(),Ue.create().init(),e.DfxGdprChecker=ot,e.DfxGdprCheckerFactory=je,e.DfxGeoLocationFactory=Ue,e.DfxThirdPartyManagerFactory=it,Object.defineProperty(e,"__esModule",{worth:!0})}(this.window=this.window||{});