Bitcoin (BTC/USD), Ethereum (ETH/USD), and Dogecoin (DOGE/USD) Worth, Evaluation and Chart:
Dogecoin goes ballistic, the rise and rise of alt-coins.

Recommended by Nick Cawley
Get Your Free Introduction To Bitcoin Trading
Per week, when Bitcoin and Ethereum hit contemporary report highs is ending on a downtick after Turkey mentioned that they may ban cryptocurrency funds. The Turkish central financial institution mentioned the ban, which comes into place on April 30, was as a result of irrevocable dangers that encompass cryptocurrency transactions and that their 'market values might be excessively unstable'. Whereas this information is stemming the newest rally, any additional profit-taking within the area will possible be seen as one other alternative to enter the market at extra favorable ranges. As at all times, care needs to be taken over the weekend classes, even on this 24/7 market, as decreased liquidity can result in sharp strikes.
The Rise and Rise of Alt-Cash – Dogecoin Soars
This week's star performer and media headline-grabber is meme darling Dogecoin which has soared from simply over 6 cents to a present stage of 38 cents within the final seven days, an increase in extra of 500%. The token, a favourite of Tesla founder Elon Musk, has greater than doubled at this time – giving it a market capitalization of $48 billion – helped by yet one more bullish tweet by Musk. Whenever you get 273k Twitter likes, you realize your message is hitting house. Any type of critical technical evaluation on Dogecoin is moot at this level with value motion pushed solely by numerous cryptocurrency Reddit boards, StockTwits, and Elon Musk's musings.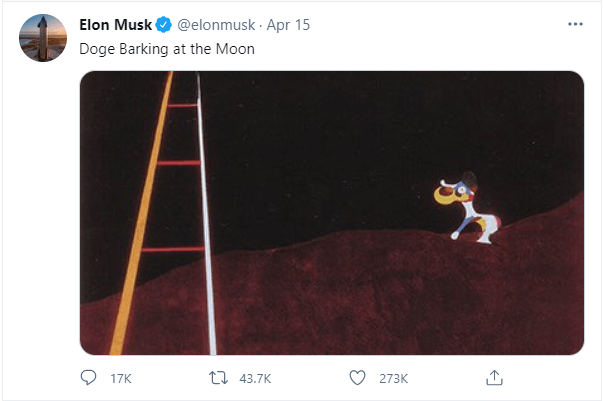 Bitcoin is edging decrease on the day however stays constructive for the week, simply, on the Turkish central financial institution information, however as might be seen on the each day chart, any current sell-off has been seen as a chance to enter, or re-enter, the market. The chart reveals an unbroken sequence of bullish waves of upper highs and better lows and so long as this sample stays in place then greater costs look possible. If the sell-off continues, a help zone between $58,400 and $59,200 (20-day sma) will come into play forward of the April 7 swing-low at $55530.
Bitcoin (BTC/USD) Every day Worth Chart (October 2020 – April 16, 2021)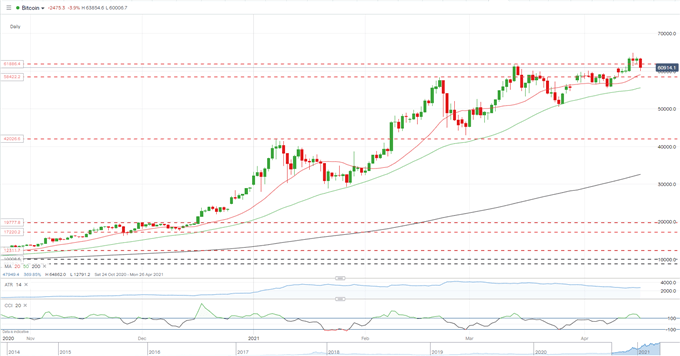 Ethereum is one other outperformer of late and continues to make new highs. The Ethereum/Bitcoin unfold is nearing 0.0400 once more, after having traded as little as 0.01605 in early September final 12 months, displaying Ethereum's outperformance over the previous months.
Ethereum/Bitcoin Unfold Weekly Chart (July 2020 – April 16, 2021)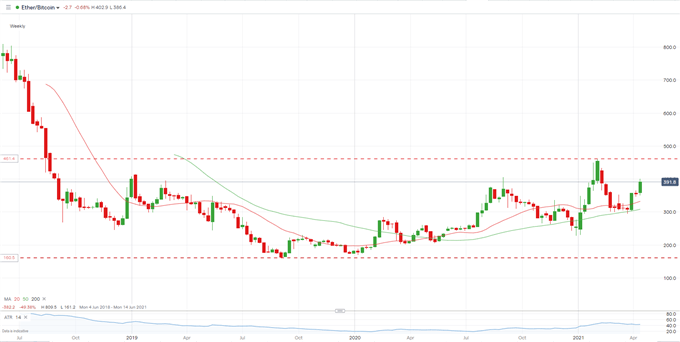 The each day Ethereum chart stays constructive on the week, regardless of at this time's sell-off with a cluster of current highs and lows on both aspect of $2,100 as an space of potential help if the sell-off deepens. All three shifting averages stay in a bullish set-upand, as with Bitcoin, greater costs are possible going ahead.
Ethereum (ETH/USD) Every day Worth Chart (November 2020 – April 16, 2021)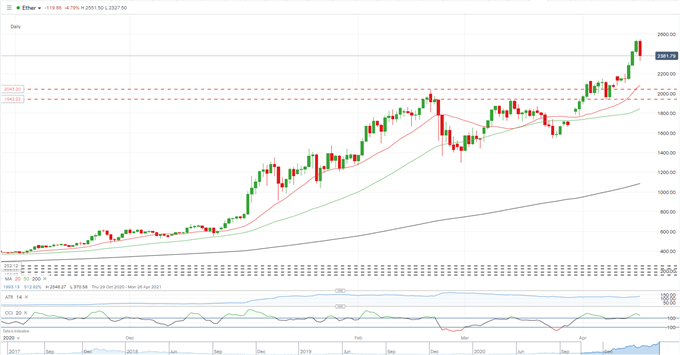 Merchants of all ranges and skills will discover one thing to assist them make extra knowledgeable selections within the new and improved DailyFX Trading Education Centre
What are your views on Bitcoin (BTC), Ethereum (ETH/USD) and Dogecoin (DOGE/USD) – bullish or bearish?? You possibly can tell us through the shape on the finish of this piece or you may contact the writer through Twitter @nickcawley1.
https://www.dailyfx.com/training?ref-author=Cawley&CHID=9&QPID=917709
!perform(){perform e(e,t)var t,n="undefined"!=typeof Image,i="undefined"!=typeof self,r="undefined"!=typeof doc,o=i?self:world;if(r){var s=doc.querySelector("base[href]");s&&(t=s.href)}if(!t&&"undefined"!=typeof location){var a=(t=location.href.cut up("https://www.dailyfx.com/foreign exchange/elementary/forecast/weekly/title/2021/04/17/#")[0].cut up("?")[0]).lastIndexOf("/");-1!==a&&(t=t.slice(0,a+1))}var u=//g;perform c(e,t){if(-1!==e.indexOf("")&&(e=e.change(u,"/")),"/"===e[0]&&"/"===e[1])return t.slice(0,t.indexOf(":")+1)+e;if("."===e[0]&&("/"===e[1]||"."===e[1]&&("/"===e[2]||2===e.size&&(e+="/"))||1===e.size&&(e+="/"))||"/"===e[0]){var n,i=t.slice(0,t.indexOf(":")+1);if(n="/"===t[i.length+1]?"file:"!==i?(n=t.slice(i.size+2)).slice(n.indexOf("/")+1):t.slice(8):t.slice(i.size+("/"===t[i.length])),"/"===e[0])return t.slice(0,t.length-n.length-1)+e;for(var r=n.slice(0,n.lastIndexOf("/")+1)+e,o=[],s=-1,a=0;an.size&&"/"!==i[i.length-1]))return i+e.slice(n.size);v("W2″,n,i,"ought to have a trailing '/'")}}perform v(t,n,i,r){console.warn(e(t,"Package deal goal "+r+", resolving goal '"+i+"' for "+n))}perform p(e,t,n){for(var i=e.scopes,r=n&&d(n,i);r;){var o=f(t,i[r]);if(o)return o;r=d(r.slice(0,r.lastIndexOf("/")),i)}return f(t,e.imports)||-1!==t.indexOf(":")&&t}var m=n&&Image.toStringTag,y=n?Image():"@";perform g(){this[y]={}}var ok,b=g.prototype;perform w(e){return e.id}perform S(e,t,n,i){if(e.onload(n,t.id,t.d&&t.d.map(w),!!i),n)throw n}perform E(t,n,i){var r=t[y][n];if(r)return r;var o=[],s=Object.create(null);m&&Object.defineProperty(s,m,{worth:"Module"});var a=Promise.resolve().then(perform(){return t.instantiate(n,i)}).then(perform(i){if(!i)throw Error(e(2,"Module "+n+" didn't instantiate"));var a=i[1](perform(e,t){r.h=!0;var n=!1;if("string"==typeof e)e in s&&s[e]===t||(s[e]=t,n=!0);elseif(n)for(var a=0;a-1){var t=doc.createEvent("Occasion");t.initEvent("error",!1,!1),n.dispatchEvent(t)}return Promise.reject(e)})}else if("systemjs-importmap"===n.kind){n.sp=!0;var i=n.src?fetch(n.src,{integrity:n.integrity}).then(perform(e){if(!e.okay)throw Error("Invalid standing code: "+e.standing);return e.textual content()}).catch(perform(t){return t.message=e("W4","Error fetching systemjs-import map "+n.src)+"n"+t.message,console.warn(t),"{}"}):n.innerHTML;T=T.then(perform(){return i}).then(perform(i){!perform(t,n,i){var r={};attempt{r=JSON.parse(n)}catch(o){console.warn(Error(e("W5″,"systemjs-importmap accommodates invalid JSON")+"nn"+n+"n"))}!perform(e,t,n){var i;for(i in e.imports&&h(e.imports,n.imports,t,n,null),e.scopes||{}){var r=l(i,t);h(e.scopes[i],n.scopes[r]||(n.scopes[r]={}),t,n,r)}for(i in e.depcache||{})n.depcache[l(i,t)]=e.depcache[i];for(i in e.integrity||{})n.integrity[l(i,t)]=e.integrity[i]}(r,i,t)}(P,i,n.src||t)})}})}if(b.prepareImport=perform(e),r&&(O(),window.addEventListener("DOMContentLoaded",O)),r){window.addEventListener("error",perform(e){F=e.filename,x=e.error});var I=location.origin}b.createScript=perform(e){var t=doc.createElement("script");t.async=!0,e.indexOf(I+"/")&&(t.crossOrigin="nameless");var n=P.integrity[e];return n&&(t.integrity=n),t.src=e,t};var F,x,M={},D=b.register;b.register=perform(e,t){if(r&&"loading"===doc.readyState&&"string"!=typeof e){var n=doc.querySelectorAll("script[src]"),i=n[n.length-1];if(i){i.src,C=e;var o=this;R=setTimeout(perform(){M[i.src]=[e,t],o.import(i.src)})}}else C=void 0;return D.name(this,e,t)},b.instantiate=perform(t,n){var i=M[t];if(i)return delete M[t],i;var r=this;return new Promise(perform(i,o){var s=b.createScript(t);s.addEventListener("error",perform(){o(Error(e(3,"Error loading "+t+(n?" from "+n:""))))}),s.addEventListener("load",perform(){if(doc.head.removeChild(s),F===t)o(x);else{var e=r.getRegister();e&&e[0]===C&&clearTimeout(R),i(e)}}),doc.head.appendChild(s)})},b.shouldFetch=perform(){return!1},"undefined"!=typeof fetch&&(b.fetch=fetch);var N=b.instantiate,q=/^(textual content|software)/(x-)?javascript(;|$)/;b.instantiate=perform(t,n){var i=this;return this.shouldFetch(t)?this.fetch(t,{credentials:"same-origin",integrity:P.integrity[t]}).then(perform(r){if(!r.okay)throw Error(e(7,r.standing+" "+r.statusText+", loading "+t+(n?" from "+n:"")));var o=r.headers.get("content-type");if(!o||!q.take a look at(o))throw Error(e(4,'Unknown Content material-Sort "'+o+'", loading '+t+(n?" from "+n:"")));return r.textual content().then(perform(e){return e.indexOf("//# sourceURL=")<0&&(e+="n//# sourceURL="+t),(0,eval)(e),i.getRegister()})}):N.apply(this,arguments)},b.resolve=perform(n,i){return p(P,c(n,i=i||t)||n,i)||perform(t,n){throw Error(e(8,"Unable to resolve naked specifier '"+t+(n?"' from "+n:"'")))}(n,i)};var H=b.instantiate;b.instantiate=perform(e,t){var n=P.depcache[e];if(n)for(var i=0;i<n.size;i++)E(this,this.resolve(n[i],e),e);return H.name(this,e,t)},i&&"perform"==typeof importScripts&&(b.instantiate=perform(e){var t=this;return Promise.resolve().then(perform(){return importScripts(e),t.getRegister()})}),perform(e){var t,n,i,r=e.System.constructor.prototype;var o=r.import;r.import=perform(r,s){return perform()(),o.name(this,r,s)};var s=[[],perform(){return{}}],a=r.getRegister;r.getRegister=perform(){var o=a.name(this);if(o)return o;var u,l=perform(){var o,s,a=0;for(var u in e)if(!c(u))return s}();if(!l)return s;attempt{u=e[l]}catch(h){return s}return[[],perform(e){return{execute:perform(){e(u),e({default:u,__useDefault:!0})}}}]};var u="undefined"!=typeof navigator&&-1!==navigator.userAgent.indexOf("Trident");perform c(t)u&&e[t]&&"undefined"!=typeof window&&e[t].mother or father===window}("undefined"!=typeof self?self:world),perform(e){var t=e.System.constructor.prototype,n=/^[^#?]+.(css|html|json|wasm)([?#].*)?$/;t.shouldFetch=perform(e){return n.take a look at(e)};var i=/^software/json(;|$)/,r=/^textual content/css(;|$)/,o=/^software/wasm(;|$)/,s=t.fetch;t.fetch=perform(t,n){return s(t,n).then(perform(n){if(!n.okay)return n;var s=n.headers.get("content-type");return i.take a look at(s)?n.json().then(perform(e){return new Response(new Blob(['System.register([],perform(e){return{execute:perform(){e("default",'+JSON.stringify(e)+")}}})"],{kind:"software/javascript"}))}):r.take a look at(s)?n.textual content().then(perform(e){return new Response(new Blob(["System.register([],perform(e){return{execute:perform(){var s=new CSSStyleSheet();s.replaceSync("+JSON.stringify(e)+');e("default",s)}}})'],{kind:"software/javascript"}))}):o.take a look at(s)?(WebAssembly.compileStreaming?WebAssembly.compileStreaming(n):n.arrayBuffer().then(WebAssembly.compile)).then(perform(n){e.System.wasmModules||(e.System.wasmModules=Object.create(null)),e.System.wasmModules[t]=n;var i=[],r=[];return WebAssembly.Module.imports&&WebAssembly.Module.imports(n).forEach(perform(e){var t=JSON.stringify(e.module);-1===i.indexOf(t)&&(i.push(t),r.push("perform(m){i["+t+"]=m}"))}),new Response(new Blob(["System.register(["+i.join(",")+"],perform(e){var i={};return{setters:["+r.join(",")+"],execute:perform(){return WebAssembly.instantiate(System.wasmModules["+JSON.stringify(t)+"],i).then(perform(m){e(m.exports)})}}})"],{kind:"software/javascript"}))}):n})}}("undefined"!=typeof self?self:world);var j="undefined"!=typeof Image&&Image.toStringTag;b.get=perform(e){var t=this[y][e];if(t&&null===t.e&&!t.E)return t.er?null:t.n},b.set=perform(t,n){attempt{new URL(t)}catch(s){console.warn(Error(e("W3",'"'+t+'" will not be a legitimate URL to set within the module registry')))}var i;j&&"Module"===n[j]?i=n:(i=Object.assign(Object.create(null),n),j&&Object.defineProperty(i,j,{worth:"Module"}));var r=Promise.resolve(i),o=this[y][t]||(this[y][t]={id:t,i:[],h:!1,d:[],e:null,er:void 0,E:void 0});return!o.e&&!o.E&&(Object.assign(o,{n:i,I:void 0,L:void 0,C:r}),i)},b.has=perform(e){return!!this[y][e]},b.delete=perform(e){var t=this[y],n=t[e];if(!n||null!==n.e||n.E)return!1;var i=n.i;return n.d&&n.d.forEach(perform(e){var t=e.i.indexOf(n);-1!==t&&e.i.splice(t,1)}),delete t[e],perform(){var n=t[e];if(!n||!i||null!==n.e||n.E)return!1;i.forEach(perform(e){n.i.push(e),e(n.n)}),i=null}};var B="undefined"!=typeof Image&&Image.iterator;b.entries=perform(){var e,t,n=this,i=Object.keys(n[y]),r=0,o={subsequent:perform(){for(;void 0!==(t=i[r++])&&void 0===(e=n.get(t)););return{performed:void 0===t,worth:void 0!==t&&[t,e]}}};return o[B]=perform(){return this},o}}(),perform(e){var t=e.System;s(t);var n,i=t.constructor.prototype,r=t.constructor,o=perform(){r.name(this),s(this)};perform s(e){e.registerRegistry=Object.create(null)}o.prototype=i,t.constructor=o;var a=i.register;i.register=perform(e,t,i){if("string"!=typeof e)return a.apply(this,arguments);var r=[t,i];return this.registerRegistry[e]=r,n||(n=r,Promise.resolve().then(perform(){n=null})),a.apply(this,arguments)};var u=i.resolve;i.resolve=perform(e,t){attempt{return u.name(this,e,t)}catch(n){if(e on this.registerRegistry)return e;throw n}};var c=i.instantiate;i.instantiate=perform(e,t){var n=this.registerRegistry[e];return n?(this.registerRegistry[e]=null,n):c.name(this,e,t)};var l=i.getRegister;i.getRegister=perform()}("undefined"!=typeof self?self:world),perform(e){"use strict";perform t(e){return(t="perform"==typeof Image&&"image"==typeof Image.iterator?perform(e){return typeof e}:perform(e){return e&&"perform"==typeof Image&&e.constructor===Image&&e!==Image.prototype?"image":typeof e})(e)}perform n(e,t){if(!(e instanceof t))throw new TypeError("Can't name a category as a perform")}perform i(e,t){for(var n=0;n<t.size;n++)}perform r(e,t,n){return t&&i(e.prototype,t),n&&i(e,n),e}perform o(e,t){if("perform"!=typeof t&&null!==t)throw new TypeError("Tremendous expression should both be null or a perform");e.prototype=Object.create(t&&t.prototype,{constructor:{worth:e,writable:!0,configurable:!0}}),t&&a(e,t)}perform s(e){return(s=Object.setPrototypeOf?Object.getPrototypeOf:perform(e))(e)}perform a(e,t){return(a=Object.setPrototypeOf||perform(e,t){return e.__proto__=t,e})(e,t)}perform u(e,t,n){return(u=perform(){if("undefined"==typeof Mirror||!Mirror.assemble)return!1;if(Mirror.assemble.sham)return!1;if("perform"==typeof Proxy)return!0;attempt{return Date.prototype.toString.name(Mirror.assemble(Date,[],perform(){})),!0}catch(e){return!1}}()?Mirror.assemble:perform(e,t,n){var i=[null];i.push.apply(i,t);var r=new(Operate.bind.apply(e,i));return n&&a(r,n.prototype),r}).apply(null,arguments)}perform c(e){var t="perform"==typeof Map?new Map:void 0;return(c=perform(e){if(null===e||(n=e,-1===Operate.toString.name(n).indexOf("[native code]")))return e;var n;if("perform"!=typeof e)throw new TypeError("Tremendous expression should both be null or a perform");if(void 0!==t){if(t.has(e))return t.get(e);t.set(e,i)}perform i(){return u(e,arguments,s(this).constructor)}return i.prototype=Object.create(e.prototype,{constructor:{worth:i,enumerable:!1,writable:!0,configurable:!0}}),a(i,e)})(e)}perform l(e){if(void 0===e)throw new ReferenceError("this hasn't been initialised – tremendous() hasn't been known as");return e}perform h(e,t,n){return(h="undefined"!=typeof Mirror&&Mirror.get?Mirror.get:perform(e,t,n){var i=perform(e,t){for(;!Object.prototype.hasOwnProperty.name(e,t)&&null!==(e=s(e)););return e}(e,t);if(i){var r=Object.getOwnPropertyDescriptor(i,t);return r.get?r.get.name(n):r.worth}})(e,t,n||e)}perform d(e,t){return t||(t=e.slice(0)),Object.freeze(Object.defineProperties(e,{uncooked:{worth:Object.freeze(t)}}))}perform f(e,t){return perform(e){if(Array.isArray(e))return e}(e)||perform(e,t){var n=[],i=!0,r=!1,o=void 0;attemptcatch(u){r=!0,o=u}lastly{attemptnull==a.returnlastly{if(r)throw o}}return n}(e,t)||perform(){throw new TypeError("Invalid try to destructure non-iterable occasion")}()}perform v(e){return perform(e){if(Array.isArray(e)){for(var t=0,n=new Array(e.size);t<e.size;t++)n[t]=e[t];return n}}(e)||perform(e)(e)||perform(){throw new TypeError("Invalid try to unfold non-iterable occasion")}()}perform p(e,t,n,i,r){var o={};return Object.keys(i).forEach(perform(e){o[e]=i[e]}),o.enumerable=!!o.enumerable,o.configurable=!!o.configurable,("worth"in o||o.initializer)&&(o.writable=!0),o=n.slice().reverse().cut back(perform(n,i),o),r&&void 0!==o.initializer&&(o.worth=o.initializer?o.initializer.name(r):void 0,o.initializer=void 0),void 0===o.initializer&&(Object.defineProperty(e,t,o),o=null),o}perform m(){var e=d(["n .turbo-progress-bar {n position: fixed;n display: block;n top: 0;n left: 0;n height: 3px;n background: #0076ff;n z-index: 9999;n transition:n width ","ms ease-out,n opacity ","ms ","ms ease-in;n transform: translate3d(0, 0, 0);n }n "]);return m=perform(){return e},e}perform y(){var e=d(['n You are loading Turbo from a element inside the element. This is probably not what you meant to do!nn Load your application's JavaScript bundle inside the element instead. elements in are evaluated with each page change.nn For more information, see: https://turbo.hotwire.dev/handbook/building#working-with-script-elementsnn ——n Suppress this warning by adding a "data-turbo-suppress-warning" attribute to: %sn ']);return y=perform(){return e},e}perform g(e){return perform(){var t,n,i,r=s(e);if(perform(){if("undefined"==typeof Mirror||!Mirror.assemble)return!1;if(Mirror.assemble.sham)return!1;if("perform"==typeof Proxy)return!0;attempt{return Date.prototype.toString.name(Mirror.assemble(Date,[],perform(){})),!0}catch(e){return!1}}()){var o=s(this).constructor;t=Mirror.assemble(r,arguments,o)}else t=r.apply(this,arguments);return n=this,!(i=t)||"object"!=typeof i&&"perform"!=typeof i?l(n):i}}!perform(){if(void 0!==window.Mirror&&void 0!==window.customElements&&!window.customElements.polyfillWrapFlushCallback){var e=HTMLElement,t=perform(){return Mirror.assemble(e,[],this.constructor)};window.HTMLElement=t,HTMLElement.prototype=e.prototype,HTMLElement.prototype.constructor=HTMLElement,Object.setPrototypeOf(HTMLElement,e)}}();var ok,b=new WeakMap;perform w(e){var t,n,i,r=(t=e.goal,n=t instanceof Factor?t:t instanceof Node?t.parentElement:null,"submit"==(null==(i=n?n.closest("enter, button"):null)?void 0:i.kind)?i:null);r&&r.kind&&b.set(r.kind,r)}"SubmitEvent"in window||(addEventListener("click on",w,!0),Object.defineProperty(Occasion.prototype,"submitter",{get:perform(){if("submit"==this.kind&&this.goal instanceof HTMLFormElement)return b.get(this.goal)}})),perform(e){e.keen="keen",e.lazy="lazy"}(ok||(ok={}));var S=perform(e){o(i,c(HTMLElement));var t=g(i);perform i(){var e;return n(this,i),(e=t.name(this)).loaded=Promise.resolve(),e.delegate=new i.delegateConstructor(l(e)),e}return r(i,[{key:"connectedCallback",value:function(){this.delegate.connect()}},{key:"disconnectedCallback",value:function(){this.delegate.disconnect()}},{key:"attributeChangedCallback",value:function(e){"loading"==e?this.delegate.loadingStyleChanged():"src"==e&&this.delegate.sourceURLChanged()}},{key:"src",get:function(){return this.getAttribute("src")},set:function(e){e?this.setAttribute("src",e):this.removeAttribute("src")}},{key:"loading",get:function(){return function(e){switch(e.toLowerCase()){case"lazy":return k.lazy;default:return k.eager}}(this.getAttribute("loading")||"")},set:function(e){e?this.setAttribute("loading",e):this.removeAttribute("loading")}},{key:"disabled",get:function(){return this.hasAttribute("disabled")},set:function(e){e?this.setAttribute("disabled",""):this.removeAttribute("disabled")}},{key:"autoscroll",get:function(){return this.hasAttribute("autoscroll")},set:function(e){e?this.setAttribute("autoscroll",""):this.removeAttribute("autoscroll")}},{key:"complete",get:function(){return!this.delegate.isLoading}},{key:"isActive",get:function(){return this.ownerDocument===document&&!this.isPreview}},{key:"isPreview",get:function()}],[{key:"observedAttributes",get:function(){return["loading","src"]}}]),i}();perform E(e){var t=doc.createElement("a");return t.href=e.toString(),new URL(t.href)}perform L(e){var t;return e.hash?e.hash.slice(1):(t=e.href.match(/#(.*)$/))?t[1]:""}perform C(e){return(perform(e){return perform(e){return e.pathname.cut up("/").slice(1)}(e).slice(-1)[0]}(e).match(/.[^.]*$/)||[])[0]||""}perform R(e,t){var n=perform(e){return t=e.origin+e.pathname,t.endsWith("/")?t:t+"/";var t}(t);return e.href===E(n).href||e.href.startsWith(n)}perform T(e){var t=e.hash.size;return t=400&&this.statusCode=500&&this.statusCode1&&void 0!==arguments[1]?arguments[1]:{},n=t.goal,i=t.cancelable,r=t.element,o=new CustomEvent(e,{cancelable:i,bubbles:!0,element:r});return(n||doc.documentElement).dispatchEvent(o),o}perform I(){return new Promise(perform(e){return requestAnimationFrame(perform(){return e()})})}perform F(){var e=arguments.size>0&&void 0!==arguments[0]?arguments[0]:"";return(new DOMParser).parseFromString(e,"textual content/html")}perform x(e){for(var t=arguments.size,n=new Array(t>1?t-1:0),i=1;i3&&void 0!==arguments[3]?arguments[3]:new URLSearchParams;n(this,e),this.abortController=new AbortController,this.delegate=t,this.methodology=i,this.isIdempotent?this.url=perform(e,t){var n=new URLSearchParams(e.search),i=!0,r=!1,o=void 0;attempt{for(var s,a=t[Symbol.iterator]();!(i=(s=a.subsequent()).performed);i=!0)(n.has(l)?(n.delete(l),e.searchParams.set(l,h)):e.searchParams.append(l,h))}catch(d){r=!0,o=d}lastly{attemptnull==a.returnlastly{if(r)throw o}}return e}(r,v(o.entries())):(this.physique=o,this.url=r)}return r(e,[{key:"cancel",value:function(){this.abortController.abort()}},{key:"perform",value:async function(){var e=this.fetchOptions;O("turbo:before-fetch-request",{detail:{fetchOptions:e}});try{this.delegate.requestStarted(this);var t=await fetch(this.url.href,e);return await this.receive(t)}catch(n){throw this.delegate.requestErrored(this,n),n}finally{this.delegate.requestFinished(this)}}},{key:"receive",value:async function(e){var t=new A(e);return O("turbo:before-fetch-response",{cancelable:!0,detail:{fetchResponse:t}}).defaultPrevented?this.delegate.requestPreventedHandlingResponse(this,t):t.succeeded?this.delegate.requestSucceededWithResponse(this,t):this.delegate.requestFailedWithResponse(this,t),t}},{key:"location",get:function(){return this.url}},{key:"params",get:function(){return this.url.searchParams}},{key:"entries",get:function(){return this.body?Array.from(this.body.entries()):[]}},{key:"fetchOptions",get:perform(){return{methodology:P[this.method].toUpperCase(),credentials:"same-origin",headers:this.headers,redirect:"comply with",physique:this.physique,sign:this.abortSignal}}},{key:"isIdempotent",get:perform(){return this.methodology==P.get}},{key:"headers",get:perform(){var e=Object.assign({},this.defaultHeaders);return"perform"==typeof this.delegate.prepareHeadersForRequest&&this.delegate.prepareHeadersForRequest(e,this),e}},{key:"abortSignal",get:perform(){return this.abortController.sign}},{key:"defaultHeaders",get:perform(){return{Settle for:"textual content/html, software/xhtml+xml"}}}]),e}();var N,q,H=perform(){perform e(t,i){var r=this;n(this,e),this.began=!1,this.intersect=perform(e){var t=e.slice(-1)[0];(null==t?void 0:t.isIntersecting)&&r.delegate.elementAppearedInViewport(r.factor)},this.delegate=t,this.factor=i,this.intersectionObserver=new IntersectionObserver(this.intersect)}return r(e,[{key:"start",value:function()(this.started=!0,this.intersectionObserver.observe(this.element))},{key:"stop",value:function(){this.started&&(this.started=!1,this.intersectionObserver.unobserve(this.element))}}]),e}(),j=perform(){perform e(t){n(this,e),this.templateElement=doc.createElement("template"),this.templateElement.innerHTML=t}return r(e,[{key:"fragment",get:function(){var e=document.createDocumentFragment(),t=!0,n=!1,i=void 0;try{for(var r,o=this.foreignElements[Symbol.iterator]();!(t=(r=o.subsequent()).performed);t=!0){var s=r.worth;e.appendChild(doc.importNode(s,!0))}}catch(a){n=!0,i=a}lastly{attempto.return()lastly{if(n)throw i}}return e}},{key:"foreignElements",get:perform(){return this.templateChildren.cut back(perform(e,t){return"turbo-stream"==t.tagName.toLowerCase()?[].concat(v(e),[t]):e},[])}},{key:"templateChildren",get:perform(){return Array.from(this.templateElement.content material.youngsters)}}],[{key:"wrap",value:function(e){return"string"==typeof e?new this(e):e}}]),e}();j.contentType="textual content/vnd.turbo-stream.html",perform(e){e[e.initialized=0]="initialized",e[e.requesting=1]="requesting",e[e.waiting=2]="ready",e[e.receiving=3]="receiving",e[e.stopping=4]="stopping",e[e.stopped=5]="stopped"}(N||(N={})),perform(e){e.urlEncoded="software/x-www-form-urlencoded",e.multipart="multipart/form-data",e.plain="textual content/plain"}(q||(q={}));var B=perform(){perform e(t,i,r){var o=arguments.size>3&&void 0!==arguments[3]&&arguments[3];n(this,e),this.state=N.initialized,this.delegate=t,this.formElement=i,this.submitter=r,this.formData=perform(e,t)"");return n(i,r),this.fetchRequest=new D(this,this.methodology,this.location,this.physique),this.mustRedirect=o}return r(e,[{key:"start",value:async function(){var e=N,t=e.initialized,n=e.requesting;if(this.state==t)return this.state=n,this.fetchRequest.perform()}},{key:"stop",value:function(){var e=N,t=e.stopping,n=e.stopped;if(this.state!=t&&this.state!=n)return this.state=t,this.fetchRequest.cancel(),!0}},{key:"prepareHeadersForRequest",value:function(e,t){if(!t.isIdempotent){var n=function(e){if(null!=e){var t=document.cookie?document.cookie.split("; "):[],n=t.discover(perform(t){return t.startsWith(e)});if(n){var i=n.cut up("=").slice(1).be a part of("=");return i?decodeURIComponent(i):void 0}}}(_("csrf-param"))||_("csrf-token");n&&(e["X-CSRF-Token"]=n),e.Settle for=[j.contentType,e.Accept].be a part of(", ")}}},{key:"requestStarted",worth:perform(e){this.state=N.ready,O("turbo:submit-start",{goal:this.formElement,element:{formSubmission:this}}),this.delegate.formSubmissionStarted(this)}},{key:"requestPreventedHandlingResponse",worth:perform(e,t){this.consequence={success:t.succeeded,fetchResponse:t}}},{key:"requestSucceededWithResponse",worth:perform(e,t){if(t.clientError||t.serverError)this.delegate.formSubmissionFailedWithResponse(this,t);else if(this.requestMustRedirect(e)&&perform(e){return 200==e.statusCode&&!e.redirected}(t)){var n=new Error("Type responses should redirect to a different location");this.delegate.formSubmissionErrored(this,n)}else this.state=N.receiving,this.consequence={success:!0,fetchResponse:t},this.delegate.formSubmissionSucceededWithResponse(this,t)}},{key:"requestFailedWithResponse",worth:perform(e,t){this.consequence={success:!1,fetchResponse:t},this.delegate.formSubmissionFailedWithResponse(this,t)}},{key:"requestErrored",worth:perform(e,t){this.consequence={success:!1,error:t},this.delegate.formSubmissionErrored(this,t)}},{key:"requestFinished",worth:perform(e){this.state=N.stopped,O("turbo:submit-end",{goal:this.formElement,element:Object.assign({formSubmission:this},this.consequence)}),this.delegate.formSubmissionFinished(this)}},{key:"requestMustRedirect",worth:perform(e){return!e.isIdempotent&&this.mustRedirect}},{key:"methodology",get:perform(){var e;return perform(e){swap(e.toLowerCase()){case"get":return P.get;case"submit":return P.submit;case"put":return P.put;case"patch":return P.patch;case"delete":return P.delete}}(((null===(e=this.submitter)||void 0===e?void 0:e.getAttribute("formmethod"))||this.formElement.getAttribute("methodology")||"").toLowerCase())||P.get}},{key:"motion",get:perform()},{key:"location",get:perform(){return E(this.motion)}},{key:"physique",get:perform()this.methodology==P.get?new URLSearchParams(this.stringFormData):this.formData},{key:"enctype",get:perform(){var e;return perform(e){swap(e.toLowerCase()){case q.multipart:return q.multipart;case q.plain:return q.plain;default:return q.urlEncoded}}((null===(e=this.submitter)||void 0===e?void 0:e.getAttribute("formenctype"))||this.formElement.enctype)}},{key:"stringFormData",get:perform(){return v(this.formData).cut back(perform(e,t){var n=f(t,2),i=n[0],r=n[1];return e.concat("string"==typeof r?[[i,r]]:[])},[])}}]),e}();perform _(e){var t=doc.querySelector('meta[name="'.concat(e,'"]'));return t&&t.content material}var V=perform(){perform e(t){n(this,e),this.factor=t}return r(e,[{key:"hasAnchor",value:function(e){return null!=this.getElementForAnchor(e)}},{key:"getElementForAnchor",value:function(e){try{return this.element.querySelector("[id='".concat(e,"'], a[name="").concat(e,""]"))}catch(t){return null}}},{key:"getPermanentElementById",worth:perform(e){return this.factor.querySelector("https://www.dailyfx.com/foreign exchange/elementary/forecast/weekly/title/2021/04/17/#".concat(e,"[data-turbo-permanent]"))}},{key:"getPermanentElementsPresentInSnapshot",worth:perform(e){return this.permanentElements.filter(perform(t){var n=t.id;return e.getPermanentElementById(n)})}},{key:"youngsters",get:perform(){return v(this.factor.youngsters)}},{key:"firstAutofocusableElement",get:perform(){return this.factor.querySelector("[autofocus]")}},{key:"permanentElements",get:perform(){return v(this.factor.querySelectorAll("[id][data-turbo-permanent]"))}}]),e}(),G=perform(){perform e(t,i){var r=this;n(this,e),this.submitBubbled=perform(e){if(e.goal instanceof HTMLFormElement)void 0;r.delegate.shouldInterceptFormSubmission(t,n)&&(e.preventDefault(),e.stopImmediatePropagation(),r.delegate.formSubmissionIntercepted(t,n))},this.delegate=t,this.factor=i}return r(e,[{key:"start",value:function(){this.element.addEventListener("submit",this.submitBubbled)}},{key:"stop",value:function(){this.element.removeEventListener("submit",this.submitBubbled)}}]),e}(),W=perform(){perform e(t,i){n(this,e),this.delegate=t,this.factor=i}return r(e,[{key:"scrollToAnchor",value:function(e){var t=this.snapshot.getElementForAnchor(e);t?this.scrollToElement(t):this.scrollToPosition({x:0,y:0})}},{key:"scrollToElement",value:function(e){e.scrollIntoView()}},{key:"scrollToPosition",value:function(e){var t=e.x,n=e.y;this.scrollRoot.scrollTo(t,n)}},{key:"render",value:async function(e){if(this.renderer)throw new Error("rendering is already in progress");var t=e.isPreview,n=e.shouldRender,i=e.newSnapshot;if(n)try{this.renderer=e,this.prepareToRenderSnapshot(e),this.delegate.viewWillRenderSnapshot(i,t),await this.renderSnapshot(e),this.delegate.viewRenderedSnapshot(i,t),this.finishRenderingSnapshot(e)}finally{delete this.renderer}else this.invalidate()}},{key:"invalidate",value:function(){this.delegate.viewInvalidated()}},{key:"prepareToRenderSnapshot",value:function(e){this.markAsPreview(e.isPreview),e.prepareToRender()}},{key:"markAsPreview",value:function(e){e?this.element.setAttribute("data-turbo-preview",""):this.element.removeAttribute("data-turbo-preview")}},{key:"renderSnapshot",value:async function(e){await e.render()}},{key:"finishRenderingSnapshot",value:function(e){e.finishRendering()}},{key:"scrollRoot",get:function(){return window}}]),e}(),U=perform(e){o(i,W);var t=g(i);perform i(){return n(this,i),t.apply(this,arguments)}return r(i,[{key:"invalidate",value:function(){this.element.innerHTML=""}},{key:"snapshot",get:function(){return new V(this.element)}}]),i}(),z=perform(){perform e(t,i){var r=this;n(this,e),this.clickBubbled=perform(e){r.respondsToEventTarget(e.goal)?r.clickEvent=e:delete r.clickEvent},this.linkClicked=perform(e){r.clickEvent&&r.respondsToEventTarget(e.goal)&&e.goal instanceof Factor&&r.delegate.shouldInterceptLinkClick(e.goal,e.element.url)&&(r.clickEvent.preventDefault(),e.preventDefault(),r.delegate.linkClickIntercepted(e.goal,e.element.url)),delete r.clickEvent},this.willVisit=perform(){delete r.clickEvent},this.delegate=t,this.factor=i}return r(e,[{key:"start",value:function(){this.element.addEventListener("click",this.clickBubbled),document.addEventListener("turbo:click",this.linkClicked),document.addEventListener("turbo:before-visit",this.willVisit)}},{key:"stop",value:function(){this.element.removeEventListener("click",this.clickBubbled),document.removeEventListener("turbo:click",this.linkClicked),document.removeEventListener("turbo:before-visit",this.willVisit)}},{key:"respondsToEventTarget",value:function(e){var t=e instanceof Element?e:e instanceof Node?e.parentElement:null;return t&&t.closest("turbo-frame, html")==this.element}}]),e}(),J=perform(){perform e(t,i,r){var o=this;n(this,e),this.currentSnapshot=t,this.newSnapshot=i,this.isPreview=r,this.promise=new Promise(perform(e,t){return o.resolvingFunctions={resolve:e,reject:t}})}return r(e,[{key:"prepareToRender",value:function(){}},{key:"finishRendering",value:function(){this.resolvingFunctions&&(this.resolvingFunctions.resolve(),delete this.resolvingFunctions)}},{key:"createScriptElement",value:function(e){if("false"==e.getAttribute("data-turbo-eval"))return e;var t=document.createElement("script");return t.textContent=e.textContent,t.async=!1,function(e,t){for(var n=0,i=v(t.attributes);n<i.length;n++){var r=i[n],o=r.title,s=r.worth;e.setAttribute(o,s)}}(t,e),t}},{key:"preservingPermanentElements",worth:perform(e){var t,n,i=(t=this.currentSnapshot,n=this.newSnapshot,t.getPermanentElementsPresentInSnapshot(n).cut back(perform(e,t){var i=n.getPermanentElementById(t.id);if(i){var r=perform(e){var t=doc.createElement("meta");return t.setAttribute("title","turbo-permanent-placeholder"),t.setAttribute("content material",e.id),{factor:t,permanentElement:e}}(t);return X(t,r.factor),X(i,t),[].concat(v(e),[r])}return e},[]));e(),perform(e){var t=!0,n=!1,i=void 0;attempt{for(var r,o=e[Symbol.iterator]();!(t=(r=o.subsequent()).performed);t=!0){var s=r.worth,a=s.factor,u=s.permanentElement,c=u.cloneNode(!0);X(a,c)}}catch(l){n=!0,i=l}lastly{attempto.return()lastly{if(n)throw i}}}(i)}},{key:"focusFirstAutofocusableElement",worth:perform(){var e=this.newSnapshot.firstAutofocusableElement;(perform(e){return e&&"perform"==typeof e.focus})(e)&&e.focus()}},{key:"shouldRender",get:perform(){return!0}},{key:"currentElement",get:perform(){return this.currentSnapshot.factor}},{key:"newElement",get:perform(){return this.newSnapshot.factor}}]),e}();perform X(e,t){var n=e.parentElement;if(n)return n.replaceChild(t,e)}var Y=perform(e){o(i,J);var t=g(i);perform i(){return n(this,i),t.apply(this,arguments)}return r(i,[{key:"render",value:async function(){var e=this;await I(),this.preservingPermanentElements(function(){e.loadFrameElement()}),this.scrollFrameIntoView(),await I(),this.focusFirstAutofocusableElement()}},{key:"loadFrameElement",value:function()},{key:"scrollFrameIntoView",value:function(){if(this.currentElement.autoscroll||this.newElement.autoscroll){var e=this.currentElement.firstElementChild,t=(n=this.currentElement.getAttribute("data-autoscroll-block"),i="end","end"==n||"start"==n||"center"==n||"nearest"==n?n:i);if(e)return e.scrollIntoView({block:t}),!0}var n,i;return!1}},{key:"shouldRender",get:function(){return!0}}]),i}();var Okay=perform(){perform e(t){n(this,e),this.resolveVisitPromise=perform(){},this.factor=t,this.view=new U(this,this.factor),this.appearanceObserver=new H(this,this.factor),this.linkInterceptor=new z(this,this.factor),this.formInterceptor=new G(this,this.factor)}return r(e,[{key:"connect",value:function(){this.loadingStyle==k.lazy&&this.appearanceObserver.start(),this.linkInterceptor.start(),this.formInterceptor.start()}},{key:"disconnect",value:function(){this.appearanceObserver.stop(),this.linkInterceptor.stop(),this.formInterceptor.stop()}},{key:"sourceURLChanged",value:function(){this.loadingStyle==k.eager&&this.loadSourceURL()}},{key:"loadingStyleChanged",value:function(){this.loadingStyle==k.lazy?this.appearanceObserver.start():(this.appearanceObserver.stop(),this.loadSourceURL())}},{key:"loadSourceURL",value:async function(){if(this.isActive&&this.sourceURL&&this.sourceURL!=this.loadingURL)try{this.loadingURL=this.sourceURL,this.element.loaded=this.visit(this.sourceURL),this.appearanceObserver.stop(),await this.element.loaded}finally{delete this.loadingURL}}},{key:"loadResponse",value:async function(e){try{var t=await e.responseHTML;if(t){var n=F(t).body,i=new V(await this.extractForeignFrameElement(n)),r=new Y(this.view.snapshot,i,!1);await this.view.render(r)}}catch(o){console.error(o),this.view.invalidate()}}},{key:"elementAppearedInViewport",value:function(e){this.loadSourceURL()}},{key:"shouldInterceptLinkClick",value:function(e,t){return this.shouldInterceptNavigation(e)}},{key:"linkClickIntercepted",value:function(e,t){this.navigateFrame(e,t)}},{key:"shouldInterceptFormSubmission",value:function(e){return this.shouldInterceptNavigation(e)}},{key:"formSubmissionIntercepted",value:function(e,t){this.formSubmission&&this.formSubmission.stop(),this.formSubmission=new B(this,e,t),this.formSubmission.fetchRequest.isIdempotent?this.navigateFrame(e,this.formSubmission.fetchRequest.url.href):this.formSubmission.start()}},{key:"prepareHeadersForRequest",value:function(e,t){e["Turbo-Frame"]=this.id}},{key:"requestStarted",worth:perform(e){this.factor.setAttribute("busy","")}},{key:"requestPreventedHandlingResponse",worth:perform(e,t){this.resolveVisitPromise()}},{key:"requestSucceededWithResponse",worth:async perform(e,t){await this.loadResponse(t),this.resolveVisitPromise()}},{key:"requestFailedWithResponse",worth:perform(e,t){console.error(t),this.resolveVisitPromise()}},{key:"requestErrored",worth:perform(e,t){console.error(t),this.resolveVisitPromise()}},{key:"requestFinished",worth:perform(e){this.factor.removeAttribute("busy")}},{key:"formSubmissionStarted",worth:perform(e){}},{key:"formSubmissionSucceededWithResponse",worth:perform(e,t){this.findFrameElement(e.formElement).delegate.loadResponse(t)}},{key:"formSubmissionFailedWithResponse",worth:perform(e,t){this.factor.delegate.loadResponse(t)}},{key:"formSubmissionErrored",worth:perform(e,t){}},{key:"formSubmissionFinished",worth:perform(e){}},{key:"viewWillRenderSnapshot",worth:perform(e,t){}},{key:"viewRenderedSnapshot",worth:perform(e,t){}},{key:"viewInvalidated",worth:perform(){}},{key:"go to",worth:async perform(e){var t=this,n=new D(this,P.get,E(e));return new Promise(perform(e){t.resolveVisitPromise=perform(){t.resolveVisitPromise=perform(){},e()},n.carry out()})}},{key:"navigateFrame",worth:perform(e,t){this.findFrameElement(e).src=t}},{key:"findFrameElement",worth:perform(e)this.factor.getAttribute("goal")))&&void 0!==t?t:this.factor},{key:"extractForeignFrameElement",worth:async perform(e){var t,n=CSS.escape(this.id);return(t=Z(e.querySelector("turbo-frame#".concat(n))))?t:(t=Z(e.querySelector("turbo-frame[src][recurse~=".concat(n,"]"))))?(await t.loaded,await this.extractForeignFrameElement(t)):(console.error('Response has no matching factor')),new S)}},{key:"shouldInterceptNavigation",worth:perform(e){var t=e.getAttribute("data-turbo-frame")||this.factor.getAttribute("goal");if(!this.enabled||"_top"==t)return!1;if(t){var n=Q(t);if(n)return!n.disabled}return!0}},{key:"id",get:perform(){return this.factor.id}},{key:"enabled",get:perform(){return!this.factor.disabled}},{key:"sourceURL",get:perform(){return this.factor.src}},{key:"loadingStyle",get:perform(){return this.factor.loading}},{key:"isLoading",get:perform()},{key:"isActive",get:perform(){return this.factor.isActive}}]),e}();perform Q(e){if(null!=e){var t=doc.getElementById(e);if(t instanceof S)return t}}perform Z(e){if(e&&e.ownerDocument!==doc&&(e=doc.importNode(e,!0)),e instanceof S)return e}var ee={append:perform()e.append(this.templateContent),prepend:perform(),take away:perform(),change:perform()e.replaceWith(this.templateContent),replace:perform(){this.targetElement&&(this.targetElement.innerHTML="",this.targetElement.append(this.templateContent))}},te=perform(e){o(i,c(HTMLElement));var t=g(i);perform i(){return n(this,i),t.apply(this,arguments)}return r(i,[{key:"connectedCallback",value:async function(){try{await this.render()}catch(e){console.error(e)}finally{this.disconnect()}}},{key:"render",value:async function(){var e,t=this;return null!==(e=this.renderPromise)&&void 0!==e?e:this.renderPromise=async function(){t.dispatchEvent(t.beforeRenderEvent)&&(await I(),t.performAction())}()}},{key:"disconnect",value:function(){try{this.remove()}catch(e){}}},{key:"raise",value:function(e){throw new Error("".concat(this.description,": ").concat(e))}},{key:"performAction",get:function(){if(this.action){var e=ee[this.action];if(e)return e;this.elevate("unknown motion")}this.elevate("motion attribute is lacking")}},{key:"targetElement",get:perform()},{key:"templateContent",get:perform(){return this.templateElement.content material}},{key:"templateElement",get:perform(){if(this.firstElementChild instanceof HTMLTemplateElement)return this.firstElementChild;this.elevate("first little one factor should be a factor")}},{key:"motion",get:perform(){return this.getAttribute("motion")}},{key:"goal",get:perform(){return this.getAttribute("goal")}},{key:"description",get:perform(){var e,t;return null!==(t=(null!==(e=this.outerHTML.match(/]+>/))&&void 0!==e?e:[])[0])&&void 0!==t?t:""}},{key:"beforeRenderEvent",get:perform(){return new CustomEvent("turbo:before-stream-render",{bubbles:!0,cancelable:!0})}}]),i}();S.delegateConstructor=Okay,customElements.outline("turbo-frame",S),customElements.outline("turbo-stream",te),perform(){var e=doc.currentScript;if(e&&!e.hasAttribute("data-turbo-suppress-warning"))for(;e=e.parentElement;)if(e==doc.physique)return console.warn(x(y()),e.outerHTML)}();var ne=perform(){perform e(){var t=this;n(this,e),this.hiding=!1,this.worth=0,this.seen=!1,this.trickle=perform(){t.setValue(t.worth+Math.random()/100)},this.stylesheetElement=this.createStylesheetElement(),this.progressElement=this.createProgressElement(),this.installStylesheetElement(),this.setValue(0)}return r(e,[{key:"show",value:function()},{key:"hide",value:function(){var e=this;this.visible&&!this.hiding&&(this.hiding=!0,this.fadeProgressElement(function(){e.uninstallProgressElement(),e.stopTrickling(),e.visible=!1,e.hiding=!1}))}},{key:"setValue",value:function(e){this.value=e,this.refresh()}},{key:"installStylesheetElement",value:function(){document.head.insertBefore(this.stylesheetElement,document.head.firstChild)}},{key:"installProgressElement",value:function(){this.progressElement.style.width="0″,this.progressElement.style.opacity="1″,document.documentElement.insertBefore(this.progressElement,document.body),this.refresh()}},{key:"fadeProgressElement",value:function(t){this.progressElement.style.opacity="0″,setTimeout(t,1.5*e.animationDuration)}},{key:"uninstallProgressElement",value:function(){this.progressElement.parentNode&&document.documentElement.removeChild(this.progressElement)}},{key:"startTrickling",value:function()},{key:"stopTrickling",value:function(){window.clearInterval(this.trickleInterval),delete this.trickleInterval}},{key:"refresh",value:function(){var e=this;requestAnimationFrame(function(){e.progressElement.style.width="".concat(10+90*e.value,"%")})}},{key:"createStylesheetElement",value:function(){var t=document.createElement("style");return t.type="text/css",t.textContent=e.defaultCSS,t}},{key:"createProgressElement",value:function(){var e=document.createElement("div");return e.className="turbo-progress-bar",e}}],[{key:"defaultCSS",get:function(){return x(m(),e.animationDuration,e.animationDuration/2,e.animationDuration/2)}}]),e}();ne.animationDuration=300;var ie=perform(e){o(i,V);var t=g(i);perform i(){var e;return n(this,i),(e=t.apply(this,arguments)).detailsByOuterHTML=e.youngsters.cut back(perform(e,t){var n,i,r,o=t.outerHTML,s=o in e?e[o]:{kind:perform(e){if(perform(e){return"script"==e.tagName.toLowerCase()}(e))return"script";if(perform(e)(e))return"stylesheet"}(t),tracked:perform(e){return"reload"==e.getAttribute("data-turbo-track")}(t),parts:[]};return Object.assign(Object.assign({},e),(n={},i=o,r=Object.assign(Object.assign({},s),{parts:[].concat(v(s.parts),[t])}),i in n?Object.defineProperty(n,i,{worth:r,enumerable:!0,configurable:!0,writable:!0}):n[i]=r,n))},{}),e}return r(i,[{key:"getScriptElementsNotInSnapshot",value:function(e){return this.getElementsMatchingTypeNotInSnapshot("script",e)}},{key:"getStylesheetElementsNotInSnapshot",value:function(e){return this.getElementsMatchingTypeNotInSnapshot("stylesheet",e)}},{key:"getElementsMatchingTypeNotInSnapshot",value:function(e,t){var n=this;return Object.keys(this.detailsByOuterHTML).filter(function(e){return!(e in t.detailsByOuterHTML)}).map(function(e){return n.detailsByOuterHTML[e]}).filter(perform(t){return t.kind==e}).map(perform(e){return f(e.parts,1)[0]})}},{key:"getMetaValue",worth:perform(e){var t=this.findMetaElementByName(e);return t?t.getAttribute("content material"):null}},{key:"findMetaElementByName",worth:perform(e){var t=this;return Object.keys(this.detailsByOuterHTML).cut back(perform(n,i){var r=f(t.detailsByOuterHTML[i].parts,1)[0];return perform(e,t){return"meta"==e.tagName.toLowerCase()&&e.getAttribute("title")==t}(r,e)?r:n},void 0)}},{key:"trackedElementSignature",get:perform(){var e=this;return Object.keys(this.detailsByOuterHTML).filter(perform(t){return e.detailsByOuterHTML[t].tracked}).be a part of("")}},{key:"provisionalElements",get:perform(){var e=this;return Object.keys(this.detailsByOuterHTML).cut back(perform(t,n)o?s.size>1?[].concat(v(t),v(s.slice(1))):t:[].concat(v(t),v(s)),[])}}]),i}();var re,oe,se=perform(e){o(i,V);var t=g(i);perform i(e,r){var o;return n(this,i),(o=t.name(this,e)).headSnapshot=r,o}return r(i,[{key:"clone",value:function(){return new i(this.element.cloneNode(!0),this.headSnapshot)}},{key:"getSetting",value:function(e){return this.headSnapshot.getMetaValue("turbo-".concat(e))}},{key:"headElement",get:function(){return this.headSnapshot.element}},{key:"rootLocation",get:function(){var e;return E(null!==(e=this.getSetting("root"))&&void 0!==e?e:"/")}},{key:"cacheControlValue",get:function(){return this.getSetting("cache-control")}},{key:"isPreviewable",get:function(){return"no-preview"!=this.cacheControlValue}},{key:"isCacheable",get:function(){return"no-cache"!=this.cacheControlValue}},{key:"isVisitable",get:function(){return"reload"!=this.getSetting("visit-control")}}],[{key:"fromHTMLString",value:function(){var e=arguments.length>0&&void 0!==arguments[0]?arguments[0]:"";return this.fromDocument(F(e))}},{key:"fromElement",worth:perform(e){return this.fromDocument(e.ownerDocument)}},{key:"fromDocument",worth:perform(e){var t=e.head;return new this(e.physique,new ie(t))}}]),i}();!perform(e){e.visitStart="visitStart",e.requestStart="requestStart",e.requestEnd="requestEnd",e.visitEnd="visitEnd"}(re||(re={})),perform(e){e.initialized="initialized",e.began="began",e.canceled="canceled",e.failed="failed",e.accomplished="accomplished"}(oe||(oe={}));var ae,ue={motion:"advance",historyChanged:!1};!perform(e){e[e.networkFailure=0]="networkFailure",e[e.timeoutFailure=-1]="timeoutFailure",e[e.contentTypeMismatch=-2]="contentTypeMismatch"}(ae||(ae={}));var ce=perform(){perform e(t,i,r){var o=arguments.size>3&&void 0!==arguments[3]?arguments[3]:{};n(this,e),this.identifier=M(),this.timingMetrics={},this.followedRedirect=!1,this.historyChanged=!1,this.scrolled=!1,this.snapshotCached=!1,this.state=oe.initialized,this.delegate=t,this.location=i,this.restorationIdentifier=r||M();var s=Object.assign(Object.assign({},ue),o),a=s.motion,u=s.historyChanged,c=s.referrer,l=s.snapshotHTML,h=s.response;this.motion=a,this.historyChanged=u,this.referrer=c,this.snapshotHTML=l,this.response=h}return r(e,[{key:"start",value:function(){this.state==oe.initialized&&(this.recordTimingMetric(re.visitStart),this.state=oe.started,this.adapter.visitStarted(this),this.delegate.visitStarted(this))}},{key:"cancel",value:function(){this.state==oe.started&&(this.request&&this.request.cancel(),this.cancelRender(),this.state=oe.canceled)}},{key:"complete",value:function(){this.state==oe.started&&(this.recordTimingMetric(re.visitEnd),this.state=oe.completed,this.adapter.visitCompleted(this),this.delegate.visitCompleted(this))}},{key:"fail",value:function(){this.state==oe.started&&(this.state=oe.failed,this.adapter.visitFailed(this))}},{key:"changeHistory",value:function(){var e;if(!this.historyChanged)void 0===e?void 0:e.href)?"replace":this.action,n=this.getHistoryMethodForAction(t);this.history.update(n,this.location,this.restorationIdentifier),this.historyChanged=!0}},{key:"issueRequest",value:function(){this.hasPreloadedResponse()?this.simulateRequest():this.shouldIssueRequest()&&!this.request&&(this.request=new D(this,P.get,this.location),this.request.perform())}},{key:"simulateRequest",value:function(){this.response&&(this.startRequest(),this.recordResponse(),this.finishRequest())}},{key:"startRequest",value:function(){this.recordTimingMetric(re.requestStart),this.adapter.visitRequestStarted(this)}},{key:"recordResponse",value:function(){var e=arguments.length>0&&void 0!==arguments[0]?arguments[0]:this.response;if(this.response=e,e){var t=e.statusCode;le(t)?this.adapter.visitRequestCompleted(this):this.adapter.visitRequestFailedWithStatusCode(this,t)}}},{key:"finishRequest",worth:perform(){this.recordTimingMetric(re.requestEnd),this.adapter.visitRequestFinished(this)}},{key:"loadResponse",worth:perform(){var e=this;if(this.response){var t=this.response,n=t.statusCode,i=t.responseHTML;this.render(async perform(){e.cacheSnapshot(),le(n)&&null!=i?(await e.view.renderPage(se.fromHTMLString(i)),e.adapter.visitRendered(e),e.full()):(await e.view.renderError(se.fromHTMLString(i)),e.adapter.visitRendered(e),e.fail())})}}},{key:"getCachedSnapshot",worth:perform()this.getPreloadedSnapshot();if(e&&(!L(this.location)},{key:"getPreloadedSnapshot",worth:perform(){if(this.snapshotHTML)return se.fromHTMLString(this.snapshotHTML)}},{key:"hasCachedSnapshot",worth:perform(){return null!=this.getCachedSnapshot()}},{key:"loadCachedSnapshot",worth:perform(){var e=this,t=this.getCachedSnapshot();if(t){var n=this.shouldIssueRequest();this.render(async perform()e.full())}}},{key:"followRedirect",worth:perform(){this.redirectedToLocation&&!this.followedRedirect&&(this.location=this.redirectedToLocation,this.historical past.change(this.redirectedToLocation,this.restorationIdentifier),this.followedRedirect=!0)}},{key:"requestStarted",worth:perform(){this.startRequest()}},{key:"requestPreventedHandlingResponse",worth:perform(e,t){}},{key:"requestSucceededWithResponse",worth:async perform(e,t){var n=await t.responseHTML;null==n?this.recordResponse({statusCode:ae.contentTypeMismatch}):(this.redirectedToLocation=t.redirected?t.location:void 0,this.recordResponse({statusCode:t.statusCode,responseHTML:n}))}},{key:"requestFailedWithResponse",worth:async perform(e,t){var n=await t.responseHTML;null==n?this.recordResponse({statusCode:ae.contentTypeMismatch}):this.recordResponse({statusCode:t.statusCode,responseHTML:n})}},{key:"requestErrored",worth:perform(e,t){this.recordResponse({statusCode:ae.networkFailure})}},{key:"requestFinished",worth:perform(){this.finishRequest()}},{key:"performScroll",worth:perform()this.scrollToTop(),this.scrolled=!0)},{key:"scrollToRestoredPosition",worth:perform(){var e=this.restorationData.scrollPosition;if(e)return this.view.scrollToPosition(e),!0}},{key:"scrollToAnchor",worth:perform(){if(null!=L(this.location))return this.view.scrollToAnchor(L(this.location)),!0}},{key:"scrollToTop",worth:perform(){this.view.scrollToPosition({x:0,y:0})}},{key:"recordTimingMetric",worth:perform(e){this.timingMetrics[e]=(new Date).getTime()}},{key:"getTimingMetrics",worth:perform(){return Object.assign({},this.timingMetrics)}},{key:"getHistoryMethodForAction",worth:perform(e){swap(e){case"change":return historical past.replaceState;case"advance":case"restore":return historical past.pushState}}},{key:"hasPreloadedResponse",worth:perform(){return"object"==typeof this.response}},{key:"shouldIssueRequest",worth:perform()!this.hasCachedSnapshot()},{key:"cacheSnapshot",worth:perform()(this.view.cacheSnapshot(),this.snapshotCached=!0)},{key:"render",worth:async perform(e){var t=this;this.cancelRender(),await new Promise(perform(e){t.body=requestAnimationFrame(perform(){return e()})}),e(),delete this.body,this.performScroll()}},{key:"cancelRender",worth:perform(){this.body&&(cancelAnimationFrame(this.body),delete this.body)}},{key:"adapter",get:perform(){return this.delegate.adapter}},{key:"view",get:perform(){return this.delegate.view}},{key:"historical past",get:perform(){return this.delegate.historical past}},{key:"restorationData",get:perform(){return this.historical past.getRestorationDataForIdentifier(this.restorationIdentifier)}}]),e}();perform le(e){return e>=200&&e2&&void 0!==arguments[2]?arguments[2]:M(),i={turbo:{restorationIdentifier:n}};e.name(historical past,i,"",t.href),this.location=t,this.restorationIdentifier=n}},{key:"getRestorationDataForIdentifier",worth:perform(e){return this.restorationData[e]||{}}},{key:"updateRestorationData",worth:perform(e){var t=this.restorationIdentifier,n=this.restorationData[t];this.restorationData[t]=Object.assign(Object.assign({},n),e)}},{key:"assumeControlOfScrollRestoration",worth:perform()},{key:"relinquishControlOfScrollRestoration",worth:perform(){this.previousScrollRestoration&&(historical past.scrollRestoration=this.previousScrollRestoration,delete this.previousScrollRestoration)}},{key:"shouldHandlePopState",worth:perform(){return this.pageIsLoaded()}},{key:"pageIsLoaded",worth:perform()"full"==doc.readyState}]),e}(),me=perform(){perform e(t){var i=this;n(this,e),this.began=!1,this.clickCaptured=perform(){removeEventListener("click on",i.clickBubbled,!1),addEventListener("click on",i.clickBubbled,!1)},this.clickBubbled=perform(e){if(i.clickEventIsSignificant(e)){var t=i.findLinkFromClickTarget(e.goal);if(t){var n=i.getLocationForLink(t);i.delegate.willFollowLinkToLocation(t,n)&&(e.preventDefault(),i.delegate.followedLinkToLocation(t,n))}}},this.delegate=t}return r(e,[{key:"start",value:function()},{key:"stop",value:function(){this.started&&(removeEventListener("click",this.clickCaptured,!0),this.started=!1)}},{key:"clickEventIsSignificant",value:function(e)},{key:"findLinkFromClickTarget",value:function(e){if(e instanceof Element)return e.closest("a[href]:not([target^=_]):not([download])")}},{key:"getLocationForLink",worth:perform(e)"")}]),e}(),ye=perform(){perform e(t){n(this,e),this.delegate=t}return r(e,[{key:"proposeVisit",value:function(e){var t=arguments.length>1&&void 0!==arguments[1]?arguments[1]:{};this.delegate.allowsVisitingLocation(e)&&this.delegate.visitProposedToLocation(e,t)}},{key:"startVisit",worth:perform(e,t){var n=arguments.size>2&&void 0!==arguments[2]?arguments[2]:{};this.cease(),this.currentVisit=new ce(this,E(e),t,Object.assign({referrer:this.location},n)),this.currentVisit.begin()}},{key:"submitForm",worth:perform(e,t){this.cease(),this.formSubmission=new B(this,e,t,!0),this.formSubmission.fetchRequest.isIdempotent?this.proposeVisit(this.formSubmission.fetchRequest.url):this.formSubmission.begin()}},{key:"cease",worth:perform(){this.formSubmission&&(this.formSubmission.cease(),delete this.formSubmission),this.currentVisit&&(this.currentVisit.cancel(),delete this.currentVisit)}},{key:"formSubmissionStarted",worth:perform(e){}},{key:"formSubmissionSucceededWithResponse",worth:async perform(e,t){if(e==this.formSubmission){var n=await t.responseHTML;if(n){e.methodology!=P.get&&this.view.clearSnapshotCache();var i={response:{statusCode:t.statusCode,responseHTML:n}};this.proposeVisit(t.location,i)}}}},{key:"formSubmissionFailedWithResponse",worth:async perform(e,t){var n=await t.responseHTML;if(n){var i=se.fromHTMLString(n);await this.view.renderPage(i),this.view.clearSnapshotCache()}}},{key:"formSubmissionErrored",worth:perform(e,t){}},{key:"formSubmissionFinished",worth:perform(e){}},{key:"visitStarted",worth:perform(e){this.delegate.visitStarted(e)}},{key:"visitCompleted",worth:perform(e){this.delegate.visitCompleted(e)}},{key:"adapter",get:perform(){return this.delegate.adapter}},{key:"view",get:perform(){return this.delegate.view}},{key:"historical past",get:perform(){return this.delegate.historical past}},{key:"location",get:perform(){return this.historical past.location}},{key:"restorationIdentifier",get:perform(){return this.historical past.restorationIdentifier}}]),e}();!perform(e){e[e.initial=0]="preliminary",e[e.loading=1]="loading",e[e.interactive=2]="interactive",e[e.complete=3]="full"}(he||(he={}));var ge=perform(){perform e(t){var i=this;n(this,e),this.stage=he.preliminary,this.began=!1,this.interpretReadyState=perform(){var e=i.readyState;"interactive"==e?i.pageIsInteractive():"full"==e&&i.pageIsComplete()},this.pageWillUnload=perform(){i.delegate.pageWillUnload()},this.delegate=t}return r(e,[{key:"start",value:function()(this.stage==he.initial&&(this.stage=he.loading),document.addEventListener("readystatechange",this.interpretReadyState,!1),addEventListener("pagehide",this.pageWillUnload,!1),this.started=!0)},{key:"stop",value:function(){this.started&&(document.removeEventListener("readystatechange",this.interpretReadyState,!1),removeEventListener("pagehide",this.pageWillUnload,!1),this.started=!1)}},{key:"pageIsInteractive",value:function(){this.stage==he.loading&&(this.stage=he.interactive,this.delegate.pageBecameInteractive())}},{key:"pageIsComplete",value:function(){this.pageIsInteractive(),this.stage==he.interactive&&(this.stage=he.complete,this.delegate.pageLoaded())}},{key:"readyState",get:function(){return document.readyState}}]),e}(),ke=perform(){perform e(t){var i=this;n(this,e),this.began=!1,this.onScroll=perform(){i.updatePosition({x:window.pageXOffset,y:window.pageYOffset})},this.delegate=t}return r(e,[{key:"start",value:function()},{key:"stop",value:function(){this.started&&(removeEventListener("scroll",this.onScroll,!1),this.started=!1)}},{key:"updatePosition",value:function(e){this.delegate.scrollPositionChanged(e)}}]),e}(),be=perform(){perform e(t){var i=this;n(this,e),this.sources=new Set,this.began=!1,this.inspectFetchResponse=perform(e){var t=perform(e)void 0===t?void 0:t.fetchResponse;if(n instanceof A)return n(e);t&&perform(e){var t;return(null!==(t=e.contentType)&&void 0!==t?t:"").startsWith(j.contentType)}(t)&&(e.preventDefault(),i.receiveMessageResponse(t))},this.receiveMessageEvent=perform(e){i.began&&"string"==typeof e.information&&i.receiveMessageHTML(e.information)},this.delegate=t}return r(e,[{key:"start",value:function()(this.started=!0,addEventListener("turbo:before-fetch-response",this.inspectFetchResponse,!1))},{key:"stop",value:function(){this.started&&(this.started=!1,removeEventListener("turbo:before-fetch-response",this.inspectFetchResponse,!1))}},{key:"connectStreamSource",value:function(e)},{key:"disconnectStreamSource",value:function(e){this.streamSourceIsConnected(e)&&(this.sources.delete(e),e.removeEventListener("message",this.receiveMessageEvent,!1))}},{key:"streamSourceIsConnected",value:function(e){return this.sources.has(e)}},{key:"receiveMessageResponse",value:async function(e){var t=await e.responseHTML;t&&this.receiveMessageHTML(t)}},{key:"receiveMessageHTML",value:function(e){this.delegate.receivedMessageFromStream(new j(e))}}]),e}();var we=perform(e){o(i,J);var t=g(i);perform i(){return n(this,i),t.apply(this,arguments)}return r(i,[{key:"render",value:async function(){this.replaceHeadAndBody(),this.activateScriptElements()}},{key:"replaceHeadAndBody",value:function(){var e=document,t=e.documentElement,n=e.head,i=e.body;t.replaceChild(this.newHead,n),t.replaceChild(this.newElement,i)}},{key:"activateScriptElements",value:function(){var e=!0,t=!1,n=void 0;try{for(var i,r=this.scriptElements[Symbol.iterator]();!(e=(i=r.subsequent()).performed);e=!0){var o=i.worth,s=o.parentNode;if(s){var a=this.createScriptElement(o);s.replaceChild(a,o)}}}catch(u){t=!0,n=u}lastly{attemptlastly{if(t)throw n}}}},{key:"newHead",get:perform(){return this.newSnapshot.headSnapshot.factor}},{key:"scriptElements",get:perform(){return v(doc.documentElement.querySelectorAll("script"))}}]),i}(),Se=perform(e){o(i,J);var t=g(i);perform i(){return n(this,i),t.apply(this,arguments)}return r(i,[{key:"prepareToRender",value:function(){this.mergeHead()}},{key:"render",value:async function(){this.replaceBody()}},{key:"finishRendering",value:function(){h(s(i.prototype),"finishRendering",this).call(this),this.isPreview&&this.focusFirstAutofocusableElement()}},{key:"mergeHead",value:function(){this.copyNewHeadStylesheetElements(),this.copyNewHeadScriptElements(),this.removeCurrentHeadProvisionalElements(),this.copyNewHeadProvisionalElements()}},{key:"replaceBody",value:function(){var e=this;this.preservingPermanentElements(function(){e.activateNewBody(),e.assignNewBody()})}},{key:"copyNewHeadStylesheetElements",value:function(){var e=!0,t=!1,n=void 0;try{for(var i,r=this.newHeadStylesheetElements[Symbol.iterator]();!(e=(i=r.subsequent()).performed);e=!0){var o=i.worth;doc.head.appendChild(o)}}catch(s){t=!0,n=s}lastly{attemptlastly{if(t)throw n}}}},{key:"copyNewHeadScriptElements",worth:perform(){var e=!0,t=!1,n=void 0;attempt{for(var i,r=this.newHeadScriptElements[Symbol.iterator]();!(e=(i=r.subsequent()).performed);e=!0){var o=i.worth;doc.head.appendChild(this.createScriptElement(o))}}catch(s){t=!0,n=s}lastly{attemptlastly{if(t)throw n}}}},{key:"removeCurrentHeadProvisionalElements",worth:perform(){var e=!0,t=!1,n=void 0;attempt{for(var i,r=this.currentHeadProvisionalElements[Symbol.iterator]();!(e=(i=r.subsequent()).performed);e=!0){var o=i.worth;doc.head.removeChild(o)}}catch(s){t=!0,n=s}lastly{attemptlastly{if(t)throw n}}}},{key:"copyNewHeadProvisionalElements",worth:perform(){var e=!0,t=!1,n=void 0;attempt{for(var i,r=this.newHeadProvisionalElements[Symbol.iterator]();!(e=(i=r.subsequent()).performed);e=!0){var o=i.worth;doc.head.appendChild(o)}}catch(s){t=!0,n=s}lastly{attemptlastly{if(t)throw n}}}},{key:"activateNewBody",worth:perform(){doc.adoptNode(this.newElement),this.activateNewBodyScriptElements()}},{key:"activateNewBodyScriptElements",worth:perform(){var e=!0,t=!1,n=void 0;attempt{for(var i,r=this.newBodyScriptElements[Symbol.iterator]();!(e=(i=r.subsequent()).performed);e=!0){var o=i.worth;X(o,this.createScriptElement(o))}}catch(s){t=!0,n=s}lastly{attemptlastly{if(t)throw n}}}},{key:"assignNewBody",worth:perform(){doc.physique&&this.newElement instanceof HTMLBodyElement?X(doc.physique,this.newElement):doc.documentElement.appendChild(this.newElement)}},{key:"shouldRender",get:perform(){return this.newSnapshot.isVisitable&&this.trackedElementsAreIdentical}},{key:"currentHeadSnapshot",get:perform(){return this.currentSnapshot.headSnapshot}},{key:"newHeadSnapshot",get:perform(){return this.newSnapshot.headSnapshot}},{key:"newElement",get:perform(){return this.newSnapshot.factor}},{key:"trackedElementsAreIdentical",get:perform(){return this.currentHeadSnapshot.trackedElementSignature==this.newHeadSnapshot.trackedElementSignature}},{key:"newHeadStylesheetElements",get:perform(){return this.newHeadSnapshot.getStylesheetElementsNotInSnapshot(this.currentHeadSnapshot)}},{key:"newHeadScriptElements",get:perform(){return this.newHeadSnapshot.getScriptElementsNotInSnapshot(this.currentHeadSnapshot)}},{key:"currentHeadProvisionalElements",get:perform(){return this.currentHeadSnapshot.provisionalElements}},{key:"newHeadProvisionalElements",get:perform(){return this.newHeadSnapshot.provisionalElements}},{key:"newBodyScriptElements",get:perform(){return v(this.newElement.querySelectorAll("script"))}}]),i}(),Ee=perform(){perform e(t){n(this,e),this.keys=[],this.snapshots={},this.measurement=t}return r(e,[{key:"has",value:function(e){return T(e)in this.snapshots}},{key:"get",value:function(e){if(this.has(e)){var t=this.read(e);return this.touch(e),t}}},{key:"put",value:function(e,t){return this.write(e,t),this.touch(e),t}},{key:"clear",value:function(){this.snapshots={}}},{key:"read",value:function(e){return this.snapshots[T(e)]}},{key:"write",worth:perform(e,t){this.snapshots[T(e)]=t}},{key:"contact",worth:perform(e){var t=T(e),n=this.keys.indexOf(t);n>-1&&this.keys.splice(n,1),this.keys.unshift(t),this.trim()}},{key:"trim",worth:perform(){var e=!0,t=!1,n=void 0;attempt{for(var i,r=this.keys.splice(this.measurement)[Symbol.iterator]();!(e=(i=r.subsequent()).performed);e=!0){var o=i.worth;delete this.snapshots[o]}}catch(s){t=!0,n=s}lastly{attemptlastly{if(t)throw n}}}}]),e}(),Le=perform(e){o(i,W);var t=g(i);perform i(){var e;return n(this,i),(e=t.apply(this,arguments)).snapshotCache=new Ee(10),e.lastRenderedLocation=new URL(location.href),e}return r(i,[{key:"renderPage",value:function(e){var t=arguments.length>1&&void 0!==arguments[1]&&arguments[1],n=new Se(this.snapshot,e,t);return this.render(n)}},{key:"renderError",worth:perform(e){var t=new we(this.snapshot,e,!1);this.render(t)}},{key:"clearSnapshotCache",worth:perform(){this.snapshotCache.clear()}},{key:"cacheSnapshot",worth:async perform(){if(this.shouldCacheSnapshot){this.delegate.viewWillCacheSnapshot();var e=this.snapshot,t=this.lastRenderedLocation;await new Promise(perform(e){return setTimeout(perform(){return e()},0)}),this.snapshotCache.put(t,e.clone())}}},{key:"getCachedSnapshotForLocation",worth:perform(e){return this.snapshotCache.get(e)}},{key:"snapshot",get:perform(){return se.fromElement(this.factor)}},{key:"shouldCacheSnapshot",get:perform(){return this.snapshot.isCacheable}}]),i}();perform Ce(e){Object.defineProperties(e,Re)}var Re={absoluteURL:{get:perform(){return this.toString()}}},Te=new(perform(){perform e(){n(this,e),this.navigator=new ye(this),this.historical past=new pe(this),this.view=new Le(this,doc.documentElement),this.adapter=new de(this),this.pageObserver=new ge(this),this.linkClickObserver=new me(this),this.formSubmitObserver=new fe(this),this.scrollObserver=new ke(this),this.streamObserver=new be(this),this.frameRedirector=new ve(doc.documentElement),this.enabled=!0,this.progressBarDelay=500,this.began=!1}return r(e,[{key:"start",value:function()(this.pageObserver.start(),this.linkClickObserver.start(),this.formSubmitObserver.start(),this.scrollObserver.start(),this.streamObserver.start(),this.frameRedirector.start(),this.history.start(),this.started=!0,this.enabled=!0)},{key:"disable",value:function(){this.enabled=!1}},{key:"stop",value:function(){this.started&&(this.pageObserver.stop(),this.linkClickObserver.stop(),this.formSubmitObserver.stop(),this.scrollObserver.stop(),this.streamObserver.stop(),this.frameRedirector.stop(),this.history.stop(),this.started=!1)}},{key:"registerAdapter",value:function(e){this.adapter=e}},{key:"visit",value:function(e){var t=arguments.length>1&&void 0!==arguments[1]?arguments[1]:{};this.navigator.proposeVisit(E(e),t)}},{key:"connectStreamSource",worth:perform(e){this.streamObserver.connectStreamSource(e)}},{key:"disconnectStreamSource",worth:perform(e){this.streamObserver.disconnectStreamSource(e)}},{key:"renderStreamMessage",worth:perform(e){doc.documentElement.appendChild(j.wrap(e).fragment)}},{key:"clearCache",worth:perform(){this.view.clearSnapshotCache()}},{key:"setProgressBarDelay",worth:perform(e){this.progressBarDelay=e}},{key:"historyPoppedToLocationWithRestorationIdentifier",worth:perform(e){this.enabled?this.navigator.proposeVisit(e,{motion:"restore",historyChanged:!0}):this.adapter.pageInvalidated()}},{key:"scrollPositionChanged",worth:perform(e){this.historical past.updateRestorationData({scrollPosition:e})}},{key:"willFollowLinkToLocation",worth:perform(e,t){return this.elementIsNavigable(e)&&this.locationIsVisitable(t)&&this.applicationAllowsFollowingLinkToLocation(e,t)}},{key:"followedLinkToLocation",worth:perform(e,t){var n=this.getActionForLink(e);this.go to(t.href,{motion:n})}},{key:"allowsVisitingLocation",worth:perform(e){return this.applicationAllowsVisitingLocation(e)}},{key:"visitProposedToLocation",worth:perform(e,t){Ce(e),this.adapter.visitProposedToLocation(e,t)}},{key:"visitStarted",worth:perform(e){Ce(e.location),this.notifyApplicationAfterVisitingLocation(e.location)}},{key:"visitCompleted",worth:perform(e){this.notifyApplicationAfterPageLoad(e.getTimingMetrics())}},{key:"willSubmitForm",worth:perform(e,t){return this.elementIsNavigable(e)&&this.elementIsNavigable(t)}},{key:"formSubmitted",worth:perform(e,t){this.navigator.submitForm(e,t)}},{key:"pageBecameInteractive",worth:perform(){this.view.lastRenderedLocation=this.location,this.notifyApplicationAfterPageLoad()}},{key:"pageLoaded",worth:perform(){this.historical past.assumeControlOfScrollRestoration()}},{key:"pageWillUnload",worth:perform(){this.historical past.relinquishControlOfScrollRestoration()}},{key:"receivedMessageFromStream",worth:perform(e){this.renderStreamMessage(e)}},{key:"viewWillCacheSnapshot",worth:perform(){this.notifyApplicationBeforeCachingSnapshot()}},{key:"viewWillRenderSnapshot",worth:perform(e,t){var n=e.factor;this.notifyApplicationBeforeRender(n)}},{key:"viewRenderedSnapshot",worth:perform(e,t){this.view.lastRenderedLocation=this.historical past.location,this.notifyApplicationAfterRender()}},{key:"viewInvalidated",worth:perform(){this.adapter.pageInvalidated()}},{key:"applicationAllowsFollowingLinkToLocation",worth:perform(e,t){return!this.notifyApplicationAfterClickingLinkToLocation(e,t).defaultPrevented}},{key:"applicationAllowsVisitingLocation",worth:perform(e){return!this.notifyApplicationBeforeVisitingLocation(e).defaultPrevented}},{key:"notifyApplicationAfterClickingLinkToLocation",worth:perform(e,t){return O("turbo:click on",{goal:e,element:{url:t.href},cancelable:!0})}},{key:"notifyApplicationBeforeVisitingLocation",worth:perform(e){return O("turbo:before-visit",{element:{url:e.href},cancelable:!0})}},{key:"notifyApplicationAfterVisitingLocation",worth:perform(e){return O("turbo:go to",{element:{url:e.href}})}},{key:"notifyApplicationBeforeCachingSnapshot",worth:perform(){return O("turbo:before-cache")}},{key:"notifyApplicationBeforeRender",worth:perform(e){return O("turbo:before-render",{element:{newBody:e}})}},{key:"notifyApplicationAfterRender",worth:perform(){return O("turbo:render")}},{key:"notifyApplicationAfterPageLoad",worth:perform(){var e=arguments.size>0&&void 0!==arguments[0]?arguments[0]:{};return O("turbo:load",{element:{url:this.location.href,timing:e}})}},{key:"getActionForLink",worth:perform(e){var t=e.getAttribute("data-turbo-action");return perform(e)(t)?t:"advance"}},{key:"elementIsNavigable",worth:perform(e)},{key:"locationIsVisitable",worth:perform(e)xhtml))$/)},{key:"location",get:perform(){return this.historical past.location}},{key:"restorationIdentifier",get:perform(){return this.historical past.restorationIdentifier}},{key:"snapshot",get:perform(){return this.view.snapshot}}]),e}()),Pe=Te.navigator;perform Ae(){Te.begin()}Ae();var Oe,Ie,Fe=Object.freeze({__proto__:null,clearCache:perform(){Te.clearCache()},connectStreamSource:perform(e){Te.connectStreamSource(e)},disconnectStreamSource:perform(e){Te.disconnectStreamSource(e)},navigator:Pe,registerAdapter:perform(e){Te.registerAdapter(e)},renderStreamMessage:perform(e){Te.renderStreamMessage(e)},setProgressBarDelay:perform(e){Te.setProgressBarDelay(e)},begin:Ae,go to:perform(e,t){Te.go to(e,t)}}),xe=perform(){var e=arguments.size>0&&void 0!==arguments[0]&&arguments[0];return perform(t,n,i){var r=this,o=i.worth;return i.worth=perform(){var i;window.DFX_SINGLETONS=null!==(i=window.DFX_SINGLETONS)&&void 0!==i?i:{};var s="".concat(t.displayName,":").concat(n);if(e){doc.addEventListener("turbo:go to",perform e(){window.DFX_SINGLETONS[s]&&(window.DFX_SINGLETONS[s]=null),doc.removeEventListener("turbo:go to",e)})}if(window.DFX_SINGLETONS[s])return window.DFX_SINGLETONS[s];for(var a=arguments.size,u=new Array(a),c=0;c4&&void 0!==arguments[4])||arguments[4],o="".concat(e,"=").concat(t);"string"==typeof n&&(o+=";expires=".concat(n)),"string"==typeof i&&(o+=";area=".concat(i)),o+="; path=/",r&&"https:"===location.protocol&&(o+="; safe"),doc.cookie=o}},{key:"deleteCookie",worth:perform(e){this.setCookie(e,"","Thu, 01 Jan 1970 00:00:00 UTC")}},{key:"getLocalStorageOrCookie",worth:perform(e){var t;return this.isLocalStorageAvailable&&null!==(t=this.localStorage.getItem(e))&&void 0!==t?t:this.getCookie(e)}},{key:"setLocalStorageOrCookie",worth:perform(e,t,n,i){this.isLocalStorageAvailable?this.localStorage.setItem(e,t):this.setCookie(e,t,n,i)}},{key:"deleteLocalStorageOrCookie",worth:perform(e){this.isLocalStorageAvailable?this.localStorage.removeItem(e):this.deleteCookie(e)}}]),e}();Me.displayName="DfxLocalStorageCookieManager";var De=(Oe=xe(),p(Ie=perform(){perform e(){n(this,e)}return r(e,null,[{key:"create",value:function(){return new Me(window.localStorage)}}]),e}(),"create",[Oe],Object.getOwnPropertyDescriptor(Ie,"create"),Ie),Ie);De.displayName="DfxLocalStorageCookieManagerFactory";var Ne,qe,He=perform(){perform e(t){n(this,e),this.dfxLocalStorageCookieManager=t}return r(e,[{key:"getLevel",value:function(){if(this.permissionLevel)return this.permissionLevel;var e=this.dfxLocalStorageCookieManager.getLocalStorageOrCookie("dfx-cookies-level"),t=this._normalizeValue(e);return this.permissionLevel=t,t}},{key:"_normalizeValue",value:function(e){var t=parseInt(e);return isNaN(t)&&(t=3),t}},{key:"checkLevel",value:function(e){return this.getLevel()>=e}}]),e}();He.displayName="DfxGdprChecker";var je=(Ne=xe(),p(qe=perform(){perform e(){n(this,e)}return r(e,null,[{key:"create",value:function(){return new He(De.create())}}]),e}(),"create",[Ne],Object.getOwnPropertyDescriptor(qe,"create"),qe),qe);je.displayName="DfxGdprCheckerFactory";var Be,_e,Ve="".concat("dfx-redirectData","_expiresIn"),Ge=new Map([["GB","UK"]]),We=perform(){perform e(t,i){n(this,e),this.geoJsUrl=t,this.dfxLocalStorageCookieManager=i}return r(e,[{key:"init",value:function(){var e=this;return this.getRedirectData().then(function(e){return Ge.has(e.country)&&(e.country=Ge.get(e.country)),e}).then(function(t){e.redirectData=t,e._setBodyClasses()._setLocationToStorage()})}},{key:"getRedirectData",value:function(){var e,t=this;return this.loadingState=null!==(e=this.loadingState)&&void 0!==e?e:new Promise(function(e){t.redirectData?e(t.redirectData):(t.redirectData=t._getLocationFromStorage(),t.redirectData?e(t.redirectData):e(t._loadRedirectData()))}),this.loadingState}},{key:"_loadRedirectData",value:function(){var e=this;return new Promise(function(t){var n=document.createElement("script");n.onload=function(){e.redirectData=window.redirectData,t(e.redirectData)},n.setAttribute("src",e.geoJsUrl),document.head.appendChild(n)})}},{key:"_setBodyClasses",value:function(){var e=this.redirectData.country.toLowerCase();return document.body?(document.body.classList.remove("dfx-country-pending"),document.body.classList.add("dfx-country-".concat(e))):document.addEventListener("DOMContentLoaded",function(){document.body.classList.remove("dfx-country-pending"),document.body.classList.add("dfx-country-".concat(e))},!1),this}},{key:"_getLocationFromStorage",value:function(){var e,t=this.dfxLocalStorageCookieManager.getLocalStorageOrCookie(Ve);if(t&&t>Date.now())return JSON.parse(null!==(e=this.dfxLocalStorageCookieManager.getLocalStorageOrCookie("dfx-redirectData"))&&void 0!==e&&e)}},{key:"_setLocationToStorage",value:function(){var e=new Date;return e.setTime(e.getTime()+6048e5),this.dfxLocalStorageCookieManager.setLocalStorageOrCookie("dfx-redirectData",JSON.stringify(this.redirectData),e.toUTCString()),this.dfxLocalStorageCookieManager.setLocalStorageOrCookie(Ve,e.getTime(),e.toUTCString()),this}}]),e}();We.displayName="DfxGeoLocation";var Ue=(Be=xe(),p(_e=perform(){perform e(){n(this,e)}return r(e,null,[{key:"create",value:function(){return new We(window.DFX_ENDPOINTS.geoJs,De.create())}}]),e}(),"create",[Be],Object.getOwnPropertyDescriptor(_e,"create"),_e),_e);Ue.displayName="DfxGeoLocationFactory";var ze={OFF:"off",LOADING:"loading",READY:"prepared"},Je="pixel",Xe="GPT",Ye="GTM",$e="adobe_tracking",Ke="taboola_pixel",Qe=perform(){perform e(t,i,r,o,s,a,u){var c=this;n(this,e),this.config=u,this.allowedTrackingsConfig=a,this.dfxGdprChecker=t,this.dfxLocalStorageCookieManager=i,this.facebookPixelId=r,this.tagManagerId=o,this.taboolaPixelId=s,this._setDefaultStates()._resetAssetClasses()._resetInstruments()._resetCategories()._resetSitecatConfig(),doc.addEventListener("turbo:go to",perform(){$("head script").filter(perform(e,t)t.src.contains(u.reportSuite)).take away(),c.adobeTrackingState=ze.OFF,c._resetAssetClasses()._resetInstruments()._resetCategories()._resetSitecatConfig()})}return r(e,[{key:"_setDefaultStates",value:function(){return this.adobeTrackingState=ze.OFF,this.pixelState=ze.OFF,this.gptState=ze.OFF,this.gtmState=ze.OFF,this.taboolaState=ze.OFF,this}},{key:"_resetInstruments",value:function(){return this.gptInstrumentPairs=new Set,this}},{key:"_resetCategories",value:function(){return this.gptCategories={category:"",subCategory:""},this}},{key:"_resetAssetClasses",value:function(){return this.gptAssetClasses=new Set,this}},{key:"_resetSitecatConfig",value:function(){return this.sitecatConfig={mainReportSuite:this.config.mainReportSuite,reportSuite:this.config.reportSuite,organisationId:this.config.organisationId},this}},{key:"createAdobeTracking",value:function(e){var t=this;return this.dfxGdprChecker.checkLevel(2)&&this.allowedTrackingsConfig[$e]&&this.adobeTrackingState===ze.OFF?(this.adobeTrackingState=ze.LOADING,window.System.import(e).then(perform(e){var n=e.DfxAdobeTracking;t.dfxAdobeTracking=new n(t.sitecatConfig,t.dfxGdprChecker,t.dfxLocalStorageCookieManager),t.adobeTrackingState=ze.READY,t.runAdobeTracking()}),this):this}},{key:"runAdobeTracking",worth:perform(){var e=this;return this.dfxGdprChecker.checkLevel(2)?(this.adobeTrackingState===ze.READY?(this.dfxAdobeTracking.resetTrackingObject(),this.dfxAdobeTracking.init()):setTimeout(perform(){return e.runAdobeTracking()},400),this):this}},{key:"trackAdobeEvent",worth:perform(e,t,n){var i=this;return this.dfxGdprChecker.checkLevel(2)&&this.allowedTrackingsConfig[$e]?(this.adobeTrackingState===ze.READY?this.dfxAdobeTracking.trackEvent(e,t,n):setTimeout(perform(){return i.trackAdobeEvent(e,t,n)},400),this):this}},{key:"getPageNameForAdobeTracking",worth:perform(){return this.adobeTrackingState===ze.READY&&this.dfxAdobeTracking.getPageName()}},{key:"addSitecatConfig",worth:perform(e,t){return this.dfxGdprChecker.checkLevel(2)?(this.sitecatConfig[e]=t,this):this}},{key:"createFacebookPixel",worth:perform(){var e=this;if(!this.dfxGdprChecker.checkLevel(3))return this;if(!this.allowedTrackingsConfig[Je]||this.pixelState!==ze.OFF)return this;this.pixelState=ze.LOADING;var t,n,i,r,o,s,a;return t=perform(){e.pixelState=ze.READY},n=window,i=doc,r="script",n.fbq||(o=n.fbq=perform(){o.callMethod?o.callMethod.apply(o,arguments):o.queue.push(arguments)},n._fbq||(n._fbq=o),o.push=o,o.loaded=!0,o.model="2.0″,o.queue=[],(s=i.createElement(r)).async=!0,s.onload=t,s.src="https://join.fb.internet/en_US/fbevents.js",(a=i.getElementsByTagName(r)[0]).parentNode.insertBefore(s,a)),this.fbq=window.fbq,this.fbq("init",this.facebookPixelId),this}},{key:"facebookPixelTrack",worth:perform(e){return this.dfxGdprChecker.checkLevel(3)&&this.allowedTrackingsConfig[Je]?(this.pixelState===ze.OFF&&this.createFacebookPixel(),this.fbq("monitor",e),this):this}},{key:"facebookPixelTrackPageView",worth:perform(){return this.dfxGdprChecker.checkLevel(3)?(this.facebookPixelTrack("PageView"),this):this}},{key:"facebookPixelTrackLead",worth:perform(){return this.dfxGdprChecker.checkLevel(3)?(this.facebookPixelTrack("Lead"),this):this}},{key:"createGTM",worth:perform(){var e=this;if(!this.dfxGdprChecker.checkLevel(1))return this;if(!this.allowedTrackingsConfig[Ye]||this.gtmState!==ze.OFF)return this;this.gtmState=ze.LOADING;var t=perform(){e.gtmState=ze.READY};return perform(e,n,i,r,o){e[r]=e[r]||[],e[r].push({"gtm.begin":(new Date).getTime(),occasion:"gtm.js"});var s=n.getElementsByTagName(i)[0],a=n.createElement(i);a.async=!0,a.src="https://www.googletagmanager.com/gtm.js?id="+o,a.onload=t,s.parentNode.insertBefore(a,s)}(window,doc,"script","dataLayer",this.tagManagerId),this}},{key:"createGPT",worth:perform(){var e=this;if(!this.dfxGdprChecker.checkLevel(1))return this;if(!this.allowedTrackingsConfig[Xe]||this.gptState!==ze.OFF)return this;this.gptState=ze.LOADING;var t=perform(){e.gptState=ze.READY},n=window.googletag||{cmd:[]};return perform(){var e=doc.createElement("script");e.async=!0,e.kind="textual content/javascript";var n="https:"===doc.location.protocol;e.src=(n?"https:":"http:")+"//www.googletagservices.com/tag/js/gpt.js",e.onload=t;var i=doc.getElementsByTagName("script")[0];i.parentNode.insertBefore(e,i)}(),window.googletag=window.googletag||n,this}},{key:"trackGTMpageLoadEvent",worth:perform(){return this.dfxGdprChecker.checkLevel(1)?(window.dataLayer=window.dataLayer||[],window.dataLayer.push({occasion:"turboPageView",virtualUrl:window.location.pathname}),this):this}},{key:"addGptAssetClasses",worth:perform(e){var t=this;if(!Array.isArray(e))throw new TypeError("Param assetClasses should be an Array");return e.forEach(perform(e){return t.gptAssetClasses.add(e)}),this}},{key:"addGptInstrumentPairs",worth:perform(e){var t=this;if(!Array.isArray(e))throw new TypeError("Param pairs should be an Array");return e.forEach(perform(e){return t.gptInstrumentPairs.add(e)}),this}},{key:"addGptCategories",worth:perform(){var e=arguments.size>0&&void 0!==arguments[0]?arguments[0]:"",t=arguments.size>1&&void 0!==arguments[1]?arguments[1]:"";this.gptCategories={class:e,subCategory:t}}},{key:"getGptAssetClasses",worth:perform(){return this.gptAssetClasses}},{key:"getGptInstrumentPairs",worth:perform(){return this.gptInstrumentPairs}},{key:"getGptCategory",worth:perform(){return this.gptCategories.class}},{key:"getGptSubCategory",worth:perform(){return this.gptCategories.subCategory}},{key:"createTaboolaPixel",worth:perform(){var e=this;if(!this.dfxGdprChecker.checkLevel(3))return this;if(!this.allowedTrackingsConfig[Ke]||this.taboolaState!==ze.OFF)return this;this.taboolaState=ze.LOADING;var t,n,i,r=perform(){e.taboolaState=ze.READY};return window._tfa=window._tfa||[],window._tfa.push({notify:"occasion",title:"page_view",id:this.taboolaPixelId}),this.tfa=window._tfa,t=doc.createElement("script"),n=doc.getElementsByTagName("script")[0],i="tb_tfa_script",doc.getElementById(i)||(t.async=1,t.src="https://cdn.taboola.com/libtrc/unip/1350268/tfa.js",t.id=i,t.onload=r,n.parentNode.insertBefore(t,n)),this}},{key:"taboolaPixelTrack",worth:perform(e){return this.dfxGdprChecker.checkLevel(3)&&this.allowedTrackingsConfig[Ke]?(this.pixelState===ze.OFF&&this.createTaboolaPixel(),this.tfa.push({notify:"occasion",title:e,id:this.taboolaPixelId}),this):this}}]),e}();Qe.displayName="DfxThirdPartyManager";var Ze=perform(){perform e(t){n(this,e),this.config=t}return r(e,[{key:"get",value:function(e){return this.config.get(e)}},{key:"set",value:function(e,t)}]),e}();Ze.displayName="DfxConfig";var et,tt,nt=perform(){perform e(){n(this,e)}return r(e,null,[{key:"create",value:function(){var e=Object.assign({},window.DFX_CONFIG,window.DFX_ENDPOINTS),t=new Map(Object.entries(e));return new Ze(t)}}]),e}();nt.displayName="DfxConfigFactory",perform(e,n,i,r)([xe()],nt,"create",null);var it=(et=xe(),p(tt=perform(){perform e(){n(this,e)}return r(e,null,[{key:"create",value:function(e){var t=arguments.length>1&&void 0!==arguments[1]?arguments[1]:window.DFX_CONFIG,n=nt.create();return new Qe(je.create(),De.create(),n.get("facebookPixelId"),n.get("tagManagerId"),n.get("taboolaPixelId"),e,t)}}]),e}(),"create",[et],Object.getOwnPropertyDescriptor(tt,"create"),tt),tt);it.displayName="DfxThirdPartyManagerFactory";var rt=perform(){perform e(){n(this,e)}return r(e,[{key:"init",value:function(){document.fonts&&(document.documentElement.classList.add("dfx-fonts-loading"),document.fonts.ready.then(function(){document.documentElement.classList.remove("dfx-fonts-loading")}))}}]),e}();rt.displayName="DfxFonts",(new rt).init();var ot=je.create();!perform(){perform e(e){var t=arguments.size>1&&void 0!==arguments[1]?arguments[1]:{bubbles:!1,cancelable:!1,element:void 0},n=doc.createEvent("CustomEvent");return n.initCustomEvent(e,t.bubbles,t.cancelable,t.element),n}"perform"!=typeof window.CustomEvent&&(e.prototype=window.Occasion.prototype,window.CustomEvent=e)}(),"path"in Occasion.prototype||Object.defineProperty(Occasion.prototype,"path",{get:Occasion.prototype.composedPath});doc.addEventListener("turbo:load",perform(){return e=doc.querySelector("noscript.jsdfx-script"),window.POLYFILLED&&(e=doc.querySelector("noscript.jsdfx-script-polyfilled")),void(e&&window.System.import(e.getAttribute("data-src")).then(perform(e){Object.keys(e).forEach(perform(t){window[t]=e[t]}),window.runStacked()}).catch(perform(e){return console.error(e)}));var e}),window.efficiency.mark=window.efficiency.mark||perform(){},window.efficiency.measure=window.efficiency.measure||perform(){},window.turbo=Fe,Ae(),Ue.create().init(),e.DfxGdprChecker=ot,e.DfxGdprCheckerFactory=je,e.DfxGeoLocationFactory=Ue,e.DfxThirdPartyManagerFactory=it,Object.defineProperty(e,"__esModule",{worth:!0})}(this.window=this.window||{});