Ethereum, Bitcoin, ETH/USD, BTC/USD Speaking Factors:
Cryptocurrencies are persevering with to point out hints of restoration after a very tough two-week-stretch. That restoration does seem like slightly brighter in Ethereum in the intervening time, which highlights an even bigger theme that's turn into extra prevalent in 2021 as Ether is showing to steal a number of the crypto highlight from the titan of Bitcoin.
At this level, there could possibly be a bullish justification for Ethereum given the maintain at higher-low assist across the 50% Fibonacci retracement of the current main transfer, spanning from the Jan 11 low as much as the Could excessive.
To study extra about Fibonacci, try DailyFX Education
Ethereum Every day Worth Chart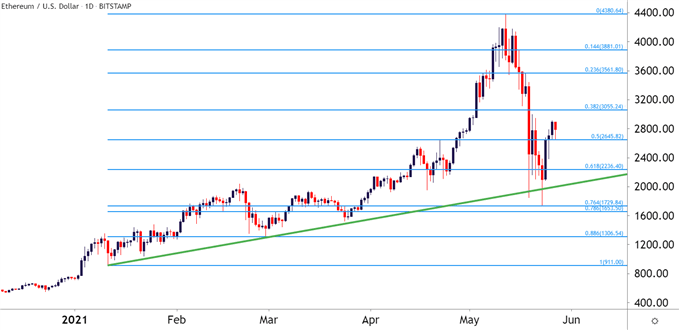 Chart ready by James Stanley; Ethereum on Tradingview
Bitcoin, alternatively, doesn't look as wholesome as there's been a continued construct of resistance across the $40k deal with that's capped this week's restoration, at the least up to now. On the beneath chart, I've added a Fibonacci retracement round an analogous main transfer, spanning from the January 4th low as much as the April excessive.
Bitcoin Every day Worth Chart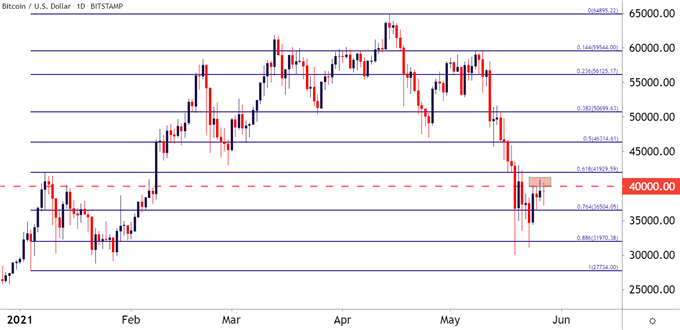 Chart ready by James Stanley; Bitcoin on Tradingview
Bitcoin v/s Ethereum
An enormous driver behind the crypto rally was wider acceptance of cryptocurrency, led partly by the announcement from Tesla that they have been a) going to place Bitcoin on their stability sheet after which b) settle for the cryptocurrency as fee.
Quickly after they introduced that they'd cease accepting Bitcoin as fee because of the power inefficiency by Bitcoin mining and this spurred a heated debate on the subject. However Musk stood his floor (on Twitter) and made a collection of arguments behind his thesis. He additionally shared that he's talked with North American Bitcoin Builders to debate a extra environment friendly power technique and that's appeared to assist with the current restoration, to a point.
However, an even bigger debate exists across the long-term way forward for cryptocurrencies. Ethereum might maintain some attractiveness from a usability standpoint when in comparison with Bitcoin. Whereas Bitcoin is a proof-of-work forex that may require electrical energy to conduct transactions, Ethereum has already began to shift focus to Ethereum 2.0 as a extra environment friendly medium. Ethereum additionally brings some further worth, akin to with NFTs which highlights the truth that Ether is greater than only a coin, its virtually a full working system. So, if we're taking a look at a future by which crypto will probably be an enormous half, Ethereum could also be a bit extra engaging than Bitcoin, and this may be seen within the 2021 pattern up to now. The chart beneath seems at Ethereum v/s Bitcoin, with increased costs exhibiting bullish desire in the direction of Ether v/s Bitcoin.
Ethereum (ETH/USD) v/s Bitcoin (BTC/USD)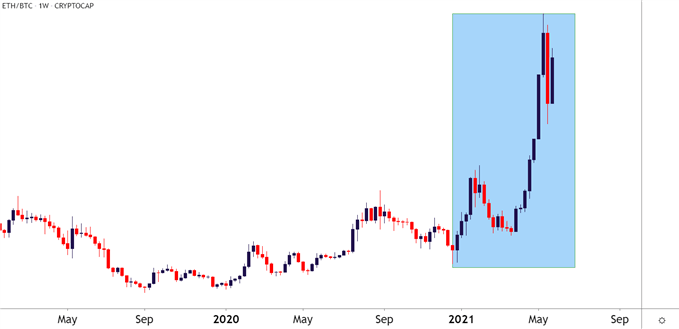 Chart ready by James Stanley; Tradingview
Why Would possibly This Matter – and What's the Main Danger?
The rationale why this will likely turn into greater than only a fad or a mania is due to central financial institution coverage. At this level, the Fed nonetheless reveals the looks of relative calm within the face of rising inflation. The financial institution has regularly stated that they really feel the inflationary indications that we've seen up to now are transitory in nature, and can ultimately handle themselves.
That's allowed the Fed to maintain financial coverage actually unfastened, however a mixture of rising inflation with low charges signifies that actual charges are going damaging – which implies a lack of buying energy. And this was one thing famous by Elon Musk earlier this yr when he was making his bull case behind crypto.
The most important threat right here is one thing we've seen pop up just lately out of China, as governmental regulation might create a wave of change within the house, and that is doubtless the largest merchandise to cope with for crypto bulls.
The chart beneath reveals the Federal Reserve's stability sheet by final yr, and see the parabolic-move that's occurred on this information because the financial institution threw the kitchen sink at supporting the economic system by the covid pandemic.
Fed Steadiness Sheet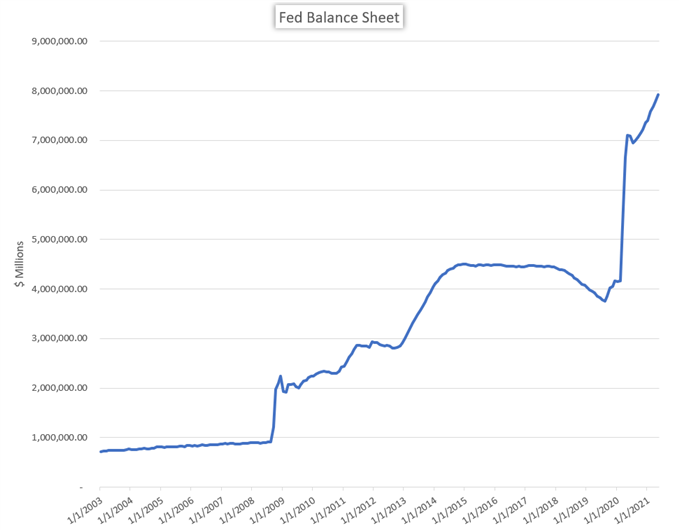 Chart ready by Brendan Fagan
— Written by James Stanley, Senior Strategist for DailyFX.com
Contact and comply with James on Twitter: @JStanleyFX
!perform(){perform e(e,t)var t,n="undefined"!=typeof Image,i="undefined"!=typeof self,r="undefined"!=typeof doc,o=i?self:international;if(r){var s=doc.querySelector("base[href]");s&&(t=s.href)}if(!t&&"undefined"!=typeof location){var a=(t=location.href.cut up("https://www.dailyfx.com/foreign exchange/basic/daily_briefing/session_briefing/daily_fundamentals/2021/05/27/#")[0].cut up("?")[0]).lastIndexOf("/");-1!==a&&(t=t.slice(0,a+1))}var u=//g;perform c(e,t){if(-1!==e.indexOf("")&&(e=e.substitute(u,"/")),"/"===e[0]&&"/"===e[1])return t.slice(0,t.indexOf(":")+1)+e;if("."===e[0]&&("/"===e[1]||"."===e[1]&&("/"===e[2]||2===e.size&&(e+="/"))||1===e.size&&(e+="/"))||"/"===e[0]){var n,i=t.slice(0,t.indexOf(":")+1);if(n="/"===t[i.length+1]?"file:"!==i?(n=t.slice(i.size+2)).slice(n.indexOf("/")+1):t.slice(8):t.slice(i.size+("/"===t[i.length])),"/"===e[0])return t.slice(0,t.length-n.length-1)+e;for(var r=n.slice(0,n.lastIndexOf("/")+1)+e,o=[],s=-1,a=0;an.size&&"/"!==i[i.length-1]))return i+e.slice(n.size);v("W2″,n,i,"ought to have a trailing '/'")}}perform v(t,n,i,r){console.warn(e(t,"Bundle goal "+r+", resolving goal '"+i+"' for "+n))}perform p(e,t,n){for(var i=e.scopes,r=n&&d(n,i);r;){var o=f(t,i[r]);if(o)return o;r=d(r.slice(0,r.lastIndexOf("/")),i)}return f(t,e.imports)||-1!==t.indexOf(":")&&t}var m=n&&Image.toStringTag,y=n?Image():"@";perform g(){this[y]={}}var ok,b=g.prototype;perform w(e){return e.id}perform S(e,t,n,i){if(e.onload(n,t.id,t.d&&t.d.map(w),!!i),n)throw n}perform E(t,n,i){var r=t[y][n];if(r)return r;var o=[],s=Object.create(null);m&&Object.defineProperty(s,m,{worth:"Module"});var a=Promise.resolve().then(perform(){return t.instantiate(n,i)}).then(perform(i){if(!i)throw Error(e(2,"Module "+n+" didn't instantiate"));var a=i[1](perform(e,t){r.h=!0;var n=!1;if("string"==typeof e)e in s&&s[e]===t||(s[e]=t,n=!0);else(s[i]=t,n=!0);e.__esModule&&(s.__esModule=e.__esModule)if(n)for(var a=0;a-1){var t=doc.createEvent("Occasion");t.initEvent("error",!1,!1),n.dispatchEvent(t)}return Promise.reject(e)})}else if("systemjs-importmap"===n.sort){n.sp=!0;var i=n.src?fetch(n.src,{integrity:n.integrity}).then(perform(e){if(!e.okay)throw Error("Invalid standing code: "+e.standing);return e.textual content()}).catch(perform(t){return t.message=e("W4","Error fetching systemjs-import map "+n.src)+"n"+t.message,console.warn(t),"{}"}):n.innerHTML;T=T.then(perform(){return i}).then(perform(i){!perform(t,n,i){var r={};strive{r=JSON.parse(n)}catch(o){console.warn(Error(e("W5″,"systemjs-importmap comprises invalid JSON")+"nn"+n+"n"))}!perform(e,t,n){var i;for(i in e.imports&&h(e.imports,n.imports,t,n,null),e.scopes||{}){var r=l(i,t);h(e.scopes[i],n.scopes[r]||(n.scopes[r]={}),t,n,r)}for(i in e.depcache||{})n.depcache[l(i,t)]=e.depcache[i];for(i in e.integrity||{})n.integrity[l(i,t)]=e.integrity[i]}(r,i,t)}(P,i,n.src||t)})}})}if(b.prepareImport=perform(e),r&&(O(),window.addEventListener("DOMContentLoaded",O)),r){window.addEventListener("error",perform(e){F=e.filename,x=e.error});var I=location.origin}b.createScript=perform(e){var t=doc.createElement("script");t.async=!0,e.indexOf(I+"/")&&(t.crossOrigin="nameless");var n=P.integrity[e];return n&&(t.integrity=n),t.src=e,t};var F,x,M={},D=b.register;b.register=perform(e,t){if(r&&"loading"===doc.readyState&&"string"!=typeof e){var n=doc.querySelectorAll("script[src]"),i=n[n.length-1];if(i){i.src,C=e;var o=this;R=setTimeout(perform(){M[i.src]=[e,t],o.import(i.src)})}}else C=void 0;return D.name(this,e,t)},b.instantiate=perform(t,n){var i=M[t];if(i)return delete M[t],i;var r=this;return new Promise(perform(i,o){var s=b.createScript(t);s.addEventListener("error",perform(){o(Error(e(3,"Error loading "+t+(n?" from "+n:""))))}),s.addEventListener("load",perform(){if(doc.head.removeChild(s),F===t)o(x);else{var e=r.getRegister();e&&e[0]===C&&clearTimeout(R),i(e)}}),doc.head.appendChild(s)})},b.shouldFetch=perform(){return!1},"undefined"!=typeof fetch&&(b.fetch=fetch);var N=b.instantiate,q=/^(textual content|utility)/(x-)?javascript(;|$)/;b.instantiate=perform(t,n){var i=this;return this.shouldFetch(t)?this.fetch(t,{credentials:"same-origin",integrity:P.integrity[t]}).then(perform(r){if(!r.okay)throw Error(e(7,r.standing+" "+r.statusText+", loading "+t+(n?" from "+n:"")));var o=r.headers.get("content-type");if(!o||!q.check(o))throw Error(e(4,'Unknown Content material-Kind "'+o+'", loading '+t+(n?" from "+n:"")));return r.textual content().then(perform(e){return e.indexOf("//# sourceURL=")<0&&(e+="n//# sourceURL="+t),(0,eval)(e),i.getRegister()})}):N.apply(this,arguments)},b.resolve=perform(n,i){return p(P,c(n,i=i||t)||n,i)||perform(t,n){throw Error(e(8,"Unable to resolve naked specifier '"+t+(n?"' from "+n:"'")))}(n,i)};var H=b.instantiate;b.instantiate=perform(e,t){var n=P.depcache[e];if(n)for(var i=0;i<n.size;i++)E(this,this.resolve(n[i],e),e);return H.name(this,e,t)},i&&"perform"==typeof importScripts&&(b.instantiate=perform(e){var t=this;return Promise.resolve().then(perform(){return importScripts(e),t.getRegister()})}),perform(e){var t,n,i,r=e.System.constructor.prototype;var o=r.import;r.import=perform(r,s){return perform()(n=r):t=r,i=r)(),o.name(this,r,s)};var s=[[],perform(){return{}}],a=r.getRegister;r.getRegister=perform(){var o=a.name(this);if(o)return o;var u,l=perform(){var o,s,a=0;for(var u in e)if(!c(u))1===a&&u!==n)return u;o?(i=u,s=r.firstGlobalProp&&sreturn s}();if(!l)return s;strive{u=e[l]}catch(h){return s}return[[],perform(e){return{execute:perform(){e(u),e({default:u,__useDefault:!0})}}}]};var u="undefined"!=typeof navigator&&-1!==navigator.userAgent.indexOf("Trident");perform c(t)}("undefined"!=typeof self?self:international),perform(e){var t=e.System.constructor.prototype,n=/^[^#?]+.(css|html|json|wasm)([?#].*)?$/;t.shouldFetch=perform(e){return n.check(e)};var i=/^utility/json(;|$)/,r=/^textual content/css(;|$)/,o=/^utility/wasm(;|$)/,s=t.fetch;t.fetch=perform(t,n){return s(t,n).then(perform(n){if(!n.okay)return n;var s=n.headers.get("content-type");return i.check(s)?n.json().then(perform(e){return new Response(new Blob(['System.register([],perform(e){return{execute:perform(){e("default",'+JSON.stringify(e)+")}}})"],{sort:"utility/javascript"}))}):r.check(s)?n.textual content().then(perform(e){return new Response(new Blob(["System.register([],perform(e){return{execute:perform(){var s=new CSSStyleSheet();s.replaceSync("+JSON.stringify(e)+');e("default",s)}}})'],{sort:"utility/javascript"}))}):o.check(s)?(WebAssembly.compileStreaming?WebAssembly.compileStreaming(n):n.arrayBuffer().then(WebAssembly.compile)).then(perform(n){e.System.wasmModules||(e.System.wasmModules=Object.create(null)),e.System.wasmModules[t]=n;var i=[],r=[];return WebAssembly.Module.imports&&WebAssembly.Module.imports(n).forEach(perform(e){var t=JSON.stringify(e.module);-1===i.indexOf(t)&&(i.push(t),r.push("perform(m){i["+t+"]=m}"))}),new Response(new Blob(["System.register(["+i.join(",")+"],perform(e){var i={};return{setters:["+r.join(",")+"],execute:perform(){return WebAssembly.instantiate(System.wasmModules["+JSON.stringify(t)+"],i).then(perform(m){e(m.exports)})}}})"],{sort:"utility/javascript"}))}):n})}}("undefined"!=typeof self?self:international);var j="undefined"!=typeof Image&&Image.toStringTag;b.get=perform(e){var t=this[y][e];if(t&&null===t.e&&!t.E)return t.er?null:t.n},b.set=perform(t,n){strive{new URL(t)}catch(s){console.warn(Error(e("W3",'"'+t+'" will not be a legitimate URL to set within the module registry')))}var i;j&&"Module"===n[j]?i=n:(i=Object.assign(Object.create(null),n),j&&Object.defineProperty(i,j,{worth:"Module"}));var r=Promise.resolve(i),o=this[y][t]||(this[y][t]={id:t,i:[],h:!1,d:[],e:null,er:void 0,E:void 0});return!o.e&&!o.E&&(Object.assign(o,{n:i,I:void 0,L:void 0,C:r}),i)},b.has=perform(e){return!!this[y][e]},b.delete=perform(e){var t=this[y],n=t[e];if(!n||null!==n.e||n.E)return!1;var i=n.i;return n.d&&n.d.forEach(perform(e){var t=e.i.indexOf(n);-1!==t&&e.i.splice(t,1)}),delete t[e],perform(){var n=t[e];if(!n||!i||null!==n.e||n.E)return!1;i.forEach(perform(e){n.i.push(e),e(n.n)}),i=null}};var B="undefined"!=typeof Image&&Image.iterator;b.entries=perform(){var e,t,n=this,i=Object.keys(n[y]),r=0,o={subsequent:perform(){for(;void 0!==(t=i[r++])&&void 0===(e=n.get(t)););return{accomplished:void 0===t,worth:void 0!==t&&[t,e]}}};return o[B]=perform(){return this},o}}(),perform(e){var t=e.System;s(t);var n,i=t.constructor.prototype,r=t.constructor,o=perform(){r.name(this),s(this)};perform s(e){e.registerRegistry=Object.create(null)}o.prototype=i,t.constructor=o;var a=i.register;i.register=perform(e,t,i){if("string"!=typeof e)return a.apply(this,arguments);var r=[t,i];return this.registerRegistry[e]=r,n||(n=r,Promise.resolve().then(perform(){n=null})),a.apply(this,arguments)};var u=i.resolve;i.resolve=perform(e,t){strive{return u.name(this,e,t)}catch(n){if(e on this.registerRegistry)return e;throw n}};var c=i.instantiate;i.instantiate=perform(e,t){var n=this.registerRegistry[e];return n?(this.registerRegistry[e]=null,n):c.name(this,e,t)};var l=i.getRegister;i.getRegister=perform()}("undefined"!=typeof self?self:international),perform(e){"use strict";perform t(e){return(t="perform"==typeof Image&&"image"==typeof Image.iterator?perform(e){return typeof e}:perform(e){return e&&"perform"==typeof Image&&e.constructor===Image&&e!==Image.prototype?"image":typeof e})(e)}perform n(e,t){if(!(e instanceof t))throw new TypeError("Can not name a category as a perform")}perform i(e,t){for(var n=0;n<t.size;n++)!1,i.configurable=!0,"worth"in i&&(i.writable=!0),Object.defineProperty(e,i.key,i)}perform r(e,t,n){return t&&i(e.prototype,t),n&&i(e,n),e}perform o(e,t){if("perform"!=typeof t&&null!==t)throw new TypeError("Tremendous expression should both be null or a perform");e.prototype=Object.create(t&&t.prototype,{constructor:{worth:e,writable:!0,configurable:!0}}),t&&a(e,t)}perform s(e){return(s=Object.setPrototypeOf?Object.getPrototypeOf:perform(e)Object.getPrototypeOf(e))(e)}perform a(e,t){return(a=Object.setPrototypeOf||perform(e,t){return e.__proto__=t,e})(e,t)}perform u(e,t,n){return(u=perform(){if("undefined"==typeof Mirror||!Mirror.assemble)return!1;if(Mirror.assemble.sham)return!1;if("perform"==typeof Proxy)return!0;strive{return Date.prototype.toString.name(Mirror.assemble(Date,[],perform(){})),!0}catch(e){return!1}}()?Mirror.assemble:perform(e,t,n){var i=[null];i.push.apply(i,t);var r=new(Perform.bind.apply(e,i));return n&&a(r,n.prototype),r}).apply(null,arguments)}perform c(e){var t="perform"==typeof Map?new Map:void 0;return(c=perform(e){if(null===e||(n=e,-1===Perform.toString.name(n).indexOf("[native code]")))return e;var n;if("perform"!=typeof e)throw new TypeError("Tremendous expression should both be null or a perform");if(void 0!==t){if(t.has(e))return t.get(e);t.set(e,i)}perform i(){return u(e,arguments,s(this).constructor)}return i.prototype=Object.create(e.prototype,{constructor:{worth:i,enumerable:!1,writable:!0,configurable:!0}}),a(i,e)})(e)}perform l(e){if(void 0===e)throw new ReferenceError("this hasn't been initialised – tremendous() hasn't been known as");return e}perform h(e,t,n){return(h="undefined"!=typeof Mirror&&Mirror.get?Mirror.get:perform(e,t,n){var i=perform(e,t){for(;!Object.prototype.hasOwnProperty.name(e,t)&&null!==(e=s(e)););return e}(e,t);if(i){var r=Object.getOwnPropertyDescriptor(i,t);return r.get?r.get.name(n):r.worth}})(e,t,n||e)}perform d(e,t){return t||(t=e.slice(0)),Object.freeze(Object.defineProperties(e,{uncooked:{worth:Object.freeze(t)}}))}perform f(e,t){return perform(e){if(Array.isArray(e))return e}(e)||perform(e,t){var n=[],i=!0,r=!1,o=void 0;striven.size!==t);i=!0);catch(u){r=!0,o=u}lastly{strivea.return()lastly{if(r)throw o}}return n}(e,t)||perform(){throw new TypeError("Invalid try and destructure non-iterable occasion")}()}perform v(e){return perform(e){if(Array.isArray(e)){for(var t=0,n=new Array(e.size);t<e.size;t++)n[t]=e[t];return n}}(e)||perform(e)"[object Arguments]"===Object.prototype.toString.name(e))return Array.from(e)(e)||perform(){throw new TypeError("Invalid try and unfold non-iterable occasion")}()}perform p(e,t,n,i,r){var o={};return Object.keys(i).forEach(perform(e){o[e]=i[e]}),o.enumerable=!!o.enumerable,o.configurable=!!o.configurable,("worth"in o||o.initializer)&&(o.writable=!0),o=n.slice().reverse().scale back(perform(n,i),o),r&&void 0!==o.initializer&&(o.worth=o.initializer?o.initializer.name(r):void 0,o.initializer=void 0),void 0===o.initializer&&(Object.defineProperty(e,t,o),o=null),o}perform m(){var e=d(["n .turbo-progress-bar {n position: fixed;n display: block;n top: 0;n left: 0;n height: 3px;n background: #0076ff;n z-index: 9999;n transition:n width ","ms ease-out,n opacity ","ms ","ms ease-in;n transform: translate3d(0, 0, 0);n }n "]);return m=perform(){return e},e}perform y(){var e=d(['n You are loading Turbo from a element inside the element. This is probably not what you meant to do!nn Load your application's JavaScript bundle inside the element instead. elements in are evaluated with each page change.nn For more information, see: https://turbo.hotwire.dev/handbook/building#working-with-script-elementsnn ——n Suppress this warning by adding a "data-turbo-suppress-warning" attribute to: %sn ']);return y=perform(){return e},e}perform g(e){return perform(){var t,n,i,r=s(e);if(perform(){if("undefined"==typeof Mirror||!Mirror.assemble)return!1;if(Mirror.assemble.sham)return!1;if("perform"==typeof Proxy)return!0;strive{return Date.prototype.toString.name(Mirror.assemble(Date,[],perform(){})),!0}catch(e){return!1}}()){var o=s(this).constructor;t=Mirror.assemble(r,arguments,o)}else t=r.apply(this,arguments);return n=this,!(i=t)||"object"!=typeof i&&"perform"!=typeof i?l(n):i}}!perform(){if(void 0!==window.Mirror&&void 0!==window.customElements&&!window.customElements.polyfillWrapFlushCallback){var e=HTMLElement,t=perform(){return Mirror.assemble(e,[],this.constructor)};window.HTMLElement=t,HTMLElement.prototype=e.prototype,HTMLElement.prototype.constructor=HTMLElement,Object.setPrototypeOf(HTMLElement,e)}}();var ok,b=new WeakMap;perform w(e){var t,n,i,r=(t=e.goal,n=t instanceof Ingredient?t:t instanceof Node?t.parentElement:null,"submit"==(null==(i=n?n.closest("enter, button"):null)?void 0:i.sort)?i:null);r&&r.type&&b.set(r.type,r)}"SubmitEvent"in window||(addEventListener("click on",w,!0),Object.defineProperty(Occasion.prototype,"submitter",{get:perform(){if("submit"==this.sort&&this.goal instanceof HTMLFormElement)return b.get(this.goal)}})),perform(e){e.keen="keen",e.lazy="lazy"}(ok||(ok={}));var S=perform(e){o(i,c(HTMLElement));var t=g(i);perform i(){var e;return n(this,i),(e=t.name(this)).loaded=Promise.resolve(),e.delegate=new i.delegateConstructor(l(e)),e}return r(i,[{key:"connectedCallback",value:function(){this.delegate.connect()}},{key:"disconnectedCallback",value:function(){this.delegate.disconnect()}},{key:"attributeChangedCallback",value:function(e){"loading"==e?this.delegate.loadingStyleChanged():"src"==e&&this.delegate.sourceURLChanged()}},{key:"src",get:function(){return this.getAttribute("src")},set:function(e){e?this.setAttribute("src",e):this.removeAttribute("src")}},{key:"loading",get:function(){return function(e){switch(e.toLowerCase()){case"lazy":return k.lazy;default:return k.eager}}(this.getAttribute("loading")||"")},set:function(e){e?this.setAttribute("loading",e):this.removeAttribute("loading")}},{key:"disabled",get:function(){return this.hasAttribute("disabled")},set:function(e){e?this.setAttribute("disabled",""):this.removeAttribute("disabled")}},{key:"autoscroll",get:function(){return this.hasAttribute("autoscroll")},set:function(e){e?this.setAttribute("autoscroll",""):this.removeAttribute("autoscroll")}},{key:"complete",get:function(){return!this.delegate.isLoading}},{key:"isActive",get:function(){return this.ownerDocument===document&&!this.isPreview}},{key:"isPreview",get:function()}],[{key:"observedAttributes",get:function(){return["loading","src"]}}]),i}();perform E(e){var t=doc.createElement("a");return t.href=e.toString(),new URL(t.href)}perform L(e){var t;return e.hash?e.hash.slice(1):(t=e.href.match(/#(.*)$/))?t[1]:""}perform C(e){return(perform(e){return perform(e){return e.pathname.cut up("/").slice(1)}(e).slice(-1)[0]}(e).match(/.[^.]*$/)||[])[0]||""}perform R(e,t){var n=perform(e){return t=e.origin+e.pathname,t.endsWith("/")?t:t+"/";var t}(t);return e.href===E(n).href||e.href.startsWith(n)}perform T(e){var t=e.hash.size;return t=400&&this.statusCode=500&&this.statusCode1&&void 0!==arguments[1]?arguments[1]:{},n=t.goal,i=t.cancelable,r=t.element,o=new CustomEvent(e,{cancelable:i,bubbles:!0,element:r});return(n||doc.documentElement).dispatchEvent(o),o}perform I(){return new Promise(perform(e){return requestAnimationFrame(perform(){return e()})})}perform F(){var e=arguments.size>0&&void 0!==arguments[0]?arguments[0]:"";return(new DOMParser).parseFromString(e,"textual content/html")}perform x(e){for(var t=arguments.size,n=new Array(t>1?t-1:0),i=1;i3&&void 0!==arguments[3]?arguments[3]:new URLSearchParams;n(this,e),this.abortController=new AbortController,this.delegate=t,this.methodology=i,this.isIdempotent?this.url=perform(e,t){var n=new URLSearchParams(e.search),i=!0,r=!1,o=void 0;strive{for(var s,a=t[Symbol.iterator]();!(i=(s=a.subsequent()).accomplished);i=!0)}catch(d){r=!0,o=d}lastly{strivea.return()lastly{if(r)throw o}}return e}(r,v(o.entries())):(this.physique=o,this.url=r)}return r(e,[{key:"cancel",value:function(){this.abortController.abort()}},{key:"perform",value:async function(){var e=this.fetchOptions;O("turbo:before-fetch-request",{detail:{fetchOptions:e}});try{this.delegate.requestStarted(this);var t=await fetch(this.url.href,e);return await this.receive(t)}catch(n){throw this.delegate.requestErrored(this,n),n}finally{this.delegate.requestFinished(this)}}},{key:"receive",value:async function(e){var t=new A(e);return O("turbo:before-fetch-response",{cancelable:!0,detail:{fetchResponse:t}}).defaultPrevented?this.delegate.requestPreventedHandlingResponse(this,t):t.succeeded?this.delegate.requestSucceededWithResponse(this,t):this.delegate.requestFailedWithResponse(this,t),t}},{key:"location",get:function(){return this.url}},{key:"params",get:function(){return this.url.searchParams}},{key:"entries",get:function(){return this.body?Array.from(this.body.entries()):[]}},{key:"fetchOptions",get:perform(){return{methodology:P[this.method].toUpperCase(),credentials:"same-origin",headers:this.headers,redirect:"comply with",physique:this.physique,sign:this.abortSignal}}},{key:"isIdempotent",get:perform(){return this.methodology==P.get}},{key:"headers",get:perform(){var e=Object.assign({},this.defaultHeaders);return"perform"==typeof this.delegate.prepareHeadersForRequest&&this.delegate.prepareHeadersForRequest(e,this),e}},{key:"abortSignal",get:perform(){return this.abortController.sign}},{key:"defaultHeaders",get:perform(){return{Settle for:"textual content/html, utility/xhtml+xml"}}}]),e}();var N,q,H=perform(){perform e(t,i){var r=this;n(this,e),this.began=!1,this.intersect=perform(e){var t=e.slice(-1)[0];(null==t?void 0:t.isIntersecting)&&r.delegate.elementAppearedInViewport(r.factor)},this.delegate=t,this.factor=i,this.intersectionObserver=new IntersectionObserver(this.intersect)}return r(e,[{key:"start",value:function()},{key:"stop",value:function(){this.started&&(this.started=!1,this.intersectionObserver.unobserve(this.element))}}]),e}(),j=perform(){perform e(t){n(this,e),this.templateElement=doc.createElement("template"),this.templateElement.innerHTML=t}return r(e,[{key:"fragment",get:function(){var e=document.createDocumentFragment(),t=!0,n=!1,i=void 0;try{for(var r,o=this.foreignElements[Symbol.iterator]();!(t=(r=o.subsequent()).accomplished);t=!0){var s=r.worth;e.appendChild(doc.importNode(s,!0))}}catch(a){n=!0,i=a}lastly{strivelastly{if(n)throw i}}return e}},{key:"foreignElements",get:perform(){return this.templateChildren.scale back(perform(e,t){return"turbo-stream"==t.tagName.toLowerCase()?[].concat(v(e),[t]):e},[])}},{key:"templateChildren",get:perform(){return Array.from(this.templateElement.content material.youngsters)}}],[{key:"wrap",value:function(e){return"string"==typeof e?new this(e):e}}]),e}();j.contentType="textual content/vnd.turbo-stream.html",perform(e){e[e.initialized=0]="initialized",e[e.requesting=1]="requesting",e[e.waiting=2]="ready",e[e.receiving=3]="receiving",e[e.stopping=4]="stopping",e[e.stopped=5]="stopped"}(N||(N={})),perform(e){e.urlEncoded="utility/x-www-form-urlencoded",e.multipart="multipart/form-data",e.plain="textual content/plain"}(q||(q={}));var B=perform(){perform e(t,i,r){var o=arguments.size>3&&void 0!==arguments[3]&&arguments[3];n(this,e),this.state=N.initialized,this.delegate=t,this.formElement=i,this.submitter=r,this.formData=perform(e,t)"");return n(i,r),this.fetchRequest=new D(this,this.methodology,this.location,this.physique),this.mustRedirect=o}return r(e,[{key:"start",value:async function(){var e=N,t=e.initialized,n=e.requesting;if(this.state==t)return this.state=n,this.fetchRequest.perform()}},{key:"stop",value:function(){var e=N,t=e.stopping,n=e.stopped;if(this.state!=t&&this.state!=n)return this.state=t,this.fetchRequest.cancel(),!0}},{key:"prepareHeadersForRequest",value:function(e,t){if(!t.isIdempotent){var n=function(e){if(null!=e){var t=document.cookie?document.cookie.split("; "):[],n=t.discover(perform(t){return t.startsWith(e)});if(n){var i=n.cut up("=").slice(1).be part of("=");return i?decodeURIComponent(i):void 0}}}(_("csrf-param"))||_("csrf-token");n&&(e["X-CSRF-Token"]=n),e.Settle for=[j.contentType,e.Accept].be part of(", ")}}},{key:"requestStarted",worth:perform(e){this.state=N.ready,O("turbo:submit-start",{goal:this.formElement,element:{formSubmission:this}}),this.delegate.formSubmissionStarted(this)}},{key:"requestPreventedHandlingResponse",worth:perform(e,t){this.outcome={success:t.succeeded,fetchResponse:t}}},{key:"requestSucceededWithResponse",worth:perform(e,t){if(t.clientError||t.serverError)this.delegate.formSubmissionFailedWithResponse(this,t);else if(this.requestMustRedirect(e)&&perform(e){return 200==e.statusCode&&!e.redirected}(t)){var n=new Error("Type responses should redirect to a different location");this.delegate.formSubmissionErrored(this,n)}else this.state=N.receiving,this.outcome={success:!0,fetchResponse:t},this.delegate.formSubmissionSucceededWithResponse(this,t)}},{key:"requestFailedWithResponse",worth:perform(e,t){this.outcome={success:!1,fetchResponse:t},this.delegate.formSubmissionFailedWithResponse(this,t)}},{key:"requestErrored",worth:perform(e,t){this.outcome={success:!1,error:t},this.delegate.formSubmissionErrored(this,t)}},{key:"requestFinished",worth:perform(e){this.state=N.stopped,O("turbo:submit-end",{goal:this.formElement,element:Object.assign({formSubmission:this},this.outcome)}),this.delegate.formSubmissionFinished(this)}},{key:"requestMustRedirect",worth:perform(e){return!e.isIdempotent&&this.mustRedirect}},{key:"methodology",get:perform(){var e;return perform(e){change(e.toLowerCase()){case"get":return P.get;case"put up":return P.put up;case"put":return P.put;case"patch":return P.patch;case"delete":return P.delete}}(((null===(e=this.submitter)||void 0===e?void 0:e.getAttribute("formmethod"))||this.formElement.getAttribute("methodology")||"").toLowerCase())||P.get}},{key:"motion",get:perform()},{key:"location",get:perform(){return E(this.motion)}},{key:"physique",get:perform()this.methodology==P.get?new URLSearchParams(this.stringFormData):this.formData},{key:"enctype",get:perform(){var e;return perform(e){change(e.toLowerCase()){case q.multipart:return q.multipart;case q.plain:return q.plain;default:return q.urlEncoded}}((null===(e=this.submitter)||void 0===e?void 0:e.getAttribute("formenctype"))||this.formElement.enctype)}},{key:"stringFormData",get:perform(){return v(this.formData).scale back(perform(e,t){var n=f(t,2),i=n[0],r=n[1];return e.concat("string"==typeof r?[[i,r]]:[])},[])}}]),e}();perform _(e){var t=doc.querySelector('meta[name="'.concat(e,'"]'));return t&&t.content material}var V=perform(){perform e(t){n(this,e),this.factor=t}return r(e,[{key:"hasAnchor",value:function(e){return null!=this.getElementForAnchor(e)}},{key:"getElementForAnchor",value:function(e){try{return this.element.querySelector("[id='".concat(e,"'], a[name="").concat(e,""]"))}catch(t){return null}}},{key:"getPermanentElementById",worth:perform(e){return this.factor.querySelector("https://www.dailyfx.com/foreign exchange/basic/daily_briefing/session_briefing/daily_fundamentals/2021/05/27/#".concat(e,"[data-turbo-permanent]"))}},{key:"getPermanentElementsPresentInSnapshot",worth:perform(e){return this.permanentElements.filter(perform(t){var n=t.id;return e.getPermanentElementById(n)})}},{key:"youngsters",get:perform(){return v(this.factor.youngsters)}},{key:"firstAutofocusableElement",get:perform(){return this.factor.querySelector("[autofocus]")}},{key:"permanentElements",get:perform(){return v(this.factor.querySelectorAll("[id][data-turbo-permanent]"))}}]),e}(),G=perform(){perform e(t,i){var r=this;n(this,e),this.submitBubbled=perform(e){if(e.goal instanceof HTMLFormElement)void 0;r.delegate.shouldInterceptFormSubmission(t,n)&&(e.preventDefault(),e.stopImmediatePropagation(),r.delegate.formSubmissionIntercepted(t,n))},this.delegate=t,this.factor=i}return r(e,[{key:"start",value:function(){this.element.addEventListener("submit",this.submitBubbled)}},{key:"stop",value:function(){this.element.removeEventListener("submit",this.submitBubbled)}}]),e}(),W=perform(){perform e(t,i){n(this,e),this.delegate=t,this.factor=i}return r(e,[{key:"scrollToAnchor",value:function(e){var t=this.snapshot.getElementForAnchor(e);t?this.scrollToElement(t):this.scrollToPosition({x:0,y:0})}},{key:"scrollToElement",value:function(e){e.scrollIntoView()}},{key:"scrollToPosition",value:function(e){var t=e.x,n=e.y;this.scrollRoot.scrollTo(t,n)}},{key:"render",value:async function(e){if(this.renderer)throw new Error("rendering is already in progress");var t=e.isPreview,n=e.shouldRender,i=e.newSnapshot;if(n)try{this.renderer=e,this.prepareToRenderSnapshot(e),this.delegate.viewWillRenderSnapshot(i,t),await this.renderSnapshot(e),this.delegate.viewRenderedSnapshot(i,t),this.finishRenderingSnapshot(e)}finally{delete this.renderer}else this.invalidate()}},{key:"invalidate",value:function(){this.delegate.viewInvalidated()}},{key:"prepareToRenderSnapshot",value:function(e){this.markAsPreview(e.isPreview),e.prepareToRender()}},{key:"markAsPreview",value:function(e){e?this.element.setAttribute("data-turbo-preview",""):this.element.removeAttribute("data-turbo-preview")}},{key:"renderSnapshot",value:async function(e){await e.render()}},{key:"finishRenderingSnapshot",value:function(e){e.finishRendering()}},{key:"scrollRoot",get:function(){return window}}]),e}(),U=perform(e){o(i,W);var t=g(i);perform i(){return n(this,i),t.apply(this,arguments)}return r(i,[{key:"invalidate",value:function(){this.element.innerHTML=""}},{key:"snapshot",get:function(){return new V(this.element)}}]),i}(),z=perform(){perform e(t,i){var r=this;n(this,e),this.clickBubbled=perform(e){r.respondsToEventTarget(e.goal)?r.clickEvent=e:delete r.clickEvent},this.linkClicked=perform(e){r.clickEvent&&r.respondsToEventTarget(e.goal)&&e.goal instanceof Ingredient&&r.delegate.shouldInterceptLinkClick(e.goal,e.element.url)&&(r.clickEvent.preventDefault(),e.preventDefault(),r.delegate.linkClickIntercepted(e.goal,e.element.url)),delete r.clickEvent},this.willVisit=perform(){delete r.clickEvent},this.delegate=t,this.factor=i}return r(e,[{key:"start",value:function(){this.element.addEventListener("click",this.clickBubbled),document.addEventListener("turbo:click",this.linkClicked),document.addEventListener("turbo:before-visit",this.willVisit)}},{key:"stop",value:function(){this.element.removeEventListener("click",this.clickBubbled),document.removeEventListener("turbo:click",this.linkClicked),document.removeEventListener("turbo:before-visit",this.willVisit)}},{key:"respondsToEventTarget",value:function(e){var t=e instanceof Element?e:e instanceof Node?e.parentElement:null;return t&&t.closest("turbo-frame, html")==this.element}}]),e}(),J=perform(){perform e(t,i,r){var o=this;n(this,e),this.currentSnapshot=t,this.newSnapshot=i,this.isPreview=r,this.promise=new Promise(perform(e,t){return o.resolvingFunctions={resolve:e,reject:t}})}return r(e,[{key:"prepareToRender",value:function(){}},{key:"finishRendering",value:function(){this.resolvingFunctions&&(this.resolvingFunctions.resolve(),delete this.resolvingFunctions)}},{key:"createScriptElement",value:function(e){if("false"==e.getAttribute("data-turbo-eval"))return e;var t=document.createElement("script");return t.textContent=e.textContent,t.async=!1,function(e,t){for(var n=0,i=v(t.attributes);n<i.length;n++){var r=i[n],o=r.identify,s=r.worth;e.setAttribute(o,s)}}(t,e),t}},{key:"preservingPermanentElements",worth:perform(e){var t,n,i=(t=this.currentSnapshot,n=this.newSnapshot,t.getPermanentElementsPresentInSnapshot(n).scale back(perform(e,t){var i=n.getPermanentElementById(t.id);if(i){var r=perform(e){var t=doc.createElement("meta");return t.setAttribute("identify","turbo-permanent-placeholder"),t.setAttribute("content material",e.id),{factor:t,permanentElement:e}}(t);return X(t,r.factor),X(i,t),[].concat(v(e),[r])}return e},[]));e(),perform(e){var t=!0,n=!1,i=void 0;strive{for(var r,o=e[Symbol.iterator]();!(t=(r=o.subsequent()).accomplished);t=!0){var s=r.worth,a=s.factor,u=s.permanentElement,c=u.cloneNode(!0);X(a,c)}}catch(l){n=!0,i=l}lastly{strivelastly{if(n)throw i}}}(i)}},{key:"focusFirstAutofocusableElement",worth:perform(){var e=this.newSnapshot.firstAutofocusableElement;(perform(e){return e&&"perform"==typeof e.focus})(e)&&e.focus()}},{key:"shouldRender",get:perform(){return!0}},{key:"currentElement",get:perform(){return this.currentSnapshot.factor}},{key:"newElement",get:perform(){return this.newSnapshot.factor}}]),e}();perform X(e,t){var n=e.parentElement;if(n)return n.replaceChild(t,e)}var Y=perform(e){o(i,J);var t=g(i);perform i(){return n(this,i),t.apply(this,arguments)}return r(i,[{key:"render",value:async function(){var e=this;await I(),this.preservingPermanentElements(function(){e.loadFrameElement()}),this.scrollFrameIntoView(),await I(),this.focusFirstAutofocusableElement()}},{key:"loadFrameElement",value:function()},{key:"scrollFrameIntoView",value:function(){if(this.currentElement.autoscroll||this.newElement.autoscroll){var e=this.currentElement.firstElementChild,t=(n=this.currentElement.getAttribute("data-autoscroll-block"),i="end","end"==n||"start"==n||"center"==n||"nearest"==n?n:i);if(e)return e.scrollIntoView({block:t}),!0}var n,i;return!1}},{key:"shouldRender",get:function(){return!0}}]),i}();var Ok=perform(){perform e(t){n(this,e),this.resolveVisitPromise=perform(){},this.factor=t,this.view=new U(this,this.factor),this.appearanceObserver=new H(this,this.factor),this.linkInterceptor=new z(this,this.factor),this.formInterceptor=new G(this,this.factor)}return r(e,[{key:"connect",value:function(){this.loadingStyle==k.lazy&&this.appearanceObserver.start(),this.linkInterceptor.start(),this.formInterceptor.start()}},{key:"disconnect",value:function(){this.appearanceObserver.stop(),this.linkInterceptor.stop(),this.formInterceptor.stop()}},{key:"sourceURLChanged",value:function(){this.loadingStyle==k.eager&&this.loadSourceURL()}},{key:"loadingStyleChanged",value:function(){this.loadingStyle==k.lazy?this.appearanceObserver.start():(this.appearanceObserver.stop(),this.loadSourceURL())}},{key:"loadSourceURL",value:async function(){if(this.isActive&&this.sourceURL&&this.sourceURL!=this.loadingURL)try{this.loadingURL=this.sourceURL,this.element.loaded=this.visit(this.sourceURL),this.appearanceObserver.stop(),await this.element.loaded}finally{delete this.loadingURL}}},{key:"loadResponse",value:async function(e){try{var t=await e.responseHTML;if(t){var n=F(t).body,i=new V(await this.extractForeignFrameElement(n)),r=new Y(this.view.snapshot,i,!1);await this.view.render(r)}}catch(o){console.error(o),this.view.invalidate()}}},{key:"elementAppearedInViewport",value:function(e){this.loadSourceURL()}},{key:"shouldInterceptLinkClick",value:function(e,t){return this.shouldInterceptNavigation(e)}},{key:"linkClickIntercepted",value:function(e,t){this.navigateFrame(e,t)}},{key:"shouldInterceptFormSubmission",value:function(e){return this.shouldInterceptNavigation(e)}},{key:"formSubmissionIntercepted",value:function(e,t){this.formSubmission&&this.formSubmission.stop(),this.formSubmission=new B(this,e,t),this.formSubmission.fetchRequest.isIdempotent?this.navigateFrame(e,this.formSubmission.fetchRequest.url.href):this.formSubmission.start()}},{key:"prepareHeadersForRequest",value:function(e,t){e["Turbo-Frame"]=this.id}},{key:"requestStarted",worth:perform(e){this.factor.setAttribute("busy","")}},{key:"requestPreventedHandlingResponse",worth:perform(e,t){this.resolveVisitPromise()}},{key:"requestSucceededWithResponse",worth:async perform(e,t){await this.loadResponse(t),this.resolveVisitPromise()}},{key:"requestFailedWithResponse",worth:perform(e,t){console.error(t),this.resolveVisitPromise()}},{key:"requestErrored",worth:perform(e,t){console.error(t),this.resolveVisitPromise()}},{key:"requestFinished",worth:perform(e){this.factor.removeAttribute("busy")}},{key:"formSubmissionStarted",worth:perform(e){}},{key:"formSubmissionSucceededWithResponse",worth:perform(e,t){this.findFrameElement(e.formElement).delegate.loadResponse(t)}},{key:"formSubmissionFailedWithResponse",worth:perform(e,t){this.factor.delegate.loadResponse(t)}},{key:"formSubmissionErrored",worth:perform(e,t){}},{key:"formSubmissionFinished",worth:perform(e){}},{key:"viewWillRenderSnapshot",worth:perform(e,t){}},{key:"viewRenderedSnapshot",worth:perform(e,t){}},{key:"viewInvalidated",worth:perform(){}},{key:"go to",worth:async perform(e){var t=this,n=new D(this,P.get,E(e));return new Promise(perform(e){t.resolveVisitPromise=perform(){t.resolveVisitPromise=perform(){},e()},n.carry out()})}},{key:"navigateFrame",worth:perform(e,t){this.findFrameElement(e).src=t}},{key:"findFrameElement",worth:perform(e)this.factor.getAttribute("goal")))&&void 0!==t?t:this.factor},{key:"extractForeignFrameElement",worth:async perform(e){var t,n=CSS.escape(this.id);return(t=Z(e.querySelector("turbo-frame#".concat(n))))?t:(t=Z(e.querySelector("turbo-frame[src][recurse~=".concat(n,"]"))))?(await t.loaded,await this.extractForeignFrameElement(t)):(console.error('Response has no matching factor')),new S)}},{key:"shouldInterceptNavigation",worth:perform(e){var t=e.getAttribute("data-turbo-frame")||this.factor.getAttribute("goal");if(!this.enabled||"_top"==t)return!1;if(t){var n=Q(t);if(n)return!n.disabled}return!0}},{key:"id",get:perform(){return this.factor.id}},{key:"enabled",get:perform(){return!this.factor.disabled}},{key:"sourceURL",get:perform(){return this.factor.src}},{key:"loadingStyle",get:perform(){return this.factor.loading}},{key:"isLoading",get:perform()},{key:"isActive",get:perform(){return this.factor.isActive}}]),e}();perform Q(e){if(null!=e){var t=doc.getElementById(e);if(t instanceof S)return t}}perform Z(e){if(e&&e.ownerDocument!==doc&&(e=doc.importNode(e,!0)),e instanceof S)return e}var ee={append:perform(),prepend:perform()void 0===e,take away:perform()void 0===e,substitute:perform(),replace:perform(){this.targetElement&&(this.targetElement.innerHTML="",this.targetElement.append(this.templateContent))}},te=perform(e){o(i,c(HTMLElement));var t=g(i);perform i(){return n(this,i),t.apply(this,arguments)}return r(i,[{key:"connectedCallback",value:async function(){try{await this.render()}catch(e){console.error(e)}finally{this.disconnect()}}},{key:"render",value:async function(){var e,t=this;return null!==(e=this.renderPromise)&&void 0!==e?e:this.renderPromise=async function(){t.dispatchEvent(t.beforeRenderEvent)&&(await I(),t.performAction())}()}},{key:"disconnect",value:function(){try{this.remove()}catch(e){}}},{key:"raise",value:function(e){throw new Error("".concat(this.description,": ").concat(e))}},{key:"performAction",get:function(){if(this.action){var e=ee[this.action];if(e)return e;this.increase("unknown motion")}this.increase("motion attribute is lacking")}},{key:"targetElement",get:perform()void 0===e?void 0:e.getElementById(this.goal);this.increase("goal attribute is lacking")},{key:"templateContent",get:perform(){return this.templateElement.content material}},{key:"templateElement",get:perform(){if(this.firstElementChild instanceof HTMLTemplateElement)return this.firstElementChild;this.increase("first little one factor should be a factor")}},{key:"motion",get:perform(){return this.getAttribute("motion")}},{key:"goal",get:perform(){return this.getAttribute("goal")}},{key:"description",get:perform(){var e,t;return null!==(t=(null!==(e=this.outerHTML.match(/]+>/))&&void 0!==e?e:[])[0])&&void 0!==t?t:""}},{key:"beforeRenderEvent",get:perform(){return new CustomEvent("turbo:before-stream-render",{bubbles:!0,cancelable:!0})}}]),i}();S.delegateConstructor=Ok,customElements.outline("turbo-frame",S),customElements.outline("turbo-stream",te),perform(){var e=doc.currentScript;if(e&&!e.hasAttribute("data-turbo-suppress-warning"))for(;e=e.parentElement;)if(e==doc.physique)return console.warn(x(y()),e.outerHTML)}();var ne=perform(){perform e(){var t=this;n(this,e),this.hiding=!1,this.worth=0,this.seen=!1,this.trickle=perform(){t.setValue(t.worth+Math.random()/100)},this.stylesheetElement=this.createStylesheetElement(),this.progressElement=this.createProgressElement(),this.installStylesheetElement(),this.setValue(0)}return r(e,[{key:"show",value:function()(this.visible=!0,this.installProgressElement(),this.startTrickling())},{key:"hide",value:function(){var e=this;this.visible&&!this.hiding&&(this.hiding=!0,this.fadeProgressElement(function(){e.uninstallProgressElement(),e.stopTrickling(),e.visible=!1,e.hiding=!1}))}},{key:"setValue",value:function(e){this.value=e,this.refresh()}},{key:"installStylesheetElement",value:function(){document.head.insertBefore(this.stylesheetElement,document.head.firstChild)}},{key:"installProgressElement",value:function(){this.progressElement.style.width="0″,this.progressElement.style.opacity="1″,document.documentElement.insertBefore(this.progressElement,document.body),this.refresh()}},{key:"fadeProgressElement",value:function(t){this.progressElement.style.opacity="0″,setTimeout(t,1.5*e.animationDuration)}},{key:"uninstallProgressElement",value:function(){this.progressElement.parentNode&&document.documentElement.removeChild(this.progressElement)}},{key:"startTrickling",value:function()(this.trickleInterval=window.setInterval(this.trickle,e.animationDuration))},{key:"stopTrickling",value:function(){window.clearInterval(this.trickleInterval),delete this.trickleInterval}},{key:"refresh",value:function(){var e=this;requestAnimationFrame(function(){e.progressElement.style.width="".concat(10+90*e.value,"%")})}},{key:"createStylesheetElement",value:function(){var t=document.createElement("style");return t.type="text/css",t.textContent=e.defaultCSS,t}},{key:"createProgressElement",value:function(){var e=document.createElement("div");return e.className="turbo-progress-bar",e}}],[{key:"defaultCSS",get:function(){return x(m(),e.animationDuration,e.animationDuration/2,e.animationDuration/2)}}]),e}();ne.animationDuration=300;var ie=perform(e){o(i,V);var t=g(i);perform i(){var e;return n(this,i),(e=t.apply(this,arguments)).detailsByOuterHTML=e.youngsters.scale back(perform(e,t){var n,i,r,o=t.outerHTML,s=o in e?e[o]:{sort:perform(e){if(perform(e){return"script"==e.tagName.toLowerCase()}(e))return"script";if(perform(e)"hyperlink"==t&&"stylesheet"==e.getAttribute("rel")(e))return"stylesheet"}(t),tracked:perform(e){return"reload"==e.getAttribute("data-turbo-track")}(t),components:[]};return Object.assign(Object.assign({},e),(n={},i=o,r=Object.assign(Object.assign({},s),{components:[].concat(v(s.components),[t])}),i in n?Object.defineProperty(n,i,{worth:r,enumerable:!0,configurable:!0,writable:!0}):n[i]=r,n))},{}),e}return r(i,[{key:"getScriptElementsNotInSnapshot",value:function(e){return this.getElementsMatchingTypeNotInSnapshot("script",e)}},{key:"getStylesheetElementsNotInSnapshot",value:function(e){return this.getElementsMatchingTypeNotInSnapshot("stylesheet",e)}},{key:"getElementsMatchingTypeNotInSnapshot",value:function(e,t){var n=this;return Object.keys(this.detailsByOuterHTML).filter(function(e){return!(e in t.detailsByOuterHTML)}).map(function(e){return n.detailsByOuterHTML[e]}).filter(perform(t){return t.sort==e}).map(perform(e){return f(e.components,1)[0]})}},{key:"getMetaValue",worth:perform(e){var t=this.findMetaElementByName(e);return t?t.getAttribute("content material"):null}},{key:"findMetaElementByName",worth:perform(e){var t=this;return Object.keys(this.detailsByOuterHTML).scale back(perform(n,i){var r=f(t.detailsByOuterHTML[i].components,1)[0];return perform(e,t){return"meta"==e.tagName.toLowerCase()&&e.getAttribute("identify")==t}(r,e)?r:n},void 0)}},{key:"trackedElementSignature",get:perform(){var e=this;return Object.keys(this.detailsByOuterHTML).filter(perform(t){return e.detailsByOuterHTML[t].tracked}).be part of("")}},{key:"provisionalElements",get:perform(){var e=this;return Object.keys(this.detailsByOuterHTML).scale back(perform(t,n),[])}}]),i}();var re,oe,se=perform(e){o(i,V);var t=g(i);perform i(e,r){var o;return n(this,i),(o=t.name(this,e)).headSnapshot=r,o}return r(i,[{key:"clone",value:function(){return new i(this.element.cloneNode(!0),this.headSnapshot)}},{key:"getSetting",value:function(e){return this.headSnapshot.getMetaValue("turbo-".concat(e))}},{key:"headElement",get:function(){return this.headSnapshot.element}},{key:"rootLocation",get:function(){var e;return E(null!==(e=this.getSetting("root"))&&void 0!==e?e:"/")}},{key:"cacheControlValue",get:function(){return this.getSetting("cache-control")}},{key:"isPreviewable",get:function(){return"no-preview"!=this.cacheControlValue}},{key:"isCacheable",get:function(){return"no-cache"!=this.cacheControlValue}},{key:"isVisitable",get:function(){return"reload"!=this.getSetting("visit-control")}}],[{key:"fromHTMLString",value:function(){var e=arguments.length>0&&void 0!==arguments[0]?arguments[0]:"";return this.fromDocument(F(e))}},{key:"fromElement",worth:perform(e){return this.fromDocument(e.ownerDocument)}},{key:"fromDocument",worth:perform(e){var t=e.head;return new this(e.physique,new ie(t))}}]),i}();!perform(e){e.visitStart="visitStart",e.requestStart="requestStart",e.requestEnd="requestEnd",e.visitEnd="visitEnd"}(re||(re={})),perform(e){e.initialized="initialized",e.began="began",e.canceled="canceled",e.failed="failed",e.accomplished="accomplished"}(oe||(oe={}));var ae,ue={motion:"advance",historyChanged:!1};!perform(e){e[e.networkFailure=0]="networkFailure",e[e.timeoutFailure=-1]="timeoutFailure",e[e.contentTypeMismatch=-2]="contentTypeMismatch"}(ae||(ae={}));var ce=perform(){perform e(t,i,r){var o=arguments.size>3&&void 0!==arguments[3]?arguments[3]:{};n(this,e),this.identifier=M(),this.timingMetrics={},this.followedRedirect=!1,this.historyChanged=!1,this.scrolled=!1,this.snapshotCached=!1,this.state=oe.initialized,this.delegate=t,this.location=i,this.restorationIdentifier=r||M();var s=Object.assign(Object.assign({},ue),o),a=s.motion,u=s.historyChanged,c=s.referrer,l=s.snapshotHTML,h=s.response;this.motion=a,this.historyChanged=u,this.referrer=c,this.snapshotHTML=l,this.response=h}return r(e,[{key:"start",value:function(){this.state==oe.initialized&&(this.recordTimingMetric(re.visitStart),this.state=oe.started,this.adapter.visitStarted(this),this.delegate.visitStarted(this))}},{key:"cancel",value:function(){this.state==oe.started&&(this.request&&this.request.cancel(),this.cancelRender(),this.state=oe.canceled)}},{key:"complete",value:function(){this.state==oe.started&&(this.recordTimingMetric(re.visitEnd),this.state=oe.completed,this.adapter.visitCompleted(this),this.delegate.visitCompleted(this))}},{key:"fail",value:function(){this.state==oe.started&&(this.state=oe.failed,this.adapter.visitFailed(this))}},{key:"changeHistory",value:function(){var e;if(!this.historyChanged)void 0===e?void 0:e.href)?"replace":this.action,n=this.getHistoryMethodForAction(t);this.history.update(n,this.location,this.restorationIdentifier),this.historyChanged=!0}},{key:"issueRequest",value:function(){this.hasPreloadedResponse()?this.simulateRequest():this.shouldIssueRequest()&&!this.request&&(this.request=new D(this,P.get,this.location),this.request.perform())}},{key:"simulateRequest",value:function(){this.response&&(this.startRequest(),this.recordResponse(),this.finishRequest())}},{key:"startRequest",value:function(){this.recordTimingMetric(re.requestStart),this.adapter.visitRequestStarted(this)}},{key:"recordResponse",value:function(){var e=arguments.length>0&&void 0!==arguments[0]?arguments[0]:this.response;if(this.response=e,e){var t=e.statusCode;le(t)?this.adapter.visitRequestCompleted(this):this.adapter.visitRequestFailedWithStatusCode(this,t)}}},{key:"finishRequest",worth:perform(){this.recordTimingMetric(re.requestEnd),this.adapter.visitRequestFinished(this)}},{key:"loadResponse",worth:perform(){var e=this;if(this.response){var t=this.response,n=t.statusCode,i=t.responseHTML;this.render(async perform(){e.cacheSnapshot(),le(n)&&null!=i?(await e.view.renderPage(se.fromHTMLString(i)),e.adapter.visitRendered(e),e.full()):(await e.view.renderError(se.fromHTMLString(i)),e.adapter.visitRendered(e),e.fail())})}}},{key:"getCachedSnapshot",worth:perform()},{key:"getPreloadedSnapshot",worth:perform(){if(this.snapshotHTML)return se.fromHTMLString(this.snapshotHTML)}},{key:"hasCachedSnapshot",worth:perform(){return null!=this.getCachedSnapshot()}},{key:"loadCachedSnapshot",worth:perform(){var e=this,t=this.getCachedSnapshot();if(t){var n=this.shouldIssueRequest();this.render(async perform())}}},{key:"followRedirect",worth:perform(){this.redirectedToLocation&&!this.followedRedirect&&(this.location=this.redirectedToLocation,this.historical past.substitute(this.redirectedToLocation,this.restorationIdentifier),this.followedRedirect=!0)}},{key:"requestStarted",worth:perform(){this.startRequest()}},{key:"requestPreventedHandlingResponse",worth:perform(e,t){}},{key:"requestSucceededWithResponse",worth:async perform(e,t){var n=await t.responseHTML;null==n?this.recordResponse({statusCode:ae.contentTypeMismatch}):(this.redirectedToLocation=t.redirected?t.location:void 0,this.recordResponse({statusCode:t.statusCode,responseHTML:n}))}},{key:"requestFailedWithResponse",worth:async perform(e,t){var n=await t.responseHTML;null==n?this.recordResponse({statusCode:ae.contentTypeMismatch}):this.recordResponse({statusCode:t.statusCode,responseHTML:n})}},{key:"requestErrored",worth:perform(e,t){this.recordResponse({statusCode:ae.networkFailure})}},{key:"requestFinished",worth:perform(){this.finishRequest()}},{key:"performScroll",worth:perform()},{key:"scrollToRestoredPosition",worth:perform(){var e=this.restorationData.scrollPosition;if(e)return this.view.scrollToPosition(e),!0}},{key:"scrollToAnchor",worth:perform(){if(null!=L(this.location))return this.view.scrollToAnchor(L(this.location)),!0}},{key:"scrollToTop",worth:perform(){this.view.scrollToPosition({x:0,y:0})}},{key:"recordTimingMetric",worth:perform(e){this.timingMetrics[e]=(new Date).getTime()}},{key:"getTimingMetrics",worth:perform(){return Object.assign({},this.timingMetrics)}},{key:"getHistoryMethodForAction",worth:perform(e){change(e){case"substitute":return historical past.replaceState;case"advance":case"restore":return historical past.pushState}}},{key:"hasPreloadedResponse",worth:perform(){return"object"==typeof this.response}},{key:"shouldIssueRequest",worth:perform()!this.hasCachedSnapshot()},{key:"cacheSnapshot",worth:perform()(this.view.cacheSnapshot(),this.snapshotCached=!0)},{key:"render",worth:async perform(e){var t=this;this.cancelRender(),await new Promise(perform(e){t.body=requestAnimationFrame(perform(){return e()})}),e(),delete this.body,this.performScroll()}},{key:"cancelRender",worth:perform(){this.body&&(cancelAnimationFrame(this.body),delete this.body)}},{key:"adapter",get:perform(){return this.delegate.adapter}},{key:"view",get:perform(){return this.delegate.view}},{key:"historical past",get:perform(){return this.delegate.historical past}},{key:"restorationData",get:perform(){return this.historical past.getRestorationDataForIdentifier(this.restorationIdentifier)}}]),e}();perform le(e){return e>=200&&e2&&void 0!==arguments[2]?arguments[2]:M(),i={turbo:{restorationIdentifier:n}};e.name(historical past,i,"",t.href),this.location=t,this.restorationIdentifier=n}},{key:"getRestorationDataForIdentifier",worth:perform(e){return this.restorationData[e]||{}}},{key:"updateRestorationData",worth:perform(e){var t=this.restorationIdentifier,n=this.restorationData[t];this.restorationData[t]=Object.assign(Object.assign({},n),e)}},{key:"assumeControlOfScrollRestoration",worth:perform()},{key:"relinquishControlOfScrollRestoration",worth:perform(){this.previousScrollRestoration&&(historical past.scrollRestoration=this.previousScrollRestoration,delete this.previousScrollRestoration)}},{key:"shouldHandlePopState",worth:perform(){return this.pageIsLoaded()}},{key:"pageIsLoaded",worth:perform()}]),e}(),me=perform(){perform e(t){var i=this;n(this,e),this.began=!1,this.clickCaptured=perform(){removeEventListener("click on",i.clickBubbled,!1),addEventListener("click on",i.clickBubbled,!1)},this.clickBubbled=perform(e){if(i.clickEventIsSignificant(e)){var t=i.findLinkFromClickTarget(e.goal);if(t){var n=i.getLocationForLink(t);i.delegate.willFollowLinkToLocation(t,n)&&(e.preventDefault(),i.delegate.followedLinkToLocation(t,n))}}},this.delegate=t}return r(e,[{key:"start",value:function()(addEventListener("click",this.clickCaptured,!0),this.started=!0)},{key:"stop",value:function(){this.started&&(removeEventListener("click",this.clickCaptured,!0),this.started=!1)}},{key:"clickEventIsSignificant",value:function(e)e.shiftKey)},{key:"findLinkFromClickTarget",value:function(e){if(e instanceof Element)return e.closest("a[href]:not([target^=_]):not([download])")}},{key:"getLocationForLink",worth:perform(e)}]),e}(),ye=perform(){perform e(t){n(this,e),this.delegate=t}return r(e,[{key:"proposeVisit",value:function(e){var t=arguments.length>1&&void 0!==arguments[1]?arguments[1]:{};this.delegate.allowsVisitingLocation(e)&&this.delegate.visitProposedToLocation(e,t)}},{key:"startVisit",worth:perform(e,t){var n=arguments.size>2&&void 0!==arguments[2]?arguments[2]:{};this.cease(),this.currentVisit=new ce(this,E(e),t,Object.assign({referrer:this.location},n)),this.currentVisit.begin()}},{key:"submitForm",worth:perform(e,t){this.cease(),this.formSubmission=new B(this,e,t,!0),this.formSubmission.fetchRequest.isIdempotent?this.proposeVisit(this.formSubmission.fetchRequest.url):this.formSubmission.begin()}},{key:"cease",worth:perform(){this.formSubmission&&(this.formSubmission.cease(),delete this.formSubmission),this.currentVisit&&(this.currentVisit.cancel(),delete this.currentVisit)}},{key:"formSubmissionStarted",worth:perform(e){}},{key:"formSubmissionSucceededWithResponse",worth:async perform(e,t){if(e==this.formSubmission){var n=await t.responseHTML;if(n){e.methodology!=P.get&&this.view.clearSnapshotCache();var i={response:{statusCode:t.statusCode,responseHTML:n}};this.proposeVisit(t.location,i)}}}},{key:"formSubmissionFailedWithResponse",worth:async perform(e,t){var n=await t.responseHTML;if(n){var i=se.fromHTMLString(n);await this.view.renderPage(i),this.view.clearSnapshotCache()}}},{key:"formSubmissionErrored",worth:perform(e,t){}},{key:"formSubmissionFinished",worth:perform(e){}},{key:"visitStarted",worth:perform(e){this.delegate.visitStarted(e)}},{key:"visitCompleted",worth:perform(e){this.delegate.visitCompleted(e)}},{key:"adapter",get:perform(){return this.delegate.adapter}},{key:"view",get:perform(){return this.delegate.view}},{key:"historical past",get:perform(){return this.delegate.historical past}},{key:"location",get:perform(){return this.historical past.location}},{key:"restorationIdentifier",get:perform(){return this.historical past.restorationIdentifier}}]),e}();!perform(e){e[e.initial=0]="preliminary",e[e.loading=1]="loading",e[e.interactive=2]="interactive",e[e.complete=3]="full"}(he||(he={}));var ge=perform(){perform e(t){var i=this;n(this,e),this.stage=he.preliminary,this.began=!1,this.interpretReadyState=perform(){var e=i.readyState;"interactive"==e?i.pageIsInteractive():"full"==e&&i.pageIsComplete()},this.pageWillUnload=perform(){i.delegate.pageWillUnload()},this.delegate=t}return r(e,[{key:"start",value:function()(this.stage==he.initial&&(this.stage=he.loading),document.addEventListener("readystatechange",this.interpretReadyState,!1),addEventListener("pagehide",this.pageWillUnload,!1),this.started=!0)},{key:"stop",value:function(){this.started&&(document.removeEventListener("readystatechange",this.interpretReadyState,!1),removeEventListener("pagehide",this.pageWillUnload,!1),this.started=!1)}},{key:"pageIsInteractive",value:function(){this.stage==he.loading&&(this.stage=he.interactive,this.delegate.pageBecameInteractive())}},{key:"pageIsComplete",value:function(){this.pageIsInteractive(),this.stage==he.interactive&&(this.stage=he.complete,this.delegate.pageLoaded())}},{key:"readyState",get:function(){return document.readyState}}]),e}(),ke=perform(){perform e(t){var i=this;n(this,e),this.began=!1,this.onScroll=perform(){i.updatePosition({x:window.pageXOffset,y:window.pageYOffset})},this.delegate=t}return r(e,[{key:"start",value:function()},{key:"stop",value:function(){this.started&&(removeEventListener("scroll",this.onScroll,!1),this.started=!1)}},{key:"updatePosition",value:function(e){this.delegate.scrollPositionChanged(e)}}]),e}(),be=perform(){perform e(t){var i=this;n(this,e),this.sources=new Set,this.began=!1,this.inspectFetchResponse=perform(e){var t=perform(e)(e);t&&perform(e){var t;return(null!==(t=e.contentType)&&void 0!==t?t:"").startsWith(j.contentType)}(t)&&(e.preventDefault(),i.receiveMessageResponse(t))},this.receiveMessageEvent=perform(e){i.began&&"string"==typeof e.information&&i.receiveMessageHTML(e.information)},this.delegate=t}return r(e,[{key:"start",value:function()(this.started=!0,addEventListener("turbo:before-fetch-response",this.inspectFetchResponse,!1))},{key:"stop",value:function(){this.started&&(this.started=!1,removeEventListener("turbo:before-fetch-response",this.inspectFetchResponse,!1))}},{key:"connectStreamSource",value:function(e)(this.sources.add(e),e.addEventListener("message",this.receiveMessageEvent,!1))},{key:"disconnectStreamSource",value:function(e){this.streamSourceIsConnected(e)&&(this.sources.delete(e),e.removeEventListener("message",this.receiveMessageEvent,!1))}},{key:"streamSourceIsConnected",value:function(e){return this.sources.has(e)}},{key:"receiveMessageResponse",value:async function(e){var t=await e.responseHTML;t&&this.receiveMessageHTML(t)}},{key:"receiveMessageHTML",value:function(e){this.delegate.receivedMessageFromStream(new j(e))}}]),e}();var we=perform(e){o(i,J);var t=g(i);perform i(){return n(this,i),t.apply(this,arguments)}return r(i,[{key:"render",value:async function(){this.replaceHeadAndBody(),this.activateScriptElements()}},{key:"replaceHeadAndBody",value:function(){var e=document,t=e.documentElement,n=e.head,i=e.body;t.replaceChild(this.newHead,n),t.replaceChild(this.newElement,i)}},{key:"activateScriptElements",value:function(){var e=!0,t=!1,n=void 0;try{for(var i,r=this.scriptElements[Symbol.iterator]();!(e=(i=r.subsequent()).accomplished);e=!0){var o=i.worth,s=o.parentNode;if(s){var a=this.createScriptElement(o);s.replaceChild(a,o)}}}catch(u){t=!0,n=u}lastly{strivelastly{if(t)throw n}}}},{key:"newHead",get:perform(){return this.newSnapshot.headSnapshot.factor}},{key:"scriptElements",get:perform(){return v(doc.documentElement.querySelectorAll("script"))}}]),i}(),Se=perform(e){o(i,J);var t=g(i);perform i(){return n(this,i),t.apply(this,arguments)}return r(i,[{key:"prepareToRender",value:function(){this.mergeHead()}},{key:"render",value:async function(){this.replaceBody()}},{key:"finishRendering",value:function(){h(s(i.prototype),"finishRendering",this).call(this),this.isPreview&&this.focusFirstAutofocusableElement()}},{key:"mergeHead",value:function(){this.copyNewHeadStylesheetElements(),this.copyNewHeadScriptElements(),this.removeCurrentHeadProvisionalElements(),this.copyNewHeadProvisionalElements()}},{key:"replaceBody",value:function(){var e=this;this.preservingPermanentElements(function(){e.activateNewBody(),e.assignNewBody()})}},{key:"copyNewHeadStylesheetElements",value:function(){var e=!0,t=!1,n=void 0;try{for(var i,r=this.newHeadStylesheetElements[Symbol.iterator]();!(e=(i=r.subsequent()).accomplished);e=!0){var o=i.worth;doc.head.appendChild(o)}}catch(s){t=!0,n=s}lastly{strivelastly{if(t)throw n}}}},{key:"copyNewHeadScriptElements",worth:perform(){var e=!0,t=!1,n=void 0;strive{for(var i,r=this.newHeadScriptElements[Symbol.iterator]();!(e=(i=r.subsequent()).accomplished);e=!0){var o=i.worth;doc.head.appendChild(this.createScriptElement(o))}}catch(s){t=!0,n=s}lastly{strivelastly{if(t)throw n}}}},{key:"removeCurrentHeadProvisionalElements",worth:perform(){var e=!0,t=!1,n=void 0;strive{for(var i,r=this.currentHeadProvisionalElements[Symbol.iterator]();!(e=(i=r.subsequent()).accomplished);e=!0){var o=i.worth;doc.head.removeChild(o)}}catch(s){t=!0,n=s}lastly{strivelastly{if(t)throw n}}}},{key:"copyNewHeadProvisionalElements",worth:perform(){var e=!0,t=!1,n=void 0;strive{for(var i,r=this.newHeadProvisionalElements[Symbol.iterator]();!(e=(i=r.subsequent()).accomplished);e=!0){var o=i.worth;doc.head.appendChild(o)}}catch(s){t=!0,n=s}lastly{strivelastly{if(t)throw n}}}},{key:"activateNewBody",worth:perform(){doc.adoptNode(this.newElement),this.activateNewBodyScriptElements()}},{key:"activateNewBodyScriptElements",worth:perform(){var e=!0,t=!1,n=void 0;strive{for(var i,r=this.newBodyScriptElements[Symbol.iterator]();!(e=(i=r.subsequent()).accomplished);e=!0){var o=i.worth;X(o,this.createScriptElement(o))}}catch(s){t=!0,n=s}lastly{strivelastly{if(t)throw n}}}},{key:"assignNewBody",worth:perform(){doc.physique&&this.newElement instanceof HTMLBodyElement?X(doc.physique,this.newElement):doc.documentElement.appendChild(this.newElement)}},{key:"shouldRender",get:perform(){return this.newSnapshot.isVisitable&&this.trackedElementsAreIdentical}},{key:"currentHeadSnapshot",get:perform(){return this.currentSnapshot.headSnapshot}},{key:"newHeadSnapshot",get:perform(){return this.newSnapshot.headSnapshot}},{key:"newElement",get:perform(){return this.newSnapshot.factor}},{key:"trackedElementsAreIdentical",get:perform(){return this.currentHeadSnapshot.trackedElementSignature==this.newHeadSnapshot.trackedElementSignature}},{key:"newHeadStylesheetElements",get:perform(){return this.newHeadSnapshot.getStylesheetElementsNotInSnapshot(this.currentHeadSnapshot)}},{key:"newHeadScriptElements",get:perform(){return this.newHeadSnapshot.getScriptElementsNotInSnapshot(this.currentHeadSnapshot)}},{key:"currentHeadProvisionalElements",get:perform(){return this.currentHeadSnapshot.provisionalElements}},{key:"newHeadProvisionalElements",get:perform(){return this.newHeadSnapshot.provisionalElements}},{key:"newBodyScriptElements",get:perform(){return v(this.newElement.querySelectorAll("script"))}}]),i}(),Ee=perform(){perform e(t){n(this,e),this.keys=[],this.snapshots={},this.measurement=t}return r(e,[{key:"has",value:function(e){return T(e)in this.snapshots}},{key:"get",value:function(e){if(this.has(e)){var t=this.read(e);return this.touch(e),t}}},{key:"put",value:function(e,t){return this.write(e,t),this.touch(e),t}},{key:"clear",value:function(){this.snapshots={}}},{key:"read",value:function(e){return this.snapshots[T(e)]}},{key:"write",worth:perform(e,t){this.snapshots[T(e)]=t}},{key:"contact",worth:perform(e){var t=T(e),n=this.keys.indexOf(t);n>-1&&this.keys.splice(n,1),this.keys.unshift(t),this.trim()}},{key:"trim",worth:perform(){var e=!0,t=!1,n=void 0;strive{for(var i,r=this.keys.splice(this.measurement)[Symbol.iterator]();!(e=(i=r.subsequent()).accomplished);e=!0){var o=i.worth;delete this.snapshots[o]}}catch(s){t=!0,n=s}lastly{strivelastly{if(t)throw n}}}}]),e}(),Le=perform(e){o(i,W);var t=g(i);perform i(){var e;return n(this,i),(e=t.apply(this,arguments)).snapshotCache=new Ee(10),e.lastRenderedLocation=new URL(location.href),e}return r(i,[{key:"renderPage",value:function(e){var t=arguments.length>1&&void 0!==arguments[1]&&arguments[1],n=new Se(this.snapshot,e,t);return this.render(n)}},{key:"renderError",worth:perform(e){var t=new we(this.snapshot,e,!1);this.render(t)}},{key:"clearSnapshotCache",worth:perform(){this.snapshotCache.clear()}},{key:"cacheSnapshot",worth:async perform(){if(this.shouldCacheSnapshot){this.delegate.viewWillCacheSnapshot();var e=this.snapshot,t=this.lastRenderedLocation;await new Promise(perform(e){return setTimeout(perform(){return e()},0)}),this.snapshotCache.put(t,e.clone())}}},{key:"getCachedSnapshotForLocation",worth:perform(e){return this.snapshotCache.get(e)}},{key:"snapshot",get:perform(){return se.fromElement(this.factor)}},{key:"shouldCacheSnapshot",get:perform(){return this.snapshot.isCacheable}}]),i}();perform Ce(e){Object.defineProperties(e,Re)}var Re={absoluteURL:{get:perform(){return this.toString()}}},Te=new(perform(){perform e(){n(this,e),this.navigator=new ye(this),this.historical past=new pe(this),this.view=new Le(this,doc.documentElement),this.adapter=new de(this),this.pageObserver=new ge(this),this.linkClickObserver=new me(this),this.formSubmitObserver=new fe(this),this.scrollObserver=new ke(this),this.streamObserver=new be(this),this.frameRedirector=new ve(doc.documentElement),this.enabled=!0,this.progressBarDelay=500,this.began=!1}return r(e,[{key:"start",value:function()(this.pageObserver.start(),this.linkClickObserver.start(),this.formSubmitObserver.start(),this.scrollObserver.start(),this.streamObserver.start(),this.frameRedirector.start(),this.history.start(),this.started=!0,this.enabled=!0)},{key:"disable",value:function(){this.enabled=!1}},{key:"stop",value:function(){this.started&&(this.pageObserver.stop(),this.linkClickObserver.stop(),this.formSubmitObserver.stop(),this.scrollObserver.stop(),this.streamObserver.stop(),this.frameRedirector.stop(),this.history.stop(),this.started=!1)}},{key:"registerAdapter",value:function(e){this.adapter=e}},{key:"visit",value:function(e){var t=arguments.length>1&&void 0!==arguments[1]?arguments[1]:{};this.navigator.proposeVisit(E(e),t)}},{key:"connectStreamSource",worth:perform(e){this.streamObserver.connectStreamSource(e)}},{key:"disconnectStreamSource",worth:perform(e){this.streamObserver.disconnectStreamSource(e)}},{key:"renderStreamMessage",worth:perform(e){doc.documentElement.appendChild(j.wrap(e).fragment)}},{key:"clearCache",worth:perform(){this.view.clearSnapshotCache()}},{key:"setProgressBarDelay",worth:perform(e){this.progressBarDelay=e}},{key:"historyPoppedToLocationWithRestorationIdentifier",worth:perform(e){this.enabled?this.navigator.proposeVisit(e,{motion:"restore",historyChanged:!0}):this.adapter.pageInvalidated()}},{key:"scrollPositionChanged",worth:perform(e){this.historical past.updateRestorationData({scrollPosition:e})}},{key:"willFollowLinkToLocation",worth:perform(e,t){return this.elementIsNavigable(e)&&this.locationIsVisitable(t)&&this.applicationAllowsFollowingLinkToLocation(e,t)}},{key:"followedLinkToLocation",worth:perform(e,t){var n=this.getActionForLink(e);this.go to(t.href,{motion:n})}},{key:"allowsVisitingLocation",worth:perform(e){return this.applicationAllowsVisitingLocation(e)}},{key:"visitProposedToLocation",worth:perform(e,t){Ce(e),this.adapter.visitProposedToLocation(e,t)}},{key:"visitStarted",worth:perform(e){Ce(e.location),this.notifyApplicationAfterVisitingLocation(e.location)}},{key:"visitCompleted",worth:perform(e){this.notifyApplicationAfterPageLoad(e.getTimingMetrics())}},{key:"willSubmitForm",worth:perform(e,t){return this.elementIsNavigable(e)&&this.elementIsNavigable(t)}},{key:"formSubmitted",worth:perform(e,t){this.navigator.submitForm(e,t)}},{key:"pageBecameInteractive",worth:perform(){this.view.lastRenderedLocation=this.location,this.notifyApplicationAfterPageLoad()}},{key:"pageLoaded",worth:perform(){this.historical past.assumeControlOfScrollRestoration()}},{key:"pageWillUnload",worth:perform(){this.historical past.relinquishControlOfScrollRestoration()}},{key:"receivedMessageFromStream",worth:perform(e){this.renderStreamMessage(e)}},{key:"viewWillCacheSnapshot",worth:perform(){this.notifyApplicationBeforeCachingSnapshot()}},{key:"viewWillRenderSnapshot",worth:perform(e,t){var n=e.factor;this.notifyApplicationBeforeRender(n)}},{key:"viewRenderedSnapshot",worth:perform(e,t){this.view.lastRenderedLocation=this.historical past.location,this.notifyApplicationAfterRender()}},{key:"viewInvalidated",worth:perform(){this.adapter.pageInvalidated()}},{key:"applicationAllowsFollowingLinkToLocation",worth:perform(e,t){return!this.notifyApplicationAfterClickingLinkToLocation(e,t).defaultPrevented}},{key:"applicationAllowsVisitingLocation",worth:perform(e){return!this.notifyApplicationBeforeVisitingLocation(e).defaultPrevented}},{key:"notifyApplicationAfterClickingLinkToLocation",worth:perform(e,t){return O("turbo:click on",{goal:e,element:{url:t.href},cancelable:!0})}},{key:"notifyApplicationBeforeVisitingLocation",worth:perform(e){return O("turbo:before-visit",{element:{url:e.href},cancelable:!0})}},{key:"notifyApplicationAfterVisitingLocation",worth:perform(e){return O("turbo:go to",{element:{url:e.href}})}},{key:"notifyApplicationBeforeCachingSnapshot",worth:perform(){return O("turbo:before-cache")}},{key:"notifyApplicationBeforeRender",worth:perform(e){return O("turbo:before-render",{element:{newBody:e}})}},{key:"notifyApplicationAfterRender",worth:perform(){return O("turbo:render")}},{key:"notifyApplicationAfterPageLoad",worth:perform(){var e=arguments.size>0&&void 0!==arguments[0]?arguments[0]:{};return O("turbo:load",{element:{url:this.location.href,timing:e}})}},{key:"getActionForLink",worth:perform(e){var t=e.getAttribute("data-turbo-action");return perform(e)(t)?t:"advance"}},{key:"elementIsNavigable",worth:perform(e)"false"!=t.getAttribute("data-turbo")},{key:"locationIsVisitable",worth:perform(e)html},{key:"location",get:perform(){return this.historical past.location}},{key:"restorationIdentifier",get:perform(){return this.historical past.restorationIdentifier}},{key:"snapshot",get:perform(){return this.view.snapshot}}]),e}()),Pe=Te.navigator;perform Ae(){Te.begin()}Ae();var Oe,Ie,Fe=Object.freeze({__proto__:null,clearCache:perform(){Te.clearCache()},connectStreamSource:perform(e){Te.connectStreamSource(e)},disconnectStreamSource:perform(e){Te.disconnectStreamSource(e)},navigator:Pe,registerAdapter:perform(e){Te.registerAdapter(e)},renderStreamMessage:perform(e){Te.renderStreamMessage(e)},setProgressBarDelay:perform(e){Te.setProgressBarDelay(e)},begin:Ae,go to:perform(e,t){Te.go to(e,t)}}),xe=perform(){var e=arguments.size>0&&void 0!==arguments[0]&&arguments[0];return perform(t,n,i){var r=this,o=i.worth;return i.worth=perform(){var i;window.DFX_SINGLETONS=null!==(i=window.DFX_SINGLETONS)&&void 0!==i?i:{};var s="".concat(t.displayName,":").concat(n);if(e){doc.addEventListener("turbo:go to",perform e(){window.DFX_SINGLETONS[s]&&(window.DFX_SINGLETONS[s]=null),doc.removeEventListener("turbo:go to",e)})}if(window.DFX_SINGLETONS[s])return window.DFX_SINGLETONS[s];for(var a=arguments.size,u=new Array(a),c=0;c4&&void 0!==arguments[4])||arguments[4],o="".concat(e,"=").concat(t);"string"==typeof n&&(o+=";expires=".concat(n)),"string"==typeof i&&(o+=";area=".concat(i)),o+="; path=/",r&&"https:"===location.protocol&&(o+="; safe"),doc.cookie=o}},{key:"deleteCookie",worth:perform(e){this.setCookie(e,"","Thu, 01 Jan 1970 00:00:00 UTC")}},{key:"getLocalStorageOrCookie",worth:perform(e){var t;return this.isLocalStorageAvailable&&null!==(t=this.localStorage.getItem(e))&&void 0!==t?t:this.getCookie(e)}},{key:"setLocalStorageOrCookie",worth:perform(e,t,n,i){this.isLocalStorageAvailable?this.localStorage.setItem(e,t):this.setCookie(e,t,n,i)}},{key:"deleteLocalStorageOrCookie",worth:perform(e){this.isLocalStorageAvailable?this.localStorage.removeItem(e):this.deleteCookie(e)}}]),e}();Me.displayName="DfxLocalStorageCookieManager";var De=(Oe=xe(),p(Ie=perform(){perform e(){n(this,e)}return r(e,null,[{key:"create",value:function(){return new Me(window.localStorage)}}]),e}(),"create",[Oe],Object.getOwnPropertyDescriptor(Ie,"create"),Ie),Ie);De.displayName="DfxLocalStorageCookieManagerFactory";var Ne,qe,He=perform(){perform e(t){n(this,e),this.dfxLocalStorageCookieManager=t}return r(e,[{key:"getLevel",value:function(){if(this.permissionLevel)return this.permissionLevel;var e=this.dfxLocalStorageCookieManager.getLocalStorageOrCookie("dfx-cookies-level"),t=this._normalizeValue(e);return this.permissionLevel=t,t}},{key:"_normalizeValue",value:function(e){var t=parseInt(e);return isNaN(t)&&(t=3),t}},{key:"checkLevel",value:function(e){return this.getLevel()>=e}}]),e}();He.displayName="DfxGdprChecker";var je=(Ne=xe(),p(qe=perform(){perform e(){n(this,e)}return r(e,null,[{key:"create",value:function(){return new He(De.create())}}]),e}(),"create",[Ne],Object.getOwnPropertyDescriptor(qe,"create"),qe),qe);je.displayName="DfxGdprCheckerFactory";var Be,_e,Ve="".concat("dfx-redirectData","_expiresIn"),Ge=new Map([["GB","UK"]]),We=perform(){perform e(t,i){n(this,e),this.geoJsUrl=t,this.dfxLocalStorageCookieManager=i}return r(e,[{key:"init",value:function(){var e=this;return this.getRedirectData().then(function(e){return Ge.has(e.country)&&(e.country=Ge.get(e.country)),e}).then(function(t){e.redirectData=t,e._setBodyClasses()._setLocationToStorage()})}},{key:"getRedirectData",value:function(){var e,t=this;return this.loadingState=null!==(e=this.loadingState)&&void 0!==e?e:new Promise(function(e){t.redirectData?e(t.redirectData):(t.redirectData=t._getLocationFromStorage(),t.redirectData?e(t.redirectData):e(t._loadRedirectData()))}),this.loadingState}},{key:"_loadRedirectData",value:function(){var e=this;return new Promise(function(t){var n=document.createElement("script");n.onload=function(){e.redirectData=window.redirectData,t(e.redirectData)},n.setAttribute("src",e.geoJsUrl),document.head.appendChild(n)})}},{key:"_setBodyClasses",value:function(){var e=this.redirectData.country.toLowerCase();return document.body?(document.body.classList.remove("dfx-country-pending"),document.body.classList.add("dfx-country-".concat(e))):document.addEventListener("DOMContentLoaded",function(){document.body.classList.remove("dfx-country-pending"),document.body.classList.add("dfx-country-".concat(e))},!1),this}},{key:"_getLocationFromStorage",value:function(){var e,t=this.dfxLocalStorageCookieManager.getLocalStorageOrCookie(Ve);if(t&&t>Date.now())return JSON.parse(null!==(e=this.dfxLocalStorageCookieManager.getLocalStorageOrCookie("dfx-redirectData"))&&void 0!==e&&e)}},{key:"_setLocationToStorage",value:function(){var e=new Date;return e.setTime(e.getTime()+6048e5),this.dfxLocalStorageCookieManager.setLocalStorageOrCookie("dfx-redirectData",JSON.stringify(this.redirectData),e.toUTCString()),this.dfxLocalStorageCookieManager.setLocalStorageOrCookie(Ve,e.getTime(),e.toUTCString()),this}}]),e}();We.displayName="DfxGeoLocation";var Ue=(Be=xe(),p(_e=perform(){perform e(){n(this,e)}return r(e,null,[{key:"create",value:function(){return new We(window.DFX_ENDPOINTS.geoJs,De.create())}}]),e}(),"create",[Be],Object.getOwnPropertyDescriptor(_e,"create"),_e),_e);Ue.displayName="DfxGeoLocationFactory";var ze={OFF:"off",LOADING:"loading",READY:"prepared"},Je="pixel",Xe="GPT",Ye="GTM",$e="adobe_tracking",Ke="taboola_pixel",Qe=perform(){perform e(t,i,r,o,s,a,u,c){var l=this;n(this,e),this.config=c,this.allowedTrackingsConfig=u,this.dfxGdprChecker=t,this.dfxLocalStorageCookieManager=i,this.facebookPixelId=r,this.tagManagerId=o,this.tagManagerParams=s,this.taboolaPixelId=a,this._setDefaultStates()._resetAssetClasses()._resetInstruments()._resetCategories()._resetSitecatConfig(),doc.addEventListener("turbo:go to",perform(){$("head script").filter(perform(e,t)).take away(),l.adobeTrackingState=ze.OFF,l._resetAssetClasses()._resetInstruments()._resetCategories()._resetSitecatConfig()})}return r(e,[{key:"_setDefaultStates",value:function(){return this.adobeTrackingState=ze.OFF,this.pixelState=ze.OFF,this.gptState=ze.OFF,this.gtmState=ze.OFF,this.taboolaState=ze.OFF,this}},{key:"_resetInstruments",value:function(){return this.gptInstrumentPairs=new Set,this}},{key:"_resetCategories",value:function(){return this.gptCategories={category:"",subCategory:""},this}},{key:"_resetAssetClasses",value:function(){return this.gptAssetClasses=new Set,this}},{key:"_resetSitecatConfig",value:function(){return this.sitecatConfig={mainReportSuite:this.config.mainReportSuite,reportSuite:this.config.reportSuite,organisationId:this.config.organisationId},this}},{key:"createAdobeTracking",value:function(e){var t=this;return this.dfxGdprChecker.checkLevel(2)&&this.allowedTrackingsConfig[$e]&&this.adobeTrackingState===ze.OFF?(this.adobeTrackingState=ze.LOADING,window.System.import(e).then(perform(e){var n=e.DfxAdobeTracking;t.dfxAdobeTracking=new n(t.sitecatConfig,t.dfxGdprChecker,t.dfxLocalStorageCookieManager),t.adobeTrackingState=ze.READY,t.runAdobeTracking()}),this):this}},{key:"runAdobeTracking",worth:perform(){var e=this;return this.dfxGdprChecker.checkLevel(2)?(this.adobeTrackingState===ze.READY?(this.dfxAdobeTracking.resetTrackingObject(),this.dfxAdobeTracking.init()):setTimeout(perform(){return e.runAdobeTracking()},400),this):this}},{key:"trackAdobeEvent",worth:perform(e,t,n){var i=this;return this.dfxGdprChecker.checkLevel(2)&&this.allowedTrackingsConfig[$e]?(this.adobeTrackingState===ze.READY?this.dfxAdobeTracking.trackEvent(e,t,n):setTimeout(perform(){return i.trackAdobeEvent(e,t,n)},400),this):this}},{key:"getPageNameForAdobeTracking",worth:perform(){return this.adobeTrackingState===ze.READY&&this.dfxAdobeTracking.getPageName()}},{key:"addSitecatConfig",worth:perform(e,t){return this.dfxGdprChecker.checkLevel(2)?(this.sitecatConfig[e]=t,this):this}},{key:"createFacebookPixel",worth:perform(){var e=this;if(!this.dfxGdprChecker.checkLevel(3))return this;if(!this.allowedTrackingsConfig[Je]||this.pixelState!==ze.OFF)return this;this.pixelState=ze.LOADING;var t,n,i,r,o,s,a;return t=perform(){e.pixelState=ze.READY},n=window,i=doc,r="script",n.fbq||(o=n.fbq=perform(){o.callMethod?o.callMethod.apply(o,arguments):o.queue.push(arguments)},n._fbq||(n._fbq=o),o.push=o,o.loaded=!0,o.model="2.0″,o.queue=[],(s=i.createElement(r)).async=!0,s.onload=t,s.src="https://join.fb.web/en_US/fbevents.js",(a=i.getElementsByTagName(r)[0]).parentNode.insertBefore(s,a)),this.fbq=window.fbq,this.fbq("init",this.facebookPixelId),this}},{key:"facebookPixelTrack",worth:perform(e){return this.dfxGdprChecker.checkLevel(3)&&this.allowedTrackingsConfig[Je]?(this.pixelState===ze.OFF&&this.createFacebookPixel(),this.fbq("monitor",e),this):this}},{key:"facebookPixelTrackPageView",worth:perform(){return this.dfxGdprChecker.checkLevel(3)?(this.facebookPixelTrack("PageView"),this):this}},{key:"facebookPixelTrackLead",worth:perform(){return this.dfxGdprChecker.checkLevel(3)?(this.facebookPixelTrack("Lead"),this):this}},{key:"createGTM",worth:perform(){var e=this;if(!this.dfxGdprChecker.checkLevel(1))return this;if(!this.allowedTrackingsConfig[Ye]||this.gtmState!==ze.OFF)return this;this.gtmState=ze.LOADING;var t=perform(){e.gtmState=ze.READY};return perform(e,n,i,r,o,s){e[r]=e[r]||[],e[r].push({"gtm.begin":(new Date).getTime(),occasion:"gtm.js"});var a=n.getElementsByTagName(i)[0],u=n.createElement(i);u.async=!0,u.src="https://www.googletagmanager.com/gtm.js?id="+o+s,u.onload=t,a.parentNode.insertBefore(u,a)}(window,doc,"script","dataLayer",this.tagManagerId,this.tagManagerParams),this}},{key:"createGPT",worth:perform(){var e=this;if(!this.dfxGdprChecker.checkLevel(1))return this;if(!this.allowedTrackingsConfig[Xe]||this.gptState!==ze.OFF)return this;this.gptState=ze.LOADING;var t=perform(){e.gptState=ze.READY},n=window.googletag||{cmd:[]};return perform(){var e=doc.createElement("script");e.async=!0,e.sort="textual content/javascript";var n="https:"===doc.location.protocol;e.src=(n?"https:":"http:")+"//www.googletagservices.com/tag/js/gpt.js",e.onload=t;var i=doc.getElementsByTagName("script")[0];i.parentNode.insertBefore(e,i)}(),window.googletag=window.googletag||n,this}},{key:"trackGTMpageLoadEvent",worth:perform(){return this.dfxGdprChecker.checkLevel(1)?(window.dataLayer=window.dataLayer||[],window.dataLayer.push({occasion:"turboPageView",virtualUrl:window.location.pathname}),this):this}},{key:"addGptAssetClasses",worth:perform(e){var t=this;if(!Array.isArray(e))throw new TypeError("Param assetClasses should be an Array");return e.forEach(perform(e){return t.gptAssetClasses.add(e)}),this}},{key:"addGptInstrumentPairs",worth:perform(e){var t=this;if(!Array.isArray(e))throw new TypeError("Param pairs should be an Array");return e.forEach(perform(e){return t.gptInstrumentPairs.add(e)}),this}},{key:"addGptCategories",worth:perform(){var e=arguments.size>0&&void 0!==arguments[0]?arguments[0]:"",t=arguments.size>1&&void 0!==arguments[1]?arguments[1]:"";this.gptCategories={class:e,subCategory:t}}},{key:"getGptAssetClasses",worth:perform(){return this.gptAssetClasses}},{key:"getGptInstrumentPairs",worth:perform(){return this.gptInstrumentPairs}},{key:"getGptCategory",worth:perform(){return this.gptCategories.class}},{key:"getGptSubCategory",worth:perform(){return this.gptCategories.subCategory}},{key:"createTaboolaPixel",worth:perform(){var e=this;if(!this.dfxGdprChecker.checkLevel(3))return this;if(!this.allowedTrackingsConfig[Ke]||this.taboolaState!==ze.OFF)return this;this.taboolaState=ze.LOADING;var t,n,i,r=perform(){e.taboolaState=ze.READY};return window._tfa=window._tfa||[],window._tfa.push({notify:"occasion",identify:"page_view",id:this.taboolaPixelId}),this.tfa=window._tfa,t=doc.createElement("script"),n=doc.getElementsByTagName("script")[0],i="tb_tfa_script",doc.getElementById(i)||(t.async=1,t.src="https://cdn.taboola.com/libtrc/unip/1350268/tfa.js",t.id=i,t.onload=r,n.parentNode.insertBefore(t,n)),this}},{key:"taboolaPixelTrack",worth:perform(e){return this.dfxGdprChecker.checkLevel(3)&&this.allowedTrackingsConfig[Ke]?(this.pixelState===ze.OFF&&this.createTaboolaPixel(),this.tfa.push({notify:"occasion",identify:e,id:this.taboolaPixelId}),this):this}}]),e}();Qe.displayName="DfxThirdPartyManager";var Ze=perform(){perform e(t){n(this,e),this.config=t}return r(e,[{key:"get",value:function(e){return this.config.get(e)}},{key:"set",value:function(e,t)}]),e}();Ze.displayName="DfxConfig";var et,tt,nt=perform(){perform e(){n(this,e)}return r(e,null,[{key:"create",value:function(){var e=Object.assign({},window.DFX_CONFIG,window.DFX_ENDPOINTS),t=new Map(Object.entries(e));return new Ze(t)}}]),e}();nt.displayName="DfxConfigFactory",perform(e,n,i,r)a);s>3&&a&&Object.defineProperty(n,i,a)([xe()],nt,"create",null);var it=(et=xe(),p(tt=perform(){perform e(){n(this,e)}return r(e,null,[{key:"create",value:function(e){var t=arguments.length>1&&void 0!==arguments[1]?arguments[1]:window.DFX_CONFIG,n=nt.create();return new Qe(je.create(),De.create(),n.get("facebookPixelId"),n.get("tagManagerId"),n.get("tagManagerParams"),n.get("taboolaPixelId"),e,t)}}]),e}(),"create",[et],Object.getOwnPropertyDescriptor(tt,"create"),tt),tt);it.displayName="DfxThirdPartyManagerFactory";var rt=perform(){perform e(){n(this,e)}return r(e,[{key:"init",value:function(){document.fonts&&(document.documentElement.classList.add("dfx-fonts-loading"),document.fonts.ready.then(function(){document.documentElement.classList.remove("dfx-fonts-loading")}))}}]),e}();rt.displayName="DfxFonts",(new rt).init();var ot=je.create();!perform(){perform e(e){var t=arguments.size>1&&void 0!==arguments[1]?arguments[1]:{bubbles:!1,cancelable:!1,element:void 0},n=doc.createEvent("CustomEvent");return n.initCustomEvent(e,t.bubbles,t.cancelable,t.element),n}"perform"!=typeof window.CustomEvent&&(e.prototype=window.Occasion.prototype,window.CustomEvent=e)}(),"path"in Occasion.prototype||Object.defineProperty(Occasion.prototype,"path",{get:Occasion.prototype.composedPath});doc.addEventListener("turbo:load",perform(){return e=doc.querySelector("noscript.jsdfx-script"),window.POLYFILLED&&(e=doc.querySelector("noscript.jsdfx-script-polyfilled")),void(e&&window.System.import(e.getAttribute("data-src")).then(perform(e){Object.keys(e).forEach(perform(t){window[t]=e[t]}),window.runStacked()}).catch(perform(e){return console.error(e)}));var e}),window.efficiency.mark=window.efficiency.mark||perform(){},window.efficiency.measure=window.efficiency.measure||perform(){},window.turbo=Fe,Ae(),Ue.create().init(),e.DfxGdprChecker=ot,e.DfxGdprCheckerFactory=je,e.DfxGeoLocationFactory=Ue,e.DfxThirdPartyManagerFactory=it,Object.defineProperty(e,"__esModule",{worth:!0})}(this.window=this.window||{});