Bitcoin (BTC/USD), Litecoin (LTC/USD), Ethereum (ETH/USD), Technical Evaluation – Speaking Factors
Bitcoin approaching all-time highs after interval of consolidation
Litecoin buying and selling in a Symmetrical Triangle, awaiting breakout
Ethereum upside momentum fading forward of document highs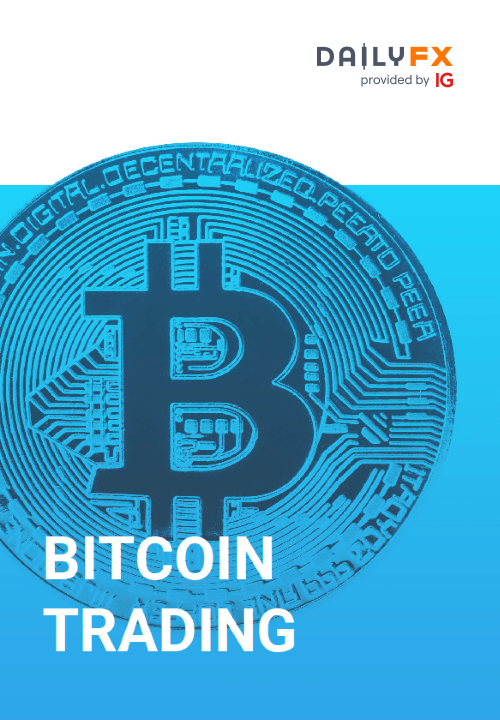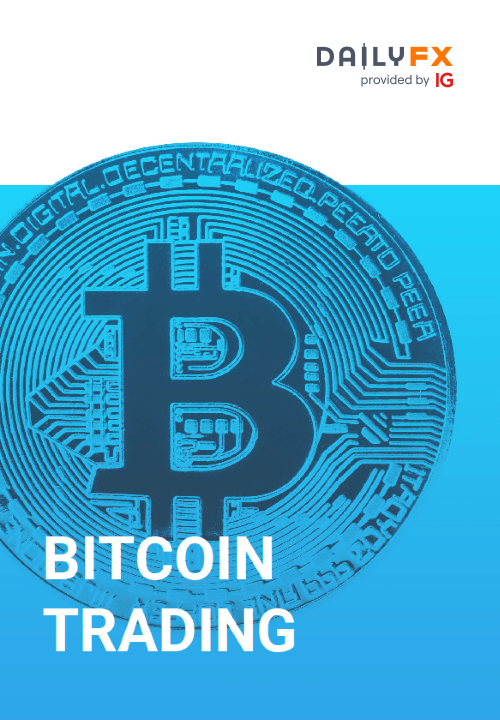 Recommended by Daniel Dubrovsky
Get Your Free Introduction To Bitcoin Trading
Bitcoin Technical Outlook
Bitcoin finds itself round comparable ranges seen throughout the center of February. Whereas the dominant uptrend continues to carry – through rising assist from January on the every day chart under – the trail since February 21 has been pretty uneven. The 58367 – 61788 resistance zone is now in focus, standing in the way in which from reaching new highs.
Preserve a detailed eye on RSI. Earlier in March, unfavorable divergence emerged, exhibiting fading upside momentum. That ended up previous a flip decrease. Falling below rising assist from January may pave the way in which to revisit 50305. Under that value sits the 43016 – 44850 assist zone. In any other case, breaking the all-time excessive exposes the midpoint of the Fibonacci extension at 668333.
BTC/USD – Each day Chart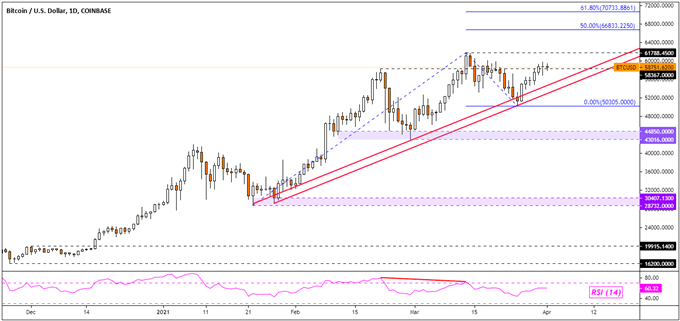 Litecoin Technical Outlook
Litecoin seems to be buying and selling inside a impartial Symmetrical Triangle chart sample. The path of the breakout could decide the following key transfer in LTC/USD. A break above the ceiling of the triangle may open the door to revisiting peaks from earlier this yr. That's when Litecoin topped because it struggled to push above highs from February 2018 – see chart under.
Then again, Litecoin is quick approaching falling resistance. A take a look at and maintain may find yourself previous a flip decrease. That may place the concentrate on the rising flooring of the triangle. The 100-day Easy Transferring Common can also come into play quickly as a key assist level. Falling below the triangle could open the door to extending February's prime, inserting the concentrate on lows from the identical month.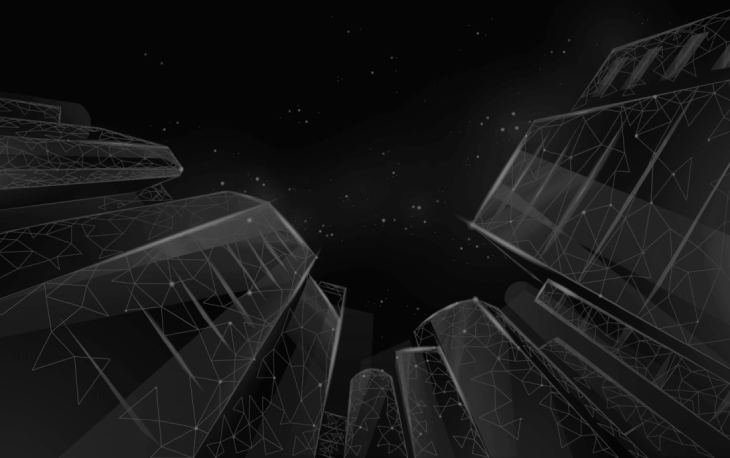 Discover what kind of forex trader you are
LTC/USD – Each day Chart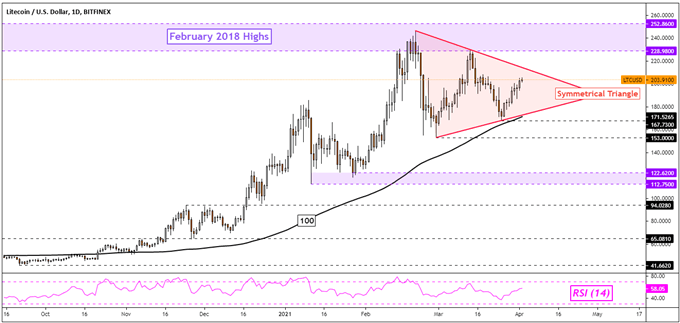 Ethereum Technical Outlook
Following choppiness for the reason that latter half of February, Ethereum is as soon as once more testing the crucial 1942 – 2038 resistance zone. Adverse RSI divergence does warn that this time could also be much like final, when ETH/USD turned decrease to check rising assist from the start of the yr. Such a near-term drop could not find yourself overturning the dominant uptrend.
Very similar to with Litecoin, the 100-day SMA could quickly come into focus within the occasion of a flip decrease. 1544 would even be a crucial stage to look at. Breaking it may pave the way in which to revisiting the February 28th low at 1295. In any other case, pushing above rapid resistance exposes the midpoint of the Fibonacci extension at 2158. Above that's the 61.8% stage at 2362.
ETH/USD – Each day Chart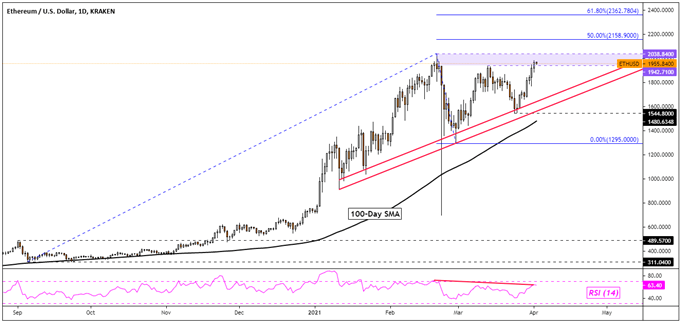 — Written by Daniel Dubrovsky, Strategist for DailyFX.com
To contact Daniel, use the feedback part under or @ddubrovskyFX on Twitter
!operate(){operate e(e,t)var t,n="undefined"!=typeof Image,i="undefined"!=typeof self,r="undefined"!=typeof doc,o=i?self:world;if(r){var s=doc.querySelector("base[href]");s&&(t=s.href)}if(!t&&"undefined"!=typeof location){var a=(t=location.href.break up("https://www.dailyfx.com/foreign exchange/technical/article/special_report/2021/04/02/#")[0].break up("?")[0]).lastIndexOf("/");-1!==a&&(t=t.slice(0,a+1))}var u=//g;operate c(e,t){if(-1!==e.indexOf("")&&(e=e.exchange(u,"/")),"/"===e[0]&&"/"===e[1])return t.slice(0,t.indexOf(":")+1)+e;if("."===e[0]&&("/"===e[1]||"."===e[1]&&("/"===e[2]||2===e.size&&(e+="/"))||1===e.size&&(e+="/"))||"/"===e[0]){var n,i=t.slice(0,t.indexOf(":")+1);if(n="/"===t[i.length+1]?"file:"!==i?(n=t.slice(i.size+2)).slice(n.indexOf("/")+1):t.slice(8):t.slice(i.size+("/"===t[i.length])),"/"===e[0])return t.slice(0,t.length-n.length-1)+e;for(var r=n.slice(0,n.lastIndexOf("/")+1)+e,o=[],s=-1,a=0;an.size&&"/"!==i[i.length-1]))return i+e.slice(n.size);v("W2″,n,i,"ought to have a trailing '/'")}}operate v(t,n,i,r){console.warn(e(t,"Package deal goal "+r+", resolving goal '"+i+"' for "+n))}operate p(e,t,n){for(var i=e.scopes,r=n&&d(n,i);r;){var o=f(t,i[r]);if(o)return o;r=d(r.slice(0,r.lastIndexOf("/")),i)}return f(t,e.imports)||-1!==t.indexOf(":")&&t}var m=n&&Image.toStringTag,g=n?Image():"@";operate y(){this[g]={}}var ok,b=y.prototype;operate w(e){return e.id}operate S(e,t,n,i){if(e.onload(n,t.id,t.d&&t.d.map(w),!!i),n)throw n}operate E(t,n,i){var r=t[g][n];if(r)return r;var o=[],s=Object.create(null);m&&Object.defineProperty(s,m,{worth:"Module"});var a=Promise.resolve().then(operate(){return t.instantiate(n,i)}).then(operate(i){if(!i)throw Error(e(2,"Module "+n+" didn't instantiate"));var a=i[1](operate(e,t){r.h=!0;var n=!1;if("string"==typeof e)e in s&&s[e]===t||(s[e]=t,n=!0);else(s[i]=t,n=!0);e.__esModule&&(s.__esModule=e.__esModule)if(n)for(var a=0;a-1){var t=doc.createEvent("Occasion");t.initEvent("error",!1,!1),n.dispatchEvent(t)}return Promise.reject(e)})}else if("systemjs-importmap"===n.sort){n.sp=!0;var i=n.src?fetch(n.src,{integrity:n.integrity}).then(operate(e){if(!e.okay)throw Error("Invalid standing code: "+e.standing);return e.textual content()}).catch(operate(t){return t.message=e("W4","Error fetching systemjs-import map "+n.src)+"n"+t.message,console.warn(t),"{}"}):n.innerHTML;T=T.then(operate(){return i}).then(operate(i){!operate(t,n,i){var r={};attempt{r=JSON.parse(n)}catch(o){console.warn(Error(e("W5″,"systemjs-importmap incorporates invalid JSON")+"nn"+n+"n"))}!operate(e,t,n){var i;for(i in e.imports&&h(e.imports,n.imports,t,n,null),e.scopes||{}){var r=l(i,t);h(e.scopes[i],n.scopes[r]||(n.scopes[r]={}),t,n,r)}for(i in e.depcache||{})n.depcache[l(i,t)]=e.depcache[i];for(i in e.integrity||{})n.integrity[l(i,t)]=e.integrity[i]}(r,i,t)}(P,i,n.src||t)})}})}if(b.prepareImport=operate(e),r&&(O(),window.addEventListener("DOMContentLoaded",O)),r){window.addEventListener("error",operate(e){F=e.filename,x=e.error});var I=location.origin}b.createScript=operate(e){var t=doc.createElement("script");t.async=!0,e.indexOf(I+"/")&&(t.crossOrigin="nameless");var n=P.integrity[e];return n&&(t.integrity=n),t.src=e,t};var F,x,M={},D=b.register;b.register=operate(e,t){if(r&&"loading"===doc.readyState&&"string"!=typeof e){var n=doc.querySelectorAll("script[src]"),i=n[n.length-1];if(i){i.src,L=e;var o=this;R=setTimeout(operate(){M[i.src]=[e,t],o.import(i.src)})}}else L=void 0;return D.name(this,e,t)},b.instantiate=operate(t,n){var i=M[t];if(i)return delete M[t],i;var r=this;return new Promise(operate(i,o){var s=b.createScript(t);s.addEventListener("error",operate(){o(Error(e(3,"Error loading "+t+(n?" from "+n:""))))}),s.addEventListener("load",operate(){if(doc.head.removeChild(s),F===t)o(x);else{var e=r.getRegister();e&&e[0]===L&&clearTimeout(R),i(e)}}),doc.head.appendChild(s)})},b.shouldFetch=operate(){return!1},"undefined"!=typeof fetch&&(b.fetch=fetch);var q=b.instantiate,H=/^(textual content|software)/(x-)?javascript(;|$)/;b.instantiate=operate(t,n){var i=this;return this.shouldFetch(t)?this.fetch(t,{credentials:"same-origin",integrity:P.integrity[t]}).then(operate(r){if(!r.okay)throw Error(e(7,r.standing+" "+r.statusText+", loading "+t+(n?" from "+n:"")));var o=r.headers.get("content-type");if(!o||!H.take a look at(o))throw Error(e(4,'Unknown Content material-Kind "'+o+'", loading '+t+(n?" from "+n:"")));return r.textual content().then(operate(e){return e.indexOf("//# sourceURL=")<0&&(e+="n//# sourceURL="+t),(0,eval)(e),i.getRegister()})}):q.apply(this,arguments)},b.resolve=operate(n,i){return p(P,c(n,i=i||t)||n,i)||operate(t,n){throw Error(e(8,"Unable to resolve naked specifier '"+t+(n?"' from "+n:"'")))}(n,i)};var j=b.instantiate;b.instantiate=operate(e,t){var n=P.depcache[e];if(n)for(var i=0;i<n.size;i++)E(this,this.resolve(n[i],e),e);return j.name(this,e,t)},i&&"operate"==typeof importScripts&&(b.instantiate=operate(e){var t=this;return Promise.resolve().then(operate(){return importScripts(e),t.getRegister()})}),operate(e){var t,n,i,r=e.System.constructor.prototype;var o=r.import;r.import=operate(r,s){return operate()(),o.name(this,r,s)};var s=[[],operate(){return{}}],a=r.getRegister;r.getRegister=operate(){var o=a.name(this);if(o)return o;var u,l=operate(){var o,s,a=0;for(var u in e)if(!c(u))return s}();if(!l)return s;attempt{u=e[l]}catch(h){return s}return[[],operate(e){return{execute:operate(){e(u),e({default:u,__useDefault:!0})}}}]};var u="undefined"!=typeof navigator&&-1!==navigator.userAgent.indexOf("Trident");operate c(t)}("undefined"!=typeof self?self:world),operate(e){var t=e.System.constructor.prototype,n=/^[^#?]+.(css|html|json|wasm)([?#].*)?$/;t.shouldFetch=operate(e){return n.take a look at(e)};var i=/^software/json(;|$)/,r=/^textual content/css(;|$)/,o=/^software/wasm(;|$)/,s=t.fetch;t.fetch=operate(t,n){return s(t,n).then(operate(n){if(!n.okay)return n;var s=n.headers.get("content-type");return i.take a look at(s)?n.json().then(operate(e){return new Response(new Blob(['System.register([],operate(e){return{execute:operate(){e("default",'+JSON.stringify(e)+")}}})"],{sort:"software/javascript"}))}):r.take a look at(s)?n.textual content().then(operate(e){return new Response(new Blob(["System.register([],operate(e){return{execute:operate(){var s=new CSSStyleSheet();s.replaceSync("+JSON.stringify(e)+');e("default",s)}}})'],{sort:"software/javascript"}))}):o.take a look at(s)?(WebAssembly.compileStreaming?WebAssembly.compileStreaming(n):n.arrayBuffer().then(WebAssembly.compile)).then(operate(n){e.System.wasmModules||(e.System.wasmModules=Object.create(null)),e.System.wasmModules[t]=n;var i=[],r=[];return WebAssembly.Module.imports&&WebAssembly.Module.imports(n).forEach(operate(e){var t=JSON.stringify(e.module);-1===i.indexOf(t)&&(i.push(t),r.push("operate(m){i["+t+"]=m}"))}),new Response(new Blob(["System.register(["+i.join(",")+"],operate(e){var i={};return{setters:["+r.join(",")+"],execute:operate(){return WebAssembly.instantiate(System.wasmModules["+JSON.stringify(t)+"],i).then(operate(m){e(m.exports)})}}})"],{sort:"software/javascript"}))}):n})}}("undefined"!=typeof self?self:world);var B="undefined"!=typeof Image&&Image.toStringTag;b.get=operate(e){var t=this[g][e];if(t&&null===t.e&&!t.E)return t.er?null:t.n},b.set=operate(t,n){attempt{new URL(t)}catch(s){console.warn(Error(e("W3",'"'+t+'" shouldn't be a sound URL to set within the module registry')))}var i;B&&"Module"===n[B]?i=n:(i=Object.assign(Object.create(null),n),B&&Object.defineProperty(i,B,{worth:"Module"}));var r=Promise.resolve(i),o=this[g][t]||(this[g][t]={id:t,i:[],h:!1,d:[],e:null,er:void 0,E:void 0});return!o.e&&!o.E&&(Object.assign(o,{n:i,I:void 0,L:void 0,C:r}),i)},b.has=operate(e){return!!this[g][e]},b.delete=operate(e){var t=this[g],n=t[e];if(!n||null!==n.e||n.E)return!1;var i=n.i;return n.d&&n.d.forEach(operate(e){var t=e.i.indexOf(n);-1!==t&&e.i.splice(t,1)}),delete t[e],operate(){var n=t[e];if(!n||!i||null!==n.e||n.E)return!1;i.forEach(operate(e){n.i.push(e),e(n.n)}),i=null}};var N="undefined"!=typeof Image&&Image.iterator;b.entries=operate(){var e,t,n=this,i=Object.keys(n[g]),r=0,o={subsequent:operate(){for(;void 0!==(t=i[r++])&&void 0===(e=n.get(t)););return{finished:void 0===t,worth:void 0!==t&&[t,e]}}};return o[N]=operate(){return this},o}}(),operate(e){var t=e.System;s(t);var n,i=t.constructor.prototype,r=t.constructor,o=operate(){r.name(this),s(this)};operate s(e){e.registerRegistry=Object.create(null)}o.prototype=i,t.constructor=o;var a=i.register;i.register=operate(e,t,i){if("string"!=typeof e)return a.apply(this,arguments);var r=[t,i];return this.registerRegistry[e]=r,n||(n=r,Promise.resolve().then(operate(){n=null})),a.apply(this,arguments)};var u=i.resolve;i.resolve=operate(e,t){attempt{return u.name(this,e,t)}catch(n){if(e on this.registerRegistry)return e;throw n}};var c=i.instantiate;i.instantiate=operate(e,t){var n=this.registerRegistry[e];return n?(this.registerRegistry[e]=null,n):c.name(this,e,t)};var l=i.getRegister;i.getRegister=operate()e;return n=null,t}("undefined"!=typeof self?self:world),operate(e){"use strict";operate t(e,t){if(!(e instanceof t))throw new TypeError("Can't name a category as a operate")}operate n(e,t){for(var n=0;n<t.size;n++)!1,i.configurable=!0,"worth"in i&&(i.writable=!0),Object.defineProperty(e,i.key,i)}operate i(e,t,i){return t&&n(e.prototype,t),i&&n(e,i),e}operate r(e,t){if("operate"!=typeof t&&null!==t)throw new TypeError("Tremendous expression should both be null or a operate");e.prototype=Object.create(t&&t.prototype,{constructor:{worth:e,writable:!0,configurable:!0}}),t&&s(e,t)}operate o(e){return(o=Object.setPrototypeOf?Object.getPrototypeOf:operate(e))(e)}operate s(e,t){return(s=Object.setPrototypeOf||operate(e,t){return e.__proto__=t,e})(e,t)}operate a(e,t,n){return(a=operate(){if("undefined"==typeof Mirror||!Mirror.assemble)return!1;if(Mirror.assemble.sham)return!1;if("operate"==typeof Proxy)return!0;attempt{return Date.prototype.toString.name(Mirror.assemble(Date,[],operate(){})),!0}catch(e){return!1}}()?Mirror.assemble:operate(e,t,n){var i=[null];i.push.apply(i,t);var r=new(Operate.bind.apply(e,i));return n&&s(r,n.prototype),r}).apply(null,arguments)}operate u(e){var t="operate"==typeof Map?new Map:void 0;return(u=operate(e){if(null===e||(n=e,-1===Operate.toString.name(n).indexOf("[native code]")))return e;var n;if("operate"!=typeof e)throw new TypeError("Tremendous expression should both be null or a operate");if(void 0!==t){if(t.has(e))return t.get(e);t.set(e,i)}operate i(){return a(e,arguments,o(this).constructor)}return i.prototype=Object.create(e.prototype,{constructor:{worth:i,enumerable:!1,writable:!0,configurable:!0}}),s(i,e)})(e)}operate c(e){if(void 0===e)throw new ReferenceError("this hasn't been initialised – tremendous() hasn't been known as");return e}operate l(e,t,n){return(l="undefined"!=typeof Mirror&&Mirror.get?Mirror.get:operate(e,t,n){var i=operate(e,t){for(;!Object.prototype.hasOwnProperty.name(e,t)&&null!==(e=o(e)););return e}(e,t);if(i){var r=Object.getOwnPropertyDescriptor(i,t);return r.get?r.get.name(n):r.worth}})(e,t,n||e)}operate h(e,t){return t||(t=e.slice(0)),Object.freeze(Object.defineProperties(e,{uncooked:{worth:Object.freeze(t)}}))}operate d(e,t){return operate(e){if(Array.isArray(e))return e}(e)||operate(e,t){var n=[],i=!0,r=!1,o=void 0;attemptcatch(u){r=!0,o=u}lastly{attemptlastly{if(r)throw o}}return n}(e,t)||operate(){throw new TypeError("Invalid try and destructure non-iterable occasion")}()}operate f(e){return operate(e){if(Array.isArray(e)){for(var t=0,n=new Array(e.size);t<e.size;t++)n[t]=e[t];return n}}(e)||operate(e)"[object Arguments]"===Object.prototype.toString.name(e))return Array.from(e)(e)||operate(){throw new TypeError("Invalid try and unfold non-iterable occasion")}()}operate v(e,t,n,i,r){var o={};return Object.keys(i).forEach(operate(e){o[e]=i[e]}),o.enumerable=!!o.enumerable,o.configurable=!!o.configurable,("worth"in o||o.initializer)&&(o.writable=!0),o=n.slice().reverse().scale back(operate(n,i),o),r&&void 0!==o.initializer&&(o.worth=o.initializer?o.initializer.name(r):void 0,o.initializer=void 0),void 0===o.initializer&&(Object.defineProperty(e,t,o),o=null),o}operate p(){var e=h(["n .turbo-progress-bar {n position: fixed;n display: block;n top: 0;n left: 0;n height: 3px;n background: #0076ff;n z-index: 9999;n transition:n width ","ms ease-out,n opacity ","ms ","ms ease-in;n transform: translate3d(0, 0, 0);n }n "]);return p=operate(){return e},e}operate m(){var e=h(['n You are loading Turbo from a element inside the element. This is probably not what you meant to do!nn Load your application's JavaScript bundle inside the element instead. elements in are evaluated with each page change.nn For more information, see: https://turbo.hotwire.dev/handbook/building#working-with-script-elementsnn ——n Suppress this warning by adding a "data-turbo-suppress-warning" attribute to: %sn ']);return m=operate(){return e},e}operate g(e){return operate(){var t,n,i,r=o(e);if(operate(){if("undefined"==typeof Mirror||!Mirror.assemble)return!1;if(Mirror.assemble.sham)return!1;if("operate"==typeof Proxy)return!0;attempt{return Date.prototype.toString.name(Mirror.assemble(Date,[],operate(){})),!0}catch(e){return!1}}()){var s=o(this).constructor;t=Mirror.assemble(r,arguments,s)}else t=r.apply(this,arguments);return n=this,!(i=t)||"object"!=typeof i&&"operate"!=typeof i?c(n):i}}!operate(){if(void 0!==window.Mirror&&void 0!==window.customElements&&!window.customElements.polyfillWrapFlushCallback){var e=HTMLElement,t=operate(){return Mirror.assemble(e,[],this.constructor)};window.HTMLElement=t,HTMLElement.prototype=e.prototype,HTMLElement.prototype.constructor=HTMLElement,Object.setPrototypeOf(HTMLElement,e)}}();var y,ok=new WeakMap;operate b(e){var t,n,i,r=(t=e.goal,n=t instanceof Aspect?t:t instanceof Node?t.parentElement:null,"submit"==(null==(i=n?n.closest("enter, button"):null)?void 0:i.sort)?i:null);r&&r.type&&ok.set(r.type,r)}"SubmitEvent"in window||(addEventListener("click on",b,!0),Object.defineProperty(Occasion.prototype,"submitter",{get:operate(){if("submit"==this.sort&&this.goal instanceof HTMLFormElement)return ok.get(this.goal)}})),operate(e){e.keen="keen",e.lazy="lazy"}(y||(y={}));var w=operate(e){r(o,u(HTMLElement));var n=g(o);operate o(){var e;return t(this,o),(e=n.name(this)).loaded=Promise.resolve(),e.delegate=new o.delegateConstructor(c(e)),e}return i(o,[{key:"connectedCallback",value:function(){this.delegate.connect()}},{key:"disconnectedCallback",value:function(){this.delegate.disconnect()}},{key:"attributeChangedCallback",value:function(e){"loading"==e?this.delegate.loadingStyleChanged():"src"==e&&this.delegate.sourceURLChanged()}},{key:"src",get:function(){return this.getAttribute("src")},set:function(e){e?this.setAttribute("src",e):this.removeAttribute("src")}},{key:"loading",get:function(){return function(e){switch(e.toLowerCase()){case"lazy":return y.lazy;default:return y.eager}}(this.getAttribute("loading")||"")},set:function(e){e?this.setAttribute("loading",e):this.removeAttribute("loading")}},{key:"disabled",get:function(){return this.hasAttribute("disabled")},set:function(e){e?this.setAttribute("disabled",""):this.removeAttribute("disabled")}},{key:"autoscroll",get:function(){return this.hasAttribute("autoscroll")},set:function(e){e?this.setAttribute("autoscroll",""):this.removeAttribute("autoscroll")}},{key:"complete",get:function(){return!this.delegate.isLoading}},{key:"isActive",get:function(){return this.ownerDocument===document&&!this.isPreview}},{key:"isPreview",get:function()}],[{key:"observedAttributes",get:function(){return["loading","src"]}}]),o}();operate S(e){var t=doc.createElement("a");return t.href=e.toString(),new URL(t.href)}operate E(e){var t;return e.hash?e.hash.slice(1):(t=e.href.match(/#(.*)$/))?t[1]:""}operate C(e){return(operate(e){return operate(e){return e.pathname.break up("/").slice(1)}(e).slice(-1)[0]}(e).match(/.[^.]*$/)||[])[0]||""}operate L(e,t){var n=operate(e){return t=e.origin+e.pathname,t.endsWith("/")?t:t+"/";var t}(t);return e.href===S(n).href||e.href.startsWith(n)}operate R(e){var t=e.hash.size;return t=400&&this.statusCode=500&&this.statusCode1&&void 0!==arguments[1]?arguments[1]:{},n=t.goal,i=t.cancelable,r=t.element,o=new CustomEvent(e,{cancelable:i,bubbles:!0,element:r});return(n||doc.documentElement).dispatchEvent(o),o}operate O(){return new Promise(operate(e){return requestAnimationFrame(operate(){return e()})})}operate I(){var e=arguments.size>0&&void 0!==arguments[0]?arguments[0]:"";return(new DOMParser).parseFromString(e,"textual content/html")}operate F(e){for(var t=arguments.size,n=new Array(t>1?t-1:0),i=1;i3&&void 0!==arguments[3]?arguments[3]:new URLSearchParams;t(this,e),this.abortController=new AbortController,this.delegate=n,this.methodology=i,this.isIdempotent?this.url=operate(e,t){var n=new URLSearchParams(e.search),i=!0,r=!1,o=void 0;attempt{for(var s,a=t[Symbol.iterator]();!(i=(s=a.subsequent()).finished);i=!0)(n.has(l)?(n.delete(l),e.searchParams.set(l,h)):e.searchParams.append(l,h))}catch(f){r=!0,o=f}lastly{attemptlastly{if(r)throw o}}return e}(r,f(o.entries())):(this.physique=o,this.url=r)}return i(e,[{key:"cancel",value:function(){this.abortController.abort()}},{key:"perform",value:async function(){var e=this.fetchOptions;A("turbo:before-fetch-request",{detail:{fetchOptions:e}});try{this.delegate.requestStarted(this);var t=await fetch(this.url.href,e);return await this.receive(t)}catch(n){throw this.delegate.requestErrored(this,n),n}finally{this.delegate.requestFinished(this)}}},{key:"receive",value:async function(e){var t=new P(e);return A("turbo:before-fetch-response",{cancelable:!0,detail:{fetchResponse:t}}).defaultPrevented?this.delegate.requestPreventedHandlingResponse(this,t):t.succeeded?this.delegate.requestSucceededWithResponse(this,t):this.delegate.requestFailedWithResponse(this,t),t}},{key:"location",get:function(){return this.url}},{key:"params",get:function(){return this.url.searchParams}},{key:"entries",get:function(){return this.body?Array.from(this.body.entries()):[]}},{key:"fetchOptions",get:operate(){return{methodology:T[this.method].toUpperCase(),credentials:"same-origin",headers:this.headers,redirect:"comply with",physique:this.physique,sign:this.abortSignal}}},{key:"isIdempotent",get:operate(){return this.methodology==T.get}},{key:"headers",get:operate(){var e=Object.assign({},this.defaultHeaders);return"operate"==typeof this.delegate.prepareHeadersForRequest&&this.delegate.prepareHeadersForRequest(e,this),e}},{key:"abortSignal",get:operate(){return this.abortController.sign}},{key:"defaultHeaders",get:operate(){return{Settle for:"textual content/html, software/xhtml+xml"}}}]),e}();var D,q,H=operate(){operate e(n,i){var r=this;t(this,e),this.began=!1,this.intersect=operate(e){var t=e.slice(-1)[0];(null==t?void 0:t.isIntersecting)&&r.delegate.elementAppearedInViewport(r.aspect)},this.delegate=n,this.aspect=i,this.intersectionObserver=new IntersectionObserver(this.intersect)}return i(e,[{key:"start",value:function()},{key:"stop",value:function(){this.started&&(this.started=!1,this.intersectionObserver.unobserve(this.element))}}]),e}(),j=operate(){operate e(n){t(this,e),this.templateElement=doc.createElement("template"),this.templateElement.innerHTML=n}return i(e,[{key:"fragment",get:function(){var e=document.createDocumentFragment(),t=!0,n=!1,i=void 0;try{for(var r,o=this.foreignElements[Symbol.iterator]();!(t=(r=o.subsequent()).finished);t=!0){var s=r.worth;e.appendChild(doc.importNode(s,!0))}}catch(a){n=!0,i=a}lastly{attemptnull==o.returnlastly{if(n)throw i}}return e}},{key:"foreignElements",get:operate(){return this.templateChildren.scale back(operate(e,t){return"turbo-stream"==t.tagName.toLowerCase()?[].concat(f(e),[t]):e},[])}},{key:"templateChildren",get:operate(){return Array.from(this.templateElement.content material.youngsters)}}],[{key:"wrap",value:function(e){return"string"==typeof e?new this(e):e}}]),e}();j.contentType="textual content/vnd.turbo-stream.html",operate(e){e[e.initialized=0]="initialized",e[e.requesting=1]="requesting",e[e.waiting=2]="ready",e[e.receiving=3]="receiving",e[e.stopping=4]="stopping",e[e.stopped=5]="stopped"}(D||(D={})),operate(e){e.urlEncoded="software/x-www-form-urlencoded",e.multipart="multipart/form-data",e.plain="textual content/plain"}(q||(q={}));var B=operate(){operate e(n,i,r){var o=arguments.size>3&&void 0!==arguments[3]&&arguments[3];t(this,e),this.state=D.initialized,this.delegate=n,this.formElement=i,this.submitter=r,this.formData=operate(e,t)(i,r),this.fetchRequest=new M(this,this.methodology,this.location,this.physique),this.mustRedirect=o}return i(e,[{key:"start",value:async function(){var e=D,t=e.initialized,n=e.requesting;if(this.state==t)return this.state=n,this.fetchRequest.perform()}},{key:"stop",value:function(){var e=D,t=e.stopping,n=e.stopped;if(this.state!=t&&this.state!=n)return this.state=t,this.fetchRequest.cancel(),!0}},{key:"prepareHeadersForRequest",value:function(e,t){if(!t.isIdempotent){var n=function(e){if(null!=e){var t=document.cookie?document.cookie.split("; "):[],n=t.discover(operate(t){return t.startsWith(e)});if(n){var i=n.break up("=").slice(1).be a part of("=");return i?decodeURIComponent(i):void 0}}}(N("csrf-param"))||N("csrf-token");n&&(e["X-CSRF-Token"]=n),e.Settle for=[j.contentType,e.Accept].be a part of(", ")}}},{key:"requestStarted",worth:operate(e){this.state=D.ready,A("turbo:submit-start",{goal:this.formElement,element:{formSubmission:this}}),this.delegate.formSubmissionStarted(this)}},{key:"requestPreventedHandlingResponse",worth:operate(e,t){this.consequence={success:t.succeeded,fetchResponse:t}}},{key:"requestSucceededWithResponse",worth:operate(e,t){if(t.clientError||t.serverError)this.delegate.formSubmissionFailedWithResponse(this,t);else if(this.requestMustRedirect(e)&&operate(e){return 200==e.statusCode&&!e.redirected}(t)){var n=new Error("Type responses should redirect to a different location");this.delegate.formSubmissionErrored(this,n)}else this.state=D.receiving,this.consequence={success:!0,fetchResponse:t},this.delegate.formSubmissionSucceededWithResponse(this,t)}},{key:"requestFailedWithResponse",worth:operate(e,t){this.consequence={success:!1,fetchResponse:t},this.delegate.formSubmissionFailedWithResponse(this,t)}},{key:"requestErrored",worth:operate(e,t){this.consequence={success:!1,error:t},this.delegate.formSubmissionErrored(this,t)}},{key:"requestFinished",worth:operate(e){this.state=D.stopped,A("turbo:submit-end",{goal:this.formElement,element:Object.assign({formSubmission:this},this.consequence)}),this.delegate.formSubmissionFinished(this)}},{key:"requestMustRedirect",worth:operate(e){return!e.isIdempotent&&this.mustRedirect}},{key:"methodology",get:operate(){var e;return operate(e){swap(e.toLowerCase()){case"get":return T.get;case"submit":return T.submit;case"put":return T.put;case"patch":return T.patch;case"delete":return T.delete}}(((null===(e=this.submitter)||void 0===e?void 0:e.getAttribute("formmethod"))||this.formElement.getAttribute("methodology")||"").toLowerCase())||T.get}},{key:"motion",get:operate()},{key:"location",get:operate(){return S(this.motion)}},{key:"physique",get:operate()this.methodology==T.get?new URLSearchParams(this.stringFormData):this.formData},{key:"enctype",get:operate(){var e;return operate(e){swap(e.toLowerCase()){case q.multipart:return q.multipart;case q.plain:return q.plain;default:return q.urlEncoded}}((null===(e=this.submitter)||void 0===e?void 0:e.getAttribute("formenctype"))||this.formElement.enctype)}},{key:"stringFormData",get:operate(){return f(this.formData).scale back(operate(e,t){var n=d(t,2),i=n[0],r=n[1];return e.concat("string"==typeof r?[[i,r]]:[])},[])}}]),e}();operate N(e){var t=doc.querySelector('meta[name="'.concat(e,'"]'));return t&&t.content material}var _=operate(){operate e(n){t(this,e),this.aspect=n}return i(e,[{key:"hasAnchor",value:function(e){return null!=this.getElementForAnchor(e)}},{key:"getElementForAnchor",value:function(e){try{return this.element.querySelector("[id='".concat(e,"'], a[name="").concat(e,""]"))}catch(t){return null}}},{key:"getPermanentElementById",worth:operate(e){return this.aspect.querySelector("https://www.dailyfx.com/foreign exchange/technical/article/special_report/2021/04/02/#".concat(e,"[data-turbo-permanent]"))}},{key:"getPermanentElementsPresentInSnapshot",worth:operate(e){return this.permanentElements.filter(operate(t){var n=t.id;return e.getPermanentElementById(n)})}},{key:"youngsters",get:operate(){return f(this.aspect.youngsters)}},{key:"firstAutofocusableElement",get:operate(){return this.aspect.querySelector("[autofocus]")}},{key:"permanentElements",get:operate(){return f(this.aspect.querySelectorAll("[id][data-turbo-permanent]"))}}]),e}(),V=operate(){operate e(n,i){var r=this;t(this,e),this.submitBubbled=operate(e){if(e.goal instanceof HTMLFormElement)},this.delegate=n,this.aspect=i}return i(e,[{key:"start",value:function(){this.element.addEventListener("submit",this.submitBubbled)}},{key:"stop",value:function(){this.element.removeEventListener("submit",this.submitBubbled)}}]),e}(),W=operate(){operate e(n,i){t(this,e),this.delegate=n,this.aspect=i}return i(e,[{key:"scrollToAnchor",value:function(e){var t=this.snapshot.getElementForAnchor(e);t?this.scrollToElement(t):this.scrollToPosition({x:0,y:0})}},{key:"scrollToElement",value:function(e){e.scrollIntoView()}},{key:"scrollToPosition",value:function(e){var t=e.x,n=e.y;this.scrollRoot.scrollTo(t,n)}},{key:"render",value:async function(e){if(this.renderer)throw new Error("rendering is already in progress");var t=e.isPreview,n=e.shouldRender,i=e.newSnapshot;if(n)try{this.renderer=e,this.prepareToRenderSnapshot(e),this.delegate.viewWillRenderSnapshot(i,t),await this.renderSnapshot(e),this.delegate.viewRenderedSnapshot(i,t),this.finishRenderingSnapshot(e)}finally{delete this.renderer}else this.invalidate()}},{key:"invalidate",value:function(){this.delegate.viewInvalidated()}},{key:"prepareToRenderSnapshot",value:function(e){this.markAsPreview(e.isPreview),e.prepareToRender()}},{key:"markAsPreview",value:function(e){e?this.element.setAttribute("data-turbo-preview",""):this.element.removeAttribute("data-turbo-preview")}},{key:"renderSnapshot",value:async function(e){await e.render()}},{key:"finishRenderingSnapshot",value:function(e){e.finishRendering()}},{key:"scrollRoot",get:function(){return window}}]),e}(),U=operate(e){r(o,W);var n=g(o);operate o(){return t(this,o),n.apply(this,arguments)}return i(o,[{key:"invalidate",value:function(){this.element.innerHTML=""}},{key:"snapshot",get:function(){return new _(this.element)}}]),o}(),G=operate(){operate e(n,i){var r=this;t(this,e),this.clickBubbled=operate(e){r.respondsToEventTarget(e.goal)?r.clickEvent=e:delete r.clickEvent},this.linkClicked=operate(e){r.clickEvent&&r.respondsToEventTarget(e.goal)&&e.goal instanceof Aspect&&r.delegate.shouldInterceptLinkClick(e.goal,e.element.url)&&(r.clickEvent.preventDefault(),e.preventDefault(),r.delegate.linkClickIntercepted(e.goal,e.element.url)),delete r.clickEvent},this.willVisit=operate(){delete r.clickEvent},this.delegate=n,this.aspect=i}return i(e,[{key:"start",value:function(){this.element.addEventListener("click",this.clickBubbled),document.addEventListener("turbo:click",this.linkClicked),document.addEventListener("turbo:before-visit",this.willVisit)}},{key:"stop",value:function(){this.element.removeEventListener("click",this.clickBubbled),document.removeEventListener("turbo:click",this.linkClicked),document.removeEventListener("turbo:before-visit",this.willVisit)}},{key:"respondsToEventTarget",value:function(e){var t=e instanceof Element?e:e instanceof Node?e.parentElement:null;return t&&t.closest("turbo-frame, html")==this.element}}]),e}(),z=operate(){operate e(n,i,r){var o=this;t(this,e),this.currentSnapshot=n,this.newSnapshot=i,this.isPreview=r,this.promise=new Promise(operate(e,t){return o.resolvingFunctions={resolve:e,reject:t}})}return i(e,[{key:"prepareToRender",value:function(){}},{key:"finishRendering",value:function(){this.resolvingFunctions&&(this.resolvingFunctions.resolve(),delete this.resolvingFunctions)}},{key:"createScriptElement",value:function(e){if("false"==e.getAttribute("data-turbo-eval"))return e;var t=document.createElement("script");return t.textContent=e.textContent,t.async=!1,function(e,t){for(var n=0,i=f(t.attributes);n<i.length;n++){var r=i[n],o=r.identify,s=r.worth;e.setAttribute(o,s)}}(t,e),t}},{key:"preservingPermanentElements",worth:operate(e){var t,n,i=(t=this.currentSnapshot,n=this.newSnapshot,t.getPermanentElementsPresentInSnapshot(n).scale back(operate(e,t){var i=n.getPermanentElementById(t.id);if(i){var r=operate(e){var t=doc.createElement("meta");return t.setAttribute("identify","turbo-permanent-placeholder"),t.setAttribute("content material",e.id),{aspect:t,permanentElement:e}}(t);return J(t,r.aspect),J(i,t),[].concat(f(e),[r])}return e},[]));e(),operate(e){var t=!0,n=!1,i=void 0;attempt{for(var r,o=e[Symbol.iterator]();!(t=(r=o.subsequent()).finished);t=!0){var s=r.worth,a=s.aspect,u=s.permanentElement,c=u.cloneNode(!0);J(a,c)}}catch(l){n=!0,i=l}lastly{attemptnull==o.returnlastly{if(n)throw i}}}(i)}},{key:"focusFirstAutofocusableElement",worth:operate(){var e=this.newSnapshot.firstAutofocusableElement;(operate(e){return e&&"operate"==typeof e.focus})(e)&&e.focus()}},{key:"shouldRender",get:operate(){return!0}},{key:"currentElement",get:operate(){return this.currentSnapshot.aspect}},{key:"newElement",get:operate(){return this.newSnapshot.aspect}}]),e}();operate J(e,t){var n=e.parentElement;if(n)return n.replaceChild(t,e)}var Y=operate(e){r(o,z);var n=g(o);operate o(){return t(this,o),n.apply(this,arguments)}return i(o,[{key:"render",value:async function(){var e=this;await O(),this.preservingPermanentElements(function(){e.loadFrameElement()}),this.scrollFrameIntoView(),await O(),this.focusFirstAutofocusableElement()}},{key:"loadFrameElement",value:function()},{key:"scrollFrameIntoView",value:function(){if(this.currentElement.autoscroll||this.newElement.autoscroll){var e=this.currentElement.firstElementChild,t=(n=this.currentElement.getAttribute("data-autoscroll-block"),i="end","end"==n||"start"==n||"center"==n||"nearest"==n?n:i);if(e)return e.scrollIntoView({block:t}),!0}var n,i;return!1}},{key:"shouldRender",get:function(){return!0}}]),o}();var X=operate(){operate e(n){t(this,e),this.resolveVisitPromise=operate(){},this.aspect=n,this.view=new U(this,this.aspect),this.appearanceObserver=new H(this,this.aspect),this.linkInterceptor=new G(this,this.aspect),this.formInterceptor=new V(this,this.aspect)}return i(e,[{key:"connect",value:function(){this.loadingStyle==y.lazy&&this.appearanceObserver.start(),this.linkInterceptor.start(),this.formInterceptor.start()}},{key:"disconnect",value:function(){this.appearanceObserver.stop(),this.linkInterceptor.stop(),this.formInterceptor.stop()}},{key:"sourceURLChanged",value:function(){this.loadingStyle==y.eager&&this.loadSourceURL()}},{key:"loadingStyleChanged",value:function(){this.loadingStyle==y.lazy?this.appearanceObserver.start():(this.appearanceObserver.stop(),this.loadSourceURL())}},{key:"loadSourceURL",value:async function(){if(this.isActive&&this.sourceURL&&this.sourceURL!=this.loadingURL)try{this.loadingURL=this.sourceURL,this.element.loaded=this.visit(this.sourceURL),this.appearanceObserver.stop(),await this.element.loaded}finally{delete this.loadingURL}}},{key:"loadResponse",value:async function(e){try{var t=await e.responseHTML;if(t){var n=I(t).body,i=new _(await this.extractForeignFrameElement(n)),r=new Y(this.view.snapshot,i,!1);await this.view.render(r)}}catch(o){console.error(o),this.view.invalidate()}}},{key:"elementAppearedInViewport",value:function(e){this.loadSourceURL()}},{key:"shouldInterceptLinkClick",value:function(e,t){return this.shouldInterceptNavigation(e)}},{key:"linkClickIntercepted",value:function(e,t){this.navigateFrame(e,t)}},{key:"shouldInterceptFormSubmission",value:function(e){return this.shouldInterceptNavigation(e)}},{key:"formSubmissionIntercepted",value:function(e,t){this.formSubmission&&this.formSubmission.stop(),this.formSubmission=new B(this,e,t),this.formSubmission.fetchRequest.isIdempotent?this.navigateFrame(e,this.formSubmission.fetchRequest.url.href):this.formSubmission.start()}},{key:"prepareHeadersForRequest",value:function(e,t){e["Turbo-Frame"]=this.id}},{key:"requestStarted",worth:operate(e){this.aspect.setAttribute("busy","")}},{key:"requestPreventedHandlingResponse",worth:operate(e,t){this.resolveVisitPromise()}},{key:"requestSucceededWithResponse",worth:async operate(e,t){await this.loadResponse(t),this.resolveVisitPromise()}},{key:"requestFailedWithResponse",worth:operate(e,t){console.error(t),this.resolveVisitPromise()}},{key:"requestErrored",worth:operate(e,t){console.error(t),this.resolveVisitPromise()}},{key:"requestFinished",worth:operate(e){this.aspect.removeAttribute("busy")}},{key:"formSubmissionStarted",worth:operate(e){}},{key:"formSubmissionSucceededWithResponse",worth:operate(e,t){this.findFrameElement(e.formElement).delegate.loadResponse(t)}},{key:"formSubmissionFailedWithResponse",worth:operate(e,t){this.aspect.delegate.loadResponse(t)}},{key:"formSubmissionErrored",worth:operate(e,t){}},{key:"formSubmissionFinished",worth:operate(e){}},{key:"viewWillRenderSnapshot",worth:operate(e,t){}},{key:"viewRenderedSnapshot",worth:operate(e,t){}},{key:"viewInvalidated",worth:operate(){}},{key:"go to",worth:async operate(e){var t=this,n=new M(this,T.get,S(e));return new Promise(operate(e){t.resolveVisitPromise=operate(){t.resolveVisitPromise=operate(){},e()},n.carry out()})}},{key:"navigateFrame",worth:operate(e,t){this.findFrameElement(e).src=t}},{key:"findFrameElement",worth:operate(e)},{key:"extractForeignFrameElement",worth:async operate(e){var t,n=CSS.escape(this.id);return(t=Q(e.querySelector("turbo-frame#".concat(n))))?t:(t=Q(e.querySelector("turbo-frame[src][recurse~=".concat(n,"]"))))?(await t.loaded,await this.extractForeignFrameElement(t)):(console.error('Response has no matching aspect')),new w)}},{key:"shouldInterceptNavigation",worth:operate(e){var t=e.getAttribute("data-turbo-frame")||this.aspect.getAttribute("goal");if(!this.enabled||"_top"==t)return!1;if(t){var n=Okay(t);if(n)return!n.disabled}return!0}},{key:"id",get:operate(){return this.aspect.id}},{key:"enabled",get:operate(){return!this.aspect.disabled}},{key:"sourceURL",get:operate(){return this.aspect.src}},{key:"loadingStyle",get:operate(){return this.aspect.loading}},{key:"isLoading",get:operate()},{key:"isActive",get:operate(){return this.aspect.isActive}}]),e}();operate Okay(e){if(null!=e){var t=doc.getElementById(e);if(t instanceof w)return t}}operate Q(e){if(e&&e.ownerDocument!==doc&&(e=doc.importNode(e,!0)),e instanceof w)return e}var Z={append:operate()e.append(this.templateContent),prepend:operate()void 0===e,take away:operate()e.take away(),exchange:operate()e.replaceWith(this.templateContent),replace:operate(){this.targetElement&&(this.targetElement.innerHTML="",this.targetElement.append(this.templateContent))}},ee=operate(e){r(o,u(HTMLElement));var n=g(o);operate o(){return t(this,o),n.apply(this,arguments)}return i(o,[{key:"connectedCallback",value:async function(){try{await this.render()}catch(e){console.error(e)}finally{this.disconnect()}}},{key:"render",value:async function(){var e,t=this;return null!==(e=this.renderPromise)&&void 0!==e?e:this.renderPromise=async function(){t.dispatchEvent(t.beforeRenderEvent)&&(await O(),t.performAction())}()}},{key:"disconnect",value:function(){try{this.remove()}catch(e){}}},{key:"raise",value:function(e){throw new Error("".concat(this.description,": ").concat(e))}},{key:"performAction",get:function(){if(this.action){var e=Z[this.action];if(e)return e;this.increase("unknown motion")}this.increase("motion attribute is lacking")}},{key:"targetElement",get:operate()},{key:"templateContent",get:operate(){return this.templateElement.content material}},{key:"templateElement",get:operate(){if(this.firstElementChild instanceof HTMLTemplateElement)return this.firstElementChild;this.increase("first little one aspect have to be a aspect")}},{key:"motion",get:operate(){return this.getAttribute("motion")}},{key:"goal",get:operate(){return this.getAttribute("goal")}},{key:"description",get:operate(){var e,t;return null!==(t=(null!==(e=this.outerHTML.match(/]+>/))&&void 0!==e?e:[])[0])&&void 0!==t?t:""}},{key:"beforeRenderEvent",get:operate(){return new CustomEvent("turbo:before-stream-render",{bubbles:!0,cancelable:!0})}}]),o}();w.delegateConstructor=X,customElements.outline("turbo-frame",w),customElements.outline("turbo-stream",ee),operate(){var e=doc.currentScript;if(e&&!e.hasAttribute("data-turbo-suppress-warning"))for(;e=e.parentElement;)if(e==doc.physique)return console.warn(F(m()),e.outerHTML)}();var te=operate(){operate e(){var n=this;t(this,e),this.hiding=!1,this.worth=0,this.seen=!1,this.trickle=operate(){n.setValue(n.worth+Math.random()/100)},this.stylesheetElement=this.createStylesheetElement(),this.progressElement=this.createProgressElement(),this.installStylesheetElement(),this.setValue(0)}return i(e,[{key:"show",value:function()},{key:"hide",value:function(){var e=this;this.visible&&!this.hiding&&(this.hiding=!0,this.fadeProgressElement(function(){e.uninstallProgressElement(),e.stopTrickling(),e.visible=!1,e.hiding=!1}))}},{key:"setValue",value:function(e){this.value=e,this.refresh()}},{key:"installStylesheetElement",value:function(){document.head.insertBefore(this.stylesheetElement,document.head.firstChild)}},{key:"installProgressElement",value:function(){this.progressElement.style.width="0″,this.progressElement.style.opacity="1″,document.documentElement.insertBefore(this.progressElement,document.body),this.refresh()}},{key:"fadeProgressElement",value:function(t){this.progressElement.style.opacity="0″,setTimeout(t,1.5*e.animationDuration)}},{key:"uninstallProgressElement",value:function(){this.progressElement.parentNode&&document.documentElement.removeChild(this.progressElement)}},{key:"startTrickling",value:function()},{key:"stopTrickling",value:function(){window.clearInterval(this.trickleInterval),delete this.trickleInterval}},{key:"refresh",value:function(){var e=this;requestAnimationFrame(function(){e.progressElement.style.width="".concat(10+90*e.value,"%")})}},{key:"createStylesheetElement",value:function(){var t=document.createElement("style");return t.type="text/css",t.textContent=e.defaultCSS,t}},{key:"createProgressElement",value:function(){var e=document.createElement("div");return e.className="turbo-progress-bar",e}}],[{key:"defaultCSS",get:function(){return F(p(),e.animationDuration,e.animationDuration/2,e.animationDuration/2)}}]),e}();te.animationDuration=300;var ne=operate(e){r(o,_);var n=g(o);operate o(){var e;return t(this,o),(e=n.apply(this,arguments)).detailsByOuterHTML=e.youngsters.scale back(operate(e,t){var n,i,r,o=t.outerHTML,s=o in e?e[o]:{sort:operate(e){if(operate(e){return"script"==e.tagName.toLowerCase()}(e))return"script";if(operate(e)"hyperlink"==t&&"stylesheet"==e.getAttribute("rel")(e))return"stylesheet"}(t),tracked:operate(e){return"reload"==e.getAttribute("data-turbo-track")}(t),parts:[]};return Object.assign(Object.assign({},e),(n={},i=o,r=Object.assign(Object.assign({},s),{parts:[].concat(f(s.parts),[t])}),i in n?Object.defineProperty(n,i,{worth:r,enumerable:!0,configurable:!0,writable:!0}):n[i]=r,n))},{}),e}return i(o,[{key:"getScriptElementsNotInSnapshot",value:function(e){return this.getElementsMatchingTypeNotInSnapshot("script",e)}},{key:"getStylesheetElementsNotInSnapshot",value:function(e){return this.getElementsMatchingTypeNotInSnapshot("stylesheet",e)}},{key:"getElementsMatchingTypeNotInSnapshot",value:function(e,t){var n=this;return Object.keys(this.detailsByOuterHTML).filter(function(e){return!(e in t.detailsByOuterHTML)}).map(function(e){return n.detailsByOuterHTML[e]}).filter(operate(t){return t.sort==e}).map(operate(e){return d(e.parts,1)[0]})}},{key:"getMetaValue",worth:operate(e){var t=this.findMetaElementByName(e);return t?t.getAttribute("content material"):null}},{key:"findMetaElementByName",worth:operate(e){var t=this;return Object.keys(this.detailsByOuterHTML).scale back(operate(n,i){var r=d(t.detailsByOuterHTML[i].parts,1)[0];return operate(e,t){return"meta"==e.tagName.toLowerCase()&&e.getAttribute("identify")==t}(r,e)?r:n},void 0)}},{key:"trackedElementSignature",get:operate(){var e=this;return Object.keys(this.detailsByOuterHTML).filter(operate(t){return e.detailsByOuterHTML[t].tracked}).be a part of("")}},{key:"provisionalElements",get:operate(){var e=this;return Object.keys(this.detailsByOuterHTML).scale back(operate(t,n),[])}}]),o}();var ie,re,oe=operate(e){r(o,_);var n=g(o);operate o(e,i){var r;return t(this,o),(r=n.name(this,e)).headSnapshot=i,r}return i(o,[{key:"clone",value:function(){return new o(this.element.cloneNode(!0),this.headSnapshot)}},{key:"getSetting",value:function(e){return this.headSnapshot.getMetaValue("turbo-".concat(e))}},{key:"headElement",get:function(){return this.headSnapshot.element}},{key:"rootLocation",get:function(){var e;return S(null!==(e=this.getSetting("root"))&&void 0!==e?e:"/")}},{key:"cacheControlValue",get:function(){return this.getSetting("cache-control")}},{key:"isPreviewable",get:function(){return"no-preview"!=this.cacheControlValue}},{key:"isCacheable",get:function(){return"no-cache"!=this.cacheControlValue}},{key:"isVisitable",get:function(){return"reload"!=this.getSetting("visit-control")}}],[{key:"fromHTMLString",value:function(){var e=arguments.length>0&&void 0!==arguments[0]?arguments[0]:"";return this.fromDocument(I(e))}},{key:"fromElement",worth:operate(e){return this.fromDocument(e.ownerDocument)}},{key:"fromDocument",worth:operate(e){var t=e.head;return new this(e.physique,new ne(t))}}]),o}();!operate(e){e.visitStart="visitStart",e.requestStart="requestStart",e.requestEnd="requestEnd",e.visitEnd="visitEnd"}(ie||(ie={})),operate(e){e.initialized="initialized",e.began="began",e.canceled="canceled",e.failed="failed",e.accomplished="accomplished"}(re||(re={}));var se,ae={motion:"advance",historyChanged:!1};!operate(e){e[e.networkFailure=0]="networkFailure",e[e.timeoutFailure=-1]="timeoutFailure",e[e.contentTypeMismatch=-2]="contentTypeMismatch"}(se||(se={}));var ue=operate(){operate e(n,i,r){var o=arguments.size>3&&void 0!==arguments[3]?arguments[3]:{};t(this,e),this.identifier=x(),this.timingMetrics={},this.followedRedirect=!1,this.historyChanged=!1,this.scrolled=!1,this.snapshotCached=!1,this.state=re.initialized,this.delegate=n,this.location=i,this.restorationIdentifier=r||x();var s=Object.assign(Object.assign({},ae),o),a=s.motion,u=s.historyChanged,c=s.referrer,l=s.snapshotHTML,h=s.response;this.motion=a,this.historyChanged=u,this.referrer=c,this.snapshotHTML=l,this.response=h}return i(e,[{key:"start",value:function(){this.state==re.initialized&&(this.recordTimingMetric(ie.visitStart),this.state=re.started,this.adapter.visitStarted(this),this.delegate.visitStarted(this))}},{key:"cancel",value:function(){this.state==re.started&&(this.request&&this.request.cancel(),this.cancelRender(),this.state=re.canceled)}},{key:"complete",value:function(){this.state==re.started&&(this.recordTimingMetric(ie.visitEnd),this.state=re.completed,this.adapter.visitCompleted(this),this.delegate.visitCompleted(this))}},{key:"fail",value:function(){this.state==re.started&&(this.state=re.failed,this.adapter.visitFailed(this))}},{key:"changeHistory",value:function(){var e;if(!this.historyChanged)}},{key:"issueRequest",value:function(){this.hasPreloadedResponse()?this.simulateRequest():this.shouldIssueRequest()&&!this.request&&(this.request=new M(this,T.get,this.location),this.request.perform())}},{key:"simulateRequest",value:function(){this.response&&(this.startRequest(),this.recordResponse(),this.finishRequest())}},{key:"startRequest",value:function(){this.recordTimingMetric(ie.requestStart),this.adapter.visitRequestStarted(this)}},{key:"recordResponse",value:function(){var e=arguments.length>0&&void 0!==arguments[0]?arguments[0]:this.response;if(this.response=e,e){var t=e.statusCode;ce(t)?this.adapter.visitRequestCompleted(this):this.adapter.visitRequestFailedWithStatusCode(this,t)}}},{key:"finishRequest",worth:operate(){this.recordTimingMetric(ie.requestEnd),this.adapter.visitRequestFinished(this)}},{key:"loadResponse",worth:operate(){var e=this;if(this.response){var t=this.response,n=t.statusCode,i=t.responseHTML;this.render(async operate(){e.cacheSnapshot(),ce(n)&&null!=i?(await e.view.renderPage(oe.fromHTMLString(i)),e.adapter.visitRendered(e),e.full()):(await e.view.renderError(oe.fromHTMLString(i)),e.adapter.visitRendered(e),e.fail())})}}},{key:"getCachedSnapshot",worth:operate()},{key:"getPreloadedSnapshot",worth:operate(){if(this.snapshotHTML)return oe.fromHTMLString(this.snapshotHTML)}},{key:"hasCachedSnapshot",worth:operate(){return null!=this.getCachedSnapshot()}},{key:"loadCachedSnapshot",worth:operate(){var e=this,t=this.getCachedSnapshot();if(t){var n=this.shouldIssueRequest();this.render(async operate()e.full())}}},{key:"followRedirect",worth:operate(){this.redirectedToLocation&&!this.followedRedirect&&(this.location=this.redirectedToLocation,this.historical past.exchange(this.redirectedToLocation,this.restorationIdentifier),this.followedRedirect=!0)}},{key:"requestStarted",worth:operate(){this.startRequest()}},{key:"requestPreventedHandlingResponse",worth:operate(e,t){}},{key:"requestSucceededWithResponse",worth:async operate(e,t){var n=await t.responseHTML;null==n?this.recordResponse({statusCode:se.contentTypeMismatch}):(this.redirectedToLocation=t.redirected?t.location:void 0,this.recordResponse({statusCode:t.statusCode,responseHTML:n}))}},{key:"requestFailedWithResponse",worth:async operate(e,t){var n=await t.responseHTML;null==n?this.recordResponse({statusCode:se.contentTypeMismatch}):this.recordResponse({statusCode:t.statusCode,responseHTML:n})}},{key:"requestErrored",worth:operate(e,t){this.recordResponse({statusCode:se.networkFailure})}},{key:"requestFinished",worth:operate(){this.finishRequest()}},{key:"performScroll",worth:operate()},{key:"scrollToRestoredPosition",worth:operate(){var e=this.restorationData.scrollPosition;if(e)return this.view.scrollToPosition(e),!0}},{key:"scrollToAnchor",worth:operate(){if(null!=E(this.location))return this.view.scrollToAnchor(E(this.location)),!0}},{key:"scrollToTop",worth:operate(){this.view.scrollToPosition({x:0,y:0})}},{key:"recordTimingMetric",worth:operate(e){this.timingMetrics[e]=(new Date).getTime()}},{key:"getTimingMetrics",worth:operate(){return Object.assign({},this.timingMetrics)}},{key:"getHistoryMethodForAction",worth:operate(e){swap(e){case"exchange":return historical past.replaceState;case"advance":case"restore":return historical past.pushState}}},{key:"hasPreloadedResponse",worth:operate(){return"object"==typeof this.response}},{key:"shouldIssueRequest",worth:operate()!this.hasCachedSnapshot()},{key:"cacheSnapshot",worth:operate()},{key:"render",worth:async operate(e){var t=this;this.cancelRender(),await new Promise(operate(e){t.body=requestAnimationFrame(operate(){return e()})}),e(),delete this.body,this.performScroll()}},{key:"cancelRender",worth:operate(){this.body&&(cancelAnimationFrame(this.body),delete this.body)}},{key:"adapter",get:operate(){return this.delegate.adapter}},{key:"view",get:operate(){return this.delegate.view}},{key:"historical past",get:operate(){return this.delegate.historical past}},{key:"restorationData",get:operate(){return this.historical past.getRestorationDataForIdentifier(this.restorationIdentifier)}}]),e}();operate ce(e){return e>=200&&e2&&void 0!==arguments[2]?arguments[2]:x(),i={turbo:{restorationIdentifier:n}};e.name(historical past,i,"",t.href),this.location=t,this.restorationIdentifier=n}},{key:"getRestorationDataForIdentifier",worth:operate(e){return this.restorationData[e]||{}}},{key:"updateRestorationData",worth:operate(e){var t=this.restorationIdentifier,n=this.restorationData[t];this.restorationData[t]=Object.assign(Object.assign({},n),e)}},{key:"assumeControlOfScrollRestoration",worth:operate()},{key:"relinquishControlOfScrollRestoration",worth:operate(){this.previousScrollRestoration&&(historical past.scrollRestoration=this.previousScrollRestoration,delete this.previousScrollRestoration)}},{key:"shouldHandlePopState",worth:operate(){return this.pageIsLoaded()}},{key:"pageIsLoaded",worth:operate()"full"==doc.readyState}]),e}(),pe=operate(){operate e(n){var i=this;t(this,e),this.began=!1,this.clickCaptured=operate(){removeEventListener("click on",i.clickBubbled,!1),addEventListener("click on",i.clickBubbled,!1)},this.clickBubbled=operate(e){if(i.clickEventIsSignificant(e)){var t=i.findLinkFromClickTarget(e.goal);if(t){var n=i.getLocationForLink(t);i.delegate.willFollowLinkToLocation(t,n)&&(e.preventDefault(),i.delegate.followedLinkToLocation(t,n))}}},this.delegate=n}return i(e,[{key:"start",value:function()(addEventListener("click",this.clickCaptured,!0),this.started=!0)},{key:"stop",value:function(){this.started&&(removeEventListener("click",this.clickCaptured,!0),this.started=!1)}},{key:"clickEventIsSignificant",value:function(e)},{key:"findLinkFromClickTarget",value:function(e){if(e instanceof Element)return e.closest("a[href]:not([target^=_]):not([download])")}},{key:"getLocationForLink",worth:operate(e)}]),e}(),me=operate(){operate e(n){t(this,e),this.delegate=n}return i(e,[{key:"proposeVisit",value:function(e){var t=arguments.length>1&&void 0!==arguments[1]?arguments[1]:{};this.delegate.allowsVisitingLocation(e)&&this.delegate.visitProposedToLocation(e,t)}},{key:"startVisit",worth:operate(e,t){var n=arguments.size>2&&void 0!==arguments[2]?arguments[2]:{};this.cease(),this.currentVisit=new ue(this,S(e),t,Object.assign({referrer:this.location},n)),this.currentVisit.begin()}},{key:"submitForm",worth:operate(e,t){this.cease(),this.formSubmission=new B(this,e,t,!0),this.formSubmission.fetchRequest.isIdempotent?this.proposeVisit(this.formSubmission.fetchRequest.url):this.formSubmission.begin()}},{key:"cease",worth:operate(){this.formSubmission&&(this.formSubmission.cease(),delete this.formSubmission),this.currentVisit&&(this.currentVisit.cancel(),delete this.currentVisit)}},{key:"formSubmissionStarted",worth:operate(e){}},{key:"formSubmissionSucceededWithResponse",worth:async operate(e,t){if(e==this.formSubmission){var n=await t.responseHTML;if(n){e.methodology!=T.get&&this.view.clearSnapshotCache();var i={response:{statusCode:t.statusCode,responseHTML:n}};this.proposeVisit(t.location,i)}}}},{key:"formSubmissionFailedWithResponse",worth:async operate(e,t){var n=await t.responseHTML;if(n){var i=oe.fromHTMLString(n);await this.view.renderPage(i),this.view.clearSnapshotCache()}}},{key:"formSubmissionErrored",worth:operate(e,t){}},{key:"formSubmissionFinished",worth:operate(e){}},{key:"visitStarted",worth:operate(e){this.delegate.visitStarted(e)}},{key:"visitCompleted",worth:operate(e){this.delegate.visitCompleted(e)}},{key:"adapter",get:operate(){return this.delegate.adapter}},{key:"view",get:operate(){return this.delegate.view}},{key:"historical past",get:operate(){return this.delegate.historical past}},{key:"location",get:operate(){return this.historical past.location}},{key:"restorationIdentifier",get:operate(){return this.historical past.restorationIdentifier}}]),e}();!operate(e){e[e.initial=0]="preliminary",e[e.loading=1]="loading",e[e.interactive=2]="interactive",e[e.complete=3]="full"}(le||(le={}));var ge=operate(){operate e(n){var i=this;t(this,e),this.stage=le.preliminary,this.began=!1,this.interpretReadyState=operate(){var e=i.readyState;"interactive"==e?i.pageIsInteractive():"full"==e&&i.pageIsComplete()},this.pageWillUnload=operate(){i.delegate.pageWillUnload()},this.delegate=n}return i(e,[{key:"start",value:function()(this.stage==le.initial&&(this.stage=le.loading),document.addEventListener("readystatechange",this.interpretReadyState,!1),addEventListener("pagehide",this.pageWillUnload,!1),this.started=!0)},{key:"stop",value:function(){this.started&&(document.removeEventListener("readystatechange",this.interpretReadyState,!1),removeEventListener("pagehide",this.pageWillUnload,!1),this.started=!1)}},{key:"pageIsInteractive",value:function(){this.stage==le.loading&&(this.stage=le.interactive,this.delegate.pageBecameInteractive())}},{key:"pageIsComplete",value:function(){this.pageIsInteractive(),this.stage==le.interactive&&(this.stage=le.complete,this.delegate.pageLoaded())}},{key:"readyState",get:function(){return document.readyState}}]),e}(),ye=operate(){operate e(n){var i=this;t(this,e),this.began=!1,this.onScroll=operate(){i.updatePosition({x:window.pageXOffset,y:window.pageYOffset})},this.delegate=n}return i(e,[{key:"start",value:function()(addEventListener("scroll",this.onScroll,!1),this.onScroll(),this.started=!0)},{key:"stop",value:function(){this.started&&(removeEventListener("scroll",this.onScroll,!1),this.started=!1)}},{key:"updatePosition",value:function(e){this.delegate.scrollPositionChanged(e)}}]),e}(),ke=operate(){operate e(n){var i=this;t(this,e),this.sources=new Set,this.began=!1,this.inspectFetchResponse=operate(e){var t=operate(e)void 0===t?void 0:t.fetchResponse;if(n instanceof P)return n(e);t&&operate(e){var t;return(null!==(t=e.contentType)&&void 0!==t?t:"").startsWith(j.contentType)}(t)&&(e.preventDefault(),i.receiveMessageResponse(t))},this.receiveMessageEvent=operate(e){i.began&&"string"==typeof e.knowledge&&i.receiveMessageHTML(e.knowledge)},this.delegate=n}return i(e,[{key:"start",value:function()(this.started=!0,addEventListener("turbo:before-fetch-response",this.inspectFetchResponse,!1))},{key:"stop",value:function(){this.started&&(this.started=!1,removeEventListener("turbo:before-fetch-response",this.inspectFetchResponse,!1))}},{key:"connectStreamSource",value:function(e)(this.sources.add(e),e.addEventListener("message",this.receiveMessageEvent,!1))},{key:"disconnectStreamSource",value:function(e){this.streamSourceIsConnected(e)&&(this.sources.delete(e),e.removeEventListener("message",this.receiveMessageEvent,!1))}},{key:"streamSourceIsConnected",value:function(e){return this.sources.has(e)}},{key:"receiveMessageResponse",value:async function(e){var t=await e.responseHTML;t&&this.receiveMessageHTML(t)}},{key:"receiveMessageHTML",value:function(e){this.delegate.receivedMessageFromStream(new j(e))}}]),e}();var be=operate(e){r(o,z);var n=g(o);operate o(){return t(this,o),n.apply(this,arguments)}return i(o,[{key:"render",value:async function(){this.replaceHeadAndBody(),this.activateScriptElements()}},{key:"replaceHeadAndBody",value:function(){var e=document,t=e.documentElement,n=e.head,i=e.body;t.replaceChild(this.newHead,n),t.replaceChild(this.newElement,i)}},{key:"activateScriptElements",value:function(){var e=!0,t=!1,n=void 0;try{for(var i,r=this.scriptElements[Symbol.iterator]();!(e=(i=r.subsequent()).finished);e=!0){var o=i.worth,s=o.parentNode;if(s){var a=this.createScriptElement(o);s.replaceChild(a,o)}}}catch(u){t=!0,n=u}lastly{attemptnull==r.returnlastly{if(t)throw n}}}},{key:"newHead",get:operate(){return this.newSnapshot.headSnapshot.aspect}},{key:"scriptElements",get:operate(){return f(doc.documentElement.querySelectorAll("script"))}}]),o}(),we=operate(e){r(s,z);var n=g(s);operate s(){return t(this,s),n.apply(this,arguments)}return i(s,[{key:"prepareToRender",value:function(){this.mergeHead()}},{key:"render",value:async function(){this.replaceBody()}},{key:"finishRendering",value:function(){l(o(s.prototype),"finishRendering",this).call(this),this.isPreview&&this.focusFirstAutofocusableElement()}},{key:"mergeHead",value:function(){this.copyNewHeadStylesheetElements(),this.copyNewHeadScriptElements(),this.removeCurrentHeadProvisionalElements(),this.copyNewHeadProvisionalElements()}},{key:"replaceBody",value:function(){var e=this;this.preservingPermanentElements(function(){e.activateNewBody(),e.assignNewBody()})}},{key:"copyNewHeadStylesheetElements",value:function(){var e=!0,t=!1,n=void 0;try{for(var i,r=this.newHeadStylesheetElements[Symbol.iterator]();!(e=(i=r.subsequent()).finished);e=!0){var o=i.worth;doc.head.appendChild(o)}}catch(s){t=!0,n=s}lastly{attemptnull==r.returnlastly{if(t)throw n}}}},{key:"copyNewHeadScriptElements",worth:operate(){var e=!0,t=!1,n=void 0;attempt{for(var i,r=this.newHeadScriptElements[Symbol.iterator]();!(e=(i=r.subsequent()).finished);e=!0){var o=i.worth;doc.head.appendChild(this.createScriptElement(o))}}catch(s){t=!0,n=s}lastly{attemptnull==r.returnlastly{if(t)throw n}}}},{key:"removeCurrentHeadProvisionalElements",worth:operate(){var e=!0,t=!1,n=void 0;attempt{for(var i,r=this.currentHeadProvisionalElements[Symbol.iterator]();!(e=(i=r.subsequent()).finished);e=!0){var o=i.worth;doc.head.removeChild(o)}}catch(s){t=!0,n=s}lastly{attemptnull==r.returnlastly{if(t)throw n}}}},{key:"copyNewHeadProvisionalElements",worth:operate(){var e=!0,t=!1,n=void 0;attempt{for(var i,r=this.newHeadProvisionalElements[Symbol.iterator]();!(e=(i=r.subsequent()).finished);e=!0){var o=i.worth;doc.head.appendChild(o)}}catch(s){t=!0,n=s}lastly{attemptnull==r.returnlastly{if(t)throw n}}}},{key:"activateNewBody",worth:operate(){doc.adoptNode(this.newElement),this.activateNewBodyScriptElements()}},{key:"activateNewBodyScriptElements",worth:operate(){var e=!0,t=!1,n=void 0;attempt{for(var i,r=this.newBodyScriptElements[Symbol.iterator]();!(e=(i=r.subsequent()).finished);e=!0){var o=i.worth;J(o,this.createScriptElement(o))}}catch(s){t=!0,n=s}lastly{attemptnull==r.returnlastly{if(t)throw n}}}},{key:"assignNewBody",worth:operate(){doc.physique&&this.newElement instanceof HTMLBodyElement?J(doc.physique,this.newElement):doc.documentElement.appendChild(this.newElement)}},{key:"shouldRender",get:operate(){return this.newSnapshot.isVisitable&&this.trackedElementsAreIdentical}},{key:"currentHeadSnapshot",get:operate(){return this.currentSnapshot.headSnapshot}},{key:"newHeadSnapshot",get:operate(){return this.newSnapshot.headSnapshot}},{key:"newElement",get:operate(){return this.newSnapshot.aspect}},{key:"trackedElementsAreIdentical",get:operate(){return this.currentHeadSnapshot.trackedElementSignature==this.newHeadSnapshot.trackedElementSignature}},{key:"newHeadStylesheetElements",get:operate(){return this.newHeadSnapshot.getStylesheetElementsNotInSnapshot(this.currentHeadSnapshot)}},{key:"newHeadScriptElements",get:operate(){return this.newHeadSnapshot.getScriptElementsNotInSnapshot(this.currentHeadSnapshot)}},{key:"currentHeadProvisionalElements",get:operate(){return this.currentHeadSnapshot.provisionalElements}},{key:"newHeadProvisionalElements",get:operate(){return this.newHeadSnapshot.provisionalElements}},{key:"newBodyScriptElements",get:operate(){return f(this.newElement.querySelectorAll("script"))}}]),s}(),Se=operate(){operate e(n){t(this,e),this.keys=[],this.snapshots={},this.measurement=n}return i(e,[{key:"has",value:function(e){return R(e)in this.snapshots}},{key:"get",value:function(e){if(this.has(e)){var t=this.read(e);return this.touch(e),t}}},{key:"put",value:function(e,t){return this.write(e,t),this.touch(e),t}},{key:"clear",value:function(){this.snapshots={}}},{key:"read",value:function(e){return this.snapshots[R(e)]}},{key:"write",worth:operate(e,t){this.snapshots[R(e)]=t}},{key:"contact",worth:operate(e){var t=R(e),n=this.keys.indexOf(t);n>-1&&this.keys.splice(n,1),this.keys.unshift(t),this.trim()}},{key:"trim",worth:operate(){var e=!0,t=!1,n=void 0;attempt{for(var i,r=this.keys.splice(this.measurement)[Symbol.iterator]();!(e=(i=r.subsequent()).finished);e=!0){var o=i.worth;delete this.snapshots[o]}}catch(s){t=!0,n=s}lastly{attemptnull==r.returnlastly{if(t)throw n}}}}]),e}(),Ee=operate(e){r(o,W);var n=g(o);operate o(){var e;return t(this,o),(e=n.apply(this,arguments)).snapshotCache=new Se(10),e.lastRenderedLocation=new URL(location.href),e}return i(o,[{key:"renderPage",value:function(e){var t=arguments.length>1&&void 0!==arguments[1]&&arguments[1],n=new we(this.snapshot,e,t);return this.render(n)}},{key:"renderError",worth:operate(e){var t=new be(this.snapshot,e,!1);this.render(t)}},{key:"clearSnapshotCache",worth:operate(){this.snapshotCache.clear()}},{key:"cacheSnapshot",worth:async operate(){if(this.shouldCacheSnapshot){this.delegate.viewWillCacheSnapshot();var e=this.snapshot,t=this.lastRenderedLocation;await new Promise(operate(e){return setTimeout(operate(){return e()},0)}),this.snapshotCache.put(t,e.clone())}}},{key:"getCachedSnapshotForLocation",worth:operate(e){return this.snapshotCache.get(e)}},{key:"snapshot",get:operate(){return oe.fromElement(this.aspect)}},{key:"shouldCacheSnapshot",get:operate(){return this.snapshot.isCacheable}}]),o}();operate Ce(e){Object.defineProperties(e,Le)}var Le={absoluteURL:{get:operate(){return this.toString()}}},Re=new(operate(){operate e(){t(this,e),this.navigator=new me(this),this.historical past=new ve(this),this.view=new Ee(this,doc.documentElement),this.adapter=new he(this),this.pageObserver=new ge(this),this.linkClickObserver=new pe(this),this.formSubmitObserver=new de(this),this.scrollObserver=new ye(this),this.streamObserver=new ke(this),this.frameRedirector=new fe(doc.documentElement),this.enabled=!0,this.progressBarDelay=500,this.began=!1}return i(e,[{key:"start",value:function()(this.pageObserver.start(),this.linkClickObserver.start(),this.formSubmitObserver.start(),this.scrollObserver.start(),this.streamObserver.start(),this.frameRedirector.start(),this.history.start(),this.started=!0,this.enabled=!0)},{key:"disable",value:function(){this.enabled=!1}},{key:"stop",value:function(){this.started&&(this.pageObserver.stop(),this.linkClickObserver.stop(),this.formSubmitObserver.stop(),this.scrollObserver.stop(),this.streamObserver.stop(),this.frameRedirector.stop(),this.history.stop(),this.started=!1)}},{key:"registerAdapter",value:function(e){this.adapter=e}},{key:"visit",value:function(e){var t=arguments.length>1&&void 0!==arguments[1]?arguments[1]:{};this.navigator.proposeVisit(S(e),t)}},{key:"connectStreamSource",worth:operate(e){this.streamObserver.connectStreamSource(e)}},{key:"disconnectStreamSource",worth:operate(e){this.streamObserver.disconnectStreamSource(e)}},{key:"renderStreamMessage",worth:operate(e){doc.documentElement.appendChild(j.wrap(e).fragment)}},{key:"clearCache",worth:operate(){this.view.clearSnapshotCache()}},{key:"setProgressBarDelay",worth:operate(e){this.progressBarDelay=e}},{key:"historyPoppedToLocationWithRestorationIdentifier",worth:operate(e){this.enabled?this.navigator.proposeVisit(e,{motion:"restore",historyChanged:!0}):this.adapter.pageInvalidated()}},{key:"scrollPositionChanged",worth:operate(e){this.historical past.updateRestorationData({scrollPosition:e})}},{key:"willFollowLinkToLocation",worth:operate(e,t){return this.elementIsNavigable(e)&&this.locationIsVisitable(t)&&this.applicationAllowsFollowingLinkToLocation(e,t)}},{key:"followedLinkToLocation",worth:operate(e,t){var n=this.getActionForLink(e);this.go to(t.href,{motion:n})}},{key:"allowsVisitingLocation",worth:operate(e){return this.applicationAllowsVisitingLocation(e)}},{key:"visitProposedToLocation",worth:operate(e,t){Ce(e),this.adapter.visitProposedToLocation(e,t)}},{key:"visitStarted",worth:operate(e){Ce(e.location),this.notifyApplicationAfterVisitingLocation(e.location)}},{key:"visitCompleted",worth:operate(e){this.notifyApplicationAfterPageLoad(e.getTimingMetrics())}},{key:"willSubmitForm",worth:operate(e,t){return this.elementIsNavigable(e)&&this.elementIsNavigable(t)}},{key:"formSubmitted",worth:operate(e,t){this.navigator.submitForm(e,t)}},{key:"pageBecameInteractive",worth:operate(){this.view.lastRenderedLocation=this.location,this.notifyApplicationAfterPageLoad()}},{key:"pageLoaded",worth:operate(){this.historical past.assumeControlOfScrollRestoration()}},{key:"pageWillUnload",worth:operate(){this.historical past.relinquishControlOfScrollRestoration()}},{key:"receivedMessageFromStream",worth:operate(e){this.renderStreamMessage(e)}},{key:"viewWillCacheSnapshot",worth:operate(){this.notifyApplicationBeforeCachingSnapshot()}},{key:"viewWillRenderSnapshot",worth:operate(e,t){var n=e.aspect;this.notifyApplicationBeforeRender(n)}},{key:"viewRenderedSnapshot",worth:operate(e,t){this.view.lastRenderedLocation=this.historical past.location,this.notifyApplicationAfterRender()}},{key:"viewInvalidated",worth:operate(){this.adapter.pageInvalidated()}},{key:"applicationAllowsFollowingLinkToLocation",worth:operate(e,t){return!this.notifyApplicationAfterClickingLinkToLocation(e,t).defaultPrevented}},{key:"applicationAllowsVisitingLocation",worth:operate(e){return!this.notifyApplicationBeforeVisitingLocation(e).defaultPrevented}},{key:"notifyApplicationAfterClickingLinkToLocation",worth:operate(e,t){return A("turbo:click on",{goal:e,element:{url:t.href},cancelable:!0})}},{key:"notifyApplicationBeforeVisitingLocation",worth:operate(e){return A("turbo:before-visit",{element:{url:e.href},cancelable:!0})}},{key:"notifyApplicationAfterVisitingLocation",worth:operate(e){return A("turbo:go to",{element:{url:e.href}})}},{key:"notifyApplicationBeforeCachingSnapshot",worth:operate(){return A("turbo:before-cache")}},{key:"notifyApplicationBeforeRender",worth:operate(e){return A("turbo:before-render",{element:{newBody:e}})}},{key:"notifyApplicationAfterRender",worth:operate(){return A("turbo:render")}},{key:"notifyApplicationAfterPageLoad",worth:operate(){var e=arguments.size>0&&void 0!==arguments[0]?arguments[0]:{};return A("turbo:load",{element:{url:this.location.href,timing:e}})}},{key:"getActionForLink",worth:operate(e){var t=e.getAttribute("data-turbo-action");return operate(e)(t)?t:"advance"}},{key:"elementIsNavigable",worth:operate(e)},{key:"locationIsVisitable",worth:operate(e).(?:htm},{key:"location",get:operate(){return this.historical past.location}},{key:"restorationIdentifier",get:operate(){return this.historical past.restorationIdentifier}},{key:"snapshot",get:operate(){return this.view.snapshot}}]),e}()),Te=Re.navigator;operate Pe(){Re.begin()}Pe();var Ae,Oe,Ie,Fe,xe,Me,De,qe,He=Object.freeze({__proto__:null,clearCache:operate(){Re.clearCache()},connectStreamSource:operate(e){Re.connectStreamSource(e)},disconnectStreamSource:operate(e){Re.disconnectStreamSource(e)},navigator:Te,registerAdapter:operate(e){Re.registerAdapter(e)},renderStreamMessage:operate(e){Re.renderStreamMessage(e)},setProgressBarDelay:operate(e){Re.setProgressBarDelay(e)},begin:Pe,go to:operate(e,t){Re.go to(e,t)}}),je=operate(){var e=arguments.size>0&&void 0!==arguments[0]&&arguments[0];return operate(t,n,i){var r=this,o=i.worth;return i.worth=operate(){var i="occasion:".concat(n);if(e){doc.addEventListener("turbo:go to",operate e(){t[i]&&(t[i]=void 0),doc.removeEventListener("turbo:go to",e)})}if(t[i])return t[i];for(var s=arguments.size,a=new Array(s),u=0;u4&&void 0!==arguments[4])||arguments[4],o="".concat(e,"=").concat(t);"string"==typeof n&&(o+=";expires=".concat(n)),"string"==typeof i&&(o+=";area=".concat(i)),o+="; path=/",r&&"https:"===location.protocol&&(o+="; safe"),doc.cookie=o}},{key:"deleteCookie",worth:operate(e){this.setCookie(e,"","Thu, 01 Jan 1970 00:00:00 UTC")}},{key:"getLocalStorageOrCookie",worth:operate(e){var t;return this.isLocalStorageAvailable&&null!==(t=this.localStorage.getItem(e))&&void 0!==t?t:this.getCookie(e)}},{key:"setLocalStorageOrCookie",worth:operate(e,t,n,i){this.isLocalStorageAvailable?this.localStorage.setItem(e,t):this.setCookie(e,t,n,i)}},{key:"deleteLocalStorageOrCookie",worth:operate(e){this.isLocalStorageAvailable?this.localStorage.removeItem(e):this.deleteCookie(e)}}]),e}(),Ne=(Ae=je(),v(Oe=operate(){operate e(){t(this,e)}return i(e,null,[{key:"create",value:function(){return new Be(window.localStorage)}}]),e}(),"create",[Ae],Object.getOwnPropertyDescriptor(Oe,"create"),Oe),Oe),_e=operate(){operate e(n){t(this,e),this.dfxLocalStorageCookieManager=n}return i(e,[{key:"getLevel",value:function(){if(this.permissionLevel)return this.permissionLevel;var e=this.dfxLocalStorageCookieManager.getLocalStorageOrCookie("dfx-cookies-level"),t=this._normalizeValue(e);return this.permissionLevel=t,t}},{key:"_normalizeValue",value:function(e){var t=parseInt(e);return isNaN(t)&&(t=3),t}},{key:"checkLevel",value:function(e){return this.getLevel()>=e}}]),e}(),Ve=(Ie=je(),v(Fe=operate(){operate e(){t(this,e)}return i(e,null,[{key:"create",value:function(){return new _e(Ne.create())}}]),e}(),"create",[Ie],Object.getOwnPropertyDescriptor(Fe,"create"),Fe),Fe),We="".concat("dfx-redirectData","_expiresIn"),Ue=new Map([["GB","UK"]]),Ge=operate(){operate e(n,i){t(this,e),this.geoJsUrl=n,this.dfxLocalStorageCookieManager=i}return i(e,[{key:"init",value:function(){var e=this;return this.getRedirectData().then(function(e){return Ue.has(e.country)&&(e.country=Ue.get(e.country)),e}).then(function(t){e.redirectData=t,e._setBodyClasses()._setLocationToStorage()})}},{key:"getRedirectData",value:function(){var e,t=this;return this.loadingState=null!==(e=this.loadingState)&&void 0!==e?e:new Promise(function(e){t.redirectData?e(t.redirectData):(t.redirectData=t._getLocationFromStorage(),t.redirectData?e(t.redirectData):e(t._loadRedirectData()))}),this.loadingState}},{key:"_loadRedirectData",value:function(){var e=this;return new Promise(function(t){var n=document.createElement("script");n.onload=function(){e.redirectData=window.redirectData,t(e.redirectData)},n.setAttribute("src",e.geoJsUrl),document.head.appendChild(n)})}},{key:"_setBodyClasses",value:function(){var e=this.redirectData.country.toLowerCase();return document.body?(document.body.classList.remove("dfx-country-pending"),document.body.classList.add("dfx-country-".concat(e))):document.addEventListener("DOMContentLoaded",function(){document.body.classList.remove("dfx-country-pending"),document.body.classList.add("dfx-country-".concat(e))},!1),this}},{key:"_getLocationFromStorage",value:function(){var e,t=this.dfxLocalStorageCookieManager.getLocalStorageOrCookie(We);if(t&&t>Date.now())return JSON.parse(null!==(e=this.dfxLocalStorageCookieManager.getLocalStorageOrCookie("dfx-redirectData"))&&void 0!==e&&e)}},{key:"_setLocationToStorage",value:function(){var e=new Date;return e.setTime(e.getTime()+6048e5),this.dfxLocalStorageCookieManager.setLocalStorageOrCookie("dfx-redirectData",JSON.stringify(this.redirectData),e.toUTCString()),this.dfxLocalStorageCookieManager.setLocalStorageOrCookie(We,e.getTime(),e.toUTCString()),this}}]),e}(),ze=(xe=je(),v(Me=operate(){operate e(){t(this,e)}return i(e,null,[{key:"create",value:function(){return new Ge(window.DFX_ENDPOINTS.geoJs,Ne.create())}}]),e}(),"create",[xe],Object.getOwnPropertyDescriptor(Me,"create"),Me),Me),Je=operate(){operate e(n){t(this,e),this.config=n}return i(e,[{key:"get",value:function(e){return this.config.get(e)}},{key:"set",value:function(e,t)this.config.set(e,t)}]),e}(),Ye=operate(){operate e(){t(this,e)}return i(e,null,[{key:"create",value:function(){var e=Object.assign({},window.DFX_CONFIG,window.DFX_ENDPOINTS),t=new Map(Object.entries(e));return new Je(t)}}]),e}().create(),$e={OFF:"off",LOADING:"loading",READY:"prepared"},Xe="pixel",Ke="GPT",Qe="GTM",Ze="adobe_tracking",et="taboola_pixel",tt=operate(){operate e(n,i,r,o){var s=this;t(this,e),this.config=r,this.allowedTrackingsConfig=o,this.dfxGdprChecker=n,this.dfxLocalStorageCookieManager=i,this._setDefaultStates()._resetAssetClasses()._resetInstruments()._resetCategories()._resetSitecatConfig(),doc.addEventListener("turbo:go to",operate(){$("head script").filter(operate(e,t)t.src.contains(r.reportSuite)).take away(),s.adobeTrackingState=$e.OFF,s._resetAssetClasses()._resetInstruments()._resetCategories()._resetSitecatConfig()})}return i(e,[{key:"_setDefaultStates",value:function(){return this.adobeTrackingState=$e.OFF,this.pixelState=$e.OFF,this.gptState=$e.OFF,this.gtmState=$e.OFF,this.taboolaState=$e.OFF,this}},{key:"_resetInstruments",value:function(){return this.gptInstrumentPairs=new Set,this}},{key:"_resetCategories",value:function(){return this.gptCategories={category:"",subCategory:""},this}},{key:"_resetAssetClasses",value:function(){return this.gptAssetClasses=new Set,this}},{key:"_resetSitecatConfig",value:function(){return this.sitecatConfig={mainReportSuite:this.config.mainReportSuite,reportSuite:this.config.reportSuite,organisationId:this.config.organisationId},this}},{key:"createAdobeTracking",value:function(e){var t=this;return this.dfxGdprChecker.checkLevel(2)&&this.allowedTrackingsConfig[Ze]&&this.adobeTrackingState===$e.OFF?(this.adobeTrackingState=$e.LOADING,window.System.import(e).then(operate(e){var n=e.DfxAdobeTracking;t.dfxAdobeTracking=new n(t.sitecatConfig,t.dfxGdprChecker,t.dfxLocalStorageCookieManager),t.adobeTrackingState=$e.READY,t.runAdobeTracking()}),this):this}},{key:"runAdobeTracking",worth:operate(){var e=this;return this.dfxGdprChecker.checkLevel(2)?(this.adobeTrackingState===$e.READY?(this.dfxAdobeTracking.resetTrackingObject(),this.dfxAdobeTracking.init()):setTimeout(operate(){return e.runAdobeTracking()},400),this):this}},{key:"trackAdobeEvent",worth:operate(e,t,n){var i=this;return this.dfxGdprChecker.checkLevel(2)&&this.allowedTrackingsConfig[Ze]?(this.adobeTrackingState===$e.READY?this.dfxAdobeTracking.trackEvent(e,t,n):setTimeout(operate(){return i.trackAdobeEvent(e,t,n)},400),this):this}},{key:"getPageNameForAdobeTracking",worth:operate(){return this.adobeTrackingState===$e.READY&&this.dfxAdobeTracking.getPageName()}},{key:"addSitecatConfig",worth:operate(e,t){return this.dfxGdprChecker.checkLevel(2)?(this.sitecatConfig[e]=t,this):this}},{key:"createFacebookPixel",worth:operate(){var e=this;if(!this.dfxGdprChecker.checkLevel(3))return this;if(!this.allowedTrackingsConfig[Xe]||this.pixelState!==$e.OFF)return this;this.pixelState=$e.LOADING;var t,n,i,r,o,s,a;return t=operate(){e.pixelState=$e.READY},n=window,i=doc,r="script",n.fbq||(o=n.fbq=operate(){o.callMethod?o.callMethod.apply(o,arguments):o.queue.push(arguments)},n._fbq||(n._fbq=o),o.push=o,o.loaded=!0,o.model="2.0″,o.queue=[],(s=i.createElement(r)).async=!0,s.onload=t,s.src="https://join.fb.internet/en_US/fbevents.js",(a=i.getElementsByTagName(r)[0]).parentNode.insertBefore(s,a)),this.fbq=window.fbq,this.fbq("init",Ye.get("facebookPixelId")),this}},{key:"facebookPixelTrack",worth:operate(e){return this.dfxGdprChecker.checkLevel(3)&&this.allowedTrackingsConfig[Xe]?(this.pixelState===$e.OFF&&this.createFacebookPixel(),this.fbq("observe",e),this):this}},{key:"facebookPixelTrackPageView",worth:operate(){return this.dfxGdprChecker.checkLevel(3)?(this.facebookPixelTrack("PageView"),this):this}},{key:"facebookPixelTrackLead",worth:operate(){return this.dfxGdprChecker.checkLevel(3)?(this.facebookPixelTrack("Lead"),this):this}},{key:"createGTM",worth:operate(){var e=this;if(!this.dfxGdprChecker.checkLevel(1))return this;if(!this.allowedTrackingsConfig[Qe]||this.gtmState!==$e.OFF)return this;this.gtmState=$e.LOADING;var t=operate(){e.gtmState=$e.READY};return operate(e,n,i,r,o){e[r]=e[r]||[],e[r].push({"gtm.begin":(new Date).getTime(),occasion:"gtm.js"});var s=n.getElementsByTagName(i)[0],a=n.createElement(i);a.async=!0,a.src="https://www.googletagmanager.com/gtm.js?id="+o,a.onload=t,s.parentNode.insertBefore(a,s)}(window,doc,"script","dataLayer",Ye.get("tagManagerId")),this}},{key:"createGPT",worth:operate(){var e=this;if(!this.dfxGdprChecker.checkLevel(1))return this;if(!this.allowedTrackingsConfig[Ke]||this.gptState!==$e.OFF)return this;this.gptState=$e.LOADING;var t=operate(){e.gptState=$e.READY},n=window.googletag||{cmd:[]};return operate(){var e=doc.createElement("script");e.async=!0,e.sort="textual content/javascript";var n="https:"===doc.location.protocol;e.src=(n?"https:":"http:")+"//www.googletagservices.com/tag/js/gpt.js",e.onload=t;var i=doc.getElementsByTagName("script")[0];i.parentNode.insertBefore(e,i)}(),window.googletag=window.googletag||n,this}},{key:"trackGTMpageLoadEvent",worth:operate(){return this.dfxGdprChecker.checkLevel(1)?(window.dataLayer=window.dataLayer||[],window.dataLayer.push({occasion:"turboPageView",virtualUrl:window.location.pathname}),this):this}},{key:"addGptAssetClasses",worth:operate(e){var t=this;if(!Array.isArray(e))throw new TypeError("Param assetClasses have to be an Array");return e.forEach(operate(e){return t.gptAssetClasses.add(e)}),this}},{key:"addGptInstrumentPairs",worth:operate(e){var t=this;if(!Array.isArray(e))throw new TypeError("Param pairs have to be an Array");return e.forEach(operate(e){return t.gptInstrumentPairs.add(e)}),this}},{key:"addGptCategories",worth:operate(){var e=arguments.size>0&&void 0!==arguments[0]?arguments[0]:"",t=arguments.size>1&&void 0!==arguments[1]?arguments[1]:"";this.gptCategories={class:e,subCategory:t}}},{key:"getGptAssetClasses",worth:operate(){return this.gptAssetClasses}},{key:"getGptInstrumentPairs",worth:operate(){return this.gptInstrumentPairs}},{key:"getGptCategory",worth:operate(){return this.gptCategories.class}},{key:"getGptSubCategory",worth:operate(){return this.gptCategories.subCategory}},{key:"createTaboolaPixel",worth:operate(){var e=this;if(!this.dfxGdprChecker.checkLevel(3))return this;if(!this.allowedTrackingsConfig[et]||this.taboolaState!==$e.OFF)return this;this.taboolaState=$e.LOADING;var t,n,i,r=operate(){e.taboolaState=$e.READY};return window._tfa=window._tfa||[],window._tfa.push({notify:"occasion",identify:"page_view",id:Ye.get("taboolaPixelId")}),this.tfa=window._tfa,t=doc.createElement("script"),n=doc.getElementsByTagName("script")[0],i="tb_tfa_script",doc.getElementById(i)||(t.async=1,t.src="https://cdn.taboola.com/libtrc/unip/1350268/tfa.js",t.id=i,t.onload=r,n.parentNode.insertBefore(t,n)),this}},{key:"taboolaPixelTrack",worth:operate(e){return this.dfxGdprChecker.checkLevel(3)&&this.allowedTrackingsConfig[et]?(this.pixelState===$e.OFF&&this.createTaboolaPixel(),this.tfa.push({notify:"occasion",identify:e,id:Ye.get("taboolaPixelId")}),this):this}}]),e}(),nt=(De=je(),v(qe=operate(){operate e(){t(this,e)}return i(e,null,[{key:"create",value:function(e){var t=arguments.length>1&&void 0!==arguments[1]?arguments[1]:window.DFX_CONFIG;return new tt(Ve.create(),Ne.create(),t,e)}}]),e}(),"create",[De],Object.getOwnPropertyDescriptor(qe,"create"),qe),qe);(new(operate(){operate e(){t(this,e)}return i(e,[{key:"init",value:function(){document.fonts&&(document.documentElement.classList.add("dfx-fonts-loading"),document.fonts.ready.then(function(){document.documentElement.classList.remove("dfx-fonts-loading")}))}}]),e}())).init();var it=Ve.create();!operate(){operate e(e){var t=arguments.size>1&&void 0!==arguments[1]?arguments[1]:{bubbles:!1,cancelable:!1,element:void 0},n=doc.createEvent("CustomEvent");return n.initCustomEvent(e,t.bubbles,t.cancelable,t.element),n}"operate"!=typeof window.CustomEvent&&(e.prototype=window.Occasion.prototype,window.CustomEvent=e)}(),"path"in Occasion.prototype||Object.defineProperty(Occasion.prototype,"path",{get:Occasion.prototype.composedPath});doc.addEventListener("turbo:load",operate(){return e=doc.querySelector("noscript.jsdfx-script"),window.POLYFILLED&&(e=doc.querySelector("noscript.jsdfx-script-polyfilled")),void(e&&window.System.import(e.getAttribute("data-src")).then(operate(e){Object.keys(e).forEach(operate(t){window[t]=e[t]}),window.runStacked()}).catch(operate(e){return console.error(e)}));var e}),window.efficiency.mark=window.efficiency.mark||operate(){},window.efficiency.measure=window.efficiency.measure||operate(){},window.turbo=He,Pe(),ze.create().init(),e.DfxGdprChecker=it,e.DfxGdprCheckerFactory=Ve,e.DfxGeoLocationFactory=ze,e.DfxThirdPartyManagerFactory=nt,Object.defineProperty(e,"__esModule",{worth:!0})}(this.window=this.window||{});